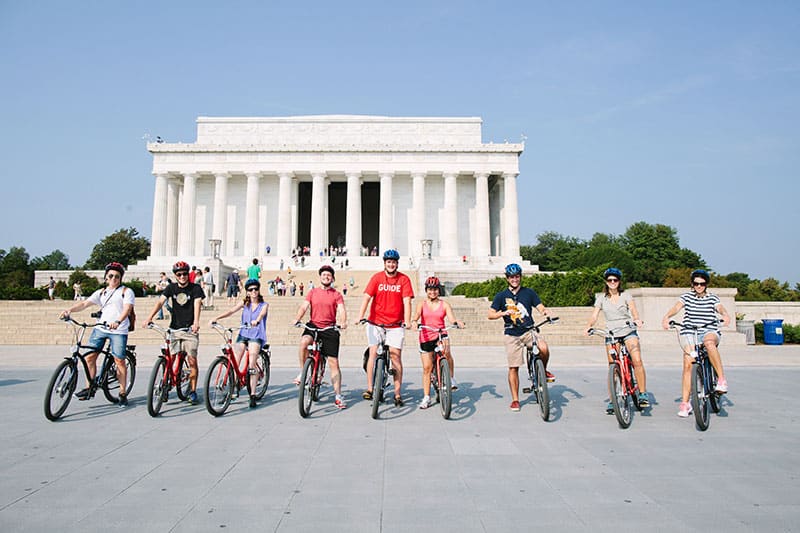 Fun Group Activities in D.C.
Traveling in a group can be, at best, an epically fun and unforgettable experience. At worst: it's a challenge-filled ordeal during which friendships are severely tested over squabbles about minor things, like where to eat lunch.
Group travel doesn't have to be a challenge, though. Despite the inevitably different interests your fellow travelers have – maybe you're a museums and bookstores type of person, and members of your travel party may be more keen to hit the beach and the bars – group travel can be a profoundly rewarding and bonding experience.
If you and your group are heading to the nation's capital, Washington, D.C., options for fun group activities abound here. And although school group trips to D.C. are ever-popular, there are plenty of activities for groups of adults as well. Here are a few of our favorite ways to spend time as a group in D.C.
Let Your Taste Buds Lead the Way
There are so many delicious treats for the taste buds in D.C., as well as heaps of incredible restaurants that are ideal for dining in big groups. A few of our favorites include Roofers Union, Boqueria, and The Hamilton.
Roofers Union (2446 18th St. NW), smack in dab in the center of the Adams Morgan neighborhood, offers traditional American cuisine in a fun and lively setting, complete with live music (see their listings before you go). Boqueria (1837 M St. NW), found in historic Dupont Circle, is the go-to spot for tasty tapas, perfect for accommodating larger groups. Seasonal sangria and large tables filled with simple, yet exquisite, tapas will have you wanting to hold down the fort here for hours. The Hamilton (600 14th St. NW) serves up trendy fare ("a contemporary dining experience that's as eclectic as the talent in our music hall…") for the foodies in the group, and also offers live music.
If the group had a big night out and is subsequently desperate for a hearty (and perhaps hangover-curing) brunch, check out our list of Best Brunch Spots in D.C.
Discover D.C. by Bike
Bike about the capital city to uncover hidden locales and hear stories you wouldn't otherwise know. Fat Tire Tours guides are experts on this town, and they'd love to show you around! Some of our favorite tours include the Monuments, Memorials & Arlington Cemetery Bike Tour, the Monuments & Memorials Night Bike Tour, and the ever-popular Washington, D.C. Day Bike Tour. All tours are perfect for large groups, and you can reserve your spots on the Fat Tire Tours website.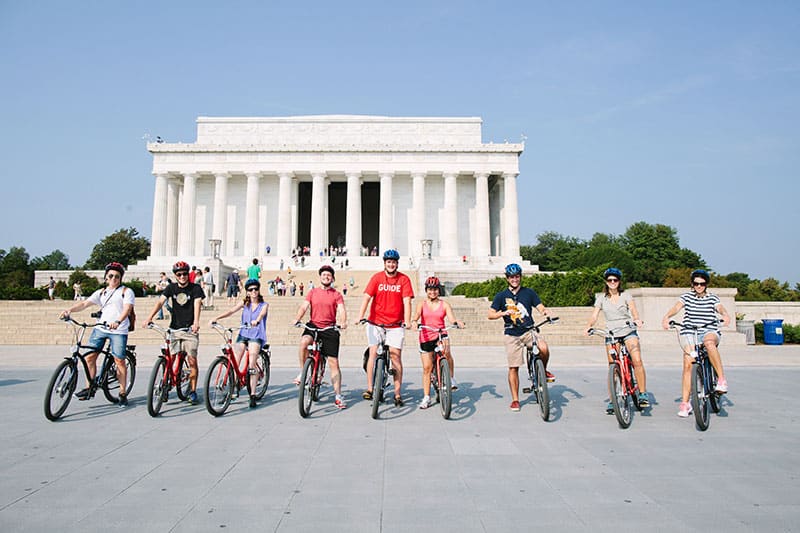 Be a Chef for a Day
Although D.C. does have a great restaurant scene, food is not typically the first thing to come to mind when you think of D.C. Instead, you probably think of a lot of patriotic sites, the White House, and episodes of "The West Wing" or "Veep." Though delicious food creations may conjure up images of Paris for you, not D.C., there are, in fact, lots of incredible culinary ventures to embark on, which are perfect for a large group. Places like Cozymeal Cooking classes, found in downtown D.C., will ensure your group not only has a fun time in the capital, but also returns home with a few new kitchen skills as well.
Take in Some Art
Find installations and season works at Palmer Alley (which typically gets decked out in glittering lights for Christmastime), gorgeous paintings and more at the National Gallery of Art, sculptures at the Renwick Gallery, and Asian-American works at the Freer Gallery of Art. Roaming museums, you can break off from the pack and regroup at the end, so everyone gets some needed solo time to relax and take in – and marvel at – the gorgeous works of art that pepper D.C.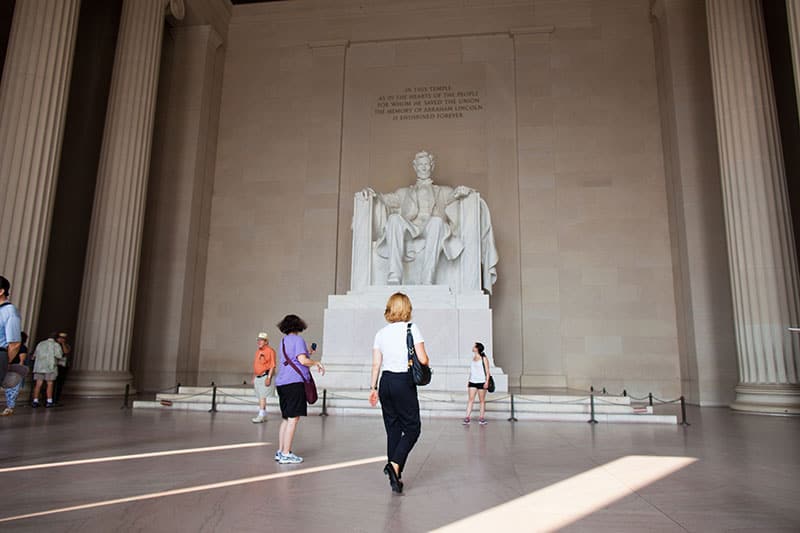 Visit Artechouse
 For a much different arty experience, stop at Artechouse on the National Mall. This immersive art experience and its arts-meet-technology exhibits are a mind-blowing must-see. You and your travel companions will delight at all the things available to discover (and interact with) here. There's a bar at Artechhouse too, so you can whet the whistle after all this cultured sightseeing.
The Library of Congress
The Library of Congress (101 Independence Ave SE) isn't just your run of the mill library. Although a building which promotes quietness and alone time may seem like the opposite of a good idea for a large group, those in your pack who love history will want to flock to this building, known for its impressive columns, mammoth structure in the Thomas Jefferson Building, special exhibits, and, of course, all those books.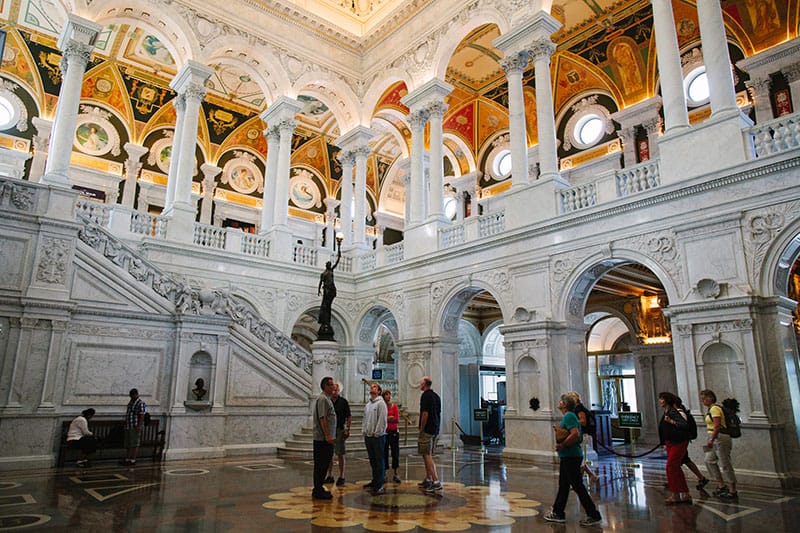 Wander Around the Nation's Most Historic Sites and Museums
Just because there are more people with you, doesn't mean you have to break the bank. You can explore D.C.'s endless offerings while on a budget (read our money-saving tips for D.C. before you go). There are tons of free opportunities for fun in D.C. You can walk the National Mall, stand in awe at the Lincoln Memorial, and more. Best of all, a number of D.C.'s best historic sites and museums are free, like the Smithsonian museums, some of which include: the National Air and Space Museum, the National Postal Museum, and the highly popular National Museum of African American History and Culture.
For Lovers of the Strange and Unusual: Catacombs and "The Exorcist" Stairs
Yes, Washington, D.C. (not just Paris) has some catacombs open to visitors. What are catacombs? They're man-made underground passageways, usually for religious practice, and they are also sometimes used as burial grounds as well. (The Catacombs of Paris are a must-visit on your next trip to the City of Light.)
Visit the D.C. Catacombs, which were created by Franciscan monks, for a memorable and unusual (some may even say "creepy") way to see the city. And speaking of creepy, did you know that the seminal horror film "The Exorcist" was set in (and partially filmed in) D.C.? There's a long, treacherous, famous staircase in Georgetown, which was seen in the film. If one among your tribe is into scary stuff and horror films, then this staircase is a must-see.
Related links:
[maxbutton id="1″ url="https://www.fattiretours.com/washington-dc" text="Join Fat Tire Tours in D.C!" ]