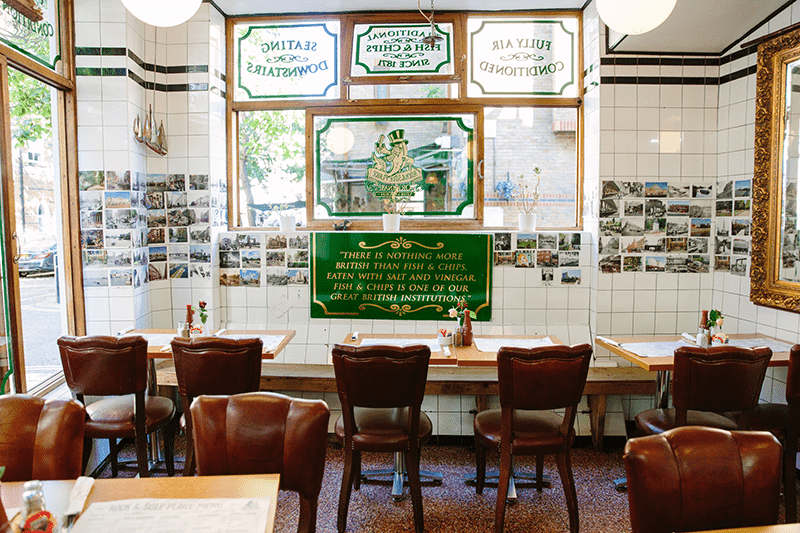 Iconic London Foods and Where to Find Them
By Anne McCarthy
London means so many things to so many different people.
To some, it's a literary haven; it's the place where Sherlock Holmes was created, where Peter Pan flew across Big Ben at night, where Oliver Twist sang through the streets, where Harry Potter travels to Hogwarts. For others, it's a music fan's dream; it's home to the Beatles' Abbey Road, Jimmy Hendrix's flat, the Rolling Stones' performance stages, and more. And for many, it's the home of their favorite films: "Love Actually," "Notting Hill," "The King's Speech," and more.
And for some – it is all about the food.
London is inarguably one of the greatest food capitals in the world, and its profile as such has been steadily rising over the years as well. The food scene in this bustling metropolis is ever-shifting and ever-pleasing.
Chef Ryan Brown, who lives and works in London, says of the city's food scene:
"London is such a culturally diverse city as many Western Capitals are these days. But Londoners are an open-minded bunch who won't think twice about eating Arepas off a plastic chair in a car park or South African BBQ off stacked timber under a railway arch. It's a city that lives and breathes all things food."
Here, we take a look at some of London's most iconic foods, and where to find them!
Pies
London is known for its pies. (And in the UK, pies aren't typically sweet, as they are in the U.S.; they're eaten as meals entirely on their own.) Pies in London originated during the Victorian era; they were the "street food" of the day. "Lacking the funds for premises," reports The Londonist, "several hundred so-called pie men would walk the streets selling their wares, particularly in east and south-east London. They came with a number of different fillings including meat and fruit, but most commonly eels…It's thought that the first pie shop opened in 1850."
Though eel-stuffed pies are no longer a favorite throughout London (as far as I know), pies remain popular. And London is bursting with good spots to nibble on a pie – be it steak or vegetarian or, if you can find it, eel.
My favorite restaurant in London for pie is the Holborn Dining Room (252 High Holborn) at the Rosewood Hotel, which has been making waves for its pies for some time now. Chef Calum Franklin (whose Instagram is a favorite among foodies) has turned pie-making on its head, and people are clamoring for his delectable and memorable pies. Once thought of as merely comfort food, pies are now some of the chicest cuisine choices one can make.
Curry
London has a high population of Indians living in its city. And, as such, there are loads of phenomenal (and authentic) Indian restaurants in London, scattered throughout the city. Indian curry spots are a favorite among many Londoners. Some of the best places to find a good curry include Calcutta Street (29 Tottenham Street), Dishoom (with multiple locations in Covent Garden, Shoreditch, and Mayfair), Michelin-starred Gymkhana (42 Albemarle Street), Michelin-starred Veeraswamy (which has been around since 1926), and smaller, divey places off the beaten path. Brick Lane has some of the best curries around town.
Gin
Londoners LOVE their gin. Gin & tonics are practically an English staple. Of course, there's the London Gin Club (whose slogan is: "Dedicated to the Enjoyment of Gin") at 22 Great Chapel in Soho, Mr. Fogg's Gin Parlour (1 New Row), and many more. Indulge in a gin-infused cocktail or a classic G&T to make your London night out have an authentic English flair.
Gin distilleries are also gaining in popularity. The City of London Distillery (22-24 Bride Lane), near to St. Paul's Cathedral, is well worth a gander to learn about how this famous – and beloved – product is made.
Martinis
"Shaken, not stirred." Or so says London's most famous British Secret Service agent, Mr. James Bond, of his martini preferences. (You can also make your own at home; if you'd like to go full-out Bond, check out this recipe from The Spruce for James Bond's Famous Vesper martini.)
Dukes Bar (35 St. James's Place) is renowned for their martinis, the American Bar at the Beaumont (8 Balderton Street) – also known for their luxurious and old-school interior –has been known to make a mean martini, and so has Notting Hill's famous Star Bar (171 Portobello Road). As it is with much of London's famous foods and drinks, you'll find a list as long as your leg of fun places to check out for these Bond-favored libations.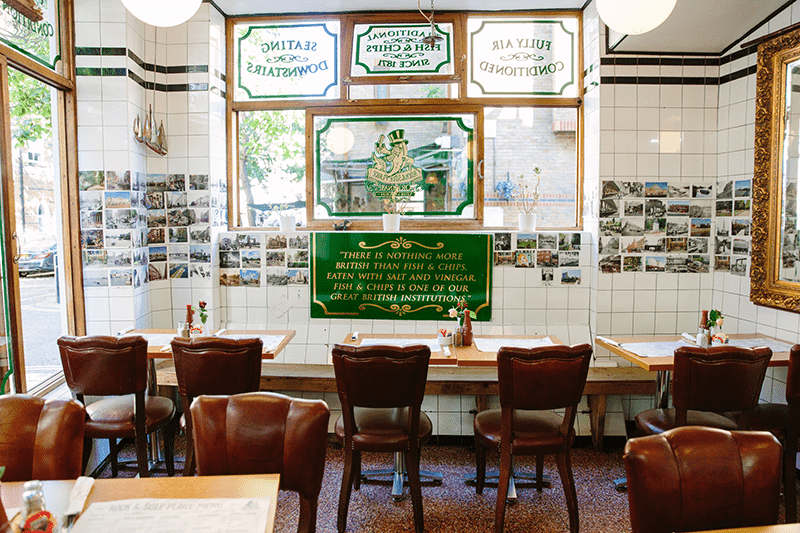 Fish and Chips
Of course – fish and chips. It's perhaps the most iconic of English foods to people not from England. (I remember when I first went to London as a kid, one of the top things on my list was "Eat fish and chips;" I'm happy to report that I was able to knock that item off of my To Do list.)
Fish and chips can be found all over London, from little food stalls to fancy restaurants. Some fan-favorite spots for fish and chips can be found by visiting Golden Hind in Marylebone, Fish Lounge in Brixton, Kerbisher & Malt (multiple locations), and Poppies in Spitalfields.
Tea
Fancy a spot of tea? Tea in London is tradition, dating back centuries. Afternoon tea is a ritual in these parts, and although the busy pace of London has led to shorter tea breaks, it's still one of the city's favorite drinks. Check out London's famous Fortnum and Mason for buying tea for your home, and visit classic afternoon tea spots at places like department store Selfridges, and The Dorchester and Claridge's hotels. There are tea rooms abound throughout this tea-loving town.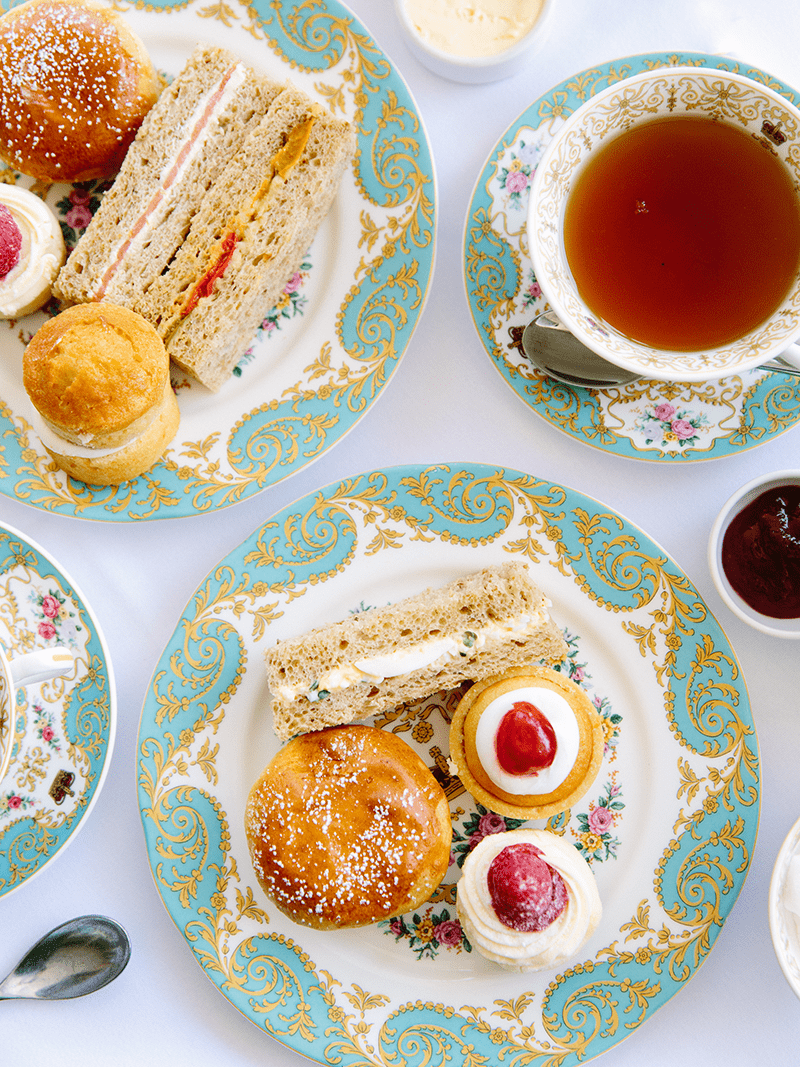 Cheeses
England's neighbors to the south and the west, France and Ireland, respectively, are perhaps better known for their cheeses than England. That's not to say, though, that there aren't some divine and tempting English cheeses to be found all over London. Check out cheese shops like London Cheesemongers (251 Pavilion Road), La Cave a Fromage (24-25 Cromwell Place), and Paxton & Whitfield Ltd. (which boasts over 100 years of history of serving up delicious and mouth-watering cheeses).
The Markets
Notting Hill Market, Borough Market, Camden Market, and Spitalfields Market have incredible food options – from classic London fare to the unique and unusual – as far as the eye can see. Treat yourself to a visit there, and have cash in hand for a quick exchange of some delicious eats.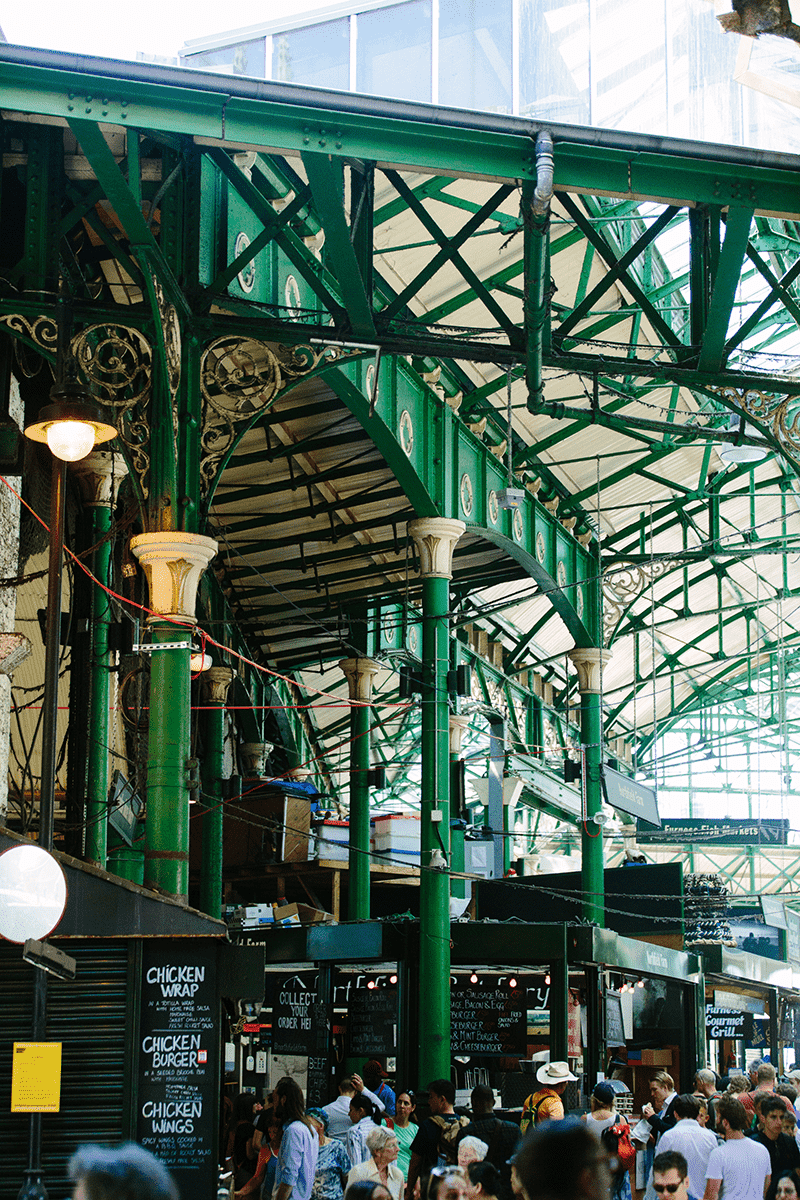 Sunday Roast
We must conclude with Sunday roast, as it is the way most Londoners end their weekends. Sunday roasts are not just a meal, but they are also an English cultural staple of significance. They take hours to prepare, and the ritual of the roast serves as a gathering spot to break bread (or, rather, meat of some kind) with loved ones. Sunday Roasts don't need to be home-cooked, though. Restaurants like The Jugged Hare, The Guinea Grill, and The Gun, are all fine options (and there are many options to choose from for Sunday roasts in London), which offer yummy roasts for the visiting traveler and tourist.
So eat your way through London – you'll be glad you did!
Planning on visiting a few other English cities?  Regional British food may just help you plan out the rest of your vacation.  Wherever you end up, you will be greeted with a warm welcome and an array of local specialities.