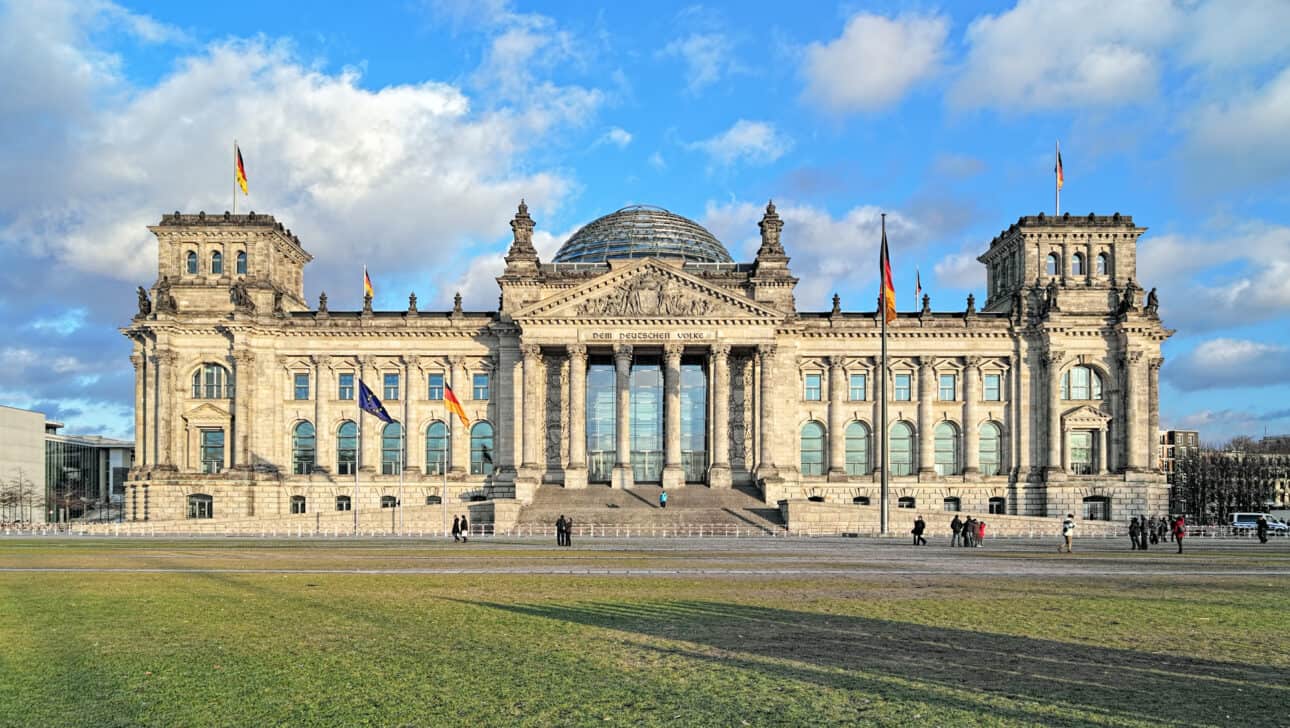 Frequently Asked Questions
General FAQ's
Where is the tour meeting point?
This tour meets at our Alexanderplatz shop, located at the base of the giant TV Tower (Fernsehturm). You can find us on the northeast side of the tower between the Alex Café and the entrance to the TV Tower. The address is Panoramastraße 1a, 10178 Berlin.
Can I purchase a gift certificate for Berlin?
Absolutely! You are welcome to click here and purchase a gift card for Fat Tire Tours, Barcelona online.
What is your cancellation policy?
CANCELLATIONS AND REFUNDS
We are happy to offer free changes and 100% refunds up to 24 hours before tour departure. Failure to cancel a reservation at least 24 hours prior to scheduled departure may result in forfeited travel funds. Fare difference may apply for activity or schedule changes. Activities including tickets or special entrances may require further notice to be eligible for a full refund. Please see below for specific policies.
CHANGES AND RESCHEDULING
We are happy to modify or change your reservation up to one hour before your activity start time without any rescheduling fees. Any changes are subject to availability, and difference in activity prices may apply.
Within one hour of the activity start time we likely will not be able to rebook or reschedule your booking, however, please contact our customer support staff directly and we will do our best to accommodate you.
*SPECIAL RESTRICTIONS AND EXCEPTIONS
Please note the following exceptions to our standard cancellation and rebooking policies:
"Fat Tire Approved" activities are operated by partner companies with specific rebooking policies. Please consult the specific cancellation policy of any Fat Tire Approved activity for specific refund, rebooking, and rescheduling restrictions. Fat Tire Approved tours can be identified by a red banner towards the top of the tour page.
Activities including tickets or special entrances, such as Versailles or Colosseum, may only be rescheduled for free up to 72 hours in advance*. These activities are also only refundable more than 72 hours in advance of the activity start time. Within 72 hours, we will only be able to issue a partial refund or future credit. Those activities include:
Barcelona
Gaudí Bike Tour with Skip-the-Line Sagrada Família Ticket
Florence
All Skip-the-Line Duomo Tours
Milan
All Skip-the-Line Duomo Tours
Munich
All Oktoberfest Tours
Paris
All Eiffel Tower Tours* (Please see the Eiffel Tower Tour pages for the specific cancellation policy for these tours)
All Versailles Tours
Skip-the-Line All Access Catacombs Tour
Rome
Skip-the-Line Colosseum Tours
Private Tours must be cancelled or rebooked at least 7 days in advance of the activity start time. Reschedulings are subject to availability.
If you aren't sure if your tour falls under a special restriction, simply get in touch with our team in advance and we'll be happy to confirm your options.
Are reservations required?
Yes, reservations are required for all tours.
Is there a place to store luggage or bags while I'm on tour?
Absolutely, you are welcome to bring your luggage along to the meeting point where you may store your bags in our shop while out on tour.
What happens if it rains?
The tour will still run in case of rain.  We try our best to take cover but sometimes we are exposed to the elements.  We have pocket-sized rain ponchos for sale in our shop and we highly recommend that you purchase one before tour.  If you don't use it, we will buy it back from you- it's a bit of a rain insurance policy!
How do I apply the Welcome Card discount when booking?
To secure your place on the tour, we would recommend booking in advance via our website at the full price. We are unfortunately not able to offer the Welcome Card discount online, however, please bring your cards with you and our shop staff will be happy to refund the 25% per cardholder on the day of your tour.
Do we go inside the museums and monuments?
Unfortunately, the tour duration does not give us enough time to enter any of the sites that we see on tour. This tour is designed to enjoy the city from a broad perspective and come away with a greater understanding of its history and layout.
How do we find your office?
Our shop is directly under the giant TV Tower in Alexanderplatz. If you're coming from the Alexanderplatz train station (U-Bahn and S-Bahn), just exit on the side with the giant tower. As you look at the entrance to the TV Tower, we're around the right-hand corner, near the Subway sandwiches shop and behind the Asian food restaurant. Don't worry- it's easy! You will see our large A-frame signs straight away!
How can I work for Fat Tire Tours in Berlin?
Fat Tire Tours Berlin looks for extraordinary, fun, and intelligent people! Our hiring criteria, training process, and minimum time commitments are fairly rigorous. Just check out our Employment Page to see jobs that are currently open and how to apply.
Bike Tour FAQ's
How many people take part in the bike tours?
Our tours are very popular, and for good reason. We highly recommend reservations for all of our tours, but are happy to accommodate walk-ups as space is often available. To make sure our tours are fun, safe, and a great experience for everyone, we have extra guides on hand should we need to split larger groups. We have plenty of bikes and plenty of tour guides, so just sit back and we'll take care of the logistics.
Is this tour appropriate for kids?
Our tours are great options for families and kids are very welcome.  We have several types of kids' bikes, seats, and helmets to make sure everyone of all sizes is comfortable on tour.
How long do the bike tours last? What if I can't take part in the whole tour because of a previous engagement?
Our bike tours vary in length between 3 and 6.5 hours and cover roughly 6 to 12 miles (10 to 20 kilometers), depending on which tour you choose. Should you need to leave the tour early (for a flight, previous engagement, etc), it's no problem; just let your guide know at the start of the tour so that we can make special arrangements.
Our Potsdam Tour is about 6.5 hours long, including transportation time, and covers about 10 miles (16 kilometers). Leaving early from this tour is a bit more difficult because we are outside Berlin. Should you need to leave our Potsdam Tour early, please contact us beforehand so we can make appropriate arrangements.
I'm out of shape and/or haven't ridden a bike in years. Can I handle the tour?
No problem! Our tours are designed to be easy for everyone, and cover between 6 and 12 miles (10 to 20 kilometers) – anyone can do these tours! Our Potsdam Tour is also largely one park ride to the next- so very easy-going. Actually, you'll find yourself more energized at the end of the tour than at the start. Berlin and Potsdam are the perfect cities to see by bike: nice size, flat, and bike-friendly.
What if I want to keep my rental bike longer, or can't make it back on time?
Don't sweat. Our customers frequently keep their bikes longer than expected because they are so much fun to ride in Berlin. If you keep your bike longer than you rented, just come back when you are done and you can pay the remainder of any extra rental time when you get back- no need to do anything more. Please note our shop times so that you know we are open when you do come back.
Should I reserve a bike in advance?
We recommend it. While we usually have bikes available for walk-up customers, we sometimes do sell out. Each of our bikes can be reserved in advance online, and we highly recommend that you reserve your bike or bikes in advance. If you don't have a reservation, don't worry- just come by one of our shops where we are usually able to rent remaining bikes on a first come, first served basis.
Will my pants/trousers get dirty when they touch the chain?
No, our bikes have chain guards so your pants won't come in contact with the chain at all.
Do you have baskets on the bikes?
All of our bikes have a luggage rack on the back, and we have straps in our shop for you to use. Luggage racks are perfect for carrying extra coats or small items. We have a luggage room free of charge if you would like to leave larger bags with us while you cycle.
Is biking in Berlin safe?
Yes, and it really is the best way to see the city. Bike lanes are all over the place, and if not, just ride in the street like a local – you will make lots of cycling friends!
How do I lock up the bike?
Included with your rental is a cable lock that you can use to lock your bike securely, even if you are keeping it overnight. Our adult bikes also come with frame locks as well, so you will be very safe and secure. We will show you how everything works when you pick up your bike.
What happens if if I get a flat?
Flats, while rare, do happen. With any bike sometimes things break, so we will get you back up and running as quickly as possible. If you aren't near our shop, just bring your bike back on the train, just remember to validate a bike ticket for the fare. We will reimburse this to you when you get back.
Segway Tour FAQ's
What is a Segway?
The SegwayTM Human Transporter is the first of its kind-a self-balancing, personal transportation device designed to go anywhere people do. Easy to use and operate, the two-wheeled Segway sports high-tech gyroscopes that automatically respond to your body's movements, "sensing" when it should speed up and slow down.
You stand on a small platform between left and right wheels as you hold onto handlebars at a comfortable waist height. The Segway handles the balancing for you, so that you're always upright as you glide through any environment.
You may also visit Segway LLC's site for more detailed info.
How big will my group be?
Our tours operate in groups of 8 guests or less.  If your party is larger than 8, the group will be split up for safety reasons, each with a guide.
Are there restrictions or requirements to participating in this tour?
Yes, there are a few things to keep in mind as Segways are classified as motor vehicles in Germany:
All participants must be over the age of 14 and any participants under the age of 18 must be accompanied by a responsible adult.
All guests must have a valid form of ID with proof of age.
Each participant must weigh between 100 lbs (45 kgs) and 255 lbs (117kgs).

Women who are pregnant should not ride Segways.

We have 

a strict policy against alcohol consumption and Segway operation. Alcohol is forbidden on all Segway tours and any client suspected of drinking before or during a Segway tour will immediately forfeit their tour and no refund will be given.
What do I need to bring with me on tour?
Although you won't be walking on tour, riding and operating Segways is much easier when you are wearing comfortable, flat-soled shoes. Be sure to bring a camera for the great sites we will see during the tour.
Are reservations required for this tour?
Occasionally we do have space available should you call the morning of your desired tour. This, however, is rare and we suggest you reserve as far ahead of time as possible. We tend to fill all of our tours.
Is there a damage deposit for the Segway tour?
While no deposit is taken before tour, you will need to fill out a fast disclaimer and damage waiver form before joining tour.
Can I rent a Segway without a guide?
Unfortunately, we cannot rent our Segways out to individuals without a guide. Since our tours are virtually always full, we need all machines for our tour customers.
Can I leave the tour early?
Unfortunately, we are not able to accommodate special requests like this on our public tours.  Once the tour begins we ask that you stay with the guide and the group until the end.  If you're interested in something shorter, please inquire about a private tour.
Food Tour FAQ's
How many people take part in the tour?
Although our tours are very popular, and for good reason, they are limited to about 16 people. We highly recommend reservations for all of our tours, but are happy to accommodate walk-ups as space is often available. To make sure our tours are fun, safe, and a great experience for everyone, we have extra guides on hand should we need to split larger groups. We have plenty of bikes and plenty of tour guides, so just sit back and we'll take care of the logistics.
Is this too much riding after a full day of sightseeing or having done another tour?
Absolutely not.  Even if you have spent all day on a bike or dashing around town, you will feel refreshed biking around Berlin in the evening.  Like all of our tours, the pace is easy and punctuated by stops to hear great anecdotes and info from the guide.
Will I get enough food?
Definitely. At each of the three food stops, you will get a sampling of food.  These portions, over the three food stops, will be a bit more than a full meal by the end of the night. You won't be hungry.
How do we get food – is it on the go?
No – we don't want you to stand on the street with food in to-go containers! Because we take you to the places we like to support, we will be welcomed inside and served.
How can I best fit this tour into my day?
This tour fits fine perfectly after a day on tour, a day shopping or museum hopping, or before a night out.  It's not strenuous, and it's a great way to spend the evening.
What other costs will there be?
The bike, guide, taxes, and food are all included in the price.  At each food stop, water will be provided at no additional cost to you.  If you prefer to drink something additional, you will be asked to pay for that.