APPLICATIONS OPEN FOR THE 2023 SEASON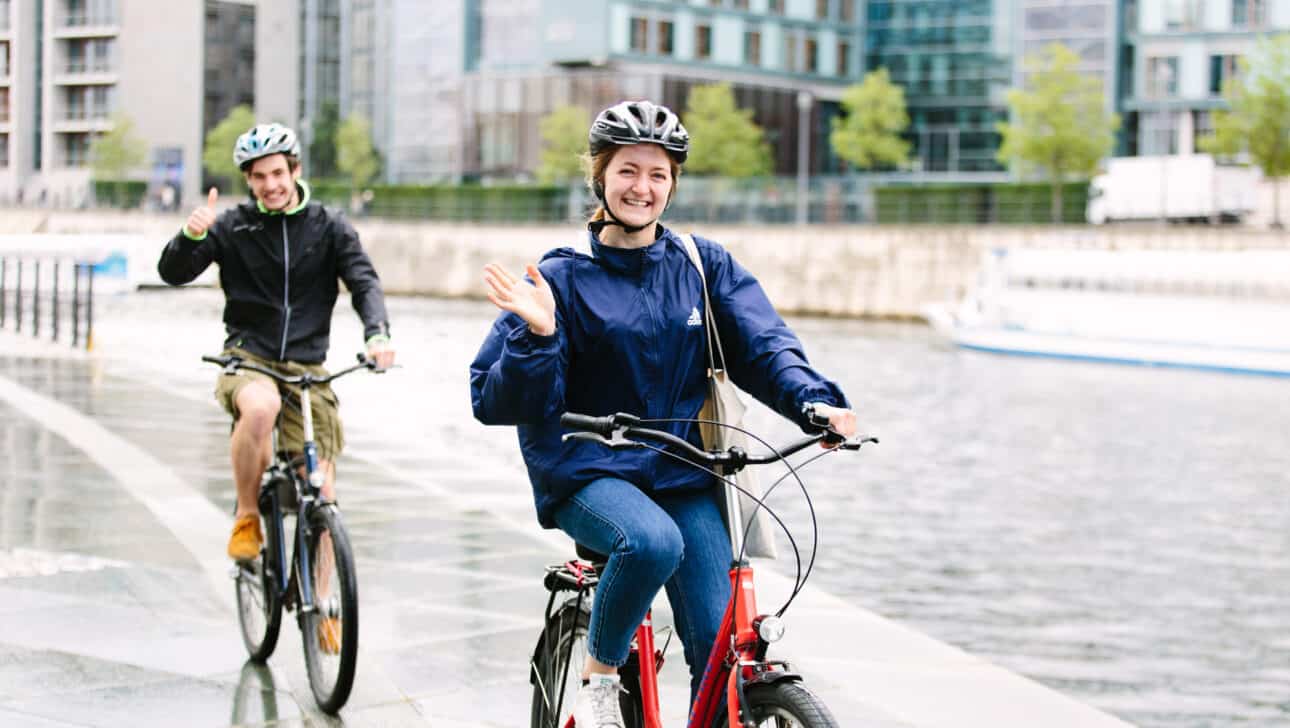 COMPANY MISSION STATEMENT
Our mission is to provide safe, fun, and unforgettable experiences though superior customer service that creates memories and smiles that last a lifetime.
Open Positions in Berlin, Germany
SHOP STAFF
Our fantastic shop staff is a team of young, energetic and motivated folks. You will be required to work from our location at the TV Tower.
Required Qualitifications:
FLUENT English and German speakers only (additional languages a bonus)
Great customer service skills along with the ability to work both individually and in a team environment
Computer literacy and POS experience
Persons comfortable on and around bikes
Flexibility and the willingness to work hard in the busy season including weekends
A sound knowledge of Berlin and the tourism industry
Must have valid visa if not an EU citizen.
TOUR GUIDE
Guiding tours with us is a highly sought after position demanding lots of previous knowledge, a strong desire to continue learning, very flexible work hours, sound experience with bikes, and a strong sense of team pride.
As the leader of our tours, you're expected to be a powerful presenter and confident public speaker. You should have no problems building a rapport with people from all walks of life. On any given tour you may have an elderly Dutch couple, a Belgian family, a couple New Yorkers, a few Kiwis, some recent US college graduates, and some Aussie backpackers – you should be able to relate with all of them individually and make them feel like part of a cohesive group as you lead the tour.
You should also be able to deal with adversity without showing signs of stress.
Flat tires and other bike issues are occasionally part of the job, and fixing them quickly on the fly is all part of that. While we also love sunny days, you're bound to do many tours in the howling wind and pouring rain. Regardless, we have our game face on at all times.
Required Qualifications:
University graduate with an applicable degree in history (preferably European or German), German language, political science, etc. A bachelor degree is a minimum, with graduate work or degree preferred.
Very strong knowledge of Berlin and German history (applicable degree in history, German language, political science is preferred but not mandatory). What you do not yet know we can help teach you, but you should be very familiar with 20th Century German history. You should also be able to deliver this history in palatable chunks people can grasp and take with them.
A current residence in in Berlin. Please note that we do not hire anyone who has not spent considerable time in Berlin!
Native-level English-speaker with a working knowledge of German. We prefer that you're fluent, but you should at least be able to communicate with locals as you encounter them during the tour.
Flexible work hours. We are primarily looking for people available full-time throughout the entire summer, and at least from March through the end of October. Please note that we do NOT hire anyone that is only passing through for a few months.
Strong desire to help grow the company. We're a small team from all walks of life and we spend lots of time together outside of work enjoying all that Berlin has to offer. You should be social, friendly, have a great sense of humor, and possess a vivacious disposition.
Humor! We want you to explain history in a way that keeps people's attention and helps them understand what makes Berlin so unique. You should be an entertainer as well as a historian.
Familiarity with bikes. While you're not expected to be a complete mechanic, you should have no problems hanging bikes before/after the tour into racks in our shop, flipping them over and getting your hands dirty while on the tour, fixing flat tires, "doubling" a bike back to the shop, etc. Dainty people need not apply.
Working permissions in Germany! We offer seasonal contracts so you should be exceptionally motivated to work very hard during these summer months. We can only accept candidates who already possess either an EU passport, or German Work and Residence Permits.
We conduct ongoing training for new staff so we are keen to hear from folks who are able to jump into action whenever the time is right at any stage of the year.