Our first tour, March 18th, 2004: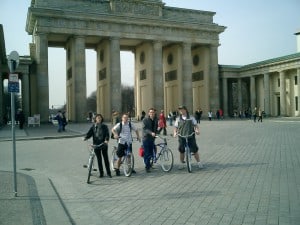 March 18th marked the 10th anniversary of day we took out our first 3 guests on a tour back in 2004.  The occasion certainly made for a good excuse to have a season kick-off party!  In true Berlin fashion, where so many places are steeped in history, we met beneath a bar where, during the Cold War, secret meetings were held under the cover of the "Wednesday Club".
Dimly lit pictures cannot do justice to the nostalgia that a slide show of 10 years of images brought forth, the desperate attempts of our staff to topple Danny (one of our mechanics) from his throne as ping pong champion, or the fun in our shop staff reenacting "Office Space" with a printer that had caused us stress for oh so many years.
Truly good times amongst a great crew and good friends.  Thanks to all those that participated!  Here's to our next 10 fantastic years!