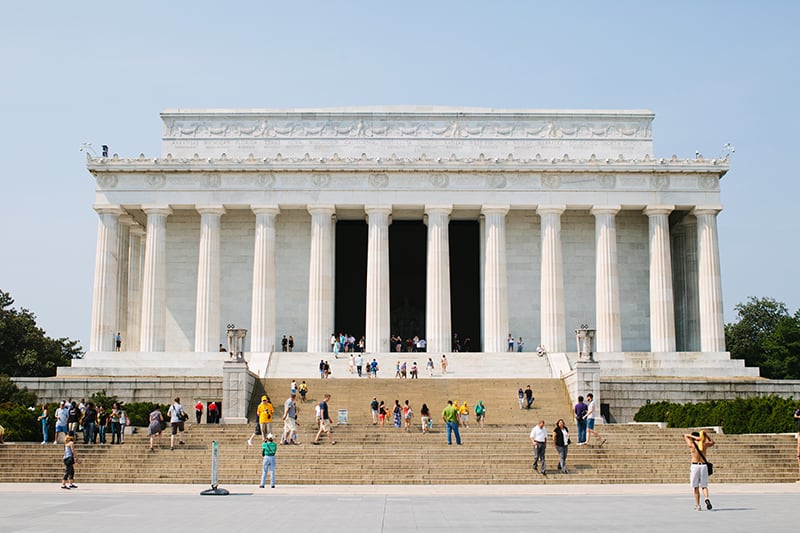 Best Ways to Visit D.C. Monuments this 4th of July
Ah, the Fourth of July.
It is one of the most popular holidays in the U.S., and for good reason, too. You don't need to buy anyone gifts. You don't need to send cards. And you don't need to feign excitement for a gift that just ends up being an errand to return something to a store.
This patriotic holiday is often welcome with open arms, due to the laid-back – yet fun and lively – nature of the holiday. It's a time in summer to celebrate with friends and family, have a picnic, chow down on some barbecue (or D.C.-specific desserts), and watch the night sky light up with some pretty spectacular fireworks.
The Fourth of July (officially called "Independence Day") is a federal U.S. holiday. It celebrates the 1776 signing of the Declaration of Independence, which declared the U.S. free of British rule.
If you're headed to the nation's capital, Washington, D.C., to fete that centuries-held independence, be ready for some crowds, because they come in droves. That said, it doesn't need to be a stressful ordeal for visiting some of the capital's most famous monuments during your visit in and around July 4.
Here are some tips for visiting D.C. monuments to help make your trip as smooth as possible.
United States Capitol
The home of the United States Legislature is an appropriate place to check out around the 4th, due to its historical significance. This monument is also an office building and "one of the most recognizable symbols of representative democracy around the world." Admission is free.
You'll find the main entrance at the Capitol Visitor Center, which is beneath the East Front Plaza, at the intersection of First Street and East Capitol Street. For an optimal visiting experience, check out the temporary exhibits first, then head to the permanent exhibits, and then perhaps hit the gift shop for a bit of light shopping. When you're through with your visit, it may be time to hit the Capitol Café (found on the lower level) for a snack.
As per the visitor center website: The Capitol Visitor Center is open to visitors from 8:30 a.m. to 4:30 p.m. Monday through Saturday except for Thanksgiving Day, Christmas Day, New Year's Day and on Inauguration Day.
The Lincoln Memorial
Sure, you – depending on your age and preferences – may know of the Lincoln Memorial chiefly as seen during marked appearances in films (i.e. "Night at the Museum: Battle of the Smithsonian," "Wedding Crashers," and more), but it's also a place of honor for one of the country's most revered presidents, Abraham Lincoln.
It is also the most-visited memorial in D.C., welcoming 6 million tourists annually. It overlooks the Reflecting Pool on the National Mall, and offers some most excellent views.
Like the Capitol, the Lincoln Memorial is free to visit, and you can get up close and personal with Abe as he towers over you. It is open 24 hours a day, 365 days a year. To avoid crowds, we suggest visiting first thing in the morning. Perhaps you can even catch the sunset there with Abe. It is said to be quite beautiful.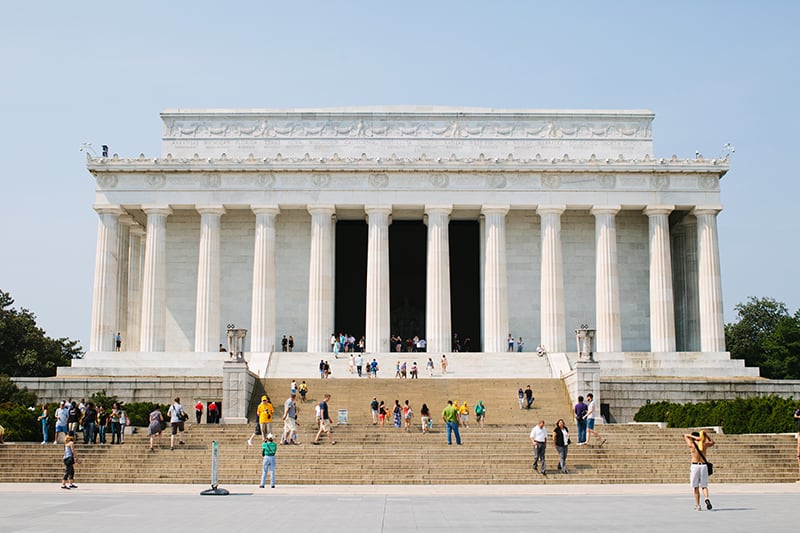 The Washington Monument
Adjacent to the Lincoln Memorial, you will find the towering Washington Monument. (Incidentally, it has also been featured as a prominent site in many films, and also, of course, real-life events.) This monument commemorates the nation's first president, George Washington.
You will need to admire this monument from afar, however, on your 4th of July visit. It is closed to visitors until August 2019, due to elevator modernization and the building of a new security structure at the base.
World War II Memorial
A ten-minute walk from the Washington Monument, you will find the World War II Memorial, a place of honor and respect. The memorial is open at all times to the public and has been welcoming visitors since its dedication on May 29, 2004. It was built to honor the 16 million people who served in the U.S. armed forces during World War II, as well as those who died at war.

Thomas Jefferson Memorial
Nearby to the World War II Memorial (only 20 minutes by foot), is the Thomas Jefferson Memorial, commemorating the contributions of one of our Founding Fathers. One of the most noted things about the monument is its impressive design. (Jefferson was a passionate student of architecture and a fan of design.)
Free and always open to the public, visit at any time. (As noted above, you'll have the best chance of avoiding packed crowds if you go first thing in the morning.)
The White House
Residents of this famous house come and go, but it remains a prominent symbol of American history and culture. Located at 1600 Pennsylvania Ave. NW, you can observe the White House at any hour, 365 days per year.
For a tour through the White House, you'll need to submit a tour request through your Member of Congress. More information on getting a tour squared away can be found on the White House website.
And for the two remaining items below, although they're not physical monuments, they are national institutions, when it comes to celebrating July 4th in D.C.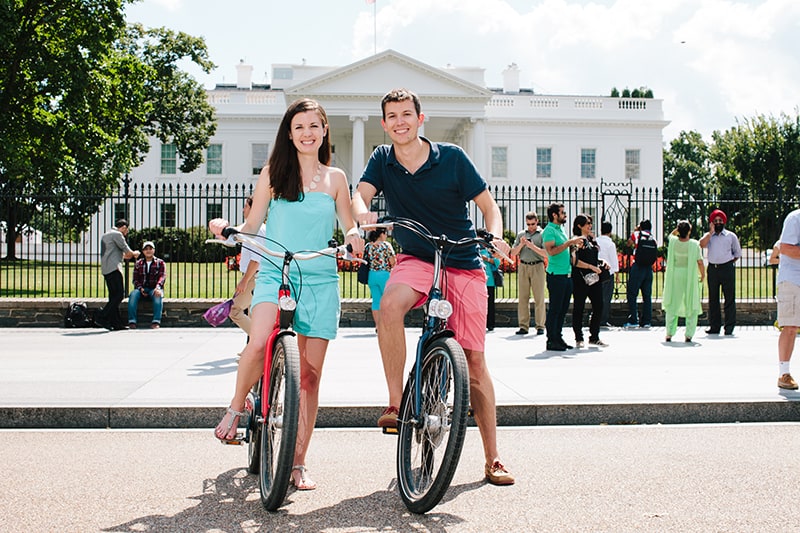 Listen to "A Capitol Fourth" Concert – In-person, or from afar
Now, here's an ideal way to avoid the crowds, yet still get a taste of the action.
The U.S. Capitol Building hosts a celebratory – and free – concert every year. Now in its 39th year, the cleverly named "A Capitol Fourth" concert will play in D.C. It is also broadcast on PBS (and streamed live on NPR), so you can watch (or listen to) the concert from the comfort of your hotel room.
Or, see it live! The concert takes place on the West Lawn of the Capitol Building, and it begins at 8pm. Carole King will be performing, along with many other artists, and actor John Stamos will play host. Who wouldn't want to stare at those dimples for an hour?
Watch the Fireworks Cast a Glow over the City
Although New York City has the largest Fourth of July fireworks display in the U.S., the display in Washington, D.C. holds particular clout, due to its location. In terms of the best places to perch, the National Mall is where it all goes down. Washington D.C.'s tourism site recommends for optimal fireworks viewing:
"You'll find excellent vantage points from many rooftop bars, sitting on the steps of the Lincoln Memorial, across the river in Arlington and many other places throughout the District."
If you want to truly avoid the thickest of the crowds, however, I'd recommend opting for a rooftop bar or restaurant. Anywhere along the Mall will be crowded. But if a crowd amplifies the fun for you, then head to the Mall and lay claim to your spot!
Fireworks begin at the National Mall at approximately 9pm on July 4th.
If you have time on your next D.C. visit, swing by Fat Tire Tours (or book online) to join us for one of our top-rated D.C. tours, like the Washington, D.C. Day Bike Tour, the Monuments & Memorials Night Bike Tour, and more.
Related links:
• Learn how to best travel D.C. on a budget
• 10 Best Sweet Treats in Washington, D.C.
• The Washington Post highlights D.C.'s best barbecue joints.
• In the News: NBC News has the low-down on Your DC-Area Fourth of July Fireworks Finder: 2019 Edition
[maxbutton id="1″ url="https://www.fattiretours.com/washington-dc" text="Explore the Nation's Capital with us!" ]