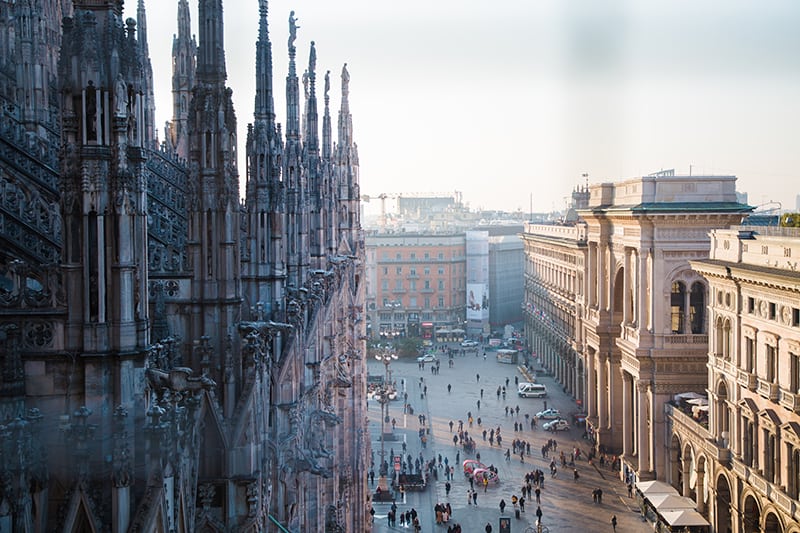 Fat Tire Tours' Best of Milan
In our "Best of" city series, our local team will lead you around their beloved cities via some insider tips and noteworthy "best" spots!
Quick Links to Milan's Best… Hotels | Restaurants | Bars | Coffee | Tours | Attractions
---
Hotels
Address: Via Gesù 6
Closest Metro Station: Montenapoleone (line 3)
Milan's Four Seasons is located in the space of a 15th-century convent and breakfast is served in the former cloister. It's a serene and peaceful oasis right in the heart of Milan's Golden Quadrangle, where all the major Italian and international fashion designers have their flagship stores. Insider Tip: Don't miss the Sunday brunch!
Address: 10 Corso Como
Closest Metro Station: Garibaldi (line 2 and 5)
This ultimate boutique hotel has just three rooms (all are suites), and it's located in the green and charming inner courtyard of 10 Corso Como: the most beautiful concept store in the world. Each room has an independent entrance and is furnished with art, design pieces, and a lot of creativity.
Address: Via Tortona 35
Closest Metro Station: Porta Genova (line 2)
This design hotel is in Tortona district, the creative heart of the city where former factories have become architects' studios, creative workshops, and showrooms. The whole hotel is furnished with iconic design pieces, most of which are by Italian designers. The Nhow hosts events, exhibitions, and art installations. A stay here is anything but boring.
Address: Via Benaco 1
Closest Metro station: Lodi (line 3)
Forget about the cheesy hostels of the past, hostels in the city are getting pretty hip, and some of them are definitely a must-see, like the Madama. Once a Police station and now a hostel, each room is decorated by a different street artist and the furniture is bespoke. It provides not just the dorm rooms, but also double rooms with bathroom ensuite. The bar is a destination for locals, especially for an aperitivo.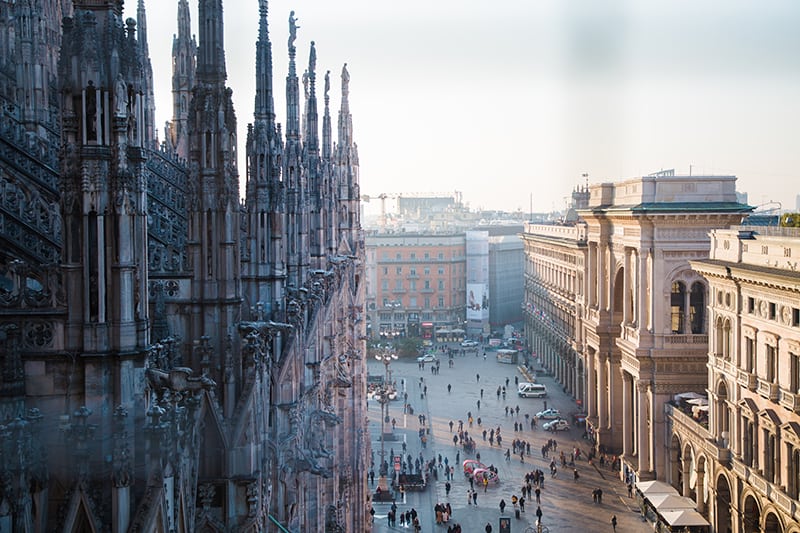 ---
Restaurants
Address: Via Guglielmo Marconi, 1
Closest Metro Station: Duomo (line 1)
This bar and restaurant offers one of the most stunning views in all of Milan. It has an excellent position facing the Duomo, and you can literally eat with the Duomo in front of your eyes. The place is elegant with Art Deco furniture, and the menu offers Milanese dishes and fish.
Address: Via Giovanni Lorenzini 14
Closest Metro Station: Lodi (line 3)
Have a drink or dine on the 6th floor of the beautiful tower belonging to the Fondazione Prada. Here you'll have a stunning view of the city, and you'll be surrounded by art. Fontana, Koons, Copley, and Macuga are just a few of the artists who will keep you company while eating. The furniture comes from New York's Four Seasons Restaurant, designed by Philip Johnson in 1958.
Address: Via Gaetano de Castillia, 28
Closest Metro Station: Gioia (line 2)
The best feature of this restaurant, which is housed in a building from the 1800s, is that the food is traditional, freshly prepared, and locally sourced. If you want to taste the Ossobuco or the Risotto alla Milanese, consider this charming restaurant for your meal. During the week they offer an inexpensive business lunch, too.
Address: Via Torino, 34
Closest Metro station: Duomo (line 1)
This pizzeria, not far from Duomo area, is considered the best pizza in Milan. As you walk in, you'll get a complimentary glass of Prosecco in one hand and a cheese bread in the other. The place is colorful, the waiters are nice, and the service is excellent.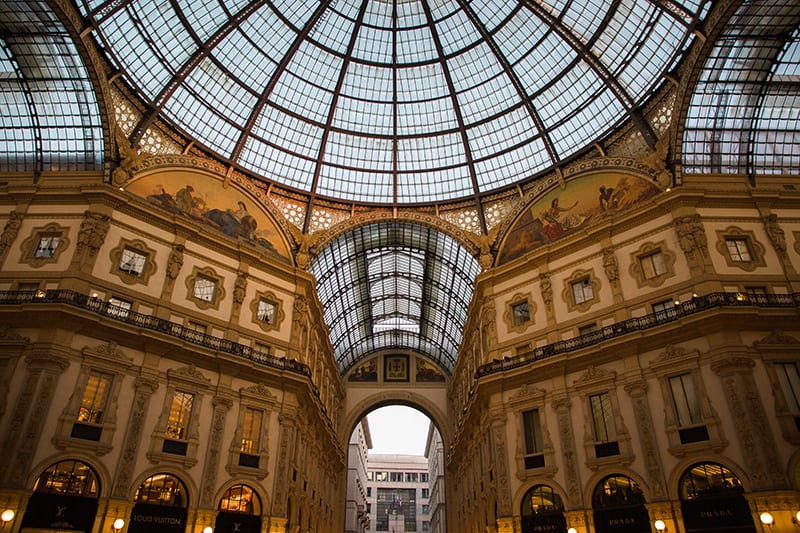 ---
Bars
Address: Via Solferino, 33
Closest Metro: Moscova (line 2)
This is one of the coolest bars in Milan, and it serves the perfect combination of amazing cocktails and delicious pizza. You can order the pizza and the topping separately, so you can personalize your pizza as you prefer. Our suggestion is to sit at the counter and look at bartenders preparing surprising cocktails.
Address: Via Ceresio 7
Closest Metro: Monumentale (line 5)
Imagine a rooftop bar with a 360-degree view of the Milan skyline, two pools, and perfectly made cocktails. This is Ceresio 7, one of the trendiest destinations in town for a drink.
Address: Galleria Vittorio Emanuele corner Piazza Duomo
Closest Metro Station: Duomo (line 1)
This place is a piece of history of Milan. For a genuine local experience, come here between 6 p.m. and 8 p.m., stand at the counter (there's a fee for table service and locals usually don't sit) like the Milanese do, order a Campari-based drink from the bartender and pierce some olives with your toothpick.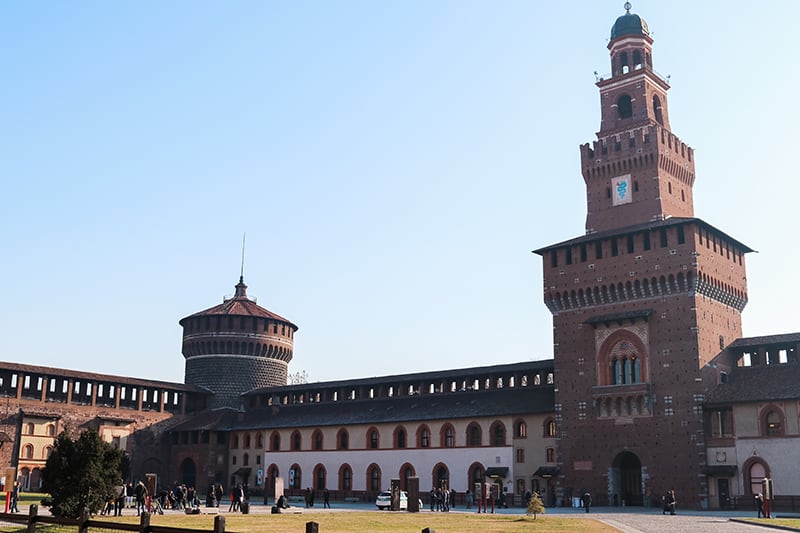 ---
Coffee Shops
Address: Via Santa Maria alla Porta 11/A
Closest Metro station: Cairoli (line 1)
This Prada-owned shop has three venues in town, but we suggest you go in the old one, which opened in 1824 and resides in an old building with wooden ceilings and a hidden tea room.
Via Felice Casati 27
Closest Metro station: Repubblica (line 3)
A hip and hipster destination, this is a pastry shop where you can find delicious pastries, mignon cakes, and crispy sandwiches. Insider Tip: Try the pastry with coffee beans.
Address: Piazza San Fedele 2.
Closest Metro station: Duomo (line 1)
Lavazza is a chic cafe where even Milan's mayor comes for a coffee. The ambiance is warm and refined, the coffee quality is top-notch, and the pastries are by superstar pastry chef, Knam.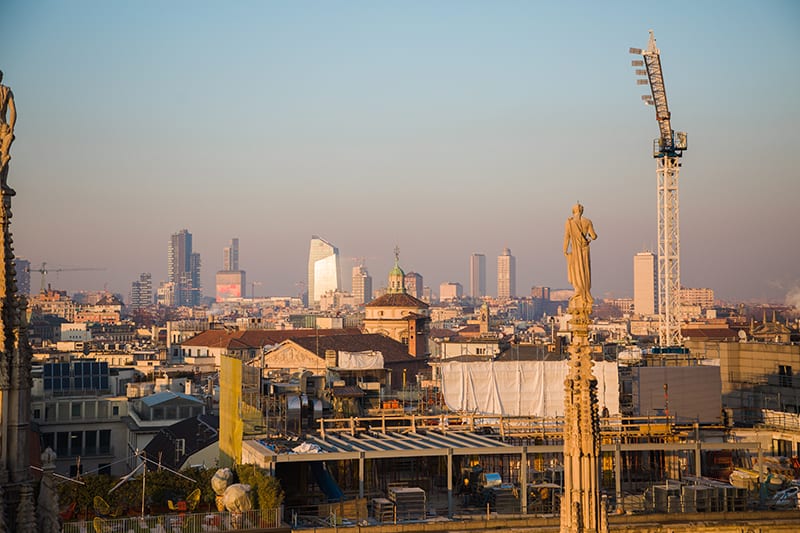 ---
Milan Fat Tire Tours & Top Attractions
Cost: 3€ for the inside, up to 17€ inside and rooftop combined
Closest Metro: Duomo (line 1)
A visit to the rooftop and to the inside of this magnificent church is a must-see. Just consider that it's entirely built of marble and it took 600 years to complete. Thousands of statues decorating it represent monsters, politicians, and unexpected elements, like tennis rackets. It's one of the few churches in the world where you can actually walk on the rooftop.
Learn everything about it and have fast access by booking our Milan Skip the Line Duomo and Underground tour. 
Cost: Park and Castle courtyards: Free. Museums: 5€
Closest Metro: Cairoli (line 1) and Cadorna (lines 1 and 2)
Explore the fortress, its courtyards, and walk around imagining you're a powerful member of the Sforza family back in the 1400s. If you're in a museum mood, you can visit its 8 museums with the same ticket, and see a ceiling completely painted by Leonardo and the last artwork by Michelangelo.
We glide around the castle on our Milan Day Segway Tour.
Cost: Free
Closest Metro: Duomo (line 1) and Cordusio (line1)
Stroll around in the stunning so-called living room of the Milanese, the first shopping mall in the world, and look at the shop windows of high-end designers. Did you know that Prada opened its first shop here, and that Maria Callas used to come here for dinner? Plus, have fun by finding the "lucky spot" on the floor.
We walk in the Galleria on our Milan Day Segway Tour.
Cost: Museum 9€
Closest Metro: Duomo (line 1) and Cordusio (line1)
Since the 1700s, this has been one of the most famous opera houses in the world. This legacy of the Austrian domination has a modest façade, but a beautiful and ornate concert hall. By visiting the museum, you can see the foyer, a collection of paintings and instruments like Liszt's' piano. By buying a ticket for an opera you'll have the chance to live a dream.
We stop by La Scala and on our Milan Day Segway Tour.
Cost: Museum 12€
Closest Metro: Conciliazione (line 1) and Cadorna (lines 1 and 2)
Obtaining tickets to view this painting is as challenging as winning the lottery, but the effort is worth it. If after over 500 years we're still mesmerized by this artwork, then there must be a reason why. (By the way, we know the theory of Dan Brown was pretty engaging, but no, that one is not Mary Magdalene.)
Enjoy a real Risotto alla Milanese
Even if Milan is in Italy, here risotto is way more popular than pasta, and the most popular one is the creamy yellow one. Once a luxury food for special occasions, now risotto with saffron is the iconic food of the city. It's said that the recipe came from a prank made by an artisan who was working at the stained glasses of the Duomo. He added some saffron he was using to color the glass into the rice and…voila! Risotto alla Milanese came to life.
Taste some amazing risotto on our Milan Food Tour.
Spot Skyscrapers…in Italy!
Closest Metro: Garibaldi (line 2)
Milan is the only city in the country where you can find a new modern and vibrant district where modern skyscrapers, traditional architectures, trendy shops, and hip bars perfectly fit together. This area has been the largest construction site in Europe for about ten years and now it represents the new face of Milan, where suits and ties run around and fashion bloggers open their stores.
Feel the vibe of Porta Nuova district on our Milan Night Segway Tour.
Closest Metro: Porta Genova (line 2)
Navigli or Canals area is one of the locals' favorite spots for a night out. Here you'll walk around the canals and the former harbor of the city and enjoy one of the most serious local habits aka the Aperitivo. From 6 p.m., most of the bars arrange big buffets of food that comes complimentary included in the price of the drink. It's a perfect way to socialize and make new friends in the city.
Go Boutique Shopping in Brera
Closest Metro: Lanza (line 2)
We know in the globalized world it's increasingly difficult to find local brands and small boutiques, but in this area, you'll find just what you're looking for. Once a more bohemian and somewhat unsafe area of the city, now this wealthy and chic district is one of the best destinations for boutique shopping in town. Whether you're looking for shoes, jewelry, clothes or art, your credit card won't stay untouched.
We stroll around Brera on our Milan Food Tour.
Cost: A one-way ticket is 1.50€
The clatter of trams is one of the features of Milan. Some of them are modern, and others are old and charming. Take a ride on the old #1 from La scala up to the Arch of Peace and face the fact that Milan has the Champs Elysees too. Since you're there, have an aperitivo in one of the bars full of locals before taking the tram back to the city center.
We tell our guests the hilarious story of the horses crowning the Arch of Peace on our Milan Day Segway Tour.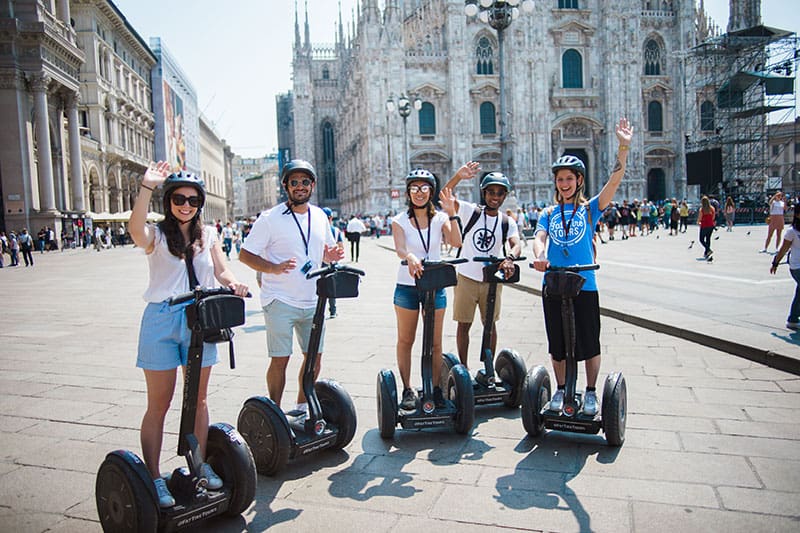 ---
Related links:
[maxbutton id="1″ url="https://www.fattiretours.com/milan" text="Join Fat Tire Tours in Milan!" ]