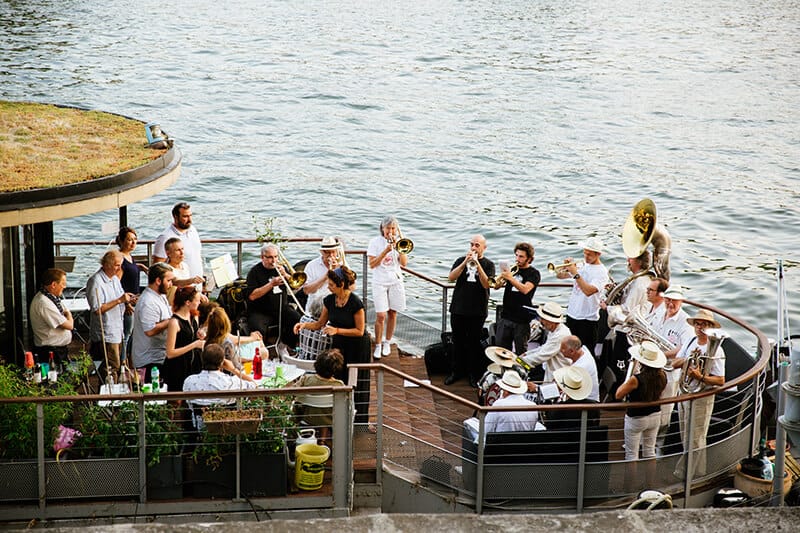 Fête de la Musique: A Brief History & Events to Attend
What is Fête de la Musique?
Held annually on June 21, Fête de la Musique (or simply, "Fête," as it is commonly called), is a celebration throughout France (and the world) which honors the celebration of – and reveling in – music, arts, and culture.
It is a night to promote music by encouraging everyone to participate – as a performer, a listener, or simply, a spectator. Free mini-concerts and full-blown concerts can be found in every pocket of Paris, for one night only.
The holiday is so French, in the best possible way. It elevates the arts to an entire day of celebration and holds them in such high esteem. The French are known for their honoring of the arts, and this is one of the many ways in which they do it so well.
The plethora of concerts and performances which take place during Fête are all free and open to the public, making the events and celebrations all the more accessible to anyone who wants to join.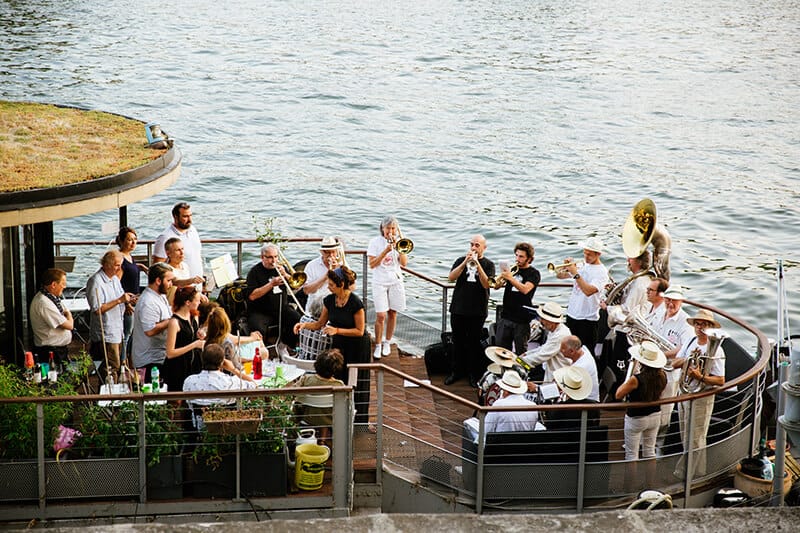 Jack Lang's Big Idea
In 1981, then-French Minister of Culture, Jack Lang, decided along with Maurice Fleuret that they should institute an all-day music celebration on the day of the summer solstice, June 21. The catalyst for this celebration was, in part, due to an interesting statistic from a study of French cultural practices that Fleuret came across, which stated that 1 out of 2 French people knows how to play a musical instrument.
The proof was in the pudding: French people love and respect music. So, Fleuret, a Director of Music and Dance (as appointed by Lang), envisioned such an event to provide: "the music everywhere and the concert nowhere." It was to be a music "revolution."
When the idea of Fête came to fruition, it was mandated that all concerts were to be free to public listeners and that the musicians would not receive compensation for their performances.
And thus, the idea of Fête de la Musique was born. With its origins in France, Fête de la Musique (called "Music Day" in some English-speaking countries) is now celebrated globally in over 100 countries.
(For a more in-depth exploration of the holiday's origins, the French government's website offers a detailed history.)
Where to celebrate Fête?
Where to celebrate Fête is entirely up to you, but might I recommend Paris, for starters. Fête de la Musique in Paris is a pretty epic event to behold. Additionally, it's the "O.G." Fête – it's where it all began. Supposing, though, you won't be in Paris on June 21, you can check out other Fete events happening beyond Paris.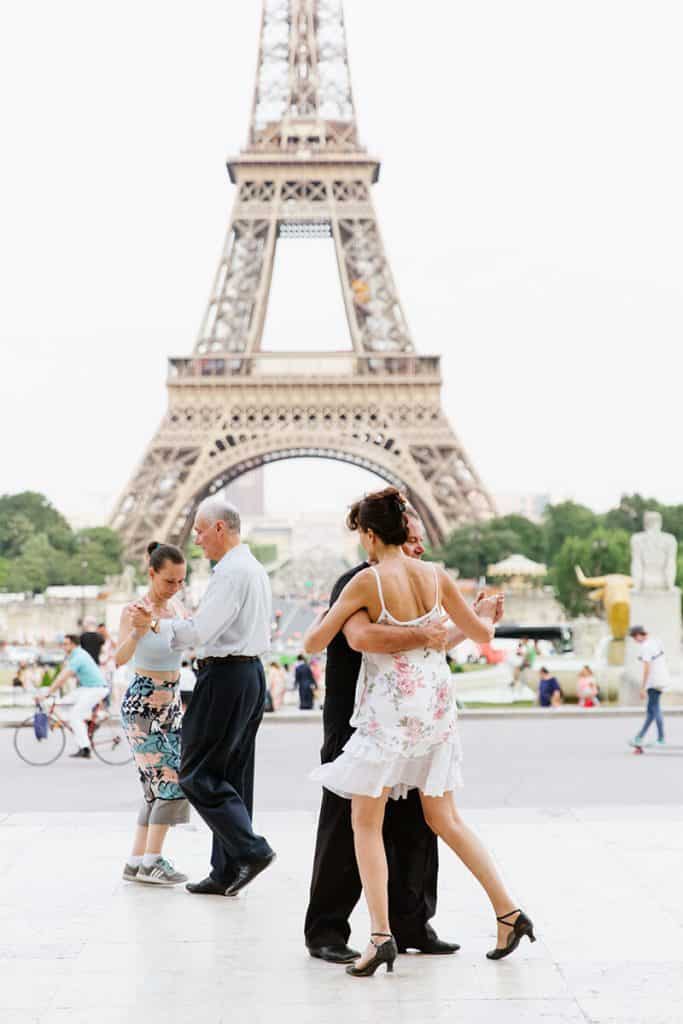 How to celebrate Fête in Paris?
The full program for 2019's Fête de la Musique celebrations in Paris can be found on the French government's culture page of their website, but we've saved you the trouble of sorting through them. Here are some of our top recommendations for what to do during the epic night that is Fête:
At the Louvre, the famous Orchestre de Paris will be performing under the Louvre pyramid. From Brahms pieces to more modern symphonic sounds, your ears will delight in what this world-class orchestra has to offer (and all for free, no less!). With Conductor Daniel Harding at the helm, you are in for a treat.
(Also, if you're a Louvre and/or art fan, you might want to check out the Fat Tire Tours' Louvre Tours. You'll learn so much more about the famed monument and museum.)
Where: Musée du Louvre, Pyramide – Cour Napoléon, 75001 Paris
When: 10:30pm – 11:30pm, June 21, 2019
At Palais-Royal in the 1st arrondissement, Reunion music will be the star of the show. An array of diverse sounds will emanate through the Palais, giving off dancehall to Maloya beats. So, get ready to dance!
Where: 8 Rue de Montpensier, 75001 Paris
When: 6:30pm – 12:30am, June 21-22, 2019
Yes, more dancing! (As a blanket statement: expect there to be some dancing wherever you are on Fête.) Bar/restaurant Rosa Bonheur is a beloved staple of Buttes-Chaumont, a park situated in northeastern Paris, in the 19th arrondissement. Rosa Bonheur is set in a former Guinguette (popular French drinking establishments of the 18th century; you've likely seen them depicted before in Renoir paintings). And the Guinguette-like sensibility will come alive on the 21st, as Rosa Bonheur fills with people wine-ing, dining, listening to music, and certainly – dancing.
Get there early, because this normally-very-relaxed spot will likely be crowded for Fete. Tapas, wine, dancing, and music – just what the doctor ordered to ring in the start of summer.
Where: Rosa Bonheur, 2, allée de la Cascade, 75019 Paris
When: 6pm – midnight, June 21, 2019
Visit the courtyard at the Musée d'art et d'histoire du Judaïsme de Paris, where you'll be greeted with the sounds of songs from performers like Maggie Hikri, Dani HaDani, and more. Bring your dancing shoes and some high-level energy to dance to these soul, hip-hop, and electronic sounds.
Where: 71 Rue du Temple, 75003 Paris
When: 6pm – 11pm, June 21, 2019
As is tradition, the iconic Place des Vosges in the Marias will come alive with the sounds of Tigresses Diatoniques, an accordion band you do not want to miss! Sounds so many people associate with France – like songs from Edith Piaf, for example – will fill the night air in the Marais.
Where: 8 Place Des Vosges, 75004 Paris
When: 7:30pm, June 21, 2019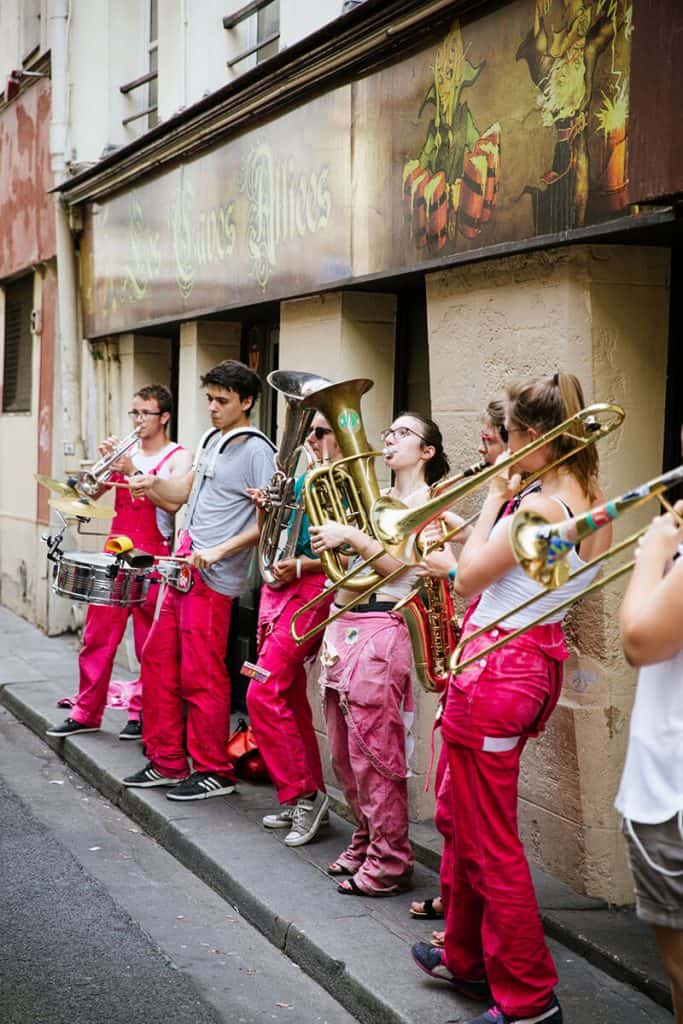 Have you ever seen a Japanese drumming performance? It's a sight to behold. Swing by Place de La Bastille to witness the magic, as the drummers don traditional Japanese garb, and use traditional wadaiko drums for their set.
Where: 1 Boulevard Richard Lenoir, 75011 Paris
When: 8pm – 9pm, June 21, 2019
Louis Armstrong was American, but it can be argued that his soul was somewhat French. From his love of – and serious talent for creating – great music, to his incredible joie de vivre, Armstrong had some serious French-like-swagger. And for that reason, French people continue to love his influential jazz music, even still today. In fact, Armstrong's interpretation of Edith Piaf's classic "La Vie en Rose," is one of the best – and most beloved – iterations of the song. (Hear it here.)
That is all to say: head down to Sunset Sunside for some rocking good jazz music, including some tunes penned by the late Louis Armstrong. Other artists being paid homage at this event will include Nat King Cole, Duke Ellington, and Frank Sinatra.
Where: Sunset Sunside, 60, rue des Lombards, 75001 Paris
When: 9pm – 10pm, June 21, 2019
Churches found in Paris are among the most beautiful in the world (which made the tragedy of this year's Notre Dame fire all the more heartbreaking). The beauty in these behemoth buildings is also found in the way sound carries through them. And you can delight in the majesty of hearing music flow through a cathedral by visiting the 36-Hour Festival at Saint Eustache, which begins on June 20. Now in its 13th year, this festival will gather an assortment of artists who will perform pop, rock, and electronic music. You can see the full line-up on their website.
Where: St. Eustache Church, 2 Impasse Saint-Eustache, 75001 Paris
When: June 20-21, 2019
If you're coming to Paris, and want to know more about Fête, come by Fat Tire Tours! We'd love to chat with you about Fête, one of our favorite French celebrations, or invite you along for a tour through Paris.
[maxbutton id="1″ url="https://www.fattiretours.com/paris/tours-activities" text="Join Fat Tire Tours in Paris!" ]
Related links:
• Best Hotels in Paris to Find a Good Summer Cocktail
• Top 10 Summer Rooftop Bars in Paris
• Tips for Traveling Solo in Paris
• In the News: NPR covers Notre Dame's first mass since the fire in April
• In the News: Forbes looks at the newly-expanded Perfume Museum in Paris