Five Breathtaking Bike Routes in France
By Sadra Sumner
Spring is officially here! One of our favorite springtime activities are long bike rides on winding trails through the forest, or high atop craggy cliffs overlooking the sea. Some of those destinations might be difficult to access this year, but we hope this list of our favorite five breathtaking bike routes in France inspires you for your next trip to Europe. And why not get a few warm-up rides in wherever you can find trails near you?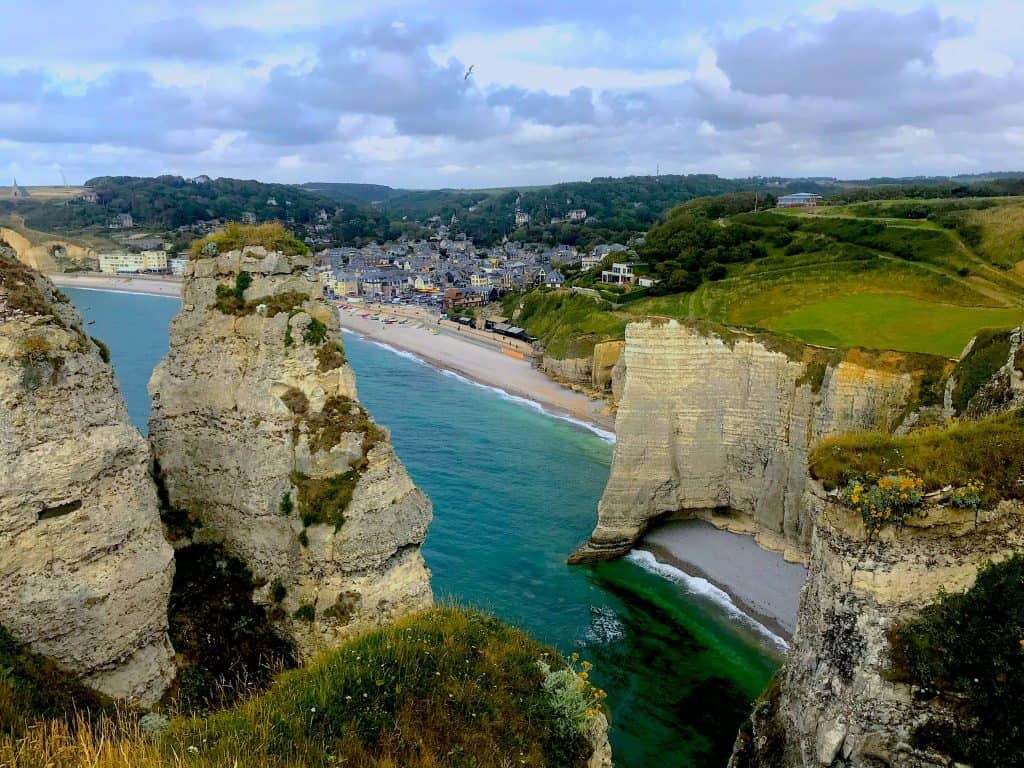 1. Véloroute du Lin & Littoral
Lin Cycle Route in France
Distance: 75km / 47 miles 
EuroVelo: 1
Greenway: mostly a dedicated cycle path with only some road crossover 
'Lin' is French for 'flax seed'.  Otherwise known as the flax trail, this winding path runs from Hautot-sur-Mer to Fécamp, just inland of the English channel, meeting up with the water at both extremities.  This is a great, leisurely bike path in France that offers little in terms of hills, although there are longer, shallow inclines throughout.  
In late spring/early summer, the fields along this route will be bursting with bright, blue flax flowers.  The Normandy region is known for excellent cider, and the home of the D-Day Beaches, but few recognize it as the most significant, global flax producer for textile use.
Littoral Cycle Route in France
Distance: 172km / 107 miles
EuroVelo: 1
Small Roads: mostly on vehicle-free roads, but not always on a dedicated cycle path
This beautiful, cyclical route runs along the Alabaster Coast and dips quite far south, including Le Tréport, Le Havre, Dieppe, Saint-Valéry-en-Caux and Fécamp and at times, linking up with the easier véloroute du lin in the northernmost parts.  This is a great route for advanced cyclists as the inclines are significant.  But the payoff is mighty, as you'll wind up overlooking the Normandy coast 

Both the Lin & Littoral routes include the charming villages of Étretat and Fécamp.  Fresh seafood, the sculpted faces of Normandy, and the highest cliffs in Normandy, are just some of the surprises that await you.  And being just over an hour from Paris on the train, this is a perfect day or weekend trip.
2. Véloroute du Rhin
Rhine Cycle Route in France
Distance: 200km / 124 miles
EuroVélo: 15
Small Roads: mostly on vehicle-free roads, but not always on a dedicated cycle path
The Rhine Cycle Route follows the largest Western European river of the same name and winds along the French border for 200 km of its longer path, which includes Switzerland, Germany, and the Netherlands.  The bike routes in France are nothing short of amazing.   

Wedged between the Vosges Mountains and the Black Forest, this cycle path is idyllic from start to end.  Plan on incorporating a few days in Strasbourg, located in Alsace, France; once part of Germany.  Alsatian culture is a beautiful mix of Franco-Germanic food, dialect, clothing, and tradition.  Or, plan on ending your trip in Basel, Switzerland, home of Roger Federer, breathtaking architecture, and a perfect launching point to France and Germany.   
3. Véloroute du Atlantique – Mer Noire
Atlantic – Black Sea Cycle Route in France
Distance: 4,450km / 2,765 miles
EuroVélo: 6
Greenway: mostly a dedicated cycle path with only some road crossover
Residents, hotels, and restaurants situated along the lush véloroute 6 are no strangers to foreign cyclists.  Avid bike riders can easily find accommodation and delicious French cuisine at any stage of the bike path that cuts the country in two.  Including Franche-Comté, Burgundy, and the Loire-Atlantic, this is among the most picturesque and easy rides in the EuroVélo system. 

Riders may want to consider a few nights in the Loire Valley to enjoy wine tastings and chateau visits.  Smaller bike paths along the Châteaux à Vélo system are also available.  Foodies will want to stock up on the o.g. of French cheese – a beautiful brick of comté from Dole in the Jura region, also home to Louis Pasteur.  History lovers will enjoy walking through the fortified walled city of Besancon.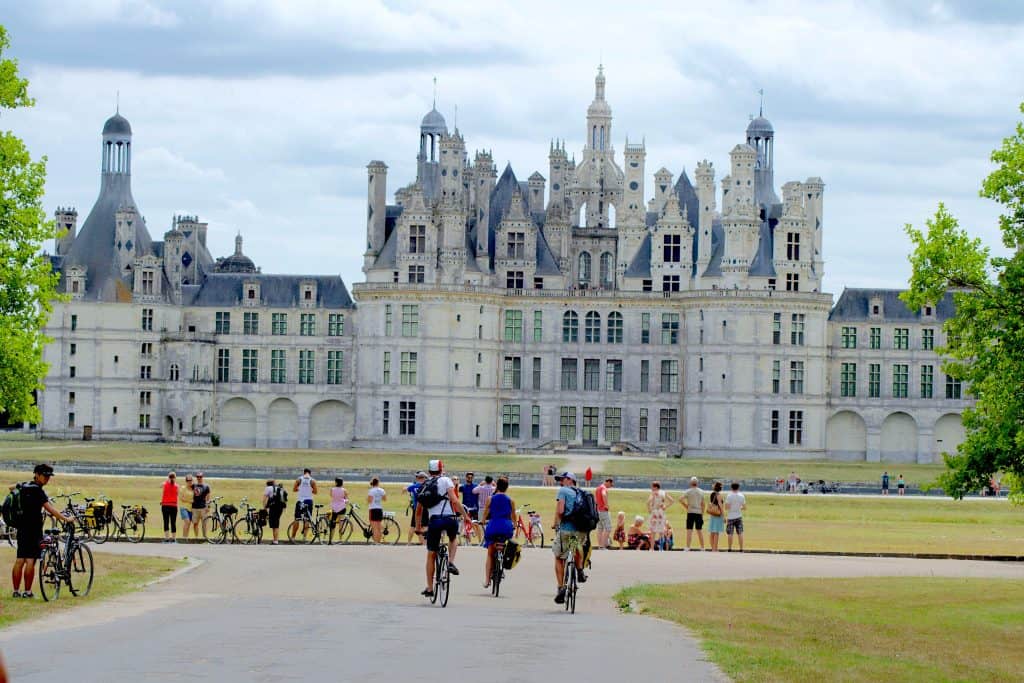 4. Véloroute du Rhône
Rhone Cycle Route in France
Distance: 815km / 506 miles
EuroVélo: 17
Larger Roads: some small roads and dedicated bike paths, but riders should be prepared to share the route with motor vehicles
Following the Rhone River through the mountainous peaks near Lyon to the inviting Mediterranean Sea, the French portion of this bike route incorporates everything synonymous with France.  Riders weave through Provence, pedaling alongside lavender fields and olive groves.  

Traveling south, riders can choose to head directly to the sea, or loop back towards the historic town of Sete and join the Canal du Midi cycle path, another iconic bike trail visited by hundreds each year.  The starting point at Lake Geneva also boasts some spectacular bonuses, including more cheese!  History buffs will enjoy checking off three UNESCO world heritage sites along this picturesque path: Lyon, Avignon, and Arles.   
5. Véloroute de la Méditerranée
Mediterranean Cycle Route in France
Distance: 7,500km / 4660 miles
EuroVélo: 8
Larger Roads: some small roads and dedicated bike paths, but riders should be prepared to share the route with motor vehicles 
The extent of this itinerary is geographically mind blowing.  Stretching from southern Spain, across the Mediterranean edge of France, cutting across northern Italy, hugging the coast in Slovenia, descending through Croatia, including Montenegro & Albania, and culminating in Greece, the scenery is a constant reminder of the richness of Europe.  The French section is among the most traveled as it links the western, rugged Pyrenees with the eastern historic and often wealthy cities, such as Nimes, Monaco, & Cannes.   

The other advantage to the French section of this path is the available connections to other routes, such as the Rhone route, the Canal du Midi, and several smaller bike routes in Provence.  The most eastern French section between Cannes & Monaco makes for a great afternoon activity with the family, as the route is flat, borders the sea, and nearly 100% on a dedicated bike path.  Rental facilities are widely available.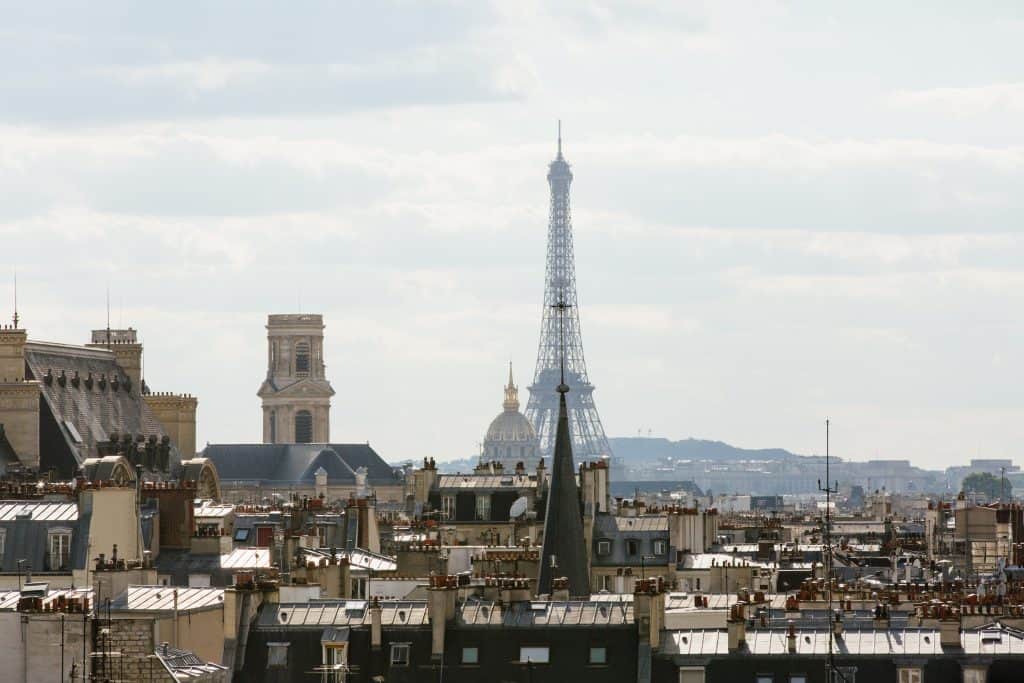 The EuroVelo map has plenty of other amazing bike routes, and not just in France. Many of them include several countries.  Avid cyclists as well as beginners can benefit from the dedicated bike paths that line the gorgeous, natural scenery of Europe.
If you're looking for a great way to kick off or wrap up your longer bike adventure, check out our full list of guided city bike bike tours throughout Europe.  We would love to give you our tips and tricks in person for getting the most out of your European bike adventure.