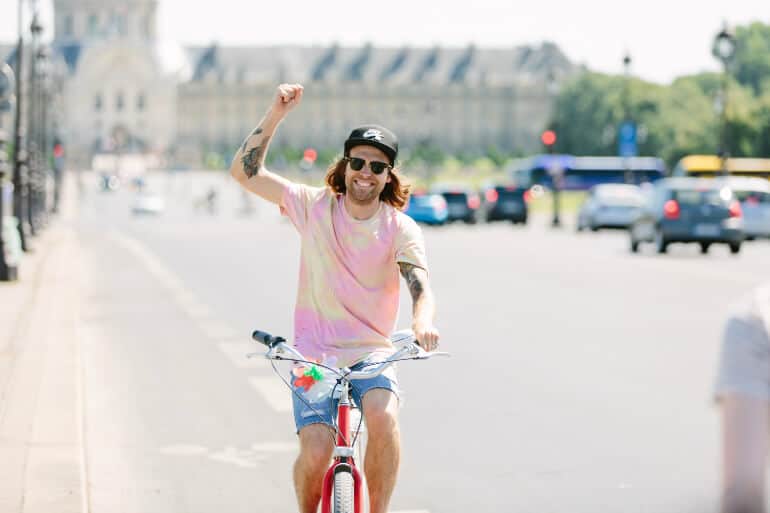 Heading to Paris in August? Here's What to Expect…
Paris in the springtime always manages to spark reverie. But what about Paris in the middle of summer?  August is a great month to visit the "City of Light" for a number of reasons, the best one being that this might be your only chance to use up your precious vacation time.  Visiting Paris in August can be tricky, so we'll explain why and give you a game plan to make the most of your summer fling.
It's Surprisingly Hot
Paris is not a traditionally hot city.  Mild would be the word to describe Paris weather in general – its winters, its summers and pretty much everything else in between.  With that said, however, August can be surprisingly hot and muggy.  The pharmacies here have cans of compressed water that you can mist on yourself throughout the day; pick one up on virtually any corner.  You'll also want to have that umbrella handy, for sun or rain.  Bring a hat, sunglasses, and make sure to pack plenty of light pants, shorts, skirts and tank tops.  Don't forget a light scarf to throw in your bag when you're visiting Notre Dame; they don't like to see your shoulders.  Leave the jeans at home, unless you fancy peeling them off yourself at the end of a long day of sightseeing.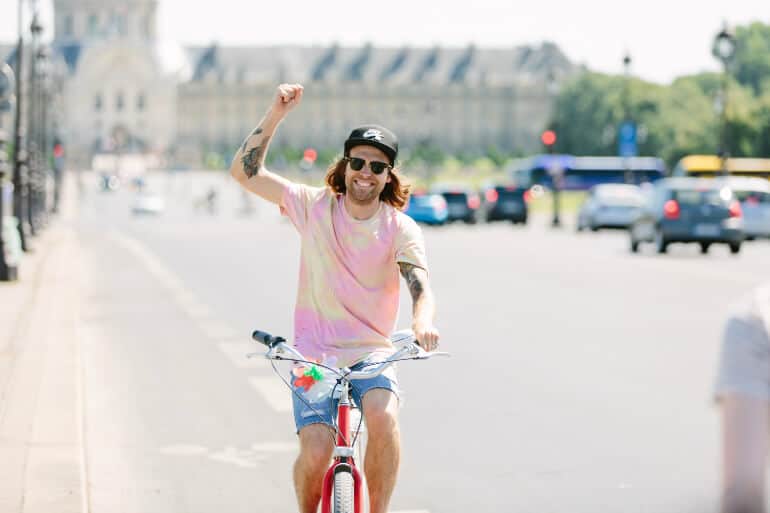 The City is Less Crowded
Imagine Paris in full swing: 2.2 million people plus the thousands of tourists that choose to come to the French capital during the summer months.  Can you picture how packed that would be? You don't want to know.  Luckily for you, the likelihood of this happening is slim, seeing as how Parisians traditionally take several weeks or even the whole month of August off to go to the beach or countryside.  This means emptier streets, cleaner air to breathe and less crowding in the already jammed-up metros.  If you're coming to Paris looking to meet Parisians, never fear – there are usually still a few lurking around, looking impossibly chic in the blinding heat.
Plenty of August – only Activities
While most Parisians choose to take their vacation in August, it's actually quite a shame as this is undeniably the best month to be in Paris.  There are so many activities going on exclusively in August that your calendar will be filled up in no time.
A favorite for many – especially if you have kids – is Paris Plages.  For this event, which runs from July 7 – September 2, the road running along the Seine river turns into a giant sandy beach.  Lie out on a towel, build sand castles, or people-watch those strolling along the water.
If you consider yourself young, hip, a cinephile or any combination of the three, you simply must check out the Open Air Cinema at La Villette.  This year, the sprawling La Villette will set up a giant inflatable screen in the center of the park and show films from Wednesday to Sunday from July 18 – August 19. While films begin at 10pm, get there early or you won't get a spot.  Do like the locals and enjoy a picnic ahead of time.
Want a chance to visit the world famous Paris Opera House like never before?  This summer, the Opera Garnier is hosting their own escape game entitled Inside Opera.  Reserve a spot until September 2nd for a chance to visit closed off sections of the Opera House, all while trying to solve the mystery of the Phantom!
Paris' latest trend is temporary bars.  It all started with Ground Control back in 2016, and now you can find massive terrace and rooftop bars opening up all around the city, only for the summer!  The latest is the Jardin Suspendu near Porte de Versailles.  Climb atop this parking garage and be wowed by the pallet and garden design that has turned this place into a hidden gem.  You'll have great views of the Eiffel Tower while enjoying a cold pint or trendy cocktail.  There's lots to eat here too, including a bicycle food cart dedicated purely to avocado toast.  Did somebody call California?
"C'est fermé!"
One thing to remember is that some things in Paris will be maddeningly, frustratingly, no-explanation-why shut during August. Bakeries, butchers and restaurants are the most likely culprits.  Just like you, these Parisians have gone on vacation and said sayonara to their businesses.  What can we say?  You'll just have to shrug like a true Parisian and go somewhere else.  The great thing is that the shopkeepers that are still open will be so happy to see you!  Paris by Mouth shares a helpful list of "What's Open in August?" that you can view here.
We will be open for tours all month long, join us!