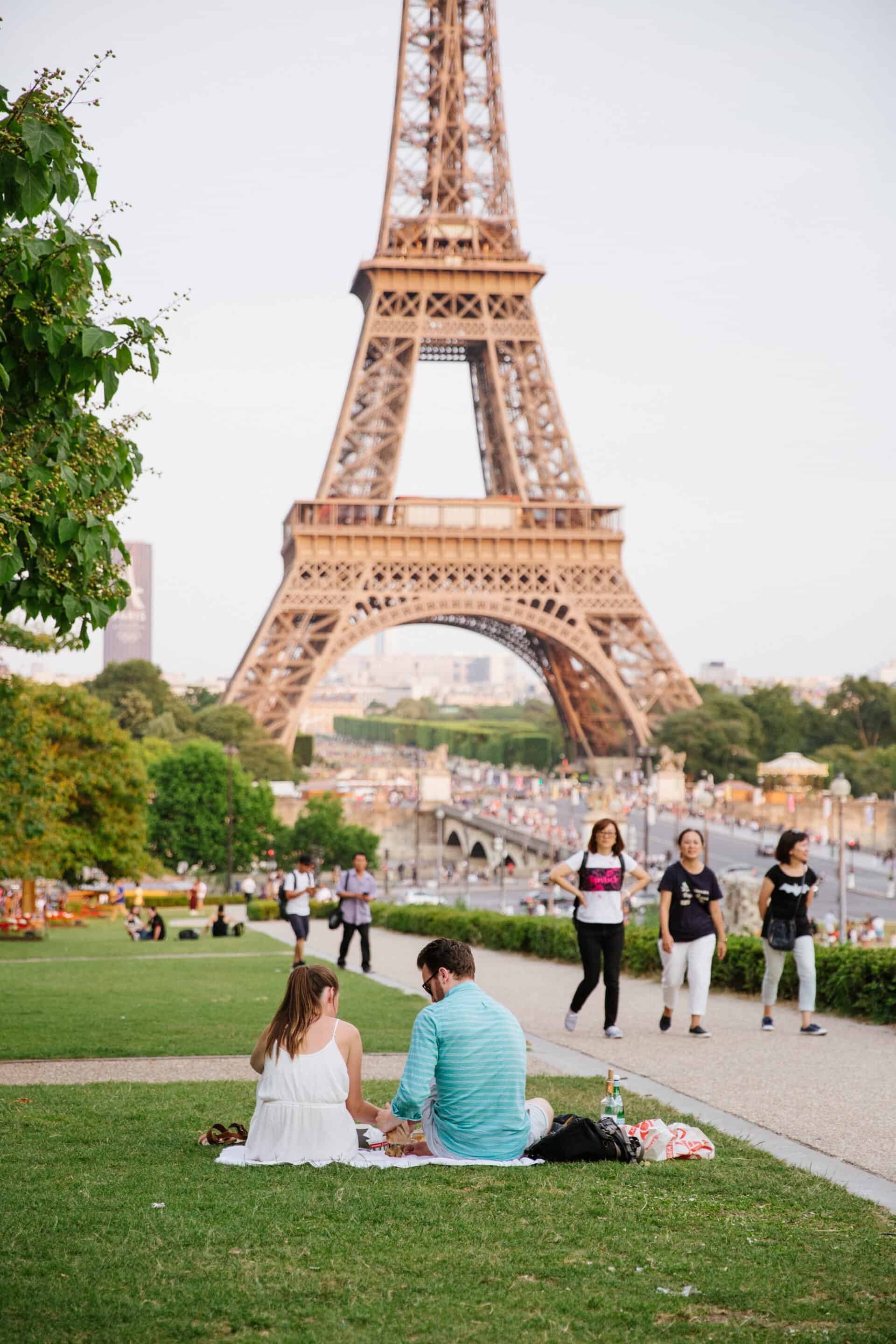 One of the best places to see the Eiffel Tower lit up and sparkling in all her glory is just across the river at Trocadéro. Parisians call it "Troca", but not many of them seem to know what it actually is, apart from a good place to take a selfie. Get ready to impress your Parisian friends with this month's history lesson on the beautiful site of Trocadéro…
The Chaillot Palace
The Place de Trocadéro – where the metro exit is – is a plaza located just behind the Palais de Chaillot. There used to be a Palais de Trocadero, erected for the same reason as the Eiffel Tower and the Grand Palais and Petit Palais – the 1878 Exposition Internationale. But the palace was doomed: it was complicated, costly to build and generally unpopular. So, for the 1937 edition of the same exhibition, the Mayor gave permission to tear it down and build a new, more modern palace – the Palais de Chaillot we see now.
The foundations for the new palace were built over the old ones to save cost. However, the two wide 'wings' do not connect together via a central space like the previous Palais de Trocadéro, but remain open, leaving a large esplanade with views over the river Seine and onto the Eiffel Tower. It is on this esplanade with its fabulous backdrop that many visitors come to take photographs.
What does "Trocadéro" refer to?
The palace may have been replaced, but the plaza still retains its Trocadéro name. It dates back to the Battle of Trocadéro in 1843, when French forces defeated Spanish liberals, took the fort of the Isla del Trocadero in Andalusia and restored Ferdinand VII to the throne.
What's inside the palace?
The Palais de Chaillot today contains several museums and a theater: the National Naval museum, the Musée de l'Homme (ethnology), the Cité de l'Architecture et du Patrimoine (architecture and heritage) and the National Chaillot Theater, located underneath the esplanade.
What's outside?
The Jardins du Trocadéro are an absolute must-see! The water displays contain a multitude of fountains and water cannons – a magnificent addition to the sight of the Eiffel Tower glittering just behind at night, reflecting into the river Seine.
On summer evenings the fountains are made even more beautiful by light displays. For a daytime visit, check out the gardens with their sculptures and perfectly manicured shrubs dotted around on the sloping grass.
The Perfect Evening in Paris
We recommend a night-time picnic on the slopes of the Trocadéro Gardens after an early-evening river cruise and Skip the Line Tour of the Eiffel Tower. Now that's a truly memorable experience!
Trocadéro Gardens
Address: 1 Place du Trocadéro, Paris 75116
Métro: Trocadéro, lines 6 & 9