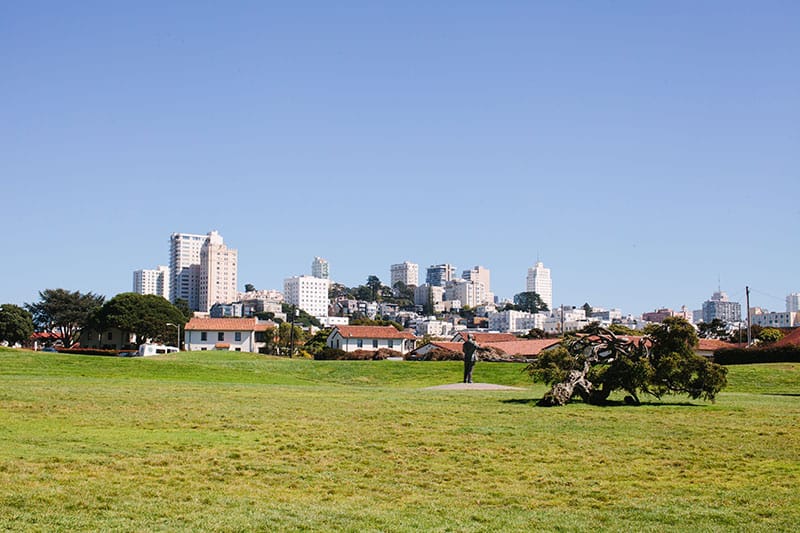 How to Spend an Afternoon in San Francisco
Whether you're doing some budget travel of San Francisco or giving the high-roller lifestyle a go, there's never a shortage of fun to be had in that City by the Bay. Here are a few suggestions of memorable ways to spend your time in the Golden City.
Walk Through Golden Gate Park
Speaking of it being the Golden City…head to the Golden Gate Park for some stunning views of the park's enchanting Japanese tea garden, flower beds, rolling green meadows, tulip gardens, tree groves, and more.
In keeping with San Fran culture, here in the park, you'll even find a place called "Hippie Hill," a nod to the city's history of being a hotbed of counterculture, activism, hippies, protestors, and change-makers. You may hear the sounds of beating drums and guitar strums while lazing on this peaceful hill. It is an ideal spot for people-watching. (Note: Hippie Hill is not the best place in the park to venture if you're traveling with children.)
Be sure to check the park's Events Calendar, too, as there are also exciting events going on regularly in the park, like Nightlife fun (hello, "90s NightLife" event!), nature walks, park cleanups, various talks, multimedia experiences, and even comedy festivals. Fittingly, you'll find the comedy events are held on Robin Williams Meadow, named for the late comedian, who was a resident of the Bay Area.
If you're in the mood for food after your park visit, stop off at one of San Francisco's many mouth-watering food trucks.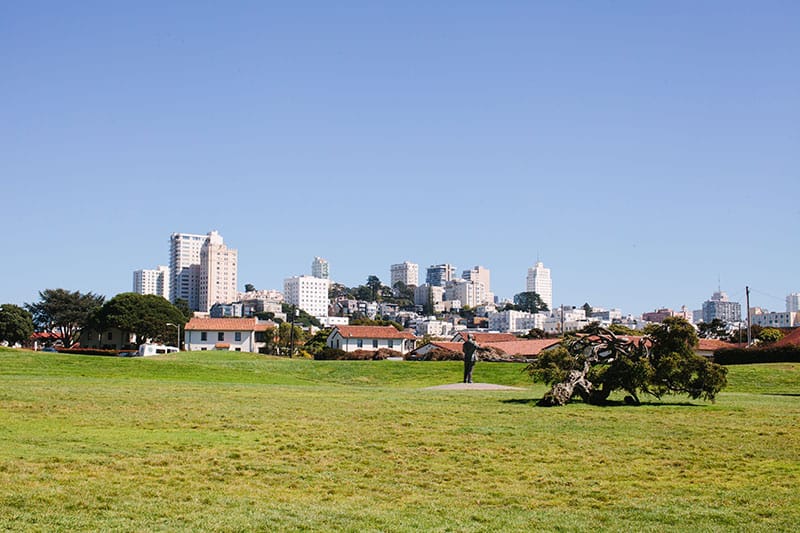 Explore City Lights Bookstore
It's no secret that some Fat Tire fans are also book lovers. (Heading across the Pond soon? Take a look at our "9 Best Bookstores in London" guide.)
City Lights (full name: City Lights Booksellers & Publishers) is one of the most well-known and beloved independent bookstores in the U.S. From your first views of its iconic and recognizable building, till the moment you step inside and peer around the shop, you will know you're someplace special.
The bookshop was founded in 1953 by Lawrence Ferlinghetti and Peter D. Martin. (Notably, Ferlinghetti was also a poet.) The store is considered a "Literary Landmark," and it is an official historic landmark as well. It was the first-ever all-paperback store in the U.S. City Lights is also notable in that it is a publisher, too; the bookshop published Allen Ginsberg's famous collection, "Howl and Other Poems."
City Lights carries a massive range of titles, so you're sure to find what you're looking for here. The store's book inventory especially focuses on world literature, the arts, and progressive politics. Although, they have a broad range of books; your next read can easily be found here, no matter what topic you most fancy reading about.
So, grab a latte nearby, and spend your afternoon perusing and shopping for your next great read to dive into on your travels.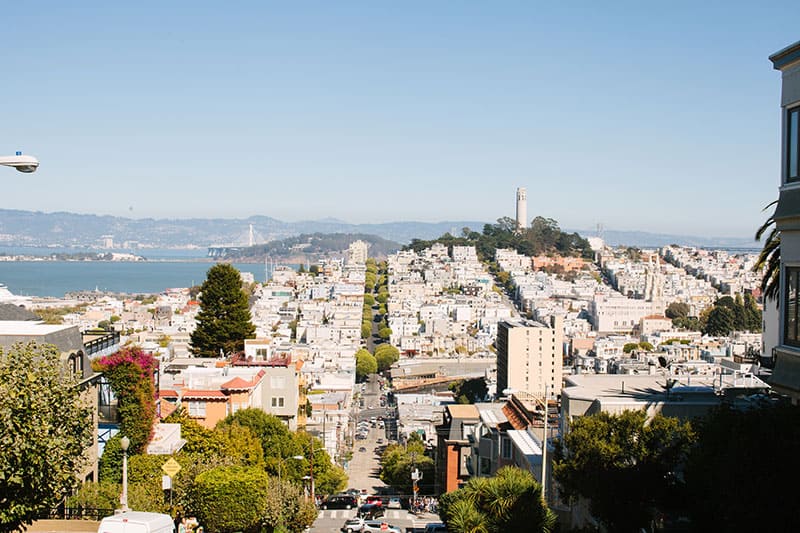 Take a Tour!
Fat Tire Tours San Francisco has over a dozen tours. (There are 15, to be exact!)
There's the classic San Francisco Segway Tour (a bestseller). This three-hour adventure will have you zipping around town on a gleaming Segway in the safe and capable hands of your expert and charming guide. This tour takes you around to all the San Fran top sights, like Pier 39, Hyde Street Pier, Spreckles Mansion, the Marina District, and more. Oh, yeah – and you'll also stop at a small, inconsequential place you've probably never heard of or seen before: The Golden Gate Bridge.
Some of our other top-rated tours include Alcatraz Island & Segway Tour Combo, which includes an in-depth look at Alcatraz Island. If the Golden Gate Park piqued your interest, why not take a bike tour of the park with one of our guides? Fat Tire Tours offers guided tours at a reasonable cost, so you won't miss a thing when it comes to enjoying the stunning park.
For the architecture fans among us, you will not want to miss the Victorian Houses Tour with Exclusive Access to a Private Painted Lady. You likely know that San Francisco is often featured in films and television, thanks to its beautiful houses (some have been most famously featured in "Mrs. Doubtfire" and the TV show "Full House"). Learn about San Fran's houses, their history, and more, on this eye-opening tour, where you'll even get access to a private Victorian Mansion.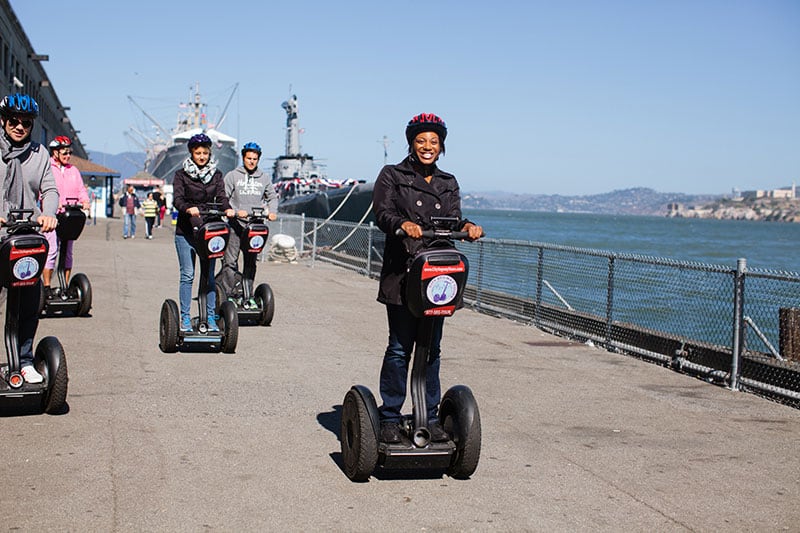 Visit the San Francisco Museum of Modern Art
 And speaking of beautiful San Francisco structures – a visit to the uniquely built San Francisco Museum of Modern Art is an exquisite way to spend an afternoon. Here, you'll find works by the greats: Frida Kahlo, Georgia O'Keeffe, and more.
Tickets can be bought in advance or on-site at the museum. Meander through the permanent collection, and/or check out the special exhibitions. Currently on are "Mythos, Psyche, Eros," which highlights "a survey of California's romantic legacy," the amusingly titled "Don't! Photography and the Art of Mistakes," and other exhibitions.
Hungry? Hop to Café 5 in the museum. It's a café-sculpture-garden combo that offers tasty California-fusion cuisine made from high-quality seasonal ingredients.
Stroll Along Haight Street
Bringing it back to the hippies: Haight Street. If you have even the vaguest of interest in hippie culture, a stop by Haight Street is a must. It's the central part of the infamous Haight-Ashbury district, where hippies reigned supreme in their heyday of the 1960s.
Stroll along this street and marvel how much things have changed since those days; or perhaps, how little they've changed, in some ways – you'll still find funky vintage shops, incense, hip record stores, and heaps of tie-dye tees for all your concert-going, or Halloween, needs.
Related links:
[maxbutton id="1″ url="https://www.fattiretours.com/san-francisco" text="Join us in San Francisco!" ]