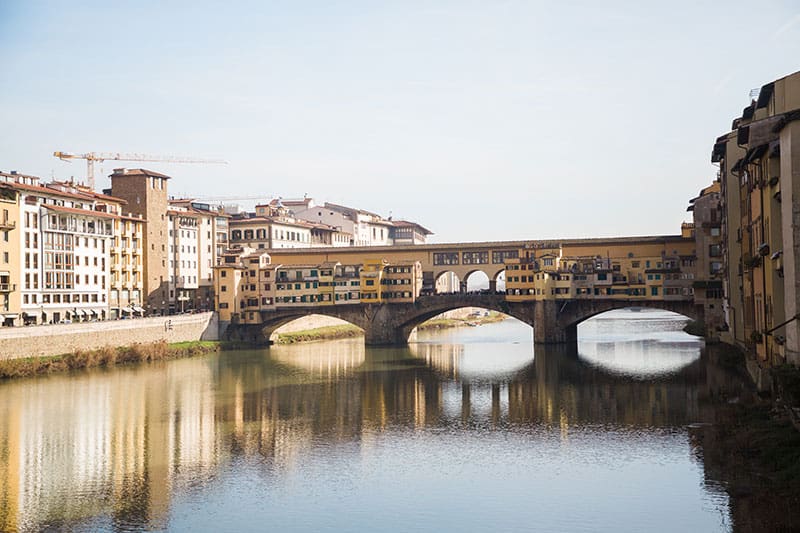 How to Travel in Florence on a Budget 
Florence is a gem of a city, and you don't have to pay the price to explore the glittering (metaphorical) jewels within it.
Check out these budget-friendly ideas for Florence, courtesy of its natives and travelers!
Where to Stay
As we note in our other budget-friendly travel posts, finding accommodations while traveling on a budget is extremely do-able and nothing to fret over. The most affordable options while in Florence will include hostels, bed and breakfasts, Airbnb (Florence Airbnb options are plentiful),  HousingAnywhere for longer stays,Couchsurfing (there are tons of hosts in Florence), and budget hotels.
One of the most top-rated hostel options in the city is the cutely named My Friends (Via Faenza, 66, 50123). Situated in a historic and calm, quiet nook of the city, here you'll find a peaceful respite at which to relax after your day of sightseeing around the city, at an affordable price.
Other popular and well-rated hostels include Leonardo House (Via del Trebbio, 4, 50123), which is conveniently located a quick walk from the Sata Maria Novella train station, and just one minute from the Duomo cathedral, and Hostel Gallo D'Oro (Via Camillo Cavour, 104, 50129), which is also near the Duomo.
More top-rated options can be found on the Hostelworld website. (Tip: book directly through the hostel's website to save a bit of money and avoid paying fees!)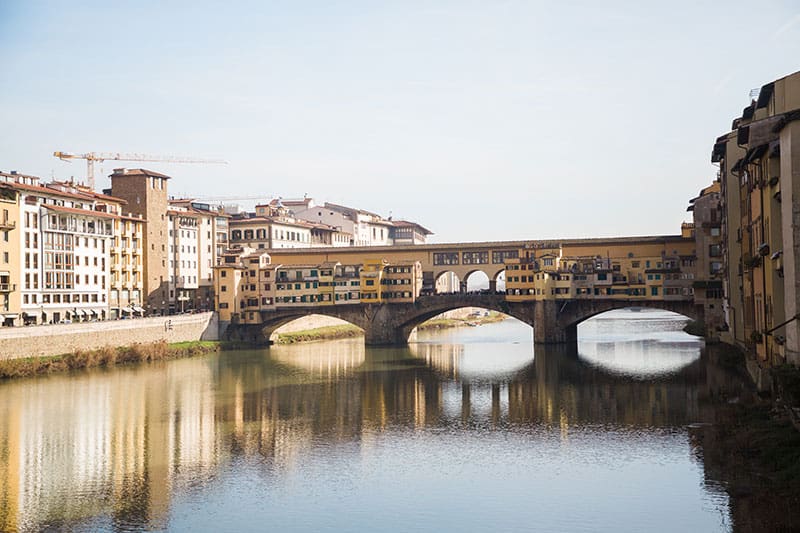 Where to Eat
Eating in Italy on a budget is unbelievably easy. And you won't need to compromise on quality or flavor, either, as pasta – one of Italy's prime foods – tends to be a very economical meal, no matter how it's prepared.
Trattoria Mario (Via Rosina, 2R) by Medici Palace offers a casual dining experience that's good for groups. Trattoria da Rocco (Piazza Lorenzo Ghiberti, 50122) is loaded with delicious food, and the raves are in: "cheap, and the food tastes so good!" says one diner. Da Nerbone (Piazza del Mercato Centrale, 50123) sells traditional Tuscan food for an authentic Italian experience. Pino's Sandwiches (Via Giuseppe Verdi, 36R, 50122) is a good sandwich spot for on-the-go eats that boasts some phenomenal roast beef and pork panino.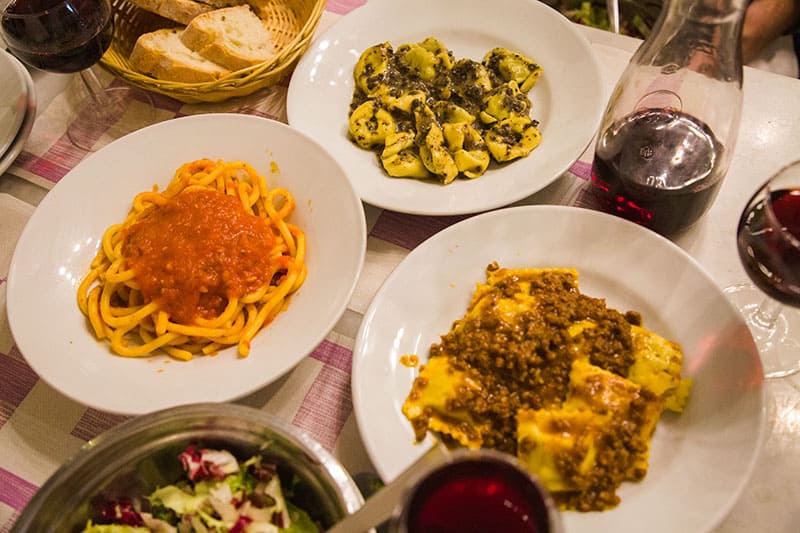 "Pino's," says a Fat Tire Tours Florence insider, "is family-run place in our neighborhood, and is particularly popular with the study abroad crowd. Pino himself will make you a sandwich six days a week, and it's made on classic Florentine bread called schiacciata."
And for light nibbles and warm sips, check out some of our favorite cafes and coffee shops in Florence, which include Ditta Artigianale, Chiaroscuro, Rivoire in Piazza della Signoria, and the Café Cibreo in Sant'Ambrogio. Fill up on some tasty, carby baked goods, and a hit of protein from a delicious latte, and you'll be fully energized to hit the pavement for more sightseeing in Florence. (And if you're after espresso, specifically, see our Best Spots for Espresso in Florence post.)
And for a fail-safe budget option, pick up some supplies at the grocery store and have a picnic! Or, if the weather is a bit questionable, take your goodies back to your hostel or lodging.
For cheap wine to enjoy on your picnic or at your hostel, visit Bacco Nudo (Via De' Macci 59, 50122). Our Florence insider tells us: "Bacco is the god of wine. They have six or seven reds and the same number of whites – all Tuscan 'table wine.' If you take your own bottle it will only cost €3 to refill it and cork it with an old school hand-corker."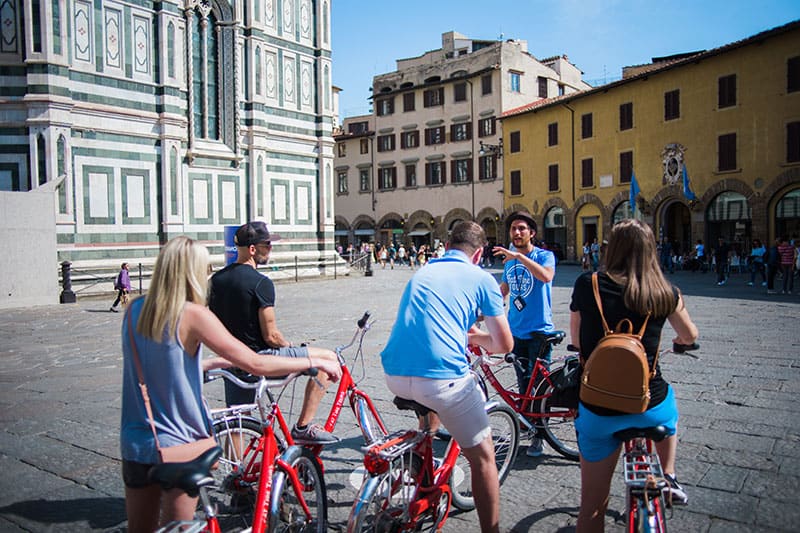 What to Do
Florence has many exciting and free options in the city!
Why not roam around the Piazza del Duomo with your camera and a notebook, and let some inspiring thoughts and ideas take hold? Piazza del Duomo is the home of the stunning Cathedral Santa Maria del Fiore, and you'll get some beautiful views here.
At San Lorenzo Market, you'll have the opportunity to get a nice view and whiff of some of Italy's finest consumable products along these Florentine streets and in the shops that pepper said streets. And maybe you might become inspired to pick up a couple of inexpensive Florentine items for yourself or for loved ones as souvenirs.
At Strozzi Palace, you can have an experience fit for a king or queen without dropping any dough. A few nights a week, the Exhibition of Contemporary Art at the Strozzi Palace has free admission for visitors. Additional reduced far and free tickets for the various exhibitions at Strozzi Palace can be found online.
If you're less into art and more into the great outdoors, definitely hit up the Bardini Gardens, which gives you a delightful, calming nature setting, and the bonus of some epic views of Florence. Many rave that it's one of the best free things to do in all of Florence. Entry is free on the first Sunday of each month, so, if you can, plot your visit for that Sunday! 
How to Explore the City 
Touring around the city is a fantastic way to get some bang for your buck. Maybe you're a fan of the solo walkabout, in which case, pack your tennis shoes, and let your feet carry you where your instincts guide you.
If you're into a tour of the guided variety, check out Fat Tire Tours in Florence, and we promise to show you a great time. We've got the in-high-demand Florence Bike Tour, which leads you around the city for several hours, taking in some of Florence's best and brightest views at the Ponte Vecchio (Old Bridge), Santa Croce, the Florence Cathedral, the Piazza del Duomo, and more. And a fellow budget-friendly, economical option is the fun and popular Florence Night Bike Tour, a five-star experience full of more gorgeous views and memorable moments – like some wine on the beach! – to take home with you. Foodies, take note: As covered, Italy is chock-full of exceptional eats, and Fat Tire Tours in Florence offers several food tours and a wine tasting tour.
(This travel blog writer has had the pleasure of dining on the Florence Food Tour, and it was my favorite thing I did in the city.)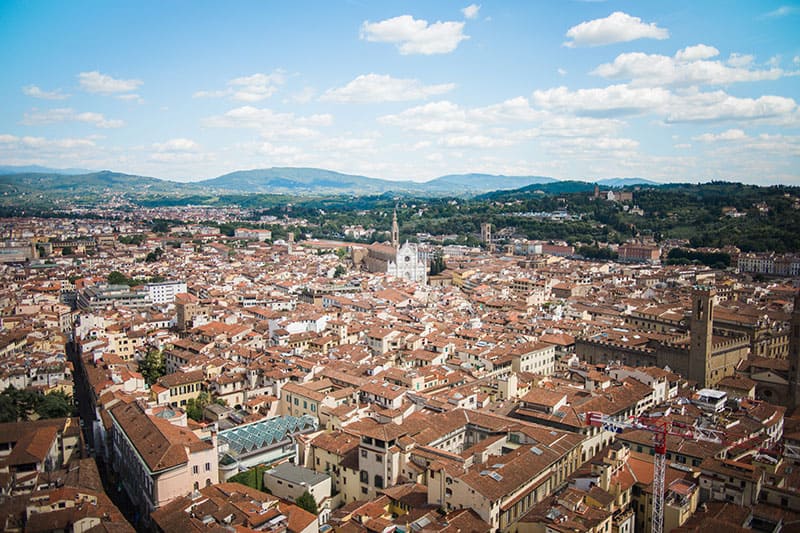 Miscellaneous Budget-Travel Tips
We have some favorite budget-friendly travel tips that you can take with you from city to city, and town to town! Longtime traveler and budget-savvy globetrotter Rick Steves has lots of brilliant ideas for stretching your dollars while on the road, and also, tips for booking lodging on a budget.
Our various budget travel tips include: buying your souvenirs at the grocery store (cheaper than tourist shops, and bound to delight the recipient – just make sure your item will clear Customs!), walking or taking public transport (avoid pricey cabs), using that grocery store again – load up on snacks to carry around with you and eat breakfast and lunch on the go (or do a picnic in the city; we love a good picnic – especially in London), and taking advantage of free events and sights whenever possible (like those listed above!).
Travel is better when you're not worrying about your money – so do a bit of planning, and a bit of simple sacrificing, to take money off your mind and focus on enjoying the journey. You'll be glad you did!
Related links:
[maxbutton id="1″ url="https://www.fattiretours.com/florence" text="Join Fat Tire Tours in Florence!" ]