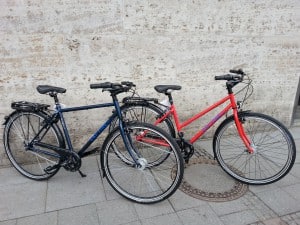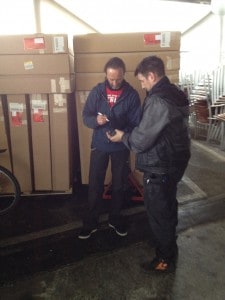 For years we've focused exclusively on what we believe is the ideal bike with which to explore Berlin.  With fat tires, cushy seats, upright seating, and 3 gears we still believe this is the perfect bike for all your inner-city needs.
For folks that want to go further afield, however, we've added a new addition to our family.  Fresh out of the box we now have trekking bikes!  With skinnier tires, a firmer saddle, more aerodynamic seating, and more gears, this is the bike you'll want if you're biking out to Wannsee, Potsdam, or wanting to do the entire 100+km Berlin Wall circuit over a few days.
You can find these bikes at our West / Zoologischer Bahnhof (Zoo Station) location, as that's the ideal starting point for these further afield destinations.  We even have saddle bags available for rent to store your picnic supplies.  Fat Tire, meet your Skinny Tire brother and sister!