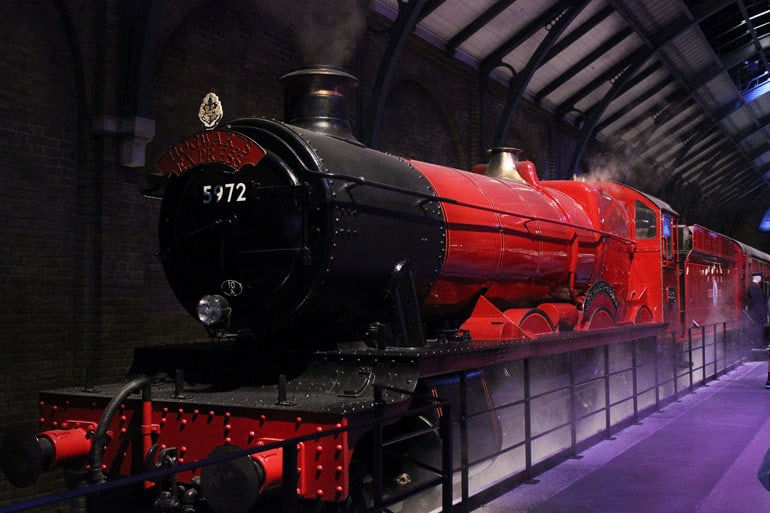 Visiting the Harry Potter Studio Tour in London
Some places are worth venturing off the beaten path – be it, say, an actual path in the woods ("Two roads diverged in a wood…" wrote poet Robert Frost), or, say, a bus to visit the Harry Potter Warner Brothers Studio Tour in London.
Which, on my latest visit to London, is precisely what I did. After playing tourist in London for a bit, aided by some helpful London travel tips, I took a bus to Leavesden, 20 miles northwest of London, for a magical, unforgettable, Quidditch-secrets-revealing Harry Potter experience.
Buying Tickets
Tickets must be booked in advance, and they can be purchased via the studio website. And, if tickets are sold out for your desired travel dates, don't worry – where there's a will, there's a way. On my intended travel date, I was "gutted" (as my English friends would say) to see it was completely sold out. Well, so it appeared.
Then, like Dumbledore casting a spell, a single ticket appeared for that very Friday I wished to go on the tour. I found a ticket available for that day via a third party website.
The official tour website has a list of FAQs which are helpful for planning your visit.
Getting There
You can travel to the tour by coach (bus), which is what I did, by way of Victoria Coach Station. Buses leave from various spots in central London; when you purchase a ticket, you can select from the timetable when you want to go.
If you prefer train travel, you can take a National Rail train from Euston Station in London to Watford Junction, and then take the shuttle bus from the station, 15 minutes from the studio. If you have access to a car, the studio has free parking available in the car park.
Additionally you can also book a bundle which includes private transportation from central London with your entrance ticket, so you don't have to worry about navigating to Leavesden on your own!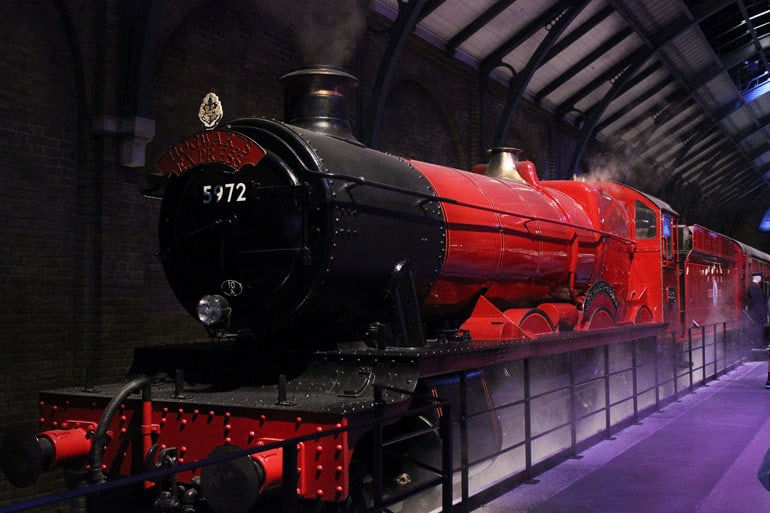 When You Arrive
Once you arrive in Leavesden, the fun begins. You will present your ticket to a member of staff at the entry, go through security (be prepared to have your bag checked), and then make your way down a very long hallway – lined with Dumbledore's famous quote: "Let us step into the night and pursue that flighty temptress, adventure" – towards the start of the tour.
Digital Guides are available for rental for £4.95. These guides are helpful if you're an uber-fan and want to hear about even more facts from the filming, and enjoy some exclusive digital content on them, too. Best of all, the guide introduction is spoken by none other than Tom Felton, who plays Draco Malfoy in the films.
Before entering the tour, you can get a bit of caffeine and food fuel by way of the small Starbucks and a separate café. Note, however, that food and drinks are not allowed during the tour (except in the Studio Café, which is midway through).
Then, when you've chugged a coffee and are feeling as alert as can be, hop in the queue, where you may find yourself standing next to a be-robed kid holding a wand, as I did. In groups of about 100, tour-takers are ushered into a dark room, and greeted by a tour guide who seems to have drunk 5 coffees – not just one – before the start of the tour.
The guide energetically and humorously welcomes the group, as you watch a short video about the phenomenon of Harry Potter, and how it went from book to film to global sensation. Hearing the producers speak on camera about how they knew, right away, that the books had that "It" quality, was interesting and will resonate with anyone who read the book and had that I-can't-put-it-down-so-help-me-God feeling, as most Harry Potter fans are struck with upon a first read of the magical tale by J.K. Rowling.
The Start of the Tour
After the dark room and the brief video, you'll be ushered into a movie theater, where the guide will joke about a movie-marathon of all eight films set to take place, "So, we'll see you tomorrow!" Then, clips from the various films begin to play onscreen, as the classic John Williams score plays, and your heart begins to swell with excitement. When the lights come up, the real magic begins, as the screen slowly rises to reveal – yes, it's true – the one and only Great Hall.
Everyone scurries in for photo ops and searches for their house area so they can take a picture in front of their house banner (Hufflepuff's banner was looking lovely, and I felt right at home #HufflepuffPride). Some movie magic can also be seen in the hall, which I won't spoil here. The Great Hall you'll be walking through is the actual one from the films, but it may appear a bit smaller in real life (much like celebrities seen on screen often do).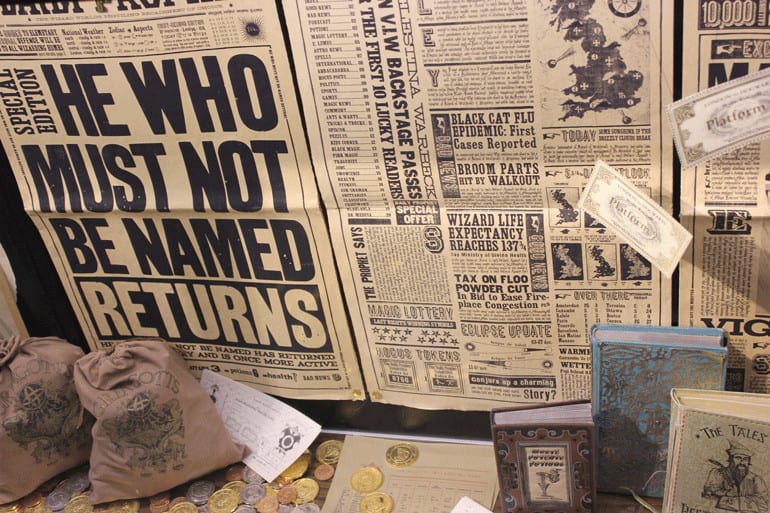 Experiencing the Movie Magic
After you're ushered out of the Great Hall, you enter an enormous soundstage filled with different sets (the boys dormitory in Gryffindor Tower, the Weasley's Burrow, Potions Class), and costumes (Hermione's Yule Ball Dress, the powder blue dress and epaulet worn by French witch, Fleur Delacour), and exhibits, and places to play Quidditch and have your photo taken.
You see the Whomping Willow smashing the blue Ford Anglia, the way they make the fake snow in the films, and you'll even get to walk through the Forbidden Forest and see Aragog and other spiders, along with Buckbeak, and a Patronus. (The Patronuses in the Harry Potter films were created by the Visual Effects Department by crafting custom LED-lit vests worn by live Scottish Deerhounds to create that signature Patronus glow in the wild.)
And after you exit the forest, you'll round the corner and see the shiny, gleaming, bright red Hogwarts Express train come into view, like the one Harry rides via passage by King's Cross Station. Nearby is a fascinating bit about the graphic designers who created all the paper props for the film – anything with a font (The Daily Prophet, a label on a potion, a letter) in the film, was specially created by a talented design team who explained how they "wizardized" fonts and papers.
What to Eat & Drink
Mid-tour, there is the Studio Café where you can purchase food and drink, and Butterbeer (which is non-alcoholic), and Butterbeer ice cream. For a few pounds extra, you can have your Butterbeer served to you in a plastic souvenir cup, which makes for the perfect gift for a Potterhead fan back home (or perhaps, just a gift for yourself!). A good cost-cutting measure is to pack lunch to bring on the tour, which you are more than welcome to eat in the café, as the staff notes at the start of the tour.
Number 4 Privet Drive & The Knight Bus
Right outside the café is the front of 4 Privet Drive (where Harry lives with the Dursley family), and you can pop through and see the living room, where hundreds of Hogwarts letters are mid-swirl in the air, just as they were in the first book, when trying to reach Harry. Adjacent to the house is the purple Knight Bus, which you can walk in and peek at the upstairs bit where the beds are.
The Last Scene: Hogwarts Castle
Like any large tour experience or theme park, the tour empties into an enormous and expansive gift shop (one of three at the tour experience). As little children in Slytherin robes elbowed me as I was examining a Hufflepuff bookmark, I thought: There is no place I'd rather be.
For any Harry Potter fan who finds themselves visiting London, this tour is an absolute must. It's time-consuming (the tour takes about 4 hours, and the journey may take up to 2 hours round-trip), but the thrill you'll get from viewing the castle in the final part of the tour will take your breath away, and you'll feel like a kid again upon seeing it.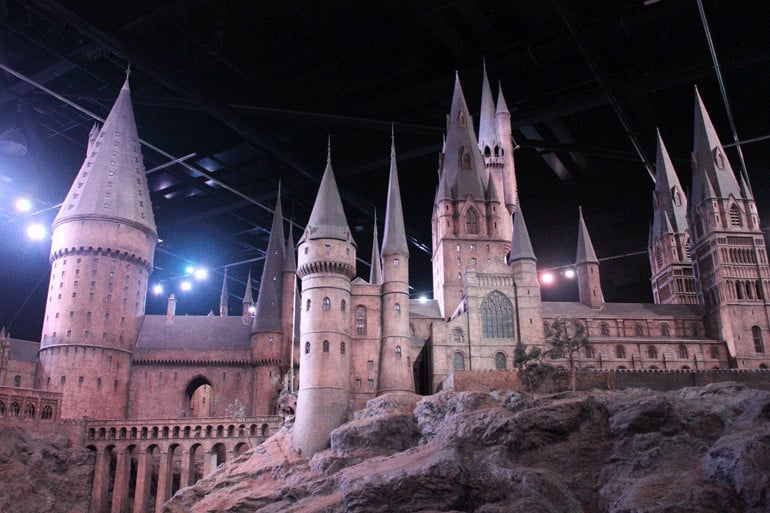 Travel incites that childlike excitement and wonder – and a pit stop in Leavesden will only enhance your trip to London.