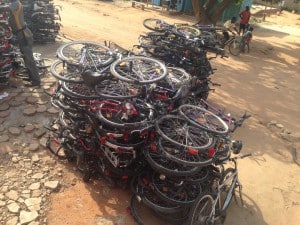 By Charles Odom
You will find them waiting eternally on street corners outside of popular late-night clubs or huddled next to the subway station stairs.  They've given up hope that their owners will return.  They blend into the city landscape, painting the buildings, fences and and lampposts with their chains dangling in disgrace, tires deflated beyond revival, and bells silenced by rust and grit.  They lurk in our homes, too.  Sad reminders of an exercise regimen that never fell in line, or the adventure we planned but never took.  They were the pride of our children, now left lonely, dusty, no longer capable of bringing the joy they once brought.
Every bike we see decaying on our streets and in our homes has a story.  It has a past life that was active, in motion, and heading somewhere exciting.  We never stopped to think what would happen to our beloved bikes when we are ready to move on or trade up.  We feel sad when we see these bikes left to decay, knowing that it's adventures are over, it's purpose served.
Since 2011, Fahrräder für Afrika (Bikes for Africa) has been collecting disused bikes from locations all across Germany to be sent to villages in Africa where they can be put to great use.  On a continent where mobility is a luxury and resources a scarcity, bikes sent from Germany have the untapped potential to become locally valued commodities and resources for a wide swath of underserved communities.
Nothing is wasted in the process.  One shipping container can carry more than 400 bikes to a new life in Africa.  Once delivered, the shipping container transforms into the bike shop that will sell, repair, and source bikes for the community and surrounding areas.  The bikes that are sold become valued tools used by kids to get to school, health workers to get to patients, and out-of-work hopefuls to have employment opportunities beyond a foot-journey's range.  Staffing the container-made shop are often marginalized locals now getting a chance at a better future.  These folks could be sex workers now getting a fresh start, or HIV positive people who are often pushed to the sidelines through intense discrimination.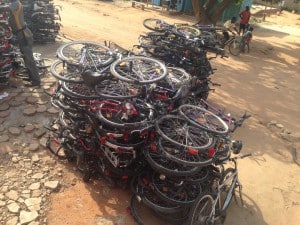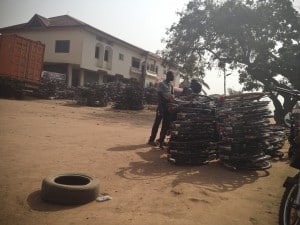 Other Non Governmental Organizations take part to make sure everything works smoothly.  Local NGOs in recipient communities help facilitate the selection and training process for those who will work with the delivered bikes, and FFA makes sure to keep them well stocked.
Fat Tire in Berlin has been lucky enough to get involved with this great organization.  Not afraid of getting dirty we have helped deconstruct bikes to make them more shippable (think fitting a bike into EasyJet's size requirements) and loading all those bikes into their Africa-bound containers.  Located a few hours by train from Berlin is the town of Oschatz where the bikes are collected and prepared for their journey.  During day-long excursions, the Fat Tire crew has been able to combine our love of bikes with our desire to do something good for folks that could really use a helping hand- or in this case… a set of wheels.
During work days with FFA, Amanda, Craig, Sophie, Julian, Burton, Bri and Joe all joined me for an early morning train to Oschatz.  During the train ride we familiarized ourselves with the procedures for the day.  There is a very specific way bikes must be packed to survive the journey on sea, but also so that we could cram as man bikes as possible into one shipping container.  Front wheels and pedals must be removed, handlebars have to be adjusted, and all parts must be tied together tightly so that each bike and all of its parts fit into one tight space.  Our time on the train was well spent preparing for the hard work day ahead.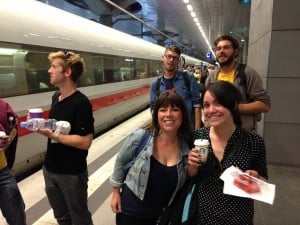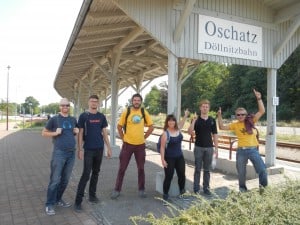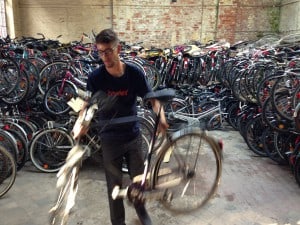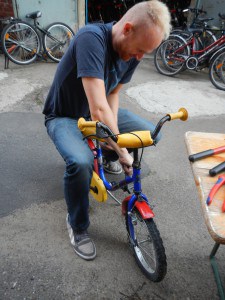 In Oschatz we joined up with Johannes from FFA.  He kept us well supplied with coffee and sweets and we keep the spanners turning, removing pedal after pedal.  Working in the alley amongst old warehouses, the sounds of dropped wrenches, screws, and bike parts echoed as we egged each other on when we got those stubborn bikes that just refused to give up their pedals.  After a few hours we had prepared more than 200 bikes for shipping.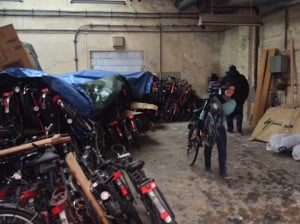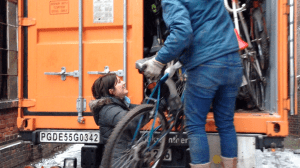 During our last work day with FFA the north-German weather took us for a loop.  As we headed south from Berlin the rain turned to snow, and a long day of outside work in the harsh elements loomed.  Bike after cold bike we loaded the container, warmed by the knowledge that the bikes we were preparing would soon be in a warmer place, pedaled by people who might be experiencing mobility, and freedom, for the first time.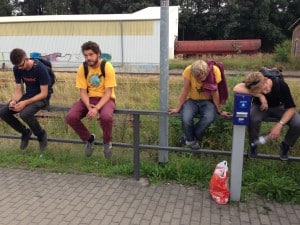 Fat Tire will be continuing it's support of FFA with regular work sessions to help ensure that this great organization can keep serving communities in a sustainable way.  When we see abandoned bikes we know they are more than just junk rotting away.  We see bikes that are waiting for their day to serve, to change someone's life, and to begin the adventure they were built to make real.