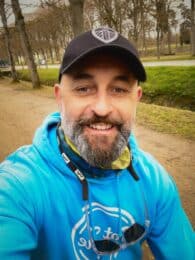 Chris
Tour Guide, Paris
Hi, I'm Chris. I come from a city in the North of England called Leeds, from which I arrived in Paris in October 2017 with my wife Joanne and my 11 year old Staffy, Harley.
After settling into the French lifestyle, I was lucky to come across Fat Tire Tours, and have been with the company since March 2018. I started helping with the bikes on a morning, and then progressed to giving tours.
Paris is such a different city to my home town of Leeds. I know every back alley, corner and street in Leeds, I can't say the same for Paris, I discover something new every time I take my camera into the city. I love sharing my love and enthusiasm for our beautiful city with our customers, which is rich in history and beauty, especially in the spring time!
I speak English, Yorkshire and French, with a smattering of German.
I've travelled extensively across the globe during my time in the Royal Navy, and I'd love to say my favourite city on the planet is Rio, New York, Montevideo or San Francisco (all of which are amazing) but I truly mean this when I say my favourite city is Paris, it has a feel that I've never experienced anywhere else, and I love it……and the foods not bad either.
My favourite tour to give is Monet's Garden, it's a great way to see some of the Normandy countryside, and of course you get to experience the beautiful garden Monet designed and built, which was the basis for so many of his now World famous paintings.
Whichever tour you chose to do with Fat Tire, you can expect an outstanding experience, filled with history, stories, jokes, humour, and a great guide to take you on the journey.
Bienvenue à Paris.