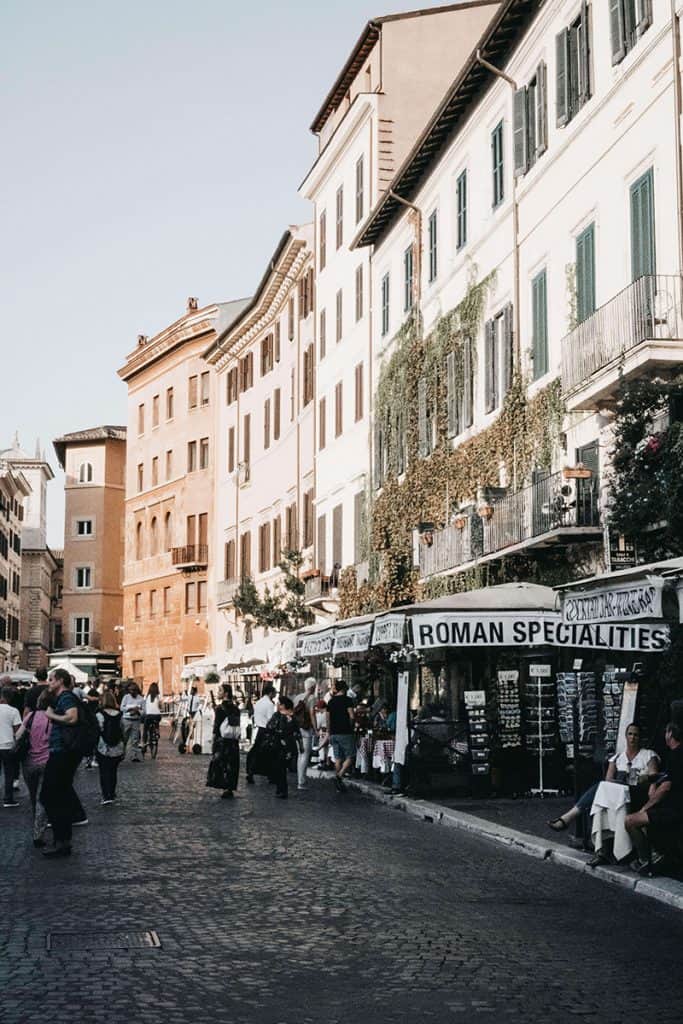 12 Essentials to Pack for a Weekend in Rome
Oh, Roma! How I love thee. My breath is taken away every time I visit,  as the city is truly unlike any other. Ancient ruins tucked beside architectural masterpieces, gorgeous fountains surrounded by impressive Roman statues, cobblestone streets lined with buzzy cafes full of well-dressed locals, and more. It is a magical, one-of-a-kind place.
The best part about this sprawling metropolis is that it's entirely walkable (and bike-able!) – measuring close to the same size as New York City. You can plan your trip around the must-see attractions near the central area such as the Colosseum, the Trevi Fountain, and the Piazza Navona.
Or, you can attempt to get lost from neighborhood to neighborhood, "doing as the Romans do," in a leisurely, confident manner. Wandering the streets like they're made for walking. Shopping the shops, and taking a cue from the high-style dwellers. Sitting in the piazzas, sipping your cappuccino, and people-watching. And enjoy every bite of the Roman cuisine – one extra order of Cacio e Pepe, per favore!
Regardless of what you do on your visit, you'll want to be sure you're packing accordingly.
Here are some stylish tips to help inspire you while packing. Below, you'll find a list of twelve items for one bellissimo visit to Roma – per lei (for her) and per lui (for him).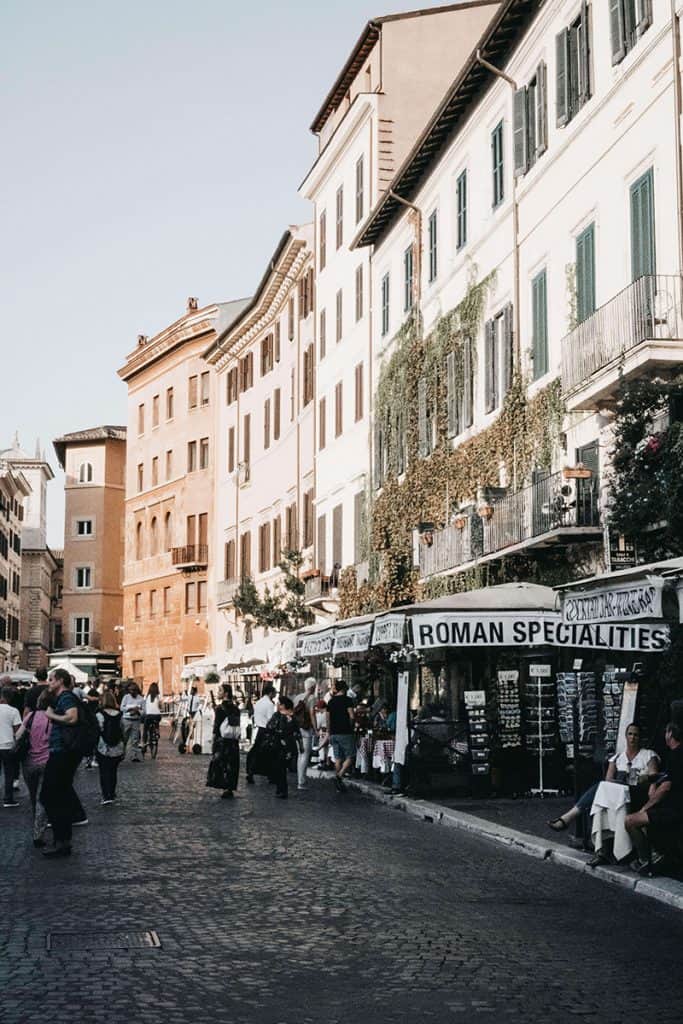 1. Cool Weather Jacket
With the weather being slightly unpredictable, you'll want to be prepared for anything. The lighter (and more water-resistant) the better. Pack something that pairs well over the rest of your essentials. Think trench coats, utility jackets, and nylon materials that have an element of style.
2. Long Sleeve Top for Layering
When it comes to tops, you'll want to aim for fabrics like breathable cotton or delicate knits; ones you can wear under the jackets you're packing, and that also match with the bottoms in your suitcase. Rather than your basic long sleeve, go for an elevated style – with a bit of detail.
3. On-Trend Denim
For a casual look, aim for packing comfortable denim that's easy to walk around in. Well-tailored, but nothing too tight. After all, you'll want to save room for pasta!
4. Crisp Button-Down
So, you've got your casual long sleeve. Now, let's kick it up a notch with a collar. Throw in a nicer white button-down that can be paired with your denim, or your more dressy bottoms.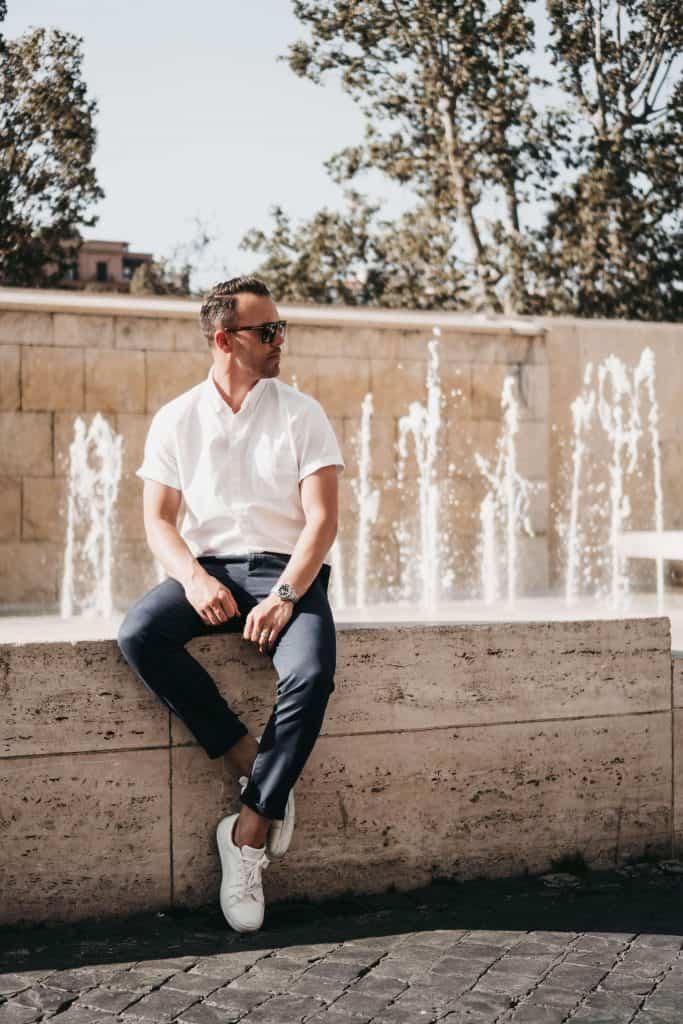 5. Statement Piece
Think of this as your one way to make a big splash. Since you're primarily rocking neutrals, why not throw in a pattern or pop of color to your wardrobe? Go for texture, mixed materials, and subtle details. Let your style shine, and use this piece as your dressier option.
6. Versatile Blazer
If you're spending your days wandering around in a lightweight jacket, you're going to want to mix it up. A blazer is a perfect option to throw on over any of the above – to dress up or dress down, while still keeping a level of sophistication.
7. Stylish Sneakers for Walking and Cycling
Rome is a city to explore on foot or by bike – and when you visit, you'll see locals sporting stylish, yet practical, sneakers. They wear them with their work attire, on their mopeds and then to lunch with friends. So shoot big here; go for a white sneaker that makes a statement. I'm going to get specific with brands, because you've got to nail this. And if you're going to splurge, this is where you do it!
8. Shoes for the Evening
If you want to spruce up your outfit, bring a pair of leather shoes that can be your dressier pair for your statement outfit. Having two shoe styles will allow you to turn any outfit into two. Options!
9. Functional Crossbody Bag
One can't forget about a bag! To carry your personal belongings, souvenirs, and more. Think style, form, and function.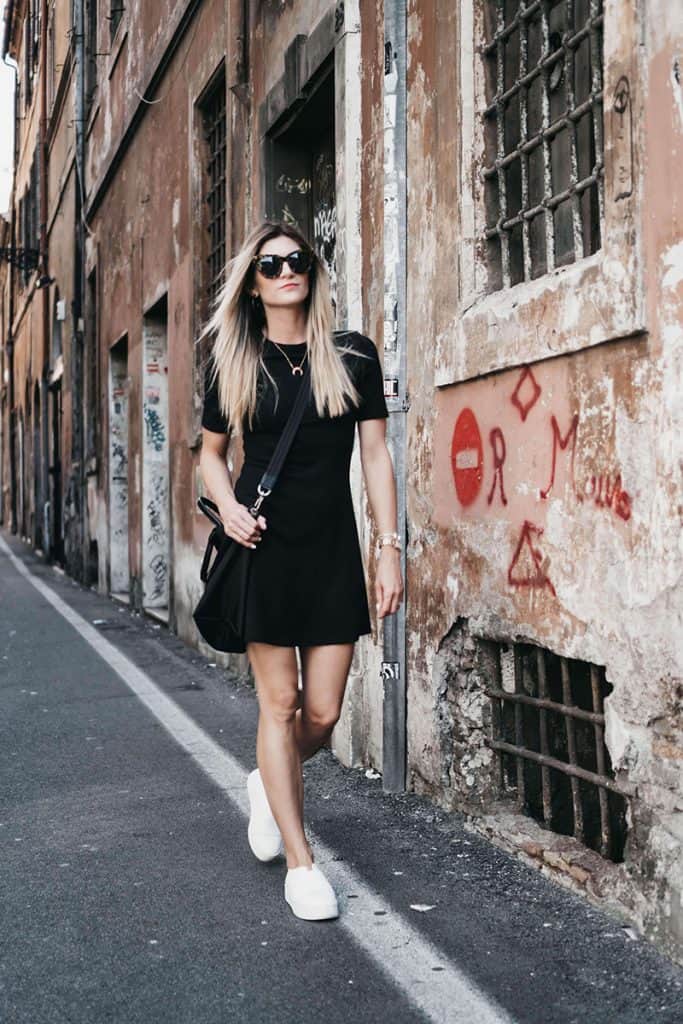 10. Statement Sunglasses
Rest assured, there will be sun. And when there is, you'll want to look chic and dapper. These, like your sneakers, are an accessory you need to take seriously, because Italian-made sunnies are a thing to abide by. (Cost-saving tip: If you don't want to spring for designer prices, try brands like Rag and Bone, Quay, and Ray Ban.)
11. Sophisticated Scarf
Another accessory which enhances basic outfits in a practical way is a scarf. Keep these in monochromatic colors, so they can pair with any outfit combination.
12. Fancy Umbrella
And last but not least, an item you won't want to leave at home. You know, just in case. Better make sure you're putting some thought into that final accessory that will complement your very well-put-together outfits meant to impress those Italians. These are my favorite umbrellas, hands-down.
Enjoy your trip, you style maven, you! We'd love to see you on your visit to Roma. Fat Tire Tours has tours available in Rome, as well as in Milan and Florence.
[maxbutton id="1″ url="https://www.fattiretours.com/rome" text="Explore Rome with Fat Tire Tours today!" ]