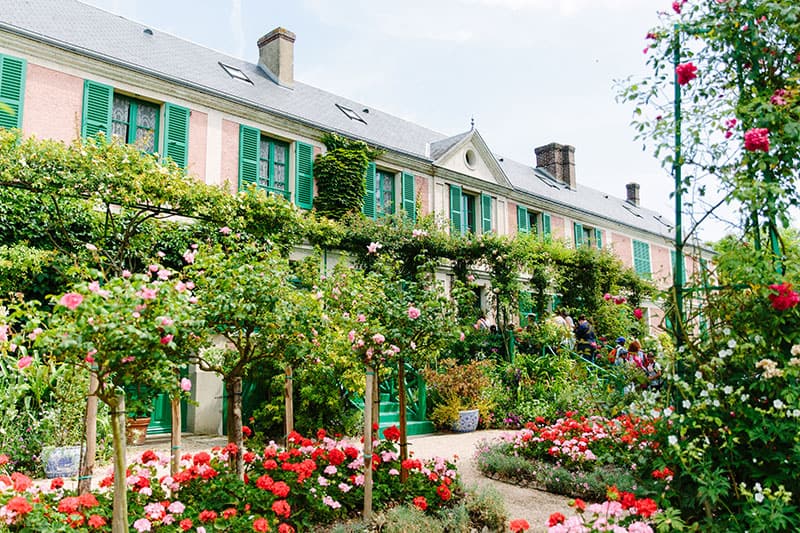 8 Things You Didn't Know about Monet's Gardens
 By Oliver Gee
Nestled away in the achingly beautiful French village of Giverny, you'll find the gardens of French painter Claude Monet. 
Now, you surely know a little about these gardens already: Water lilies, thousands of flowers, and the subject of so many famous paintings that you might feel like you've already been there.
But how much do you really know?
Here come eight facts about the magical gardens of Monet. But first, let's take a second to get to know the bearded Frenchman behind it all: Claude Monet.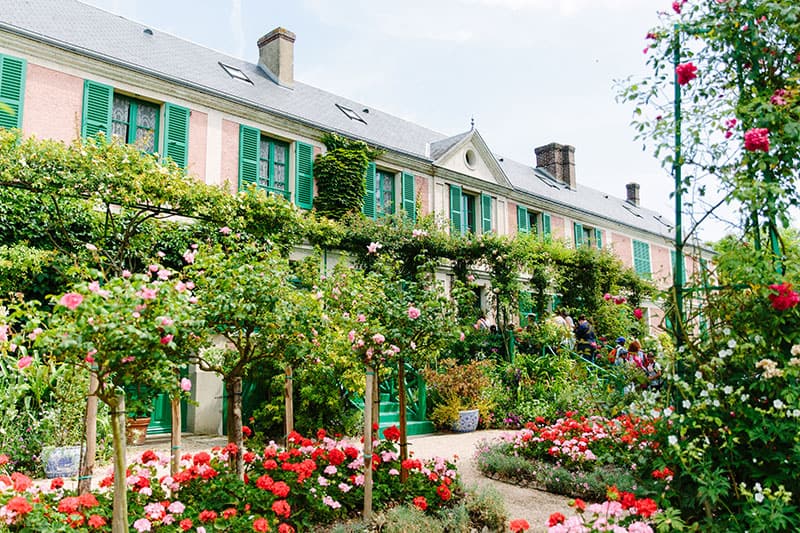 A Background on Monet
Claude Monet, born Oscar-Claude, lived from 1840 to 1926 and was one of the founders of Impressionism. If you've been into a Paris art museum, you've likely seen his work, most notably on display at the Orangerie and the Musée d'Orsay.
He moved with his family to the small village of Giverny in 1886, where he could cultivate his love of flowers and painting them. He planted thousands upon thousands of flowers in the gardens and liked it all so much that he once said, "I perhaps owe having become a painter to flowers."
As Monet found more success with his painting, he was able to afford renovations to his home and extensions to his gardens. One of the biggest projects he undertook was when he bought a neighboring plot of land, diverted water from a nearby stream, and created a beautiful pond that he filled with water lilies. 
Monet spent the rest of his life in these gardens, painting them over and over again until he more or less went blind. 
Today, the gardens, the pond, and Monet's home itself are open to the public and listed as a historical monument in France. And it might just be the ultimate day trip out of Paris if you ask me.
But that's enough about Monsieur Monet. Here are some facts about his gorgeous gardens. 
Monet had someone clean his lily pads each day
As strange as it may sound, it's true! Monet was no fan of the sooty residue left on his lily pads each morning from the passing trains. He much preferred to paint a pristine landscape. So, what did he do? He tasked a gardener with going out in a boat and polishing the lily pads before the day's painting began. 
And the funny thing is, if you're lucky, you might just see a gardener out there on a boat in the pond, doing the exact same thing today. 
The gardens attract half a million people per year
Yep, even though it's just a little garden and a pond, it attracts 530,000 people each year. Not bad considering it's only open between April and November. Those figures are enough to make the gardens the second most popular attraction in Normandy, after the Mont Saint Michel.
If you're thinking of making the trip, remember that summer months are particularly busy, and it's best to visit during the spring or autumn. But also remember that due to the thousands of seasonal flowers, a visit in May is quite different from one in October.  
Despite the huge Japanese influence on the gardens, Monet never went to Japan
Monet's lily pond and its iconic bridges were heavily inspired by the hundreds of Japanese engravings that the artist collected over fifty years. And if you take the time to explore Monet's home right beside the garden, you'll see many of these on display on the walls. But despite this fascination with Japanese art and gardens, Monet never made it over to Japan himself, and just let the work of Hokusai, Hiroshige, and Utamaro inspire him from afar instead. 
Monet painted his water lilies around 250 times
It's said that Monet was so intrigued by the different colors throughout the day that he would take on several paintings of the same landscape at once. Nowadays, his paintings of water lilies are highly sought after pieces of work. They're most famously on display in the Musée de l'Orangerie in the 1st arrondissement of Paris where enormous curved pieces grace the walls.
You can also find Monet's water lilies in France in the Musée d'Orsay in Paris and the Fine Arts Museum of Nantes, but also abroad, particularly in the U.S., in New York, Chicago, San Francisco, Portland, and Cleveland.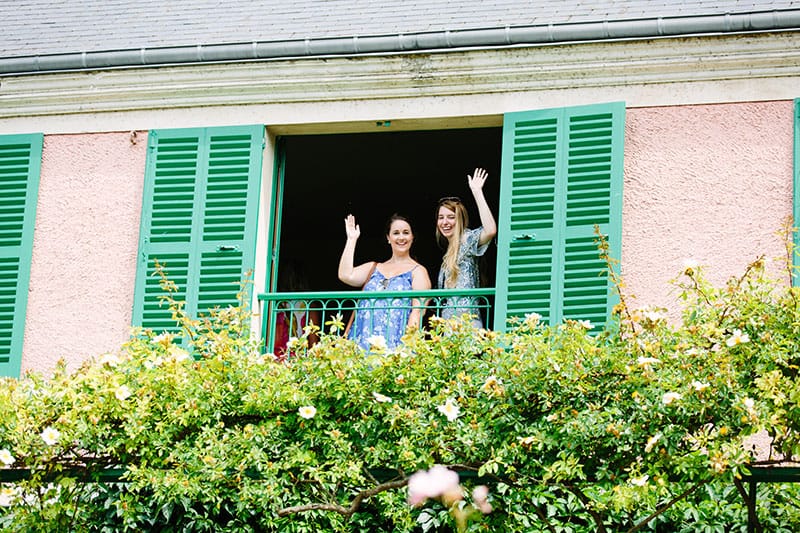 There are 66 different flowers in the garden
There are a whopping 66 different species of flowers and trees growing in the gardens, or the Clos-Normand. Monet hired seven gardeners to plant them in long straight flowerbeds stretching outwards from his home. The flowers include more common types like daffodils, pansies, and tulips, but also snowdrops, cactus, and oriental poppies. 
As for the trees, there's a heavy Japanese influence here, too, with Cherry, Maple and Apple trees all dotted around the garden. 
There are 31 different flowers around the pond
The magnificent pond is flanked by 31 different types of flowers and trees. The most obviously noticeable are the bamboo trees and the water lilies in the pond, but there are also willows, Japanese quince trees, and raspberry bushes. 
As Monet became blinder, he began to paint his gardens by memory
It's no secret that Monet suffered from cataracts in both eyes and it affected his artwork dramatically. One historian noted that his later paintings "verged on the abstract, with colors bleeding into each other and a lack of rational shape and perspective."
At one point, it got so bad that Monet would have to read the labels on his paint tubes to know which colors he was using.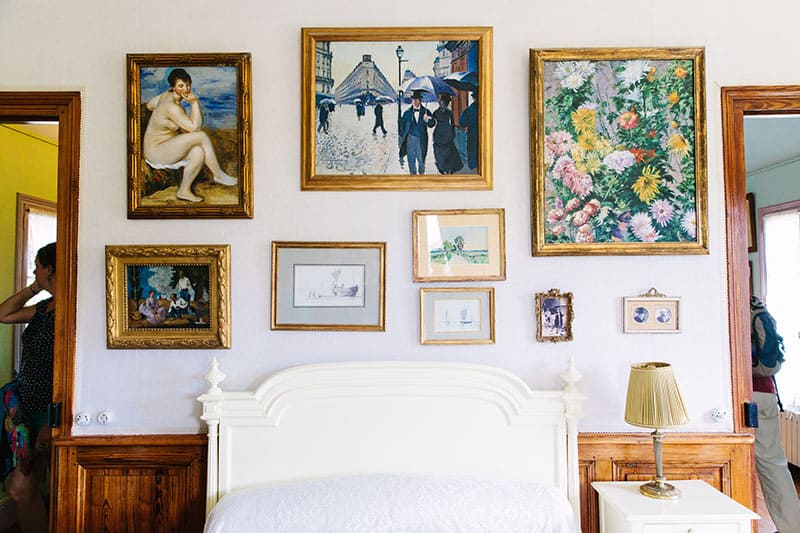 You can find Monet's grave nearby
Monet died in 1926 of lung cancer and was buried a short cycle away from his home in the Giverny church cemetery. He had a small funeral, where his friends replaced a black cloth from the coffin with a flower-patterned cloth saying "No black for Monet!".
Monet's grave is understated, almost hidden behind the church, and has a sign saying the painter is "missed by all". And of course, it is always covered in flowers. 
Well, that's it! Of course, nothing beats the experience of actually heading out to Giverny and seeing Monet's home, the gardens, and the pond for yourself. 
Fat Tire Tours offers tours of Giverny and the gardens, both on foot and by bicycle.
Related links:
[maxbutton id="1″ url="https://www.fattiretours.com/paris/attractions/monets-gardens" text="Explore Monet's Gardens with Fat Tire Tours!" ]