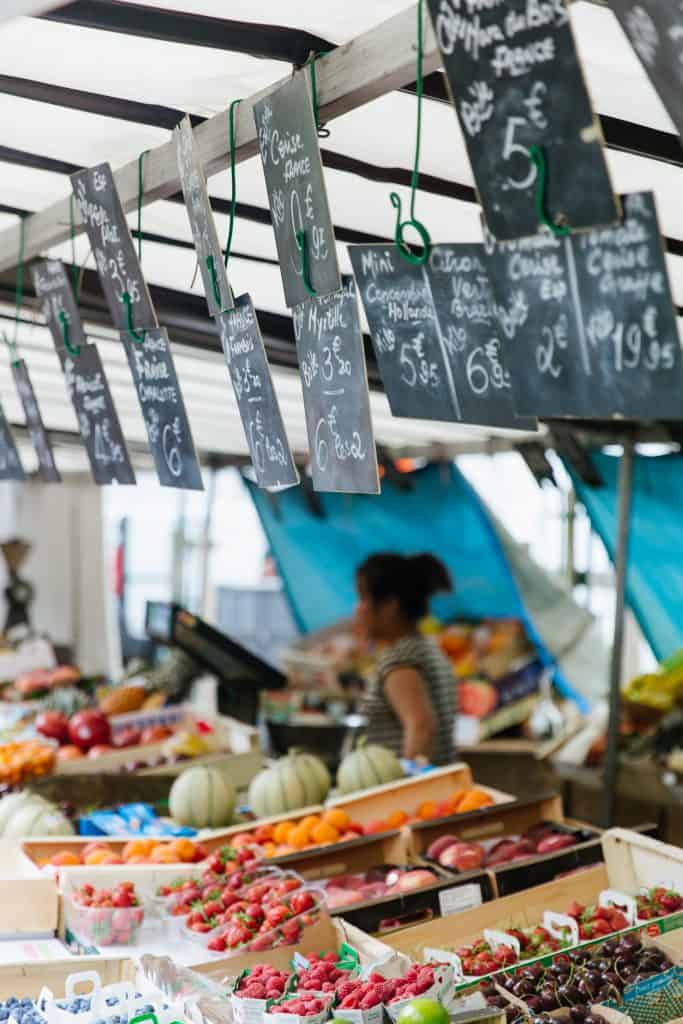 The Best Paris Food Markets
Shopping for fresh fruits, vegetables, artisanal cheese, or fish is a favorite pastime for the French and is something anyone visiting Paris should make time for. Just about every neighborhood in the city offers a weekly or bi-weekly farmer's market, and open-air vegetable and fruit stands can be found on most streets. But if you're looking for something specific or extra special, these charming markets are a great way to do your shopping and take in a bit of Paris culture.
Marché des Enfants Rouges
The oldest covered market in Paris, this hidden treasure opened in 1628 before being destroyed in the 1980s and then rebuilt. Once you've managed to find the tiny entrance, the market's tight, winding pathways take you through dozens of produce, seafood, bread and cheese stalls. Exploding with charm, the Marché des Enfants Rouges also has a seating area where you can savor some of the Asian, Indian and Italian culinary delights – a great way to spend a Sunday brunch. Closed Mondays.
Address: 39 rue de Bretagne, 75003
Métro: Filles du Calvaire, Saint-Sébastien – Froissart or Temple
Marché Biologique des Batignolles

With a village feel and the spectacular Sacre Coeur looming in the hillside, this is Paris's oldest organic market, established in 1994. The open-air stalls are simply a delight for health nuts, with stands offering chilies, fresh bread, Italian meat and cheese, and produce bursting with freshness. Vendors are required to pass a series of rigid inspections so you can rest assured that the products are top-notch quality here.
Address: Esplanade at Boulevard des Batignolles, 75007
Métro: Rome, Europe or Place de Clichy
Marché Raspail
For a slightly more chic organic market, check out this spot on Sundays near the upscale Saint-Germain-des-Pres neighborhood. Besides high- quality produce, you'll also find traditional potato galettes (pancakes), piping-hot soups and fresh pastries. On Tuesdays and Fridays, the market loses its organic label and turns into a regular open-air space, offering plenty of selection on produce, fish, meat, cheese and homemade yogurt. A stall selling sea salt and salted caramel can't be beat. And be sure to take a tip from the locals and put up a good bargain for your purchases.
Address: Boulevard Raspail, 75006
Métro: Rennes or Sèvre-Babylone
Marché Bastille
This sweeping market is a Paris classic, with broad alleys and dozens of stalls lining the streets for blocks. Vendors are friendly at this popular spot and the market is a great place for people watching. The fresh produce is delightfully displayed and ready-to-eat dishes are on offer from any of the Lebanese, Indian, Italian and, of course, French hot food stalls. Be sure to save room for the finger-licking-good rotisserie chicken. Open on Thursdays and Sundays.
Address: Boulevard Richard Lenoir, between Rue Amelot and Rue Saint-Sabin, 75011
Métro: Bastille, Chemin Vert or Breguet-Sabin
Marché d'Aligre
This semi-open, semi-closed food market is a true charmer. The snaking alleys within the indoor section will take you through fresh seafood, dried meats, cheese and pastry stalls, while a trip outdoors leads to endless produce stands and rotisserie chicken. Pick up a bouquet of newly-plucked flowers to complement your food purchases. As with most markets, the prices go down as the day goes on, so stick around into the afternoon for the best deals.
Address: Rue d'Aligre, 75012
Métro: Ledru-Rollin, Faidherbe-Chaligny or Gare de Lyon
Enjoy roaming around the city and seeing it the way a local would? Believe in making an environmental difference by buying  from local farms and reducing your carbon footprint?  Make sure to reserve a spot on a Paris Day Bike Tour: not only do the tours allow you to take in the city from a different vantage, but you'll get around efficiently and quickly without polluting an iota!
[maxbutton id="1″ url="https://www.fattiretours.com/paris/tours/paris-day-bike-tour" text="Book a Paris Day Bike Tour!" ]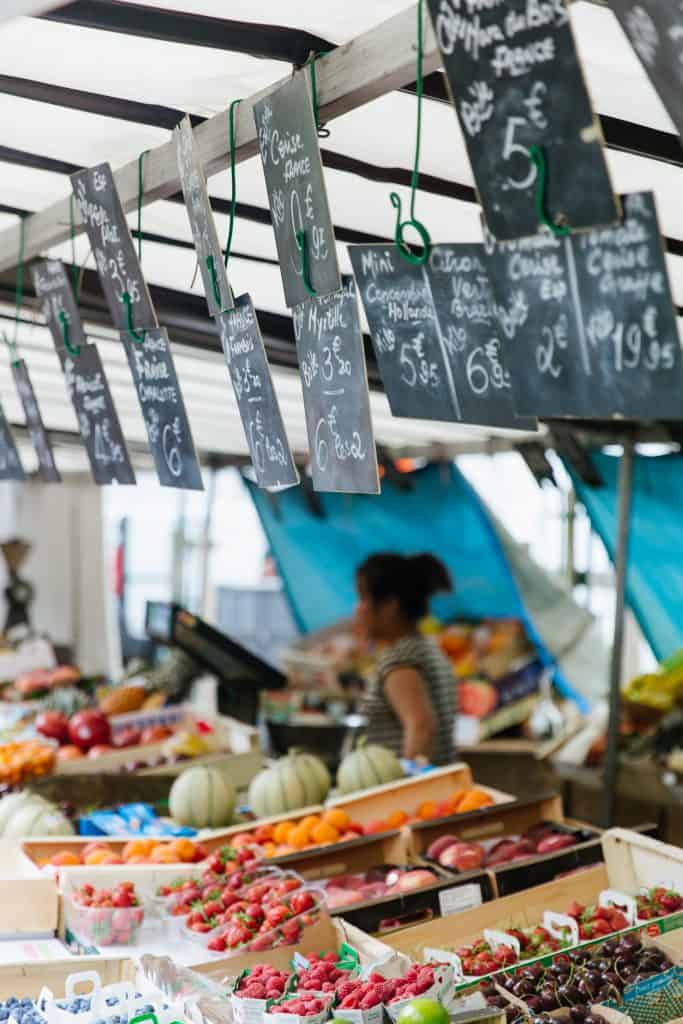 Did you know we offer a weekly walk through this market on Wednesday and Sunday? This market experience will provide a history of the Grenelle Market, the basic French sayings for how to purchase things, as well as local tips for finding the best quality products.
[maxbutton id="1″ url="https://www.fattiretours.com/paris/tours/market-tour" text="Book a Paris Open-Air Market Walking Tour!" ]
Related Links: