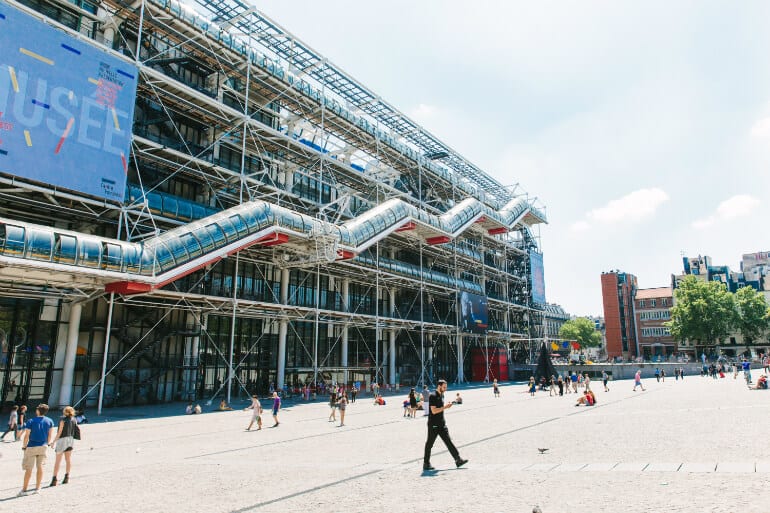 Family-Friendly Paris Tips
Planning your time in Paris can be overwhelming, but add young kids and their needs into the mix, and the planning gets even more complicated. Fear not, a trip to Paris with littles can be fun and enjoyable for everyone! Here are a few tips and suggestions for smooth memory-making as a family.
Whether you visit the smaller neighborhood squares scattered throughout the city, or the bigger and more famous parks, carving out some time every day to let the kids run around and get out some energy is our first suggestion to keeping everyone sane.
Top Museums for Children
Paris is home to the world's top museums, and we know it can be intimidating bringing young children to them. You never know how long the line for tickets or entry will be, if the exhibits will be child-friendly, or if the content will keep your child's interest! Luckily many of the museums here have people of all ages in mind, and offer your family a once-in-a-lifetime experience. We offer Skip the Line Tours to several of the most popular museums and attractions in Paris so your family can spend less time waiting in a line and more time enjoying Paris. Below are a few of our personal family-favorite museums…
57 Rue Cuvier, 75005 Paris
Established in 1793, this museum is made up of several different buildings located in the lush Jardin des Plantes. Grande Galerie de l'Évolution is particularly great for kids with life size animals filling the four story high building. The garden surrounding includes a small zoo and a little café worth stopping at as well.
30 Avenue Corentin Cariou, 75019 Paris
The largest science museum in Europe featuring interactive displays and an IMAX theater. Located in Parc de la Villette in the 19th arrondissement.
Jardin Tuileries, 75001 Paris
Home to works by Cezanne, Picasso, Renoir, and Monet's famous water lillies, this museum is small enough to be seen in a short amount of time and is perfect for kids. Pushchairs are available to loan during your visit from the cloakroom. Its location in the Jardin des Tuileries makes it even more ideal!
Place Georges-Pompidou, 75004 Paris
Large modern art museum with several galleries and workshops tailored for kids of all ages.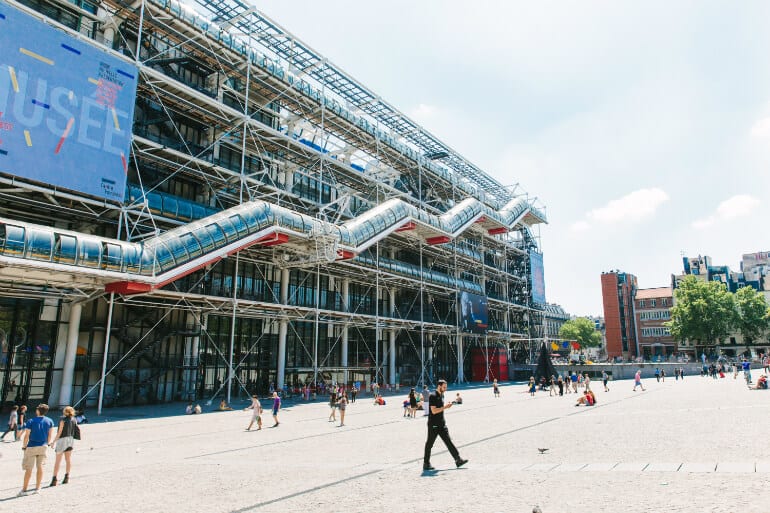 Top Parks for Children
Champs de Mars
With the Eiffel Tower as your backdrop, a picnic and run around the playground here will be good for a memorable few hours. In the warmer months, you can also find little go-carts or pony rides to try as well.
Jardin Luxembourg
You have to pay to get into the playground (€2 per kid) but it is totally worth it. This paid area is huge and full of equipment for all different ages. It can get crowded in there, so go early or visit the carousel, see the Marionette show, or rent the iconic wooden sailboats to push around the fountain in front of the palace.
Jardin d'Acclimation
This little 20 acre amusement park built around 1860 is in the Bois de Boulogne on the east side of Paris, and has been beautifully maintained. There are playgrounds, carousels, carnival rides, a trolly train, pony and donkey rides, a small zoo, picnic areas, and peacocks roaming around. Parent bonus: They also have comfy sling chairs scattered all over the park, so parents can relax while little ones play. Entry costs €2 for ages 4 and up, then €2.80 per ticket for the attractions.
Tuileries Garden
While there aren't a lot of large grassy areas here, the location in the center of the city makes up for it, and for most of the year a fun carnival is on one side along rue de Rivoli. Also worth remembering there is a small trampoline square at the end by Place de Concorde where kids can jump for a couple of euros.
You can view all of the parks referenced above on an interactive Google Map here.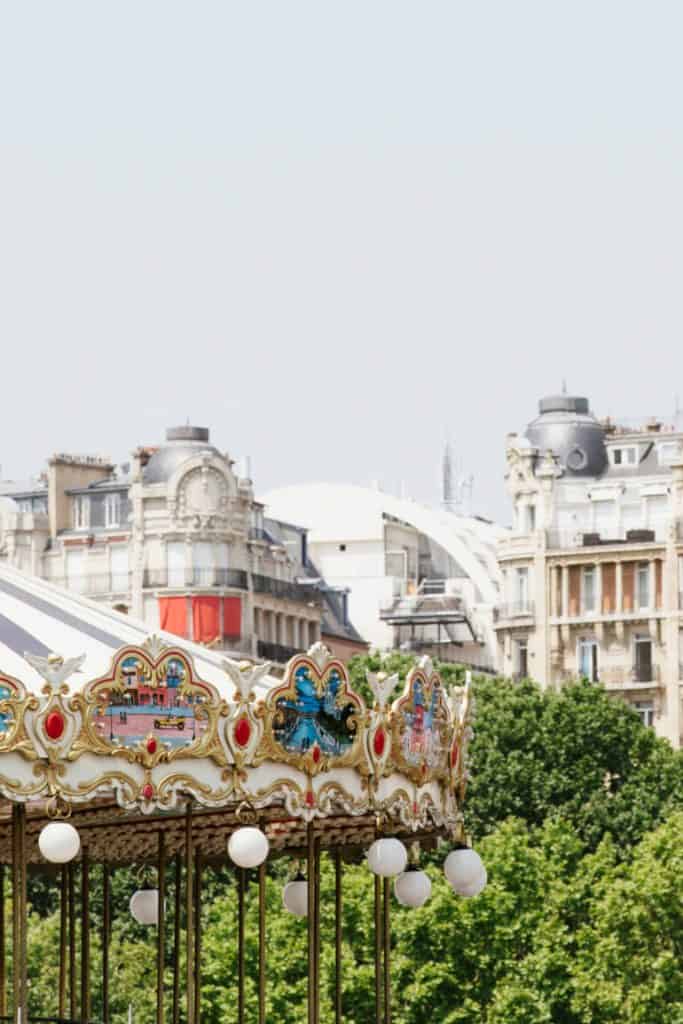 Tours & Activities for Children
Nothing beats getting some fresh air and seeing the city on a bike. Here is a breakdown of our family-favorite tours:
Paris Day Bike Tour
Our classic Day Bike Tour is the perfect introduction to Paris for both children and adults. This is a great tour to start your vacation with! This tour rides on bike lanes, through parks, and occasionally with traffic. Great for all ages.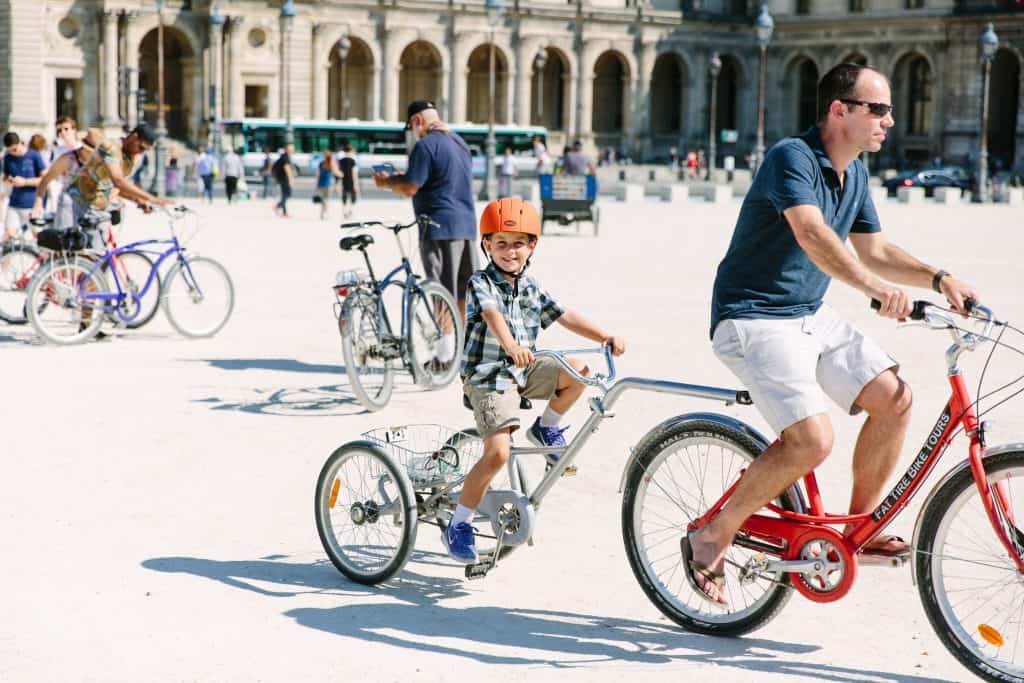 [maxbutton id="1″ url="https://www.fattiretours.com/paris/tours/paris-day-bike-tour" text="Book a Paris Day Bike Tour" ]
Versailles Bike Tour
This tour covers more ground than our standard city tours, so we recommend reserving a tandem if you are unsure of your child's endurance. Kids absolutely love this tour for a chance to cycle in the wide garden paths with no cars to be concerned about, running around the massive grounds, and getting to eat a picnic along the canal. Great for all ages.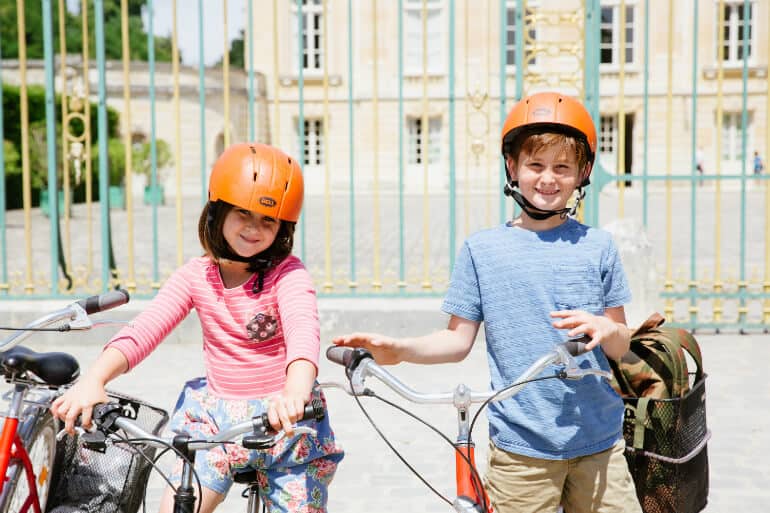 [maxbutton id="1″ url="https://www.fattiretours.com/paris/tours/Versailles-Bike-Tour" text="Book a Versailles Bike Tour" ]
*If you haven't already reserved a children's bike or tandem, you can review all of our bike options here. Be sure to book these in advance, especially during the summer months.  And if you're nervous about your child's biking ability and have some time to practice before your trip, check out these awesome biking activities that will get your kids excited about riding. 
Seine River Cruise
A change of pace on the water can be a fascinating alternative to walking the streets or museum hallways. Purchase a Seine River Cruise Ticket which includes a one hour boat cruise along the river with commentary and great views of the city. Great for all ages.
[maxbutton id="1″ url="https://www.fattiretours.com/paris/tours/river-seine-cruise" text="Book a Seine River Cruise Ticket" ]
Paris Segway Tour
Segways are a fun and unique way to ride around Paris. All riders must be at least 12 years of age and weigh at least 100 pounds and not in excess of 260 pounds. For ages 12 and older. 
[maxbutton id="1″ url="https://www.fattiretours.com/paris/tours/paris-day-segway-tour" text="Book a Paris Day Segway Tour" ]
Eating in Paris with Kids
Oh, Paris, with your wonderful cuisine, charming restaurants and love for quality produce! A visit to France is synonymous with freshly-baked bread, the smell of garlic, and licking pastry sugar off your lips. It's a culinary heaven for visitors, and is also a great opportunity to introduce the kids to new foods.
Sadly, numerous are the visitors who, when they arrive at a Parisian restaurant with a stroller in tow, find themselves feeling unwelcome. It's not that the French don't like kids or babies, it's just that most waiters would prefer they didn't dine at the same time as us adults. Blame the close tables and rigid menus if you like.
Luckily, this isn't the case everywhere, and the overall attitude is changing. We have a few favorite spots that are both family-friendly and good quality – tried and tested!
Kid-Friendly Restaurants
L'Etoile de Montmartre
26 rue Duhesme, 75018 Paris
A quality, restaurant with many regular customers, the Etoile de Montmartre is especially popular on Sundays, when they bring out a table with crayons and coloring books for children. The bathrooms are also family-friendly, with a child-size toilet and little stepladder for washing hands! Location is great: right in the heart of the Montmartre district, but away from all the tourists. A 'typically Parisian' spot, in all the good ways!
Beaucoup
3 rue Froissard, 75003 Paris
For a more upscale dinner, try the hipster venue Beaucoup in the Marais quarter. Trendy + kids = sounds like a bad combination, right? Not here. Staff are super friendly, and there is plenty of space between tables to wheel and park a stroller. Plus, they even have a kids option at 15€ for a plate and dessert.
Le Café Suédois
11 Rue Payenne, 75003 Paris
Everybody falls in love with the café at the Swedish Institute, also located in the Marais. It's tucked away in a charming courtyard, with a grassy garden out the back. They serve delicious homemade quiches and sweet treats, and are always friendly to children, who can run around freely, away from cars.
La Cantoche Paname
97 rue Montmartre, 75002 Paris
If we were to give an award for friendly and accommodating staff, La Cantoche would win gold. There's enough space for a stroller, and the decor is "écolier" (grade-schooler) themed! Try the grilled Camembert and the bacon cheeseburger à la française. Yum!
8 Rue Saint-Lazare, 75009 Paris
We suggest this spot for brunch. A family-friendly/group-friendly restaurant due to the fact that it accepts reservations (no waiting in line with the littles), includes ample space (you won't be squeezed in), provides high chairs (not everywhere has this option), and is delicious!
Restaurants with a Garderie (Nursery)
7 rue Lacharrière, 75011 Paris
A south of France atmosphere. Every Sunday, they will take care of your children while parents can enjoy a nice glass of rosé!
7 rue Jarente, 75004 Paris
Homemade dishes for adults and children. Nanny available to take care of kids while parents can enjoy a nice brunch in the Marais.
47 rue Curia, 75005 Paris
Inside the Jardin des Plantes. View of some of the animals, kids menus and nice terraces.
4 Cite de l'Ameublement, 75001 Paris
Asian restaurant with a kids playground. Highly recommend to book in advance.
82 Avenue Marceau, 75008 Paris
Chic Italian restaurant. On weekends, they organize an "atelier petits chefs" where children can learn how to cook while parents enjoy a nice brunch.
General Tips for Eating Out with Kids
The main difference between most American and French restaurants is that the French can be quite rigid when it comes to the menu. Sure, they can always change your fries for salad, for example, but when it comes to "can you change the sauce/take out the mushrooms/combine two plates" you will often find a frosty response. Chefs may take it as an insult that you don't 'respect' their food combinations, unless it's an allergy problem.
Crêperies are often more friendly that more upscale French restaurants, as are Asian eateries, of which there are many good ones in Paris. The most welcoming time of day to eat out with children is definitely brunch on a Sunday, when all the Parisian families are out too! Always ask when reserving if there is enough place for a stroller (une poussette), and also if they have a high chair (une chaise haute).
Public Transportation with Kids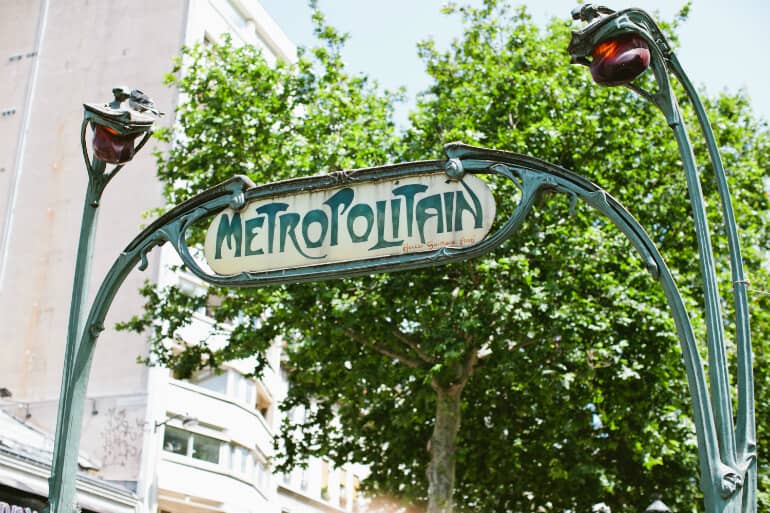 Métro: Even for seasoned Parisians, bringing a stroller on the métro can be a daunting task. Elevators are rare, but are marked on any official métro map with a wheelchair accessible symbol. Many stations have an entrance next to the turn-stiles especially made for strollers, but this requires the assistance of an available employee. We recommend transporting infants in a portable carrier opposed a stroller if you are taking the métro. Important to note: Children under age 4 travel for free on public transportation and children under 10 have a 50% reduced rate.
Bus: The bus system accommodates strollers and is very easy to use. There are dedicated stroller entrance/exit doors on the buses. You can find timetables and all bus information on the RATP website, or using the Google Maps app.
Taxi: If you require a carseat and would like to take a taxi, you can book a taxi in advance (from the airport, for example) and request a car seat with the company G7 here on their website.
What the Parents of Fat Tire Tours have to say!
Pro Tip #1: "A big picnic in a park is my favorite and most stress-free way to have a family meal. Both kids and adults love the experience of walking through a Parisian market and picking out picnic supplies."
Pro Tip #2: "If you are bringing a stroller to Paris, look for restaurants that have ample outdoor seating. Many places in Paris are pushed for space and strollers can be difficult to impossible to fit inside."
Pro Tip #3: "If your child requires a baby seat, I recommend bringing a portable harness such as this one that can be attached to a regular chair. Don't expect restaurants to have high chairs or booster seats!"
Pro Tip #4: "Most casual restaurants don't mind at all if you bring your own food for young children."
Pro Tip #5: "Good news! Family-focused restaurants will occasionally have a garderie, or nursery, on site."
Pro Tip #6: "Changing tables in restaurants and public spaces are extremely rare. I recommend bringing a mat such as this one."
Pro Tip #7: "Any of the grocery stores around the city will have a baby aisle with diapers, wipes, formula, food, etc. Names to look for are Simply Market, Monoprix, Carrefour, Franprix, G20. Smaller shops will have a limited selection of baby supplies, so I suggest looking for a large Monoprix for the largest amount of choices."
Pro Tip #8: "You can order almost anything you need off amazon.fr and have it shipped to your hotel or AirBnb in advance if packing is a concern."
If your children are full of energy, why not get those little legs moving on a bicycle tour around Paris? It's a fun way to see the city without anyone tugging on your arm with "Mom I'm BORED…" This goes for the big kids too!
[maxbutton id="1″ url="https://www.fattiretours.com/paris/tours/paris-day-bike-tour" text="Book a Paris Day Bike Tour!" ]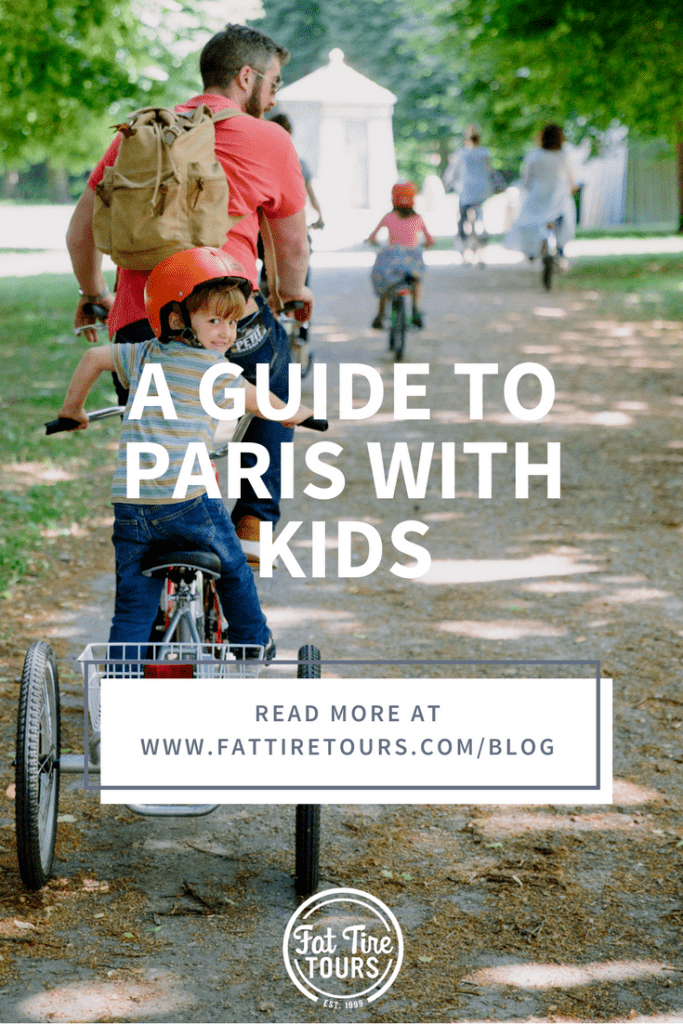 Related links