By Anne McCarthy
The month of March may not boast holidays that include gift-giving or dressing up in spooky costumes. Still, there is something particularly delightful about everyone wanting to be Irish for a day on March's most famous holiday: St. Patrick's Day.
As an Irish person, I'll admit, this fact tickles me – this global celebration of the Irish and the country's culture. While I may not have the accent (owing to a many generations-ago immigration from the old country to the U.S.), I do have a passion for the Motherland and all its many attributes. Guinness, storytelling, Irish dancing, U2, lush greenery, Oscar Wilde-isms, melodic folk music, and Lord of the Dance, Michael Flatley. All these things and much more make up that great rock in the Atlantic Ocean, which – tiny as it may be – has a continued global influence that spans centuries.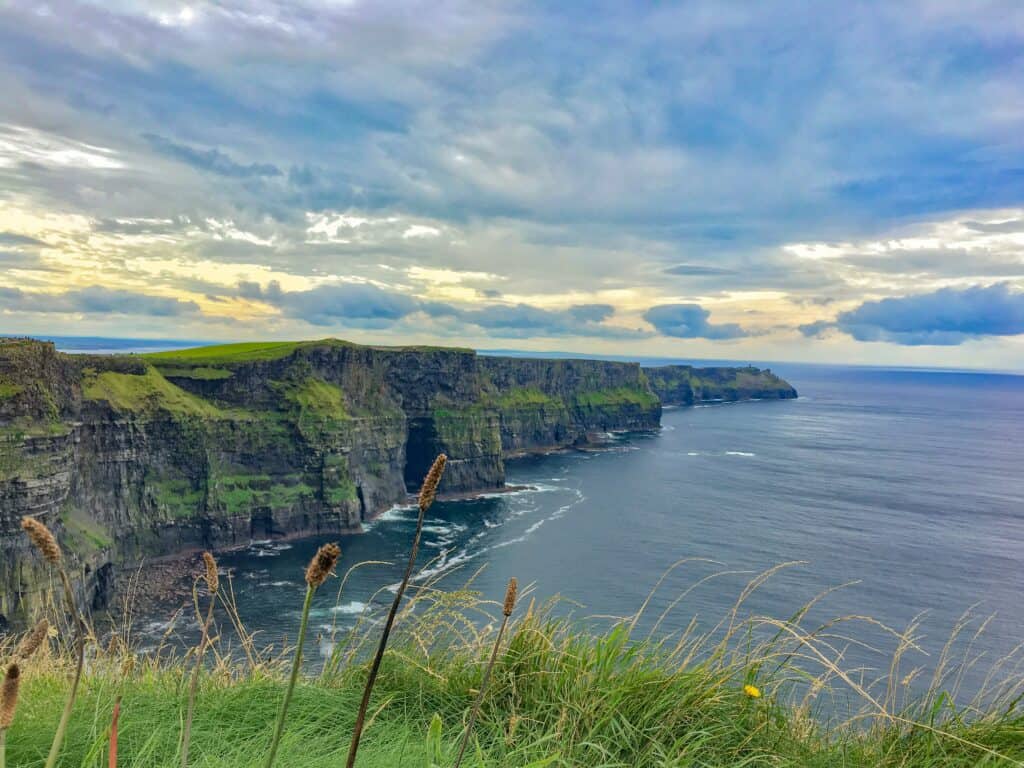 At Fat Tire Tours, we love learning about new cultures and sharing cultural stories. We have cities around the globe where you can tour the country in fantastic style. Traveling soon? Book a tour with us ASAP so you can learn about a city's rich history in an unintimidating and entertaining way.
If you're visiting any of these cities in March – London, Paris, and Berlin (all of which where we offer bike tours and walking tours!), you'll want to be sure to note these festive activities and places for a bit of "craic" (the Irish word for fun) on March 17th.
London
Yes, the English and the Irish do not have the most peaceful history. (See: The Troubles, a violent conflict spanning 1968 – 1998, and the Anglo-Norman invasion of Ireland centuries earlier, for starters) But for the most part, bygones are bygones, and the wounds have healed for many. Suffice it to say, there's ample opportunity for celebrating "Patty's Day" in the Big Smoke (aka London).
In London, there are St. Patrick's Day celebrations at authentic Irish pubs around the city. London is home to thousands of pubs. Pub culture is baked into London life; in fact, Fat Tire Tours offers a River Thames Evening Bike Tour with Beer Tasting, so you can sample some of that London pub culture at a traditional London pub. But for some Irish pub culture in London, where you can celebrate St. Pat's Day, look no further than these Irish pubs we've rounded up:
1. The Auld Shilleglagh
At The Auld Shillelagh, an Irish pub in Stoke Newington, you'll find live music, lots of Irish beer, and more. This fun and authentic pub will be an excellent landing pad on St. Pat's Day, as it's lively, offers a wide selection of Irish whiskeys, and it was voted by The Irish Times as the winner of "The Most Authentic Irish Pub in the World Outside Ireland." Doesn't get much better than that, ay?
Address: 105 Stoke Newington Church St, London N16 0UD
2. The Porterhouse
Covent Garden is a London tourist draw for its beauty, talented street performers, and excellent shopping. But you may also want to go there for another reason: To celebrate St. Pat's Day at The Porterhouse. Covent Garden's The Porterhouse packs a punch in size – it's huge! – and it even brews its own Irish stout. The Porterhouse offers one of the biggest selections of Irish beers in all of London. And come March 17th, it'll be packed to the gills for a good time.
Address: 21-22 Maiden Ln, London WC2E 7NA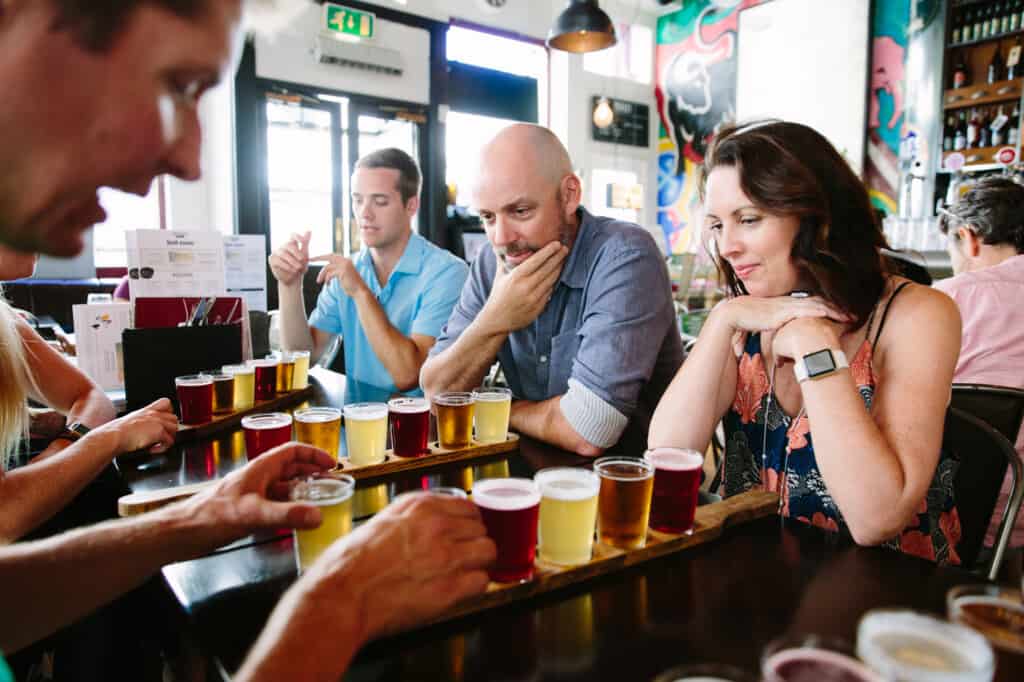 3. The Toucan
A stone's throw from Covent Garden, on the other side of Shaftesbury Avenue, you'll find Soho – a firecracker of a neighborhood built for fun and mischief, teeming with bars and LGBTQ-friendly dance clubs. At Soho's The Toucan, a Guinness-centric bar in name and style, you'll find lots of Irish fun and Irish drinks to celebrate St. Pat's. (A toucan is a symbol of Guinness beer and has appeared in many of the company's advertising campaigns.) At this Irish pub off Soho Square, there's lots of whiskies, a bar downstairs, and even bar stools shaped like pint glasses! What more could you want?
Address: 9 Carlisle St, London W1D 3BY
And if you're feeling ambitious, you may want to consider signing up for The St. Patrick's Day Pub Crawl on Friday, March 17th, which begins at Bar Soho, a four-minute walk from The Toucan. Tickets start at £15, and festivities kick off at 7:30 pm.
Paris
According to current statistics, over 15,000 Irish people live in Paris. That's a lot! So, it's no wonder that St. Patrick's Day will be celebrated in the City of Light, and you can easily find a handful of Irish pubs in which to sip a Guinness and hear some Irish music. If you want a more immersive Paris experience in the city on St. Pat's Day, why not also book our beloved and much-celebrated Paris Night Bike Tour?
St. Patrick's Festival
Top of the list for celebrating St. Patrick's Day in Paris includes checking out the Paris Irish Cultural Center ("Centre Culturel Irlandais"). The center hosts a five-day St. Patrick's Festival! It's located a stone's throw from the Pantheon. This year, the festival runs from Wednesday, March 15th, to Sunday, March 19th. Put on your favorite green sweater or green flair, and head to the Irish Cultural Center for an array of festivities, including traditional songs, Irish concerts, performances, film screenings, and more. The full festival program is on their website.
Address: 5 Rue des Irlandais, 75005 Paris
2. Stolly's Stone Bar
Stolly's Stone Bar, an Irish pub in Paris, is found in the Marais, the Jewish quarter of Paris with a rich history and gorgeous landmarks, like Place des Vosges and the Victor Hugo House. This quirky watering hole is a lively spot with enormous pitchers of alcohol. It's a merry place that truly brings the spirit of St. Patrick's Day to life. The décor inside this cozy bar will keep you entertained if your company doesn't – Stolly's walls have stickers, fun memorabilia, graffiti, and more. Along with beers like Guinness, Irish whiskey is available, too. Stolly's memorable and amusing slogan is: "Hangovers installed and serviced here." Love a bar with a slogan. At Stolly's you'll have a celebration to remember. Just go easy because there are more Irish pubs in the City of Light to check out!
Address: 16 Rue Cloche Percé, 75004 Paris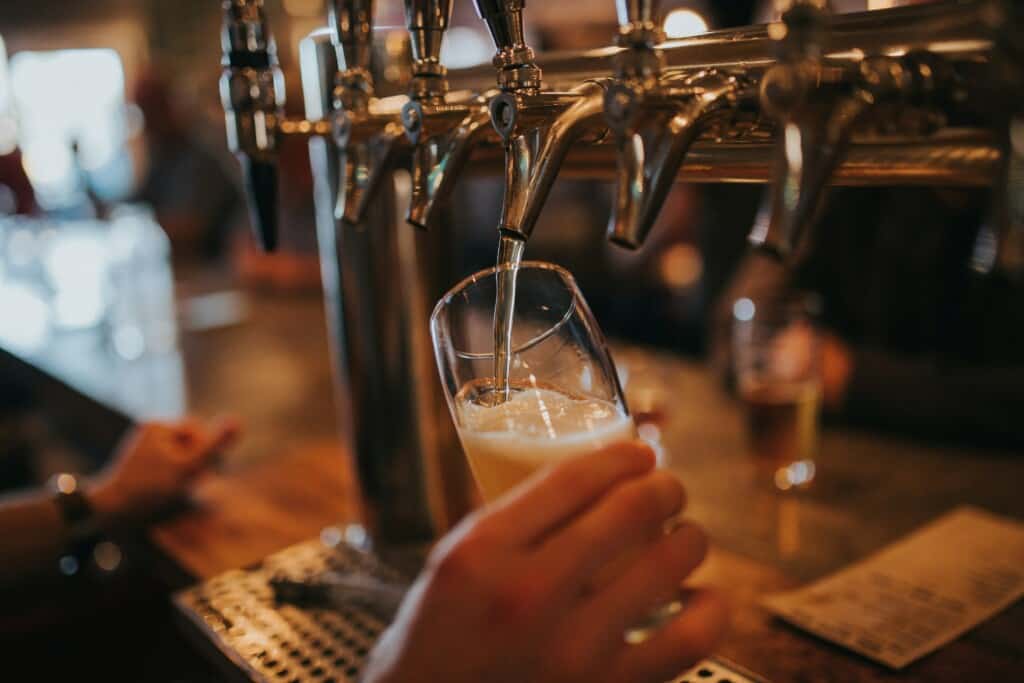 3. The Galway Irish Pub
The Galway Irish Pub is a friendly Irish pub near Notre Dame. On St. Patrick's Day, you'll be treated to live music, festive fun, and good drink deals. Irish bartenders add authenticity to the experience of The Galway. The Irish have a reputation for being charmers; see for yourself whether or not it's true at The Galway.
Address: 13 Quai des Grands Augustins, 75006 Paris
4. McBride's Irish Pub
Visiting McBrides Irish Pub, a traditional Irish pub near Centre Georges Pompidou, is an epic way to fête this holiday. The colorful and laid-back venue offers Irish draft beer, fish and chips, and other Irish pub fare, so you can line your stomach with something besides Guinness! McBride's is just one of several pubs in this group, which has several other Irish pubs in different locations around the City of Light, including near Sacré Coeur.
Address: 54 Rue Saint-Denis, 75001 Paris
Berlin
In Berlin, the city's residents are no strangers to good, strong beer. Germans – just like the Irish – are known for their love of beer, so there's no short supply of Irish pubs where you can throw on some green and celebrate all things Irish.
One of Berlin's most famous monuments, Funkturm Berlin (also called Berlin Radio Tower), has been lit up green on St. Patrick's Day in years past, casting a greenish glow over the city on this special day. The Funkturm is one of many monuments globally that's lit up in green for the holiday; it's part of a "Global Greening" tourism initiative supported by Tourism Ireland.
If you want to learn more about Funkturm Berlin and other German monuments in this famous city, book our Berlin City Bike Tour, which leads you around the city with a cheery and fun guide. Stops include the Berlin Wall, Checkpoint Charlie, Brandenburg Gate, and many more.
1. Murphy's Irish Pub
At Murphy's Irish Pub at Schiffbauer Damm you'll find the finest Irish hospitality in the center of Berlin. Located near Friedrichstraße station, this pub features live music and boasts 100 different whiskeys just waiting to be sampled. The pub offers a full food menu as well, so you can enjoy delicious Irish staples like baked potatoes, stew, and Irish Shepherd's Pie.
Address: Schiffbauerdamm 1, 10117 Berlin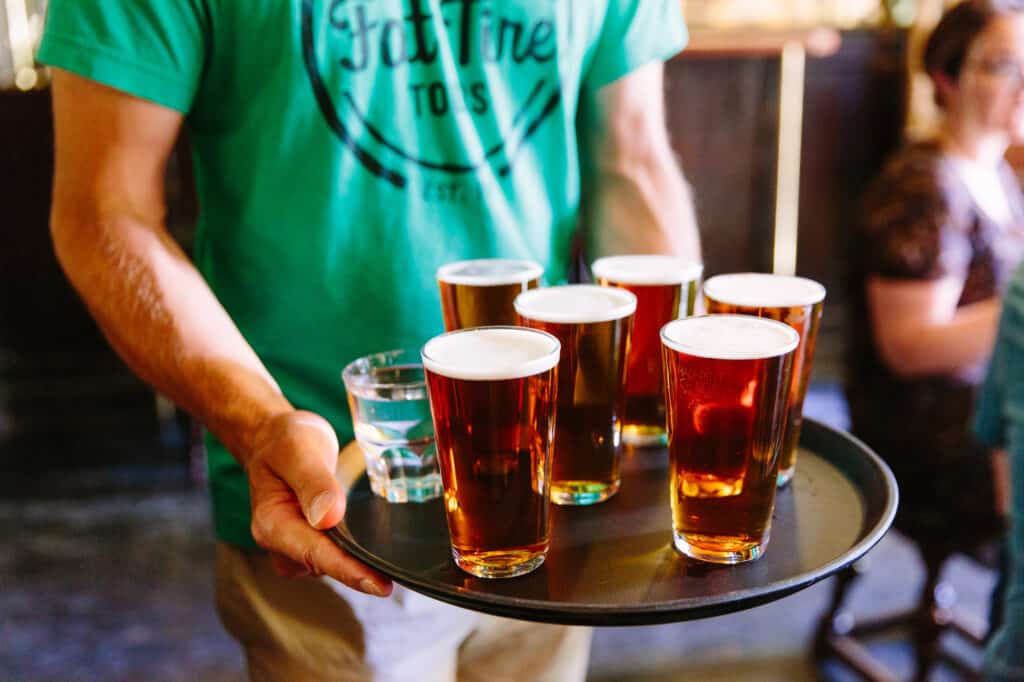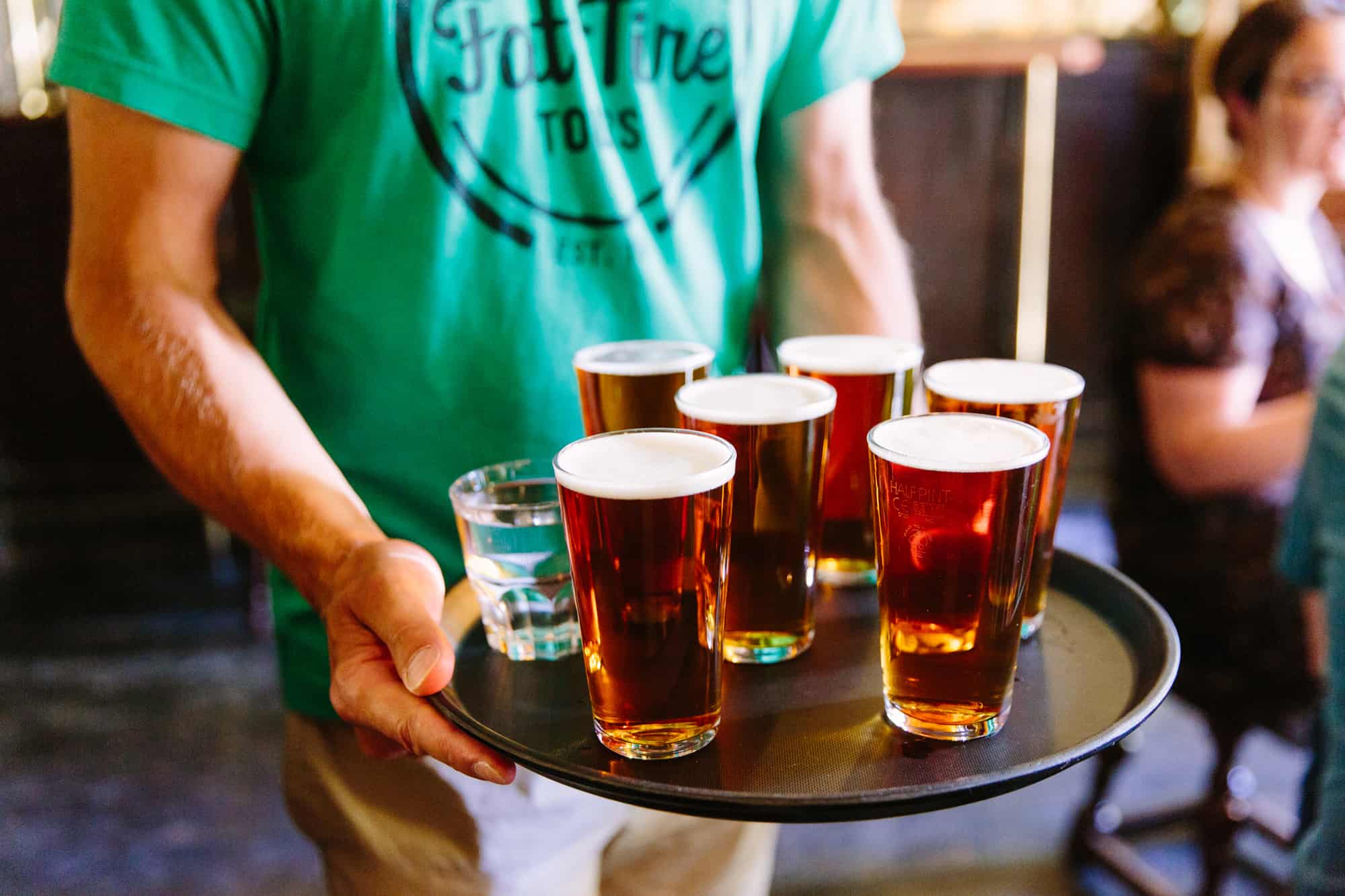 2. Kilkenny Irish Pub
Kilkenny Irish Pub has been called "the Best Irish pub in Berlin without question" by one visitor. It regularly welcomes many Irish enthusiasts who want to enjoy some Guinness in a pleasant atmosphere. The beautifully designed interior of the bar is as enticing as all the outdoor seating, which can be enjoyed on a nice sunny day.
Address: Am Zwirngraben 17-20, 10178 Berlin
3. The Lír Irish Pub
Last on the list is The Lír Irish Pub Berlin, a cozy spot that boasts "fast service and good craic," along with delicious fresh food. This tucked-away Irish pub offers a genuine Emerald Isle feel with its cozy fireplace stone interior. Irish art hangs on the walls, making you think – if only for a moment – you're nestled in a little pub in the center of Dublin.
Address: Flensburger Str. 7, 10557 Berlin
---
Anne McCarthy is the Editor in Chief of Fat Tire Blog. She is a contributing writer to the BBC, The Washington Post, The Guardian, and many more. She splits her time between the U.S. and Europe.