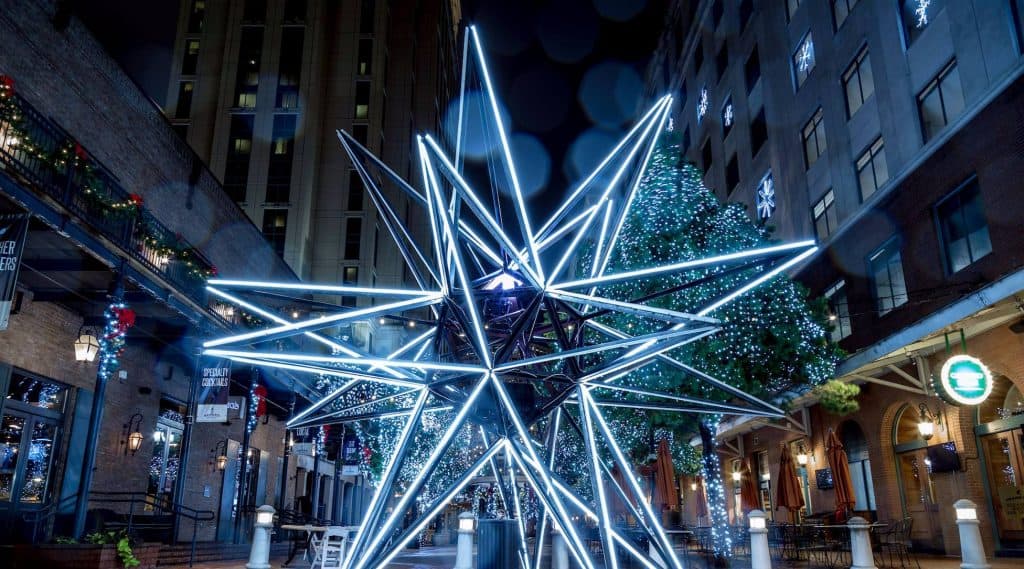 Guide to December LUNA Fête in New Orleans
"What's LUNA Fête?" I asked upon first hearing of this epic winter event in New Orleans. Well, let me fill you in (now that I know, and thus, can).
What's LUNA Fête?
LUNA Fête is a New Orleans event that occurs every year in December and celebrates the lights of the season. Now in its sixth year, it is easily one of the most unique festivals in the city, and perhaps the whole country. This jaw-dropping lights show at Lafayette Square draws tens of thousands of people every year to marvel at the gorgeous interactive light displays and large-scale installations lighting up the Big Easy at night.
As for its name, LUNA Fête… "LUNA" is an acronym for Light Up NOLA Arts, and "Fête" is a French word meaning "party." New Orleans' history has plenty of French roots, which explains this obvious crossover and the naming of this event. And, given that New Orleans is one of the biggest party cities in the United States, hosting one of the most notable parties in the world (Mardi Gras, of course), the "fête" is quite fitting, oui?
People from all over the country come out for LUNA Fête and it's easy to see why, too. Who doesn't love the magic glow of the holiday season? (Well, I suppose the Grinch, for one. But we'll leave him out of this.)
Self-described, "LUNA Fête is a visionary initiative created by the Arts Council New Orleans to demonstrate the power of art to transform communities," the LUNA Fête website declares of this exciting, once-a-year event. Arts Council New Orleans is a non-profit that endeavors to transform New Orleans and its communities through art.
So, what are you waiting for? Start planning your visit! We've got you covered on the need-to-know basics.
View this post on Instagram
When is LUNA Fête?
This year, LUNA Fête takes place on December 12, 2019 to December 15, 2019. Open 6pm to 10pm, this festive evening delight (which – even more delightfully – is entirely free!), is a most excellent way to spend a December evening in New Orleans. This event began in 2014 and has increasingly gained in popularity since its inception in NOLA.
A city that has no shortage of exciting things to do and pursuits to explore, LUNA Fête is another one of those NOLA events to add to your list in order to fully explore the culture of the Big Easy. Be sure to pack your camera because there are lots of captivating sights to capture here.
Where is it?
LUNA Fête is conveniently located in downtown New Orleans. You'll find the festival smack dab in the heart of Lafayette Square, a historic part in the city center. The square, located on Camp Street, is the second oldest public park in the city. Lafayette Square is centrally located (a mere half-mile from the French Quarter) and is near to a number of public transportation stations, providing easy access for Fête go-ers.
The festival extends from Lafayette Square onto both Lafayette and Fulton streets as well.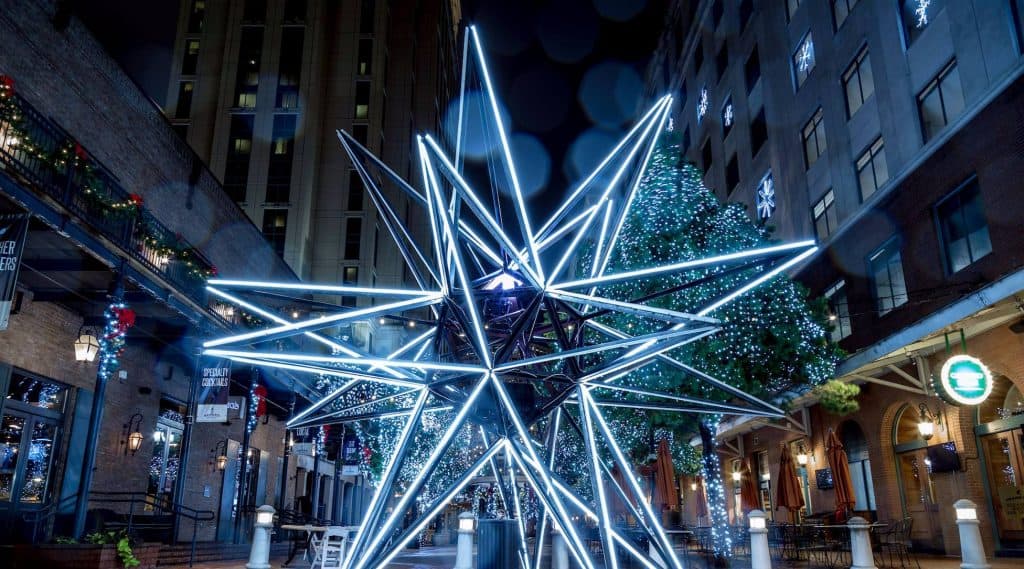 What should I do there?
This lit-up event is a bright, glittering jewel of Christmastime in New Orleans. Walk through the festival to get a real sense of all that it offers, and then follow where your curiosity takes you as you peruse this living, breathing work of art.
Rather than ask, "what is there to do?" The better question is: "What ISN'T there to do?" This is a cornucopia of activity, lights, sounds, and stimuli, so follow what most strikes your fancy. At LUNA Fête, you'll find dance, performance, light installations, laser shows, motion graphics, spatial augmented reality (aka "projection mapping" or "video mapping"), audio sensory experiences, gaming systems, food and drinks, projections, and more. "It's impossible to describe LUNA Fête in just a few words," said one festival attendee. "To experience it is pretty transformative."
For an additional cost, you can check out the LUNA Lounge, where you can watch the light show in a heated tent and have complimentary food and drinks from local NOLA establishments. Dubbed "a heated VIP oasis," tickets for the LUNA Lounge start at $50 for adults and go up to $110, depending upon the package you purchase.
View this post on Instagram
Get involved in LUNA Fête
If you're local to New Orleans or will be spending an extended amount of time there, explore the idea of getting involved in LUNA Fête in a bigger way. There are loads of opportunities, which include volunteering, donating, and offering support in various fashions for this incredible arts initiative.
What should I do after LUNA Fête?
When in town, be sure to check out some of New Orleans' best eats in the city. New Orleans culture, as many know, is rich and textured (and not only the gastronomic culture). We have some great tips on how to experience authentic culture in New Orleans. And if you're looking for some exciting tours around New Orleans, we have you fully covered there as well.
Related links:
[maxbutton id="1″ url="https://www.fattiretours.com/new-orleans" text="Join Fat Tire Tours in NOLA!" ]