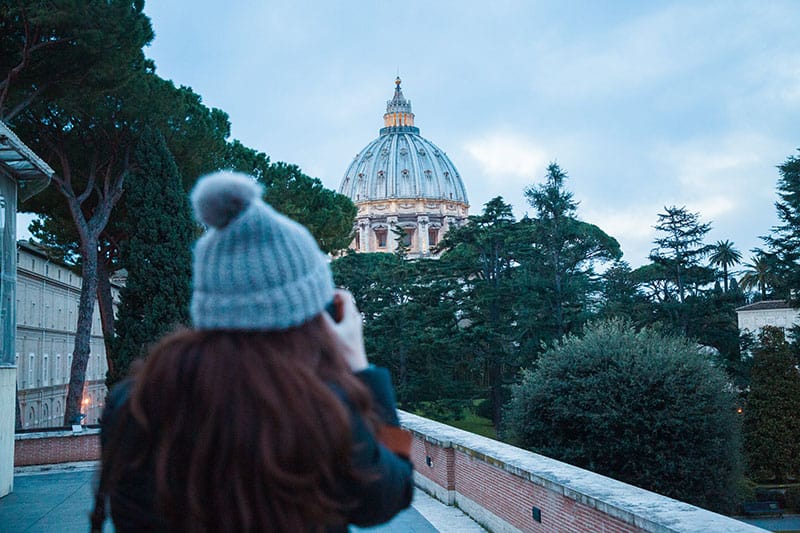 How to Spend Christmas in Rome – Updated December 2021
"Christmas" likely conjures up more than a few dancing sugarplums in your head. If you're like me, the excitement sets in just after Halloween, as the realization dawns on you that the festive season is around the corner, beckoning to be celebrated.
Christmas in Rome is no exception – it's a time of festive celebration, which welcomes Romans, travelers, and tourists alike. If you're fortunate enough to spend your December holiday traveling abroad and exploring new places, consider a stop in (or sole destination of) Roma.
Should you find yourself in Rome for Christmas, we've got you covered on things to do, and how to make your itinerary festive-filled.
Marvel at Christmas Trees around the City
New York City may boast of their Rockefeller Center Christmas Tree, but Rome has some equally impressive and beautifully adorned Christmas trees to behold. You can find many gorgeously decorated trees dotted around the city, at markets and churches, and various local neighborhoods. Pick up an authentic Italian coffee to go and sip it in the night air as your eyes feast on these glittering markers of the season.
Visit the Vatican
As it is a religious holiday, you can bet that the Vatican, the headquarters of the Roman Catholic Church, goes all out for Christmas. The Vatican (officially called "Vatican City") is a short trek from central Rome, less than 10 kilometers (6 miles), and is easily accessible by bus, train, or taxi.
Check out the Vatican's St. Peters Square for some beautiful festive cheer in the form of lights and decorated trees. The majesty of the square at this time of year will take your breath away.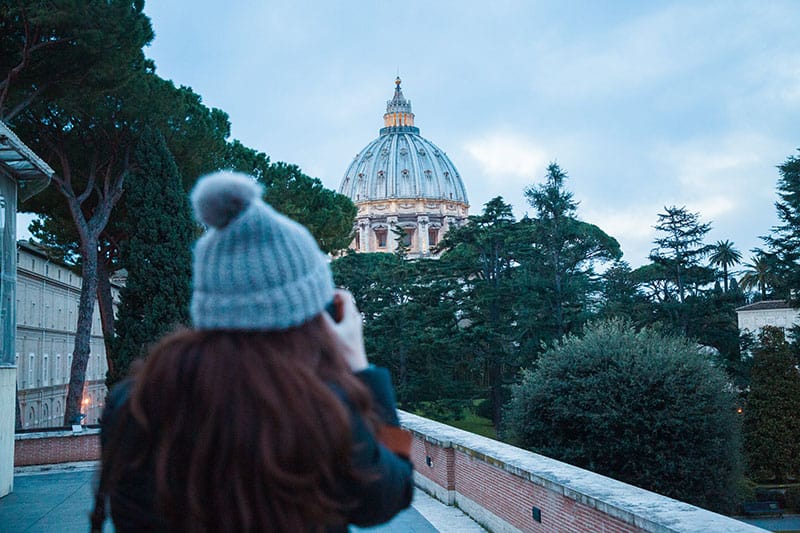 Roam Rome's Christmas Markets
The Piazza Navona Market is a favorite of resident Romans and travelers alike at Christmas. This bustling hotbed of festivity is full of market stalls selling food and trinkets. The scent of roasted chestnuts fill the air as you make your way through this lit-up and lively scene. Other markets to check out at Christmastime include the antique market in Piazza Mazzini, Mercato Monti, and the small Christmas market outside the Rome Auditorium.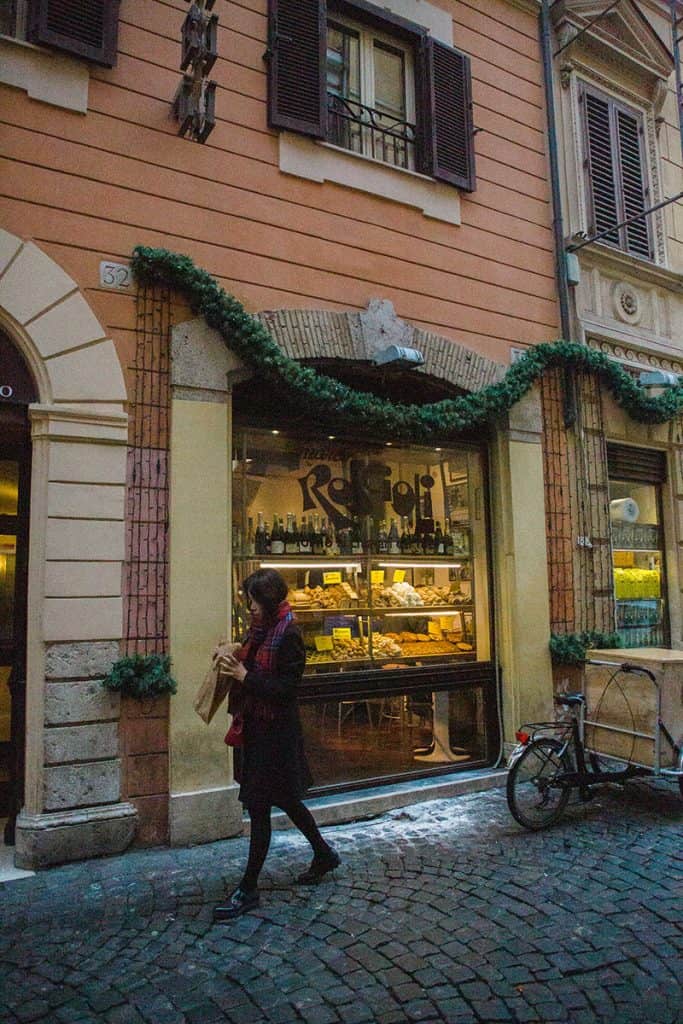 Scope the Beautiful Nativity Scenes Around the City
Nativity scenes – figurines recreating the birth of Jesus – are found throughout Rome at Christmastime. The "Presepe," as the Nativity scene is called in Italy, is one of the oldest holiday traditions in Italy. Immerse yourself in this tradition by taking in the sights of these scenes at Piazza Navona, Vatican Square, Piazza del Popolo, Capitoline Hill, and any local church.
Enjoy Rome by Bike
Fat Tire Tours provides excellent ways to see the city by bike, by foot, and by Segway. Our tours run throughout December, so fear not – we have you covered for exploring Rome, even when the colder weather sets in. The popular Rome Bike Tour will have you whizzing around the city when it's at peak festivity. And on the Rome Segway Tour, (back on December 10th!) you'll find Rome filled with holiday decorations so you can revel in the magic of the season.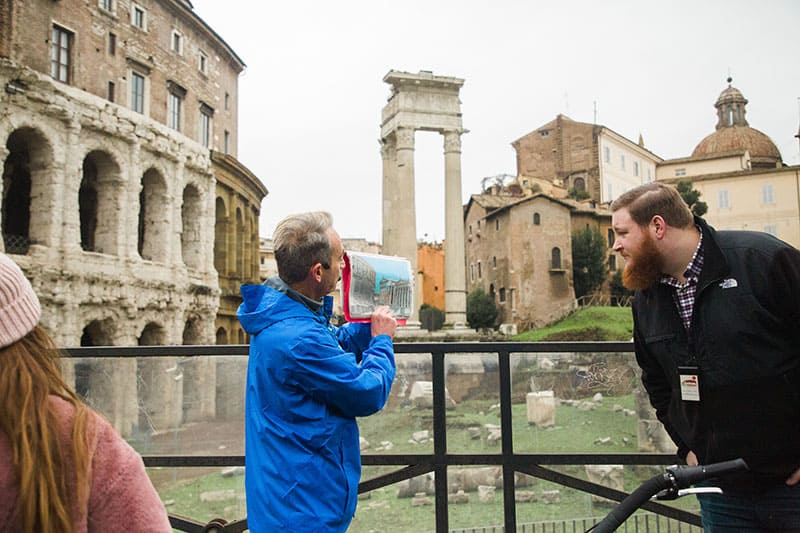 Christmas Shopping in Rome
Perhaps you have a few gifts left to buy, or, better yet, some gifts to scout for the best recipient of all: yourself! Rome has a whole host of shopping options, and some can be found in gorgeous locations, too. Via Dei Condotti, for instance, is one of the best-known shopping areas in Rome and boasts an impressive array of designer names. La Rinascente is a Roman luxury department store, where you can find similarly impressive designer shopping fare.
If you prefer more low-key shopping, why not check out one of Rome's many bookstores? As a perfect gift for the bibliophiles and bookworms in your life, get them a copy of their favorite book in Italian – it's a thoughtful and memorable gift.
Thankfully, for your shopping ambitions, from November until early January, many shops in Rome extend their operating hours, so you have more time to do some Christmas shopping.
View this post on Instagram
For the Kids (naughty & nice) – Sweet Coal
This tradition is centered around the Feast of the Epiphany, which is a few days after Christmas on January 6.  Nonetheless, your kids will find the story, and the candy, worth the wait!
Italian tradition tells the story of a witch, Befana, who was met by the three Wise Men on their way to see the baby Jesus.  She initially refused their offer to join on the trek, then regretted her decision and set out to try and find them.  Today, families celebrate by distributing sweet 'coal' and telling their kids that Befana is still out searching for baby Jesus.
Try making your own sweet coal, or enjoy some from a local pastry shop.
Rome on Christmas Day
Many places in Rome are closed for Christmas Eve and Christmas Day. If you have touristic ambitions for the 25th, be sure to check a location's listing to make sure they're open before you embark on your journey! Of course, local churches, and the Vatican will be open for religious services.
For a memorable way to ring in the holiday, visit the Vatican at noontime, where the head of the Catholic Church, Pope Francis, gives his annual Christmas Day speech. The Vatican Christmas Eve Mass is also a popular choice of how to ring in this feast day.
For an exciting and lively Christmas Day experience, head to Rome's Auditorium for the Rome Gospel Festival. With performances at 5:30pm and 9:30pm, you'll be filled with the joy of the season hearing this gorgeous gospel music. The Rome Gospel Festival is a Roman staple, celebrating its 24th anniversary in the city this year. This is a bucket-list item for music lovers!
Related links:
[maxbutton id="1″ url="https://www.fattiretours.com/rome" text="Join Fat Tire Tours in Rome!" ]