Blog
Local Experiences
If I Could Choose Only One Thing to Do in London: Visit Shakespeare's Globe Theatre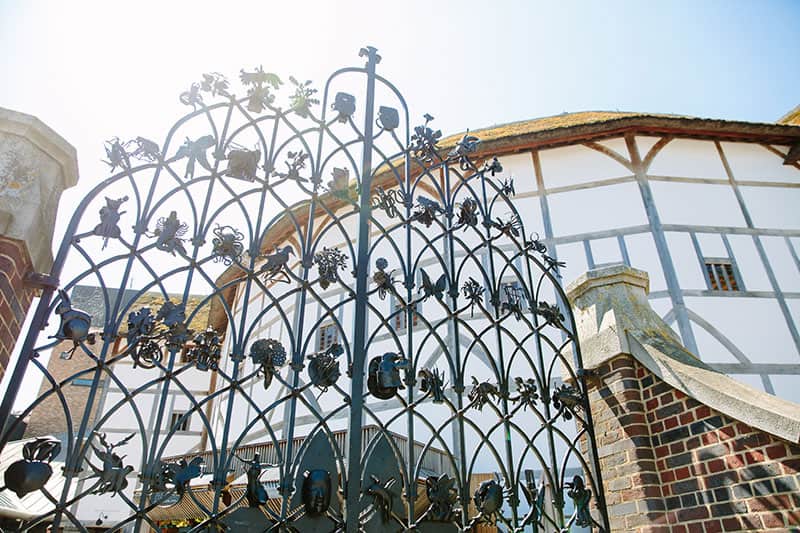 If I Could Choose Only One Thing to Do in London: Visit Shakespeare's Globe Theatre 
Just the name itself, "London," evokes myriad stories, tales, and lore. Heck, just earlier this year, a "Literature Tube Map" emerged, replacing the names of Tube stations with the titles of novels set in the area. It just goes to show: London is rife with story. And Shakespeare was inarguably an early trailblazer in ensuring London's place as a hotbed of great tales.
Maybe London makes you think of Harry Potter traveling via London's King Cross Station to Hogwarts. For many, though, one of the standout affiliations to London is "the Bard of Avon" himself – one Mr. William Shakespeare.
If I could do one thing in London, I'd visit Shakespeare's Globe Theatre. While living in London completing my Masters degree, I was fortunate enough to work at the Globe as a volunteer Steward, and it was such a treat. Any chance I get on trips to London, I return to the theater to pay it a visit.
Here's why it's well worth a visit on your next trip to jolly ol' Londontown.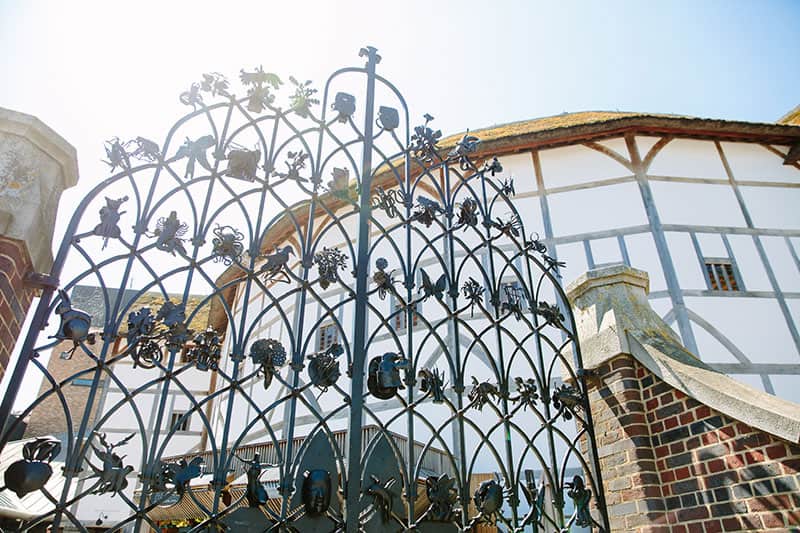 Why the Globe?
In a nutshell, the Globe is, in some ways, an epicenter of London history. Experiencing Shakespeare's Globe Theatre is one of the best ways to immerse yourself fully in the incredible range of culture and arts that exists in London. The fact that a Shakespearean theater has been in London since 1599 means it's been a part of the thread of the city for centuries.
The current iteration of the Globe Theatre (built in 1997) stands only 750 feet from the original site of the first Globe, on Southbank near theTate Modern and the Millennium Bridge.
(If you're looking for an exciting way to visit the Southbank area, consider taking the River Thames Evening Bike Tour with Fat Tire. It includes a beer tasting, and incredible views of the Globe, the London Eye, St. Paul's Cathedral, Big Ben, and more.)
The Beginning of the Globe
In 1599, Shakespeare's theater company, Lord Chamberlain's Men, erected an Elizabethan theater-in-the-round (the Globe). Above the theater entrance bore the Latin inscription: "Totus mundus agit histrionem" ("the whole world is a playhouse"). This playhouse, though, did not reflect the whole world – no actresses were allowed to perform at the Globe or any theater in London at that time. Young boys played female roles.  
The theater could hold 3,000 spectators. Historians speculate that the Globe was completed summer 1599, just in time for the opening of the play "Henry V." The play's script bares reference to a "wooden O," which many believe to be the Globe itself.
The plays featured at the Globe, like "Henry V," would be indicated to people passing by the theater using a color-coded flag system. If red flags were flying, it was a history play. White flags waved for comedy plays. And black flags flew for tragedy plays.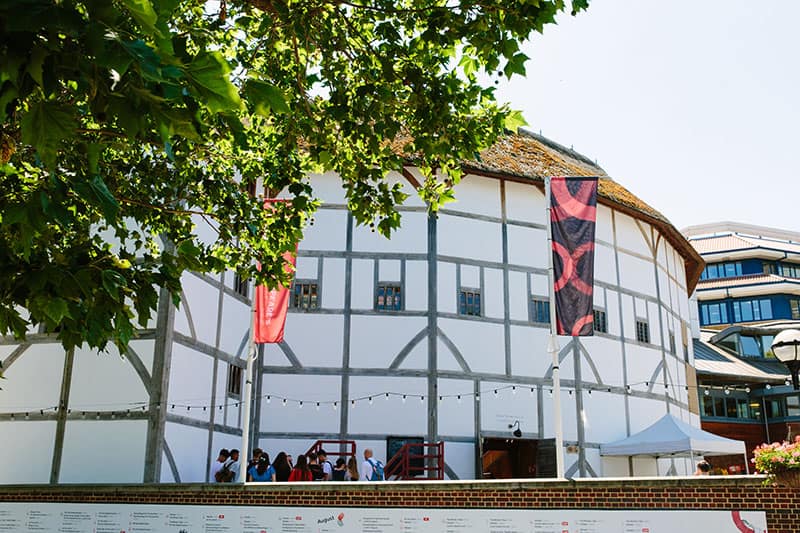 A Fire in 1613 Destroys the Original Globe
In June 1613, a fire that broke out during a production of  "Henry VIII" destroyed the theater. The theater, made of wooden beams and a thatched roof (built from straw), was quickly engulfed in flames; no one was hurt (save for a man whose pants caught fire but were immediately put out with beer). Thankfully, a second theater was fast built.
As a result of the English Civil War, all London theaters were closed by order of the Puritans in 1642. The Globe was no exception. The theater was "pulled down" in 1644, and, centuries later, built again. Quite fittingly, the 1997-built Globe Theatre opened with the same play the original opened with, "Henry V." 
(Some recommended pre-Globe-visit viewing: "Shakespeare in Love." This 1998 Oscar-winning film starring Gwyneth Paltrow and Joseph Fiennes has some incredible depictions of the Globe, as well as of London from that era. And my-oh-my, don't get me started on those costumes. The film is a treat from start to finish, and will have you eagerly anticipating your Globe pilgrimage.)
A Touch of Shakespeare
You can't really escape Shakespeare. If you attended school, he was likely part of the curriculum in some form. But if you indulged in the occasional nap during your English Lit classes, here's a brief refresher about the Bard.
William Shakespeare was born in April 1564 in Stratford-Upon-Avon, and died in 1616. In his 52 years, he made his mark.
Shakespeare is considered one of the greatest writers and poets of all time, having penned 39 plays, over 150 sonnets, a couple of poems, and more. His plays include classics like "Hamlet," "Othello," "King Lear," "Macbeth," and the ever-popular "Romeo and Juliet." Shakespeare's plays are reenacted and reimagined around the world every year. They remain hits across cultures and languages.
(It must be stated that there is an ongoing dispute as to whether or not Shakespeare was the sole author of all works attributed to him; different theories have emerged over the years.)
Regardless of authorship, his indelible mark on theater and the written word is inarguable. We owe many words used today to the quill of Shakespeare. Words like: dauntless, dwindle, elbow (as a verb), lackluster, swagger, unreal, and more, were all invented by him and first appeared in his plays.
Unfortunately, there is a lack of historical details surrounding Shakespeare's personal life, as there are little surviving records of it. Elizabethan London, however, during the time he lived, is well-recorded and documented. (Read all about Shakespeare's London here.)
Historians have created only speculative accounts of the playwright's private life. However, some certain facts are known: he was married to Anne Hathaway when he was 18 years old, and they had three children together. Shakespeare was also an actor, too. This devotion to acting led him to be a part-owner of Lord Chamberlain's Men.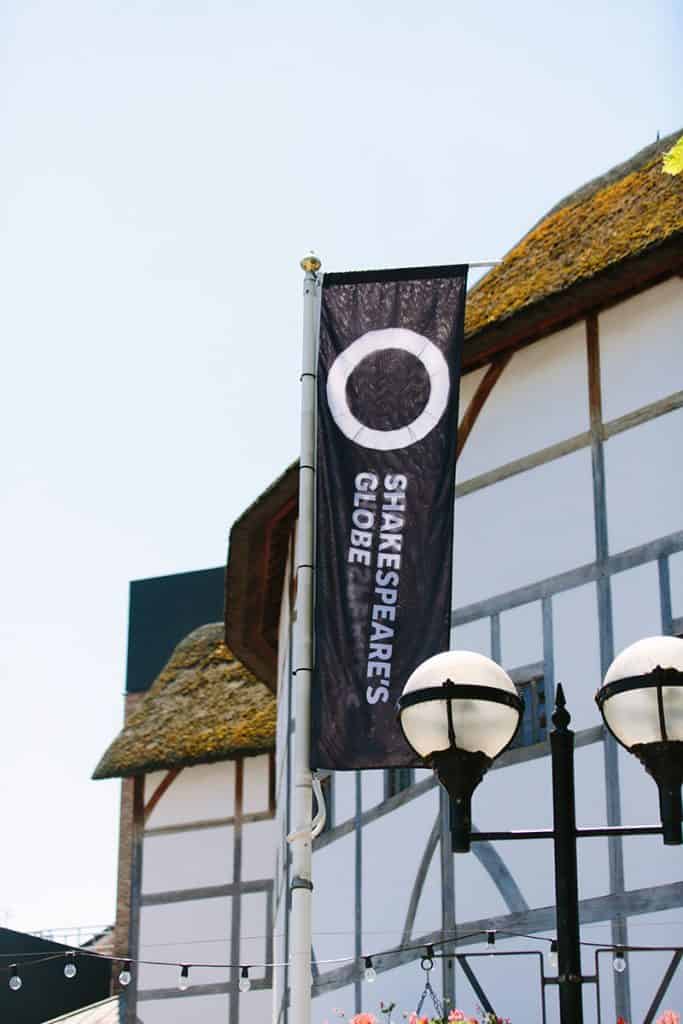 Planning Your Visit
If you're traveling in London on a budget, the Globe is the perfect activity for you.
Thankfully for your wallet, Shakespeare believed that theater was for "the people." As such, Groundlings tickets start at just £5, and there are 700 Groundlings tickets available for every performance.
This summer, the theater is performing Shakespeare's beloved comedy about the marriage of Theseus, "A Midsummer Night's Dream." It's full of fairies and magic and romance. You can book your tickets here. View the full "What's On" schedule to peruse the theater offerings for this season.
If your time is limited and you can't attend a 2.5-hour performance, the Globe also offers the Globe Theatre Guided Tour for £17. This 40-minute experience gives you an in-depth, insider look at the historic theater. If you're a theater buff or a Shakespeare fan, it's not to be missed.
Looking for some pre-show grub? The Globe has a restaurant inside it called the Swan Restaurant, serving up hits daily like Oxfordshire pork belly, roast hake, and enough British beers to shake a stick at. (The Swan's theater dining menu is here.) Alternatively, you could check out the nearby Borough Market (a 5-10-minute walk) to taste some iconic London foods.
[maxbutton id="1″ url="https://www.fattiretours.com/london" text="Join Fat Tire Tours in London!" ]
Important Details
Address: 21 New Globe Walk, London SE1 9DT, UK
Nearest Tube Stations: London Bridge, St. Paul's, Mansion House, Cannon Street
Hours of Operation: Hours vary at the theater, due to performance schedules. The box office, however, is open daily 10am – 6pm. Check the Globe's website before your visit for up-to-date operating hours.
Related links: