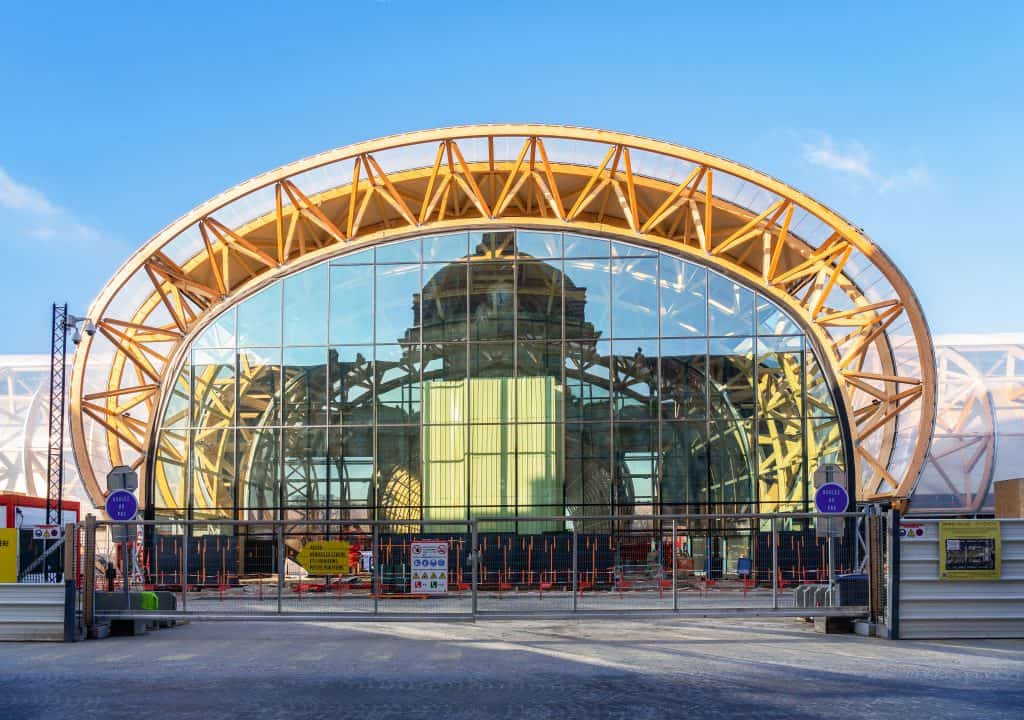 New in 2021: The Grand Palais Éphémère
By Amélie Bernard.  Amélie is our 2021 Paris intern.  She is French and passionate about the tourism industry.
What's that thing across from the Eiffel Tower?
Have you seen the amazing new structure in front of the Eiffel Tower? It's called the Grand Palais Éphémère.  It's a temporary building of 10,000m2 intended to welcome the Grand Palais' events during its renovation.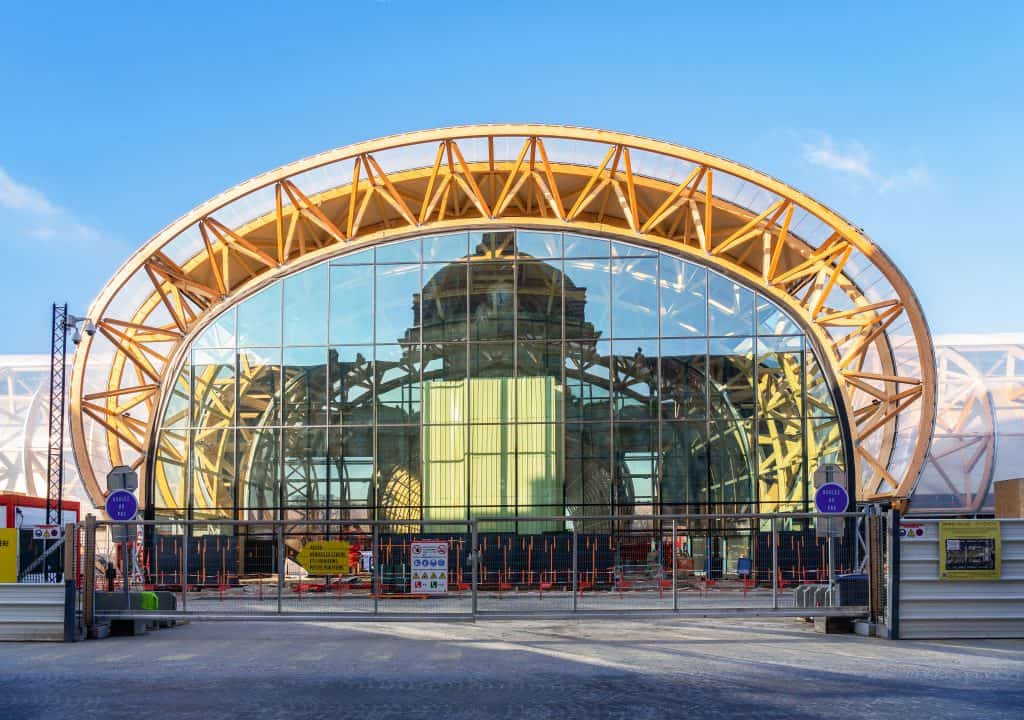 Wait, the Grand Palais is closed?
Indeed, the Grand Palais has been closed since March, 2021 for a major overhaul.  The new Grand Palais will allow the original to be brought up to modern technical standards. The original Grand Palais will also create better accessibility options for people with reduced mobility as well as a better optimization of space and light.  This project is organized by RMN-Grand Palais with Universcience – Palais de la Découverte. The first part of the buildout will be completed after the 2024 Olympic Games, when the Grand Palais Éphémère is set to be dismantled. The second part will wrap up in the spring of 2025.
Which means that the Grand Palais Éphémère will hold events such as the FIAC, Paris Photo, Chanel's fashion shows and Saut Hermès. There will also be concerts, shows and exhibitions with a capacity to welcome more than 8000 people.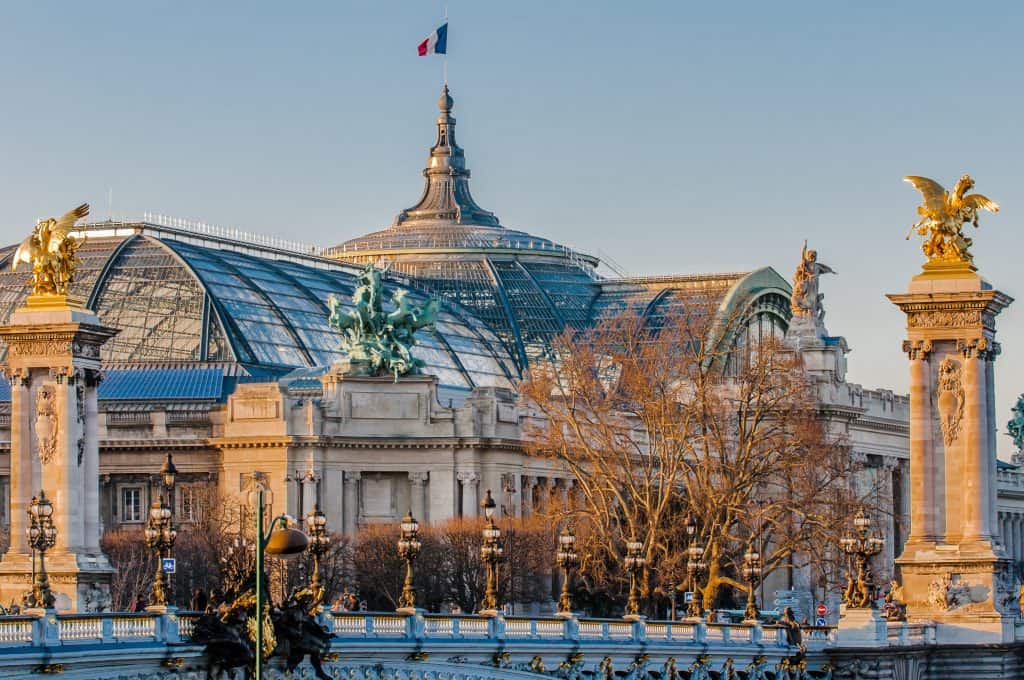 Who's behind the new Grand Palais, and how will it be used?
The Grand Palais Éphémère was built by GL Events Venues for the Réunion des musées nationaux – Grand Palais et Paris 2024. It was designed by the architect Jean-Michel Wilmotte & Associés and is located on the Champ de Mars.  It was built to be environmentally friendly, meaning that once it's dismantled, the materials used will be recycled to create new buildings. 
The Grand Palais Éphémère will also play a role during the 2024 Olympics games.  This will be the arena for wrestling and judo events as well as wheelchair rugby and judo Paralympic games.  Until then, the variety of shows, exhibitions, salons, and festivals at the Grand Palais offers a bit of something for everyone.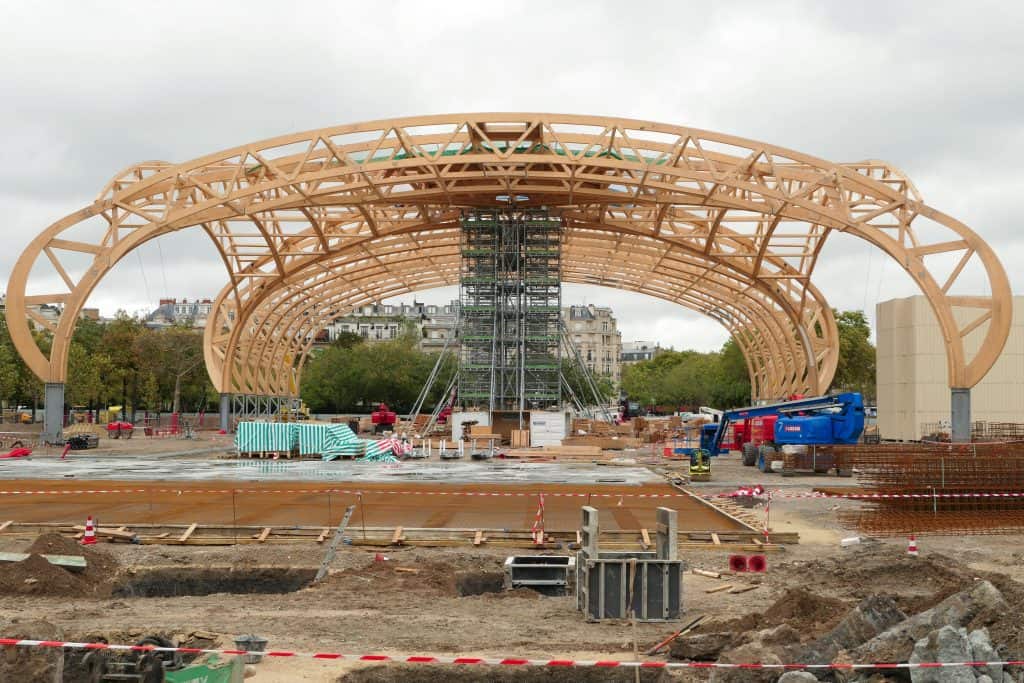 Anything else interesting about the Grand Palais Éphémère?
As with all temporary structures, such as Christo & Jean-Claude's wrapping of the Arc de Triomphe this fall, there is a unique opportunity to see and visit the Grand Palais before it's no longer around. Moreover, it is ideally located; there are so many things to see and do in this area, such as visit the Eiffel Tower, enjoy a Seine River Cruise, or dine in one of the many French restaurants along Rue Saint Dominique.
How do I get there? 
The Grand Palais Éphémère is located at Place Joffre, 75007 Paris.  To access it, you can take metro lines 6, 8, & 10 and get off at École Militaire (line 8) or La Motte Picquet Grenelle (lines 6, 8, or 10). You can also take the bus, lines 28, 80, 82, 86, 92, or check-out a Velib' and park at stations: n 7111 or 7018. For those coming by car, you can park at Joffre École Militaire, Grenelle, or Champs de Mars underground parking garages. 
Below is the full program for the remainder of 2021:
August 31st-Septembre 5th: Tour Auto Optic 2000, 2021 Edition 
230 cars that participated in the Tour de France between 1951 and 1973 will be on display.  All vehicles are still in operation.
Hours:  10:00 am to 5:00 pm 
Price: €10
Free for kids under 12 years of age
A gathering of 140 galleries of modern and contemporary art, this salon promises to deliver on quality.  Thanks to a 39% new participant rate, the 2021 edition is as exciting as ever.  More than 20 countries will be represented, mostly from Europe. 
Hours: Thursday, Saturday and Sunday: 12:00pm to 8:00pm 
Friday: 12:00pm to 9:00pm
VIP: 10:00am to 12:00pm
Price: Thursday, Friday: €25; Student price: €14 
Saturday, Sunday: €30; Student price: €16 
Pass 2 days: €35; Student price: €20 
Free for kids under 10 years of age
This classic Paris event unites more than 50 Michelin-starred chefs and highlights their 16 restaurants and pastry shops along with their signature dishes.
Hours: Day session: 11:30am to 4:30pm
Evening session: 7:00pm to 11:00pm
Price: online in advance: €22/session; VIP: €70 
at the door: €25/session ;  VIP: €80
10 – 18 years old: €15 
Free for kids under 10 years of age 
More than 170 exhibitors and over 100,000 documents will be on display thanks to the collaboration of the best in the business of ancient bookstores and written heritage. Prints, bindings, engravings, handwritten drawings, and more will be available to browse and purchase. Experts and independent sellers will also be available for further information about each pice.
The guest of honor at this event is La Cité Internationale de la Bande Dessinée et de l'Image.
Hours: 11:00am to 8:00pm
Sunday: 11:00am to 6:00pm 
Price: €10  
This salon was founded in 1974 to unite modern and contemporary art galleries and to create a platform for all media. During this 47th Edition, you will be able to discover 160 worldwide exhibitors. For those who can't make it in person, the new FIAC Online Viewing Rooms grant access to over 50 galleries.
175 prestigious galleries, editors, and photographers from all around the world will unite to celebrate this 24th edition. It's a unique opportunity to discover historical and contemporary works.
Hours: 12:00pm to 8:00pm 
Sunday: 12:00pm to 7:00pm 
Price: During the week: €30  
Weekend: €32  
Afterwork: €25  
Reduced prices: €15   
Online catalogue: free
Interested in learning more about unique Parisian monuments?  Join us for a tour in Paris, and allow our local guides to fill you in on all the details!