By Anne McCarthy
If you're in Europe right now, you've likely noticed that the continent is fully embracing the Christmas season! Beautifully decorated trees are popping up inside department stores and hotels, twinkling lights are adorning city squares, and festive cards and gifts can be found nearly everywhere.
While the U.S. is still waiting for Thanksgiving to come and go before we go hog-wild on Christmas decorations and planning, Europe is ready for Christmas. And there are so many magical places in Europe during the Christmas season.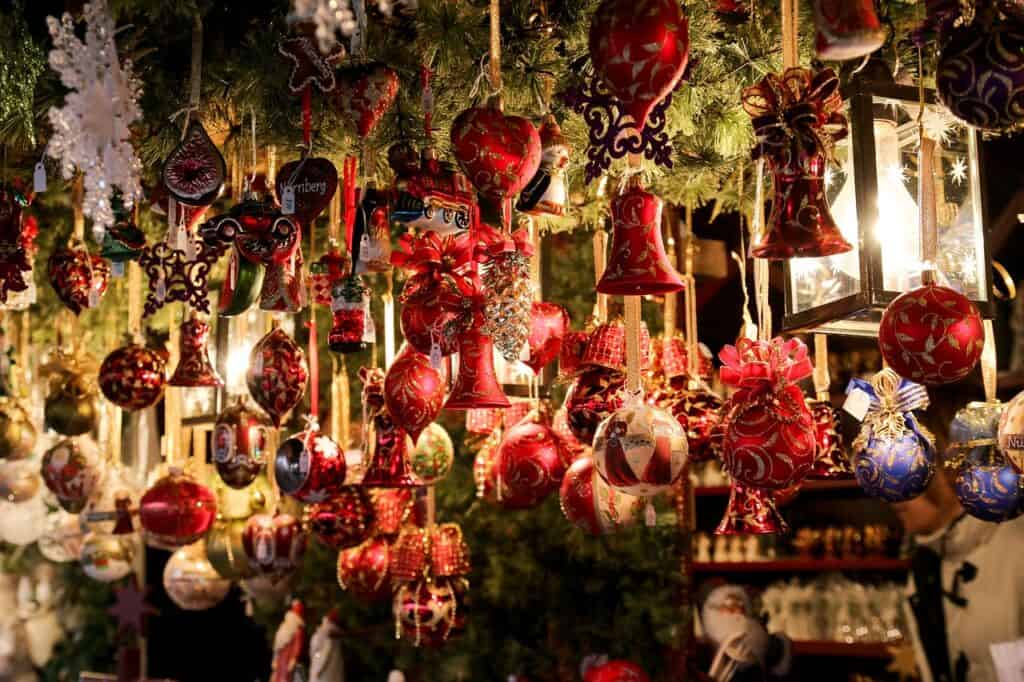 One of those places is Berlin! The city of Berlin has some phenomenal Christmas markets that help the city come alive at this time of year. Berlin is a gorgeous place to visit at any time of year (check out our post on 5 Fun Things to Do in Berlin this Fall for autumnal inspo), and it's especially magical come Christmastime.
If you're in Berlin – or planning to travel there soon – be sure to book at tour with Fat Tire Tours Berlin! We would love to take you around the city and show you around Germany's capital by bike or by foot.
Our bestselling Berlin City Bike Tour is an epic way to experience the city with a friendly and professional guide. Your guide will lead you to significant landmarks like the Brandenburg Gate, the Berlin Wall, Checkpoint Charlie, Museum Island, and much more.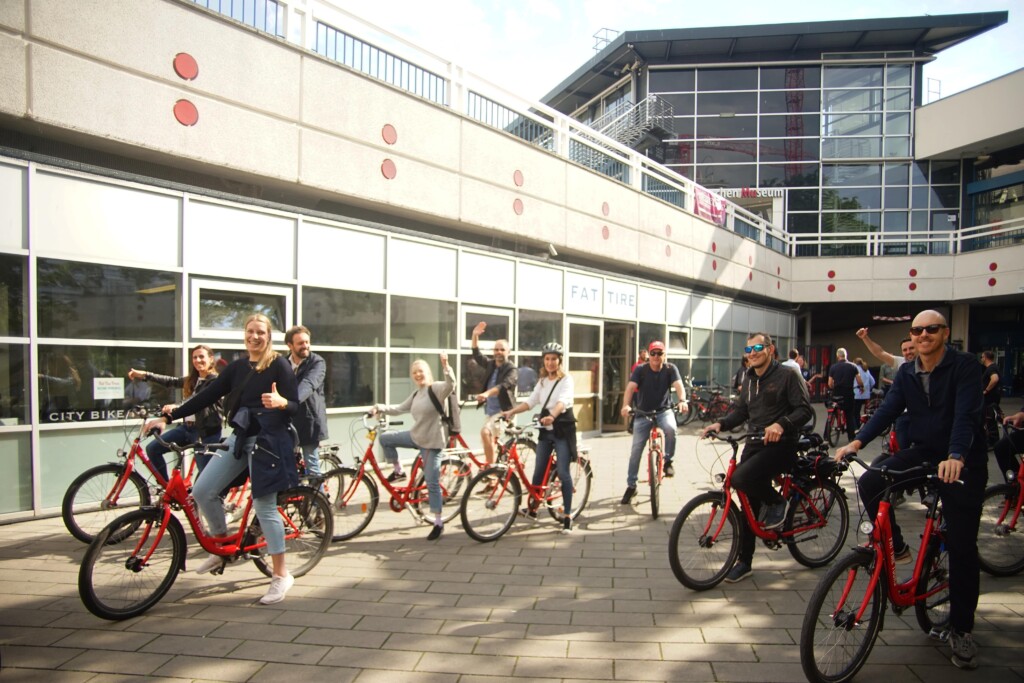 If you're in Berlin at this festive time of year, here are some of the best Christmas markets in Berlin to explore on your visit.
Berlin Christmas Time at the Red Town Hall
This is a beloved Christmas experience by Berliners and tourists alike. Officially called "Berliner Weihnachtszeit," it can be found at Red Town Hall, and it's sure to put you in the Christmas spirit.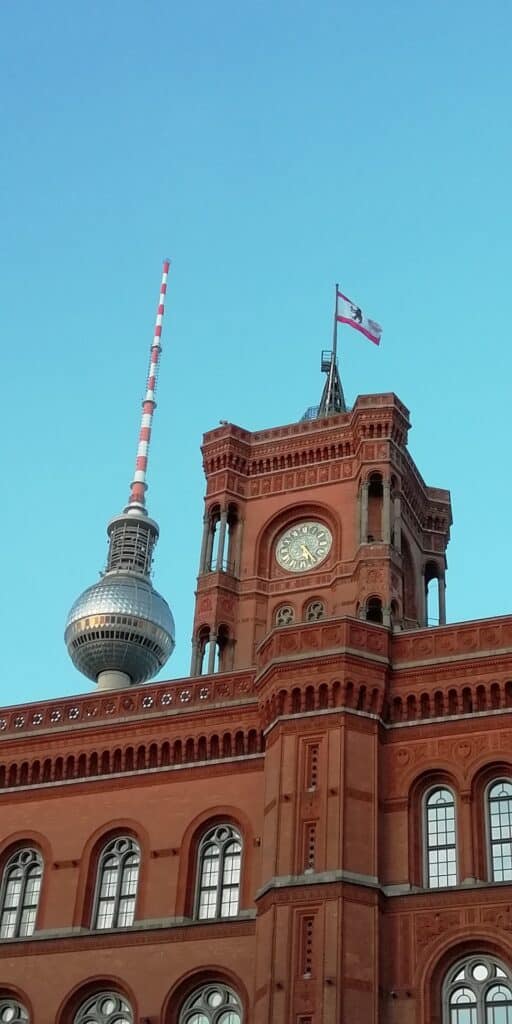 Set with an old-fashioned Germanic backdrop of Red Town Hall, this Christmas market has things for the whole family. There's a pyramid, historic rides, an incredible ferris wheel that children (and the inner child in you) will love. The ice skating rink is a fun way to zip around, and the tasty, warm mulled wine can be enjoyed after (or before) a tour around the rink.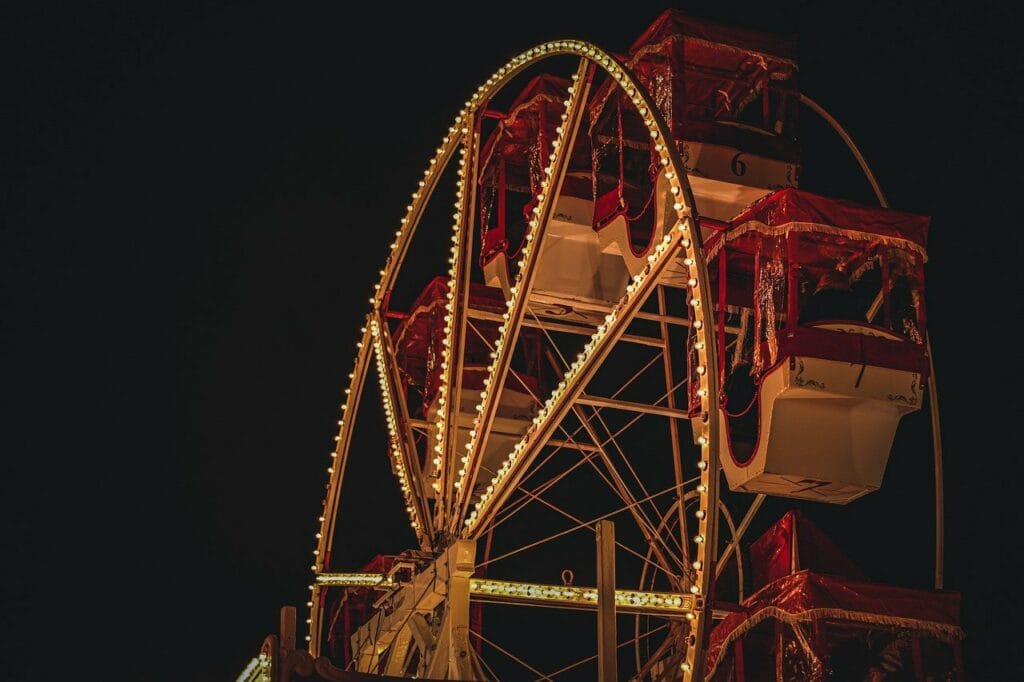 The big man himself, Santa Claus, visits three times per day, so you're bound to overlap with his visit at some point.
Location: Neptunbrunnen between Red Town Hall & Marienkirche
Dates: November 27, 2023, to January 7, 2024
Hours: Mon. – Fri. 12-10 PM, Sat. & Sun. 11 AM-10 PM
Admission: Free
Spandau Christmas Market in the Old Town
This Christmas market is chockfull of vendors from all over the world offering unique and special gifts for purchase. Here, you can take care of all your holiday shopping in one go! The international element of the Spandau Christmas Market makes it particularly unique and exciting.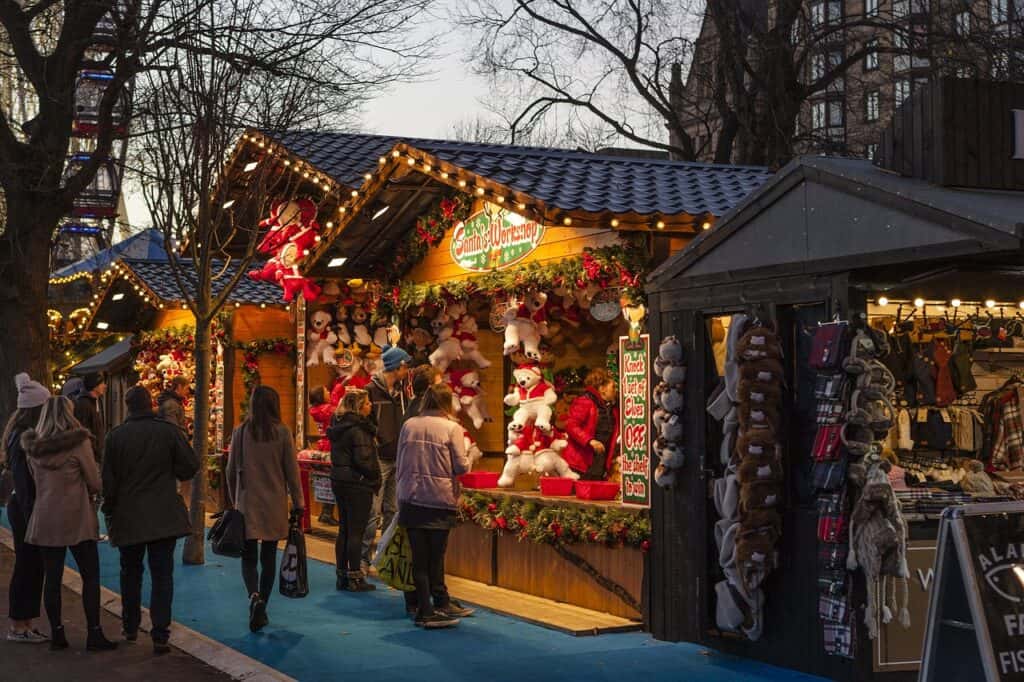 The charming setting among the medieval streets of Old Town call to mind a different era and adds a sparkle of magic feeling to an already magical time of year. The gorgeous nativity scene with live animals will delight youngsters and animal lovers alike.
Location: Marktstraße 10
Dates: November 27 to December 22, 2023
Hours: Sun. – Thu. 11 AM – 10 PM, Fri. & Sat. 11 AM – 10 PM
Admission: Free
Christmas Market at Gendarmenmarkt
The Christmas Market at Gendarmenmarkt (at the State Opera) is said to be one of the most popular and most-visited Christmas markets in all of Berlin, so make sure you prepare yourself for the crowds! At this market, which is popular with locals and tourists alike, there's a huge Christmas tree smack dab in the center of the market that lights up the whole market with a holiday glow.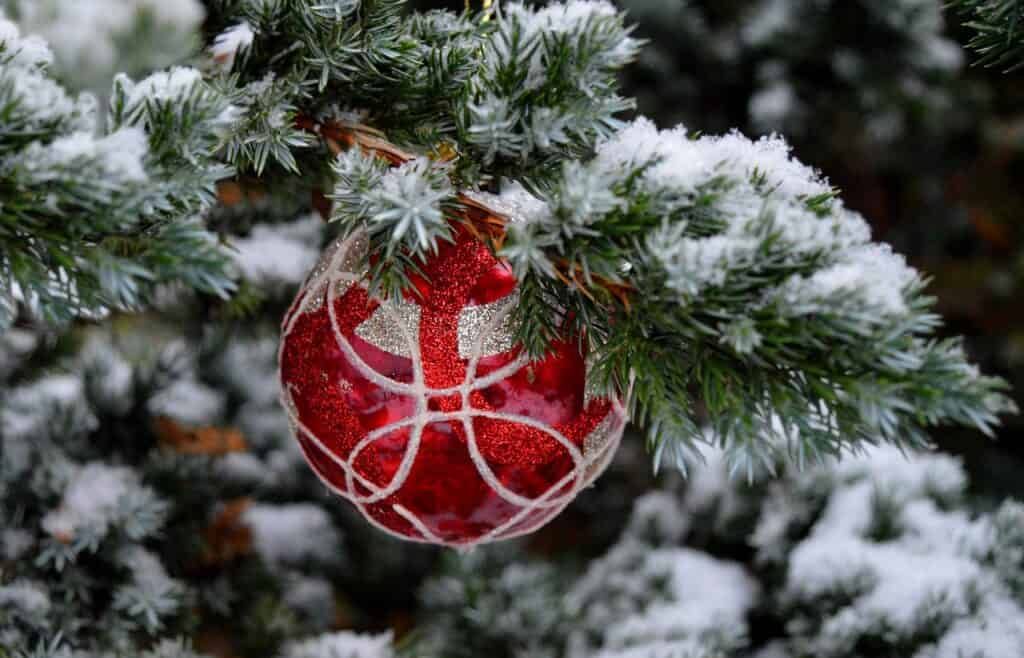 You can find almost any type of artisanal craft here to purchase for loved ones this season. The heated tents are an excellent way to warm up your fingers and toes in between shopping and exploring the market. The mulled wine, roasted chestnuts, and seasonal meals will have you feeling full and happy.
Location: Bebelplatz
Dates: November 27 to December 31, 2023
Hours: Sun. – Thu. 12-10 PM, Fri. & Sat. 12-11 PM
Admission: Free
Alt-Rixdorfer Christmas Market
The Alt-Rixdorf Christmas Market doesn't just have a whimsical-sounding name; it's also where you can listen to Christmas stories told by the one and only – the man in red himself – Santa Claus. Pencil this market into your diary quickly, and go when it's on, because it's held for only weekend in December (December 8-10).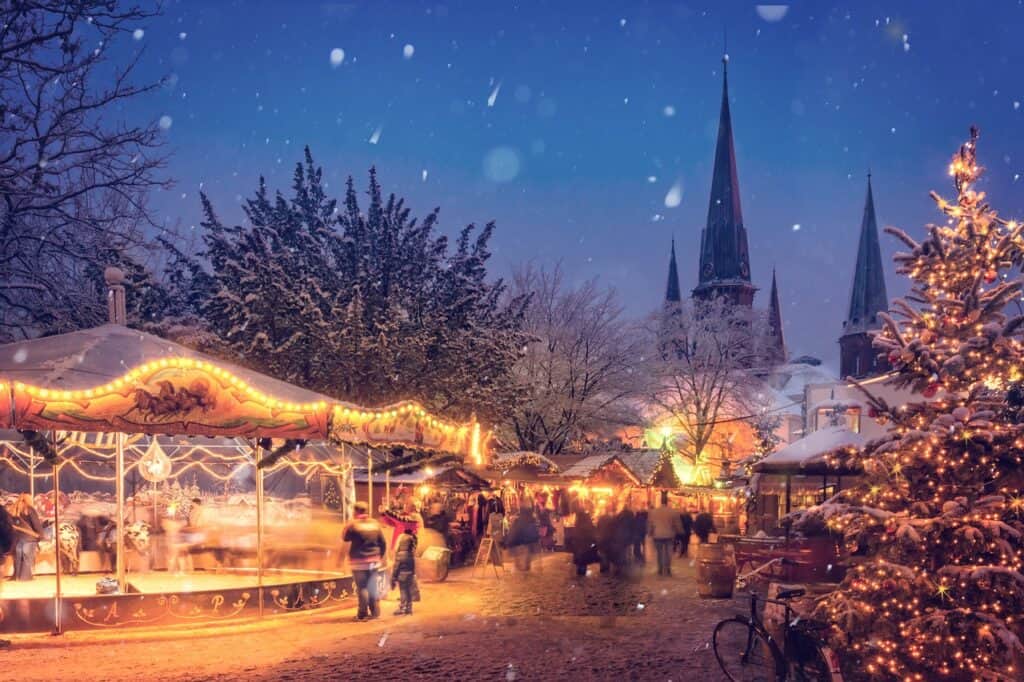 This market also boasts a lively atmosphere complete with gospel songs, a fairy tale witch, and beautiful Christmas decorations. At this market, the majority of the vendors here donate a portion of their earnings to charity, making it all the more impactful to do your shopping here.
Location: Richardplatz 28
Dates: December 8-10, 2023
Hours: Fri. 5-9 PM, Sat. 2-9 PM, Sun. 2-8 PM
Admission: Free
Christmas Market at Charlottenburg Palace
The stunning Charlottenburg Palace is an iconic Baroque landmark located in Berlin, and it's incredibly romantic at Christmastime.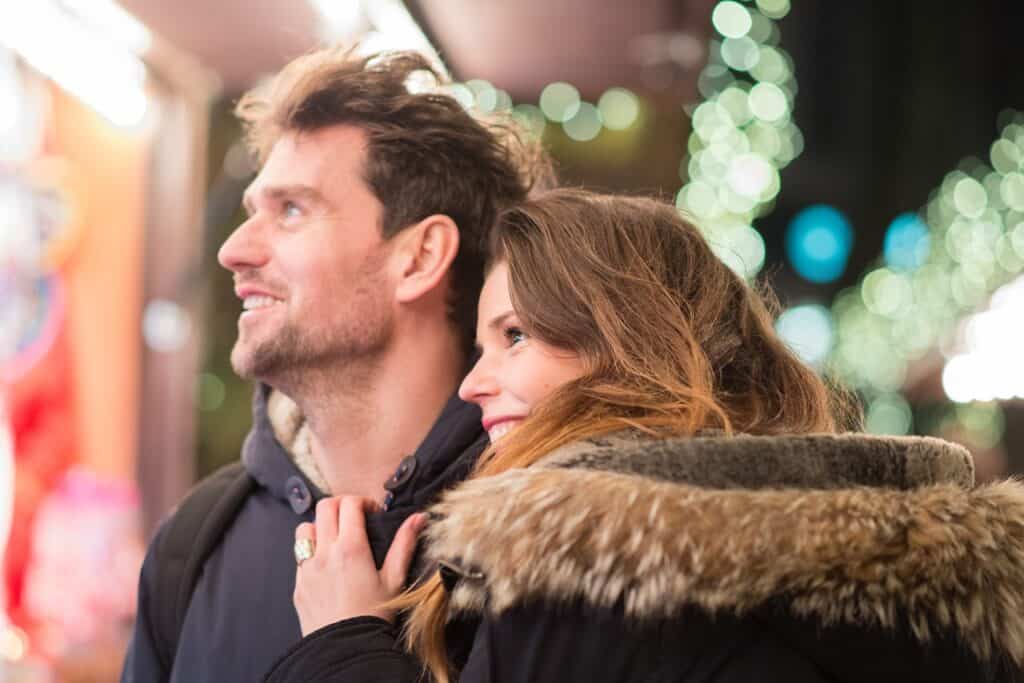 The gorgeous palace was built at the end of the 17th century. Amid the 18th century, it was expanded to be even more impressive. The formal palace gardens are a delight to behold. And this exquisite setting is perfect at Christmastime for some magic holiday vibes.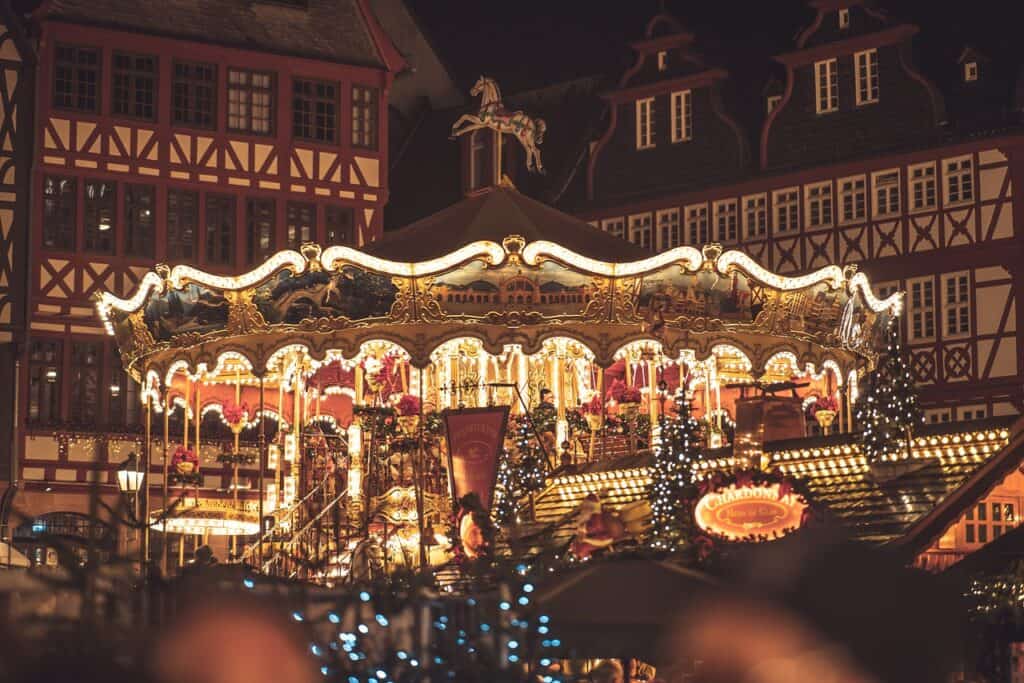 At Christmas, the palace is festooned with lights and holiday decorations. The market here is ideal for Christmas shopping, as it boasts over 250 international vendors. Refreshments are available for purchase, and you can even buy entire Christmas meals here! The carousel will delight any youngsters in tow, and they can ride it for free up to two times.
Location: Spandauer Damm 20
Dates: November 27 to December 31, 2023 – closed on December 24th
Hours: Daily 12-10 PM
Admission: Free

Anne McCarthy is the Editor in Chief of the Fat Tire Tours Blog. She is a contributing writer to the BBC, The Washington Post, The Guardian, Wired, and many more. She splits her time between the U.S. and Europe.