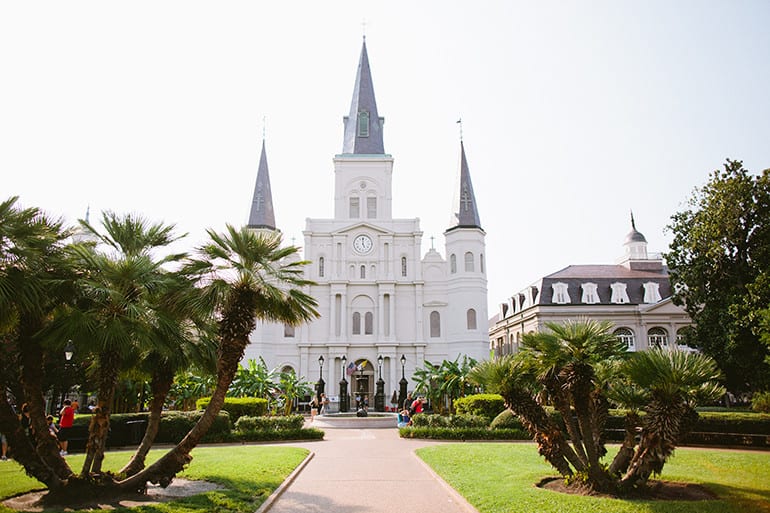 The Perfect Itinerary for 3 Days in New Orleans
With the start of a new year comes new adventures that await. And what better place for a new adventure than New Orleans?
If you're planning for a spring or summer visit (or beyond), research published by Forbes shows that "…for flights within the continental U.S., 70 days in advance was the best time, on average, to buy your airline ticket." So, book ahead to save money on your airfare.
As for places to stay, New Orleans has no shortage of magnificent places to rest your head after a lively night on Bourbon Street. If you're looking for a 5-star experience, there's always the Windsor Court Hotel or The Ritz-Carlton, both of which will price out at a minimum of $250 per night, depending on the time of year. U.S. News ranks both as the number one and number two best hotels, respectively, found in New Orleans. Also included on that list are the Royal Sonesta, The Roosevelt (a Waldorf-Astoria hotel), Hotel Monteleone, and more.
New Orleans' Airbnb scene is good, too. If you're traveling with a large group, using Airbnb is a surefire money-saver, and there's an abundance of large, gorgeous homes to call your group's own for your stay. New Orleans doesn't boast as many hostels as, say, Paris or other large European cities, but it does have a handful of hostels that come equipped with free wifi and free breakfast.  Hostelworld.com ranks the Auberge Nola Hostel as the number one hostel in New Orleans.
Once you've got your travel and accommodations sorted, time to laissez les bon temps rouler! Or, let the good times roll! And, good times roll very smoothly in New Orleans, a city steeped in music, history, festivity, and most of all, beauty – in everything from its buildings to its beignets to, most of all, its people.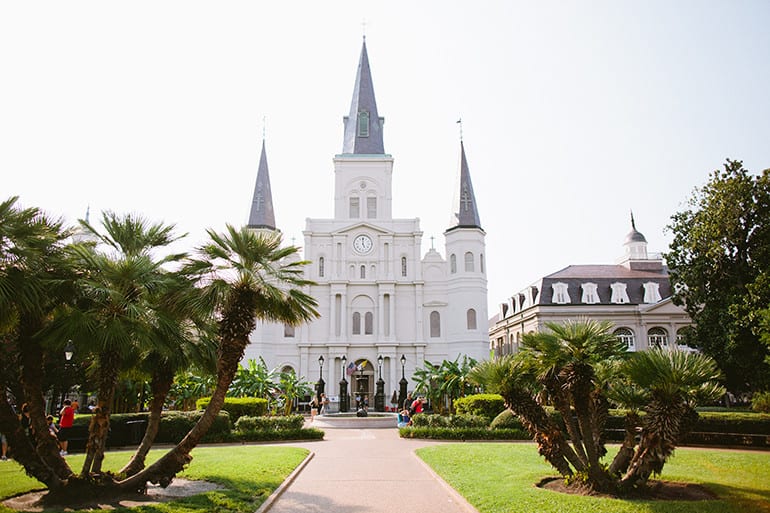 Day 1
After you've checked into your accommodations, hit the ground running on your first day in New Orleans.
Take a tour! I've found its beneficial to take a tour on the first day in a new city so that you can acclimate yourself with it quickly and easily, and the rest of your trip will be more pleasant as a result. Fat Tire Tours offers the perfect tours to introduce (or reacquaint) you with the fair city of New Orleans.
Make the historic French Quarter (also known as the Vieux Carré) part of your first day in New Orleans, be it by bike or foot. This area is the oldest neighborhood in New Orleans, and it was from the French Quarter that the rest of the city developed and blossomed. Since 1718, the year the city was officially founded, the French Quarter has been the heart of the city, and remains so today, in many ways. Its historical buildings from the 1700s and early 1800s line the streets and create a time-traveler feel for those who walk down them.
The breathtaking St. Louis Cathedral, just off Jackson Square, is a must-see. The cathedral, founded in 1720, was anointed as a minor basilica in 1964 by Pope Paul VI. And at present, the parish has over 6,000 members.
Across the way from the Cathedral's rear garden is Falkner House Books, a famous bookstore located on the charmingly named Pirate's Alley (624 Pirate's Alley). There, you can stock up on new and used books for your journey home.
If you're winding your way through the French Quarter, a pit stop at the world-famous Café du Monde is a must. Since 1862, they have been serving up coffee and sweet treats, like beignets, to locals and visitors who still clamor for a taste, centuries later. Café du Monde is open 364 days a year – every day but Christmas.
End the day with dinner and drinks on nearby Bourbon Street. The famous bar-lined street, most widely known for – among other things – being home to raucous Mardi Gras celebrations, is a party year-round. There, you'll find delicious ways to fill your belly, as well as the sweet sounds of lively music, a famous part of New Orleans life.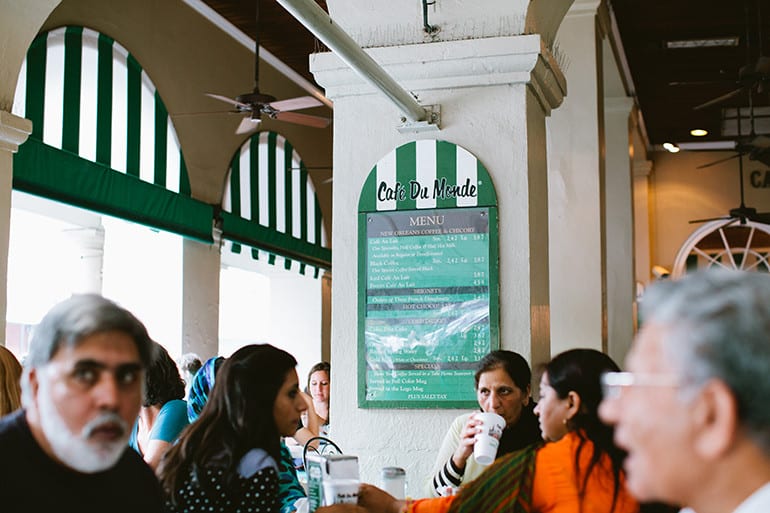 Day 2
The Garden District is one of the most beautiful neighborhoods in New Orleans, and it has famous residents who (I assume) share the view that it's a great area in which to live. Sandra Bullock, John Goodman, and others, all have stunning, expansive homes in this section of New Orleans. Other famous former, and current, residents include Nicolas Cage, Mos Def, Trent Reznor, Peyton Manning, and more.
Take your time and stroll along the District's streets, and maybe you'll spy a view of someone you've seen on the big screen, or simply, a view of a gorgeous house that'll inspire the look of your future dream house, too. Nearby is Magazine Street, a famous shopping area in New Orleans; if you're someone who likes to shop, get your pocketbook ready and do some damage on Magazine.
Restaurants in the Garden District are a nice place to rest your traveling feet and recount the day together. The Rum House Caribbean Taqueria, which boasts a robust dinner and drinks menu, is a popular favorite, as is Commander's Palace, a New Orleans landmark since 1880.
If you're feeling adventurous, end the night with a Ghost Tour, a staple of New Orleans tourism. (There are many famous ghosts in New Orleans.) Ghost Tours by Bike are a popular option. And frankly, they feel the safest; should you need to depart a ghost encounter hastily, pedaling away will take you farther, faster. The Fat Tire Ghost Tour makes stops at Gallier Hall, Marie Laveau's House, LaLaurie Mansion, Lafitte's Blacksmith Shop, and more. Haunted stories a-plenty! There's a reason that New Orleans has been called "the most haunted city in America," and you'll learn why on a ghost tour, which is filled with murderous tales, voodoo stories, and vampires so real they make Edward Cullen look like child's play.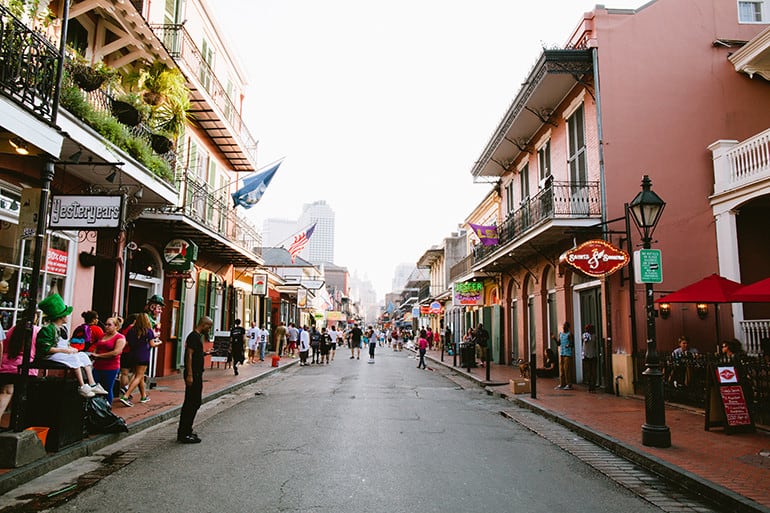 Day 3
Speaking of ghosts, take time on your third day to walk through Lafayette Cemetery (1400 Washington Ave). Named after the city of Lafayette, this cemetery has over 7,000 people buried in it. Walk through quietly, and avoid taking photos, out of respect. New Orleans cemeteries are especially unique, as they often bury people above ground, in order to save space and prevent graves from flooding in hurricanes.
If you aren't feeling too depressed after your cemetery visit, head over to the National World War II Museum, one of the most popular museums of its kind. Be sure to check the Hours & Information page prior to your visit, to make sure it's open the day you wish to go. You can also purchase tickets in advance.
Regardless of where your visit to New Orleans takes you – be it places above, or places near and dear to your heart, or perhaps even more off the beaten track – your visit to New Orleans promises to be a special one, because, truly, there is no place like it.