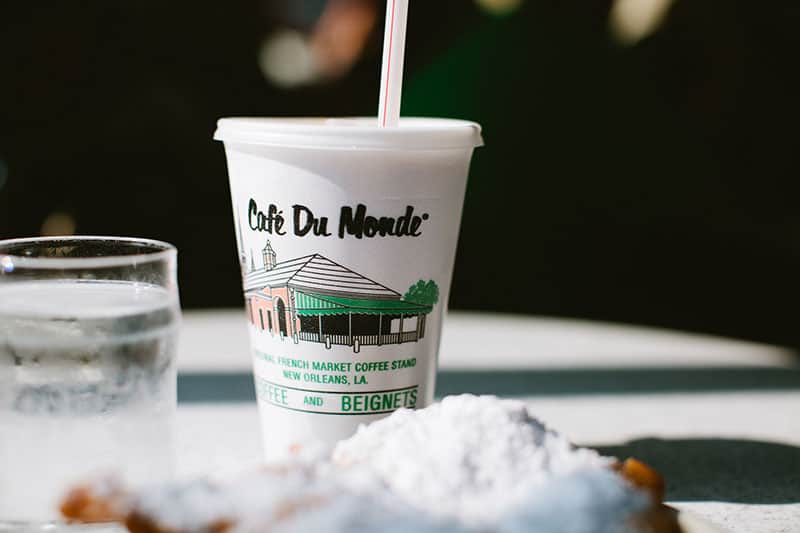 Travel by Mouth: New Orleans
New Orleans. It's one of the best-loved and most-visited cities in the U.S. And for good reason, too.
New Orleans is bursting with authentic culture, and ways to experience its culture. But New Orleans isn't just a draw because of Mardi Gras celebrations, and year-round trips down Bourbon Street. One of the biggest pulls for many is the culinary delights to be found in the Big Easy.
Coffee
 There's so much to do in New Orleans, so you want to be sure to hit the ground running on your visit there. If you're a coffee drinker, then an a.m. or mid-day cup of joe is certainly in order. Fun fact: Coffee first came to the U.S. by way of New Orleans, in the 1700s.
The city is chock full of specialty coffee shops and coffee bars. Spitfire Espresso Bar is a self-described urban nook preparing espressos and various coffee styles from small roasters. You can even plug in your order before you get there, so you won't waste any time, and can get on with your sightseeing. Spitfire is conveniently located smack dab in the French Quarter.
Mammoth Espresso is a coffeehouse with high-quality, meticulously crafted drinks, in an inviting space found in the Warehouse District. Arrow Café is a French Quarter café that's surely worth your visit. Here, you can both order a coffee and marvel at antiques and bicycles. It's a bike shop, too, and antiques are sold as well. If you're not careful, you may leave with more than a latte.
And what would a mention of New Orleans coffee be without a nod to Café du Monde? This iconic New Orleans treasure has been churning out coffee for centuries (since 1862!). You may even want to stay there for breakfast, too.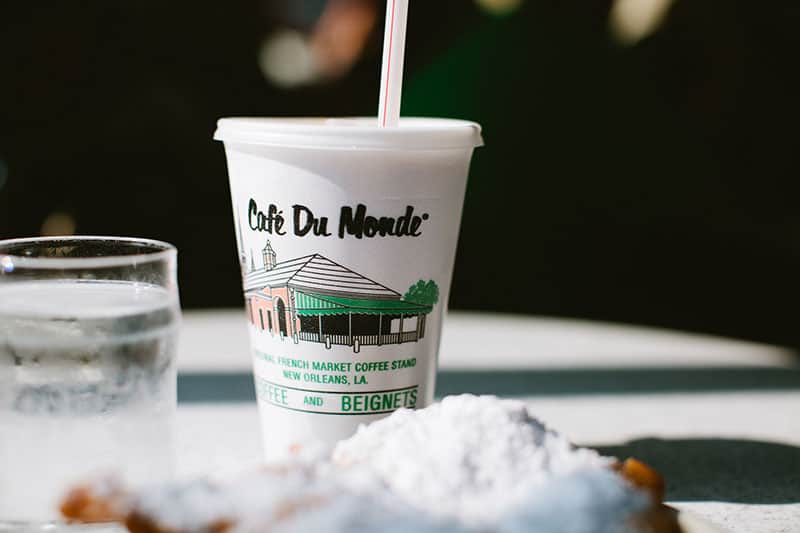 Breakfast
With their delectable beignets, Café du Monde is a viable breakfast option. (And if you're a donut fan, this should be your go-to stop for breakfast.) Their beignets, which come three to an order, are coated in powdered sugar.
If you're looking for a healthier, less sugary option, check out The Daily Beet, which offers vegetarian options, as well as a juice bar and smoothies. This café's mission is an admirable one: "…to promote and enhance the well-being of our city." The Daily Beet partners with local farmers to offer its customers quality ingredients.
Bearcat Café offers vegan and vegetarian fare, and their breakfast menu is amusingly divided between dishes that fall under the header of either "Good Cat" or "Bad Cat." Wakin' Bakin' is a fun and colorful (literally) breakfast spot which will sate even the pickiest of eaters. It offers classic breakfast fare like biscuits, eggs, bacon, omelets, pancakes, and breakfast burritos.
For an extra New Orleans-y brunch, hit New Orlean's oldest restaurant, Antoine's, for their Jazz Brunch. This brunch features jazz musicians playing up a storm, and an enticing brunch menu. Let the music hit your ears as you sip your morning coffee.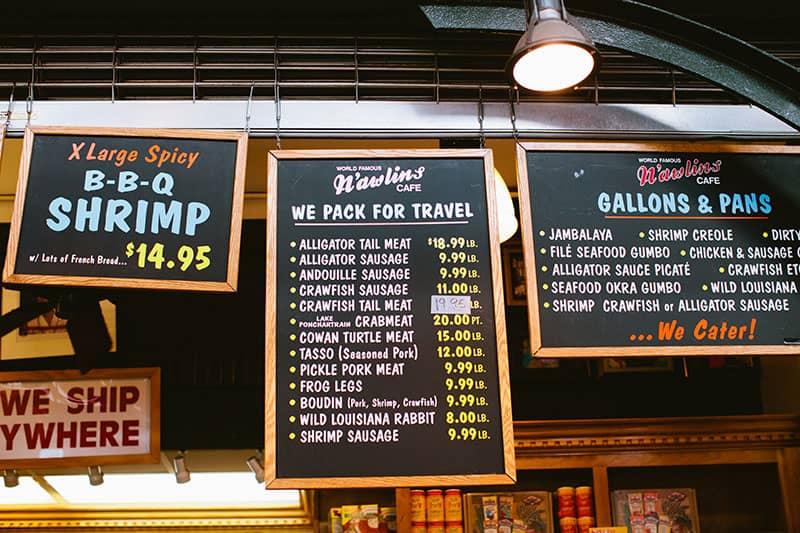 Lunch
 For lunch, if you're a meat-eater, stop by Cochon Butcher, where the steak sandwich will have your mouth watering upon sight. Cochon Butcher serves meat with a Cajun flare, and their sandwich menu will have you angsting over what to order because they all sound delicious.
It's not new news that New Orleans has French lineage. So you may want to check out some French and Creole-inspired cuisine on your visit, which you can find at August. Their focus here is on Louisiana ingredients, too, and that extends to their lunch menu. Not only will you get a "petite" taste of France, but, if you like ogling gorgeous spaces and houses, then this is a must. August is housed in a 19th-century building.
The Faubourg Bistro offers even more French-leaning dishes, with their Cajun and Creole meals. Southern soul food like hearty fried chicken sandwiches, fried catfish sandwiches, and mac & cheese bites will have you happy and full till dinner.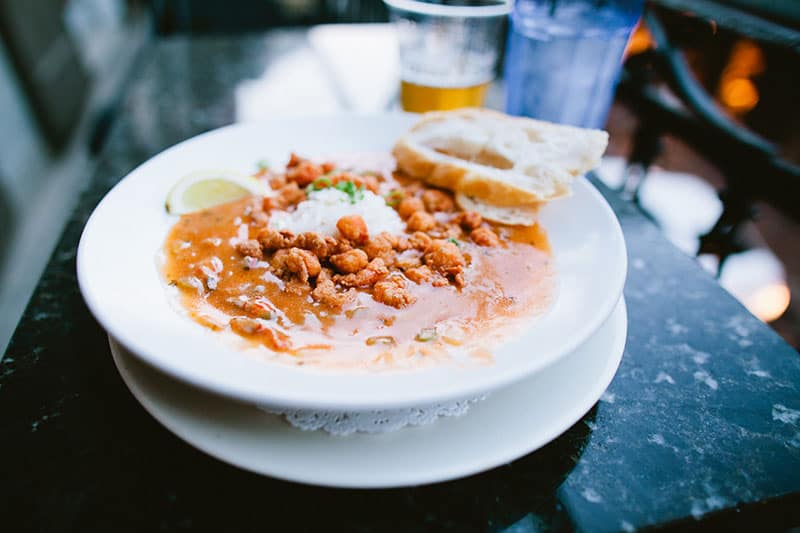 Dinner
No visit to "NOLA" is complete without sampling some Gumbo, a dish this neck of the woods is famous for. If you're in the French Quarter, restaurants with good gumbo are plentiful. You can stop in at Arnaud's, Coop's Place (you'll know this spot by the painted crocodile on the sign), Gumbo Shop, Antoine's, Kingfish, and more.
Post-Dinner Fun: Tours & Sweets
If you're feeling adventurous after dinner, join Fat Tire Tours' evening New Orleans Ghost Tour by Bike. Or, if ghosts (or cycling after eating) aren't your thing, then join our Evening Segway Tour. On all our tours, you'll get a comprehensive, and insider-look at the city of New Orleans. Lighten your load and leave the guidebook at the hotel – let us show you around.
If you're in the mood to do a little more "travel by mouth," though, then head to some of New Orleans' best-loved spots for sweets. Creole Creamery is a well-known NOLA ice cream parlor serving up malts and sundaes. At The Fudgery in the French Quarter, you'll find exactly as the name suggests: some incredible fudge to nibble on while there, or while walking around the historic area on foot. And at Kilwins, which is also in the French Quarter, you'll find it all: chocolates, fudges, ice creams, and more. Piccola Gelateria has you covered when it comes to artisan gelato, espressos, and crepes.
Whatever you do in New Orleans, and whatever you eat, rest assured that your experience will be a fun and memorable one.
 Related links:
[maxbutton id="1″ url="https://www.fattiretours.com/new-orleans" text="Join Fat Tire Tours in New Orleans!" ]