Money Saving Tips and Tricks for Visiting Berlin
By Anne McCarthy
We all know the feeling: An upcoming holiday season that requires buying gifts, or a recent personal splurge, or maybe even a lavish birthday dinner at a Tim Burton-themed restaurant you force your friends to participate in so they can celebrate you (no? just me?) – can all leave you feeling penny-pinched.
Luckily, travel, unlike a season pass to Six Flags, is not something you need to spend a lot of money on in order to reap the most enjoyment. In fact, travel often feels more rewarding when it is hard-won, and when you travel a bit "closer to the ground;" forgoing five-star hotels for top-rated hostels, bypassing the Michelin-starred restaurant in favor of a hole-in-the-wall local haunt, and, my favorite, creative souvenir shopping.
When I was a kid, my mom took our family on a trip around Europe. On our travels, we bought most of our souvenirs and gifts at grocery stores: jelly at Monoprix in Paris, chocolate at Lidl in Lucerne, and some very weird-tasting crackers in Belgium.
In short, when you're strapped for cash, it forces you to get creative; be that buying souvenirs from grocery stores, or making your business' headquarters in the Jobs' family garage.
Below are some creative ways to get the most out of your visit to Berlin, no matter how slim your budget. And luckily, Berlin is known for – among many other things – being fairly inexpensive, so Berlin on a budget is not only do-able, it's enjoyable as well. One travel blogger, The Savvy Backpacker, suggests budgeting €33-€45 per day.
Berlin is one-of-a-kind, too. This city is truly in a league of its own. It has more bridges than Venice, it's nine times bigger than Paris, and it contains the largest train station in all of Europe. These stats sound a bit abstract just listed on a page, but once you get there, you'll see what I mean. Berlin is bewitching and beautiful and a helluva good time. So, welcome – or, in German, "Wilklommen!" as Alan Cumming sings in Berlin-set musical,Cabaret.
Lodging: Hostels, Couches, and "Crashing"
Stay in a hostel, couch surf, or crash with a friend!
Some of my favorite trips have been those on which I stayed in a hostel. It's a built-in way to make friends with fellow travelers. (I still keep in touch with friends I've met at hostels around the world: an Indian student in Glasgow, a German decorator in Lisbon, a French backpacker in Sydney, and an Argentinian farmer, also in Sydney.) Know what is one of the cheapest forms of entertainment? Talking to people. And, you never know who you might meet. So, put down your phone, and engage in some good, old-fashioned face-to-face.
For lodging, check out Hostelworld to find hostels that fit your budget. When choosing a hostel, I tend to pick the one which is both top-rated, and the shortest distance from the city center. That way, you can easily walk everywhere and save money on transportation.
I have a few friends who swear by Couchsurfing. I've never tried it, but most who use it love it. Like hostels, this is an easy way to make new friends, and also get a local's insight into the city.
Or, email that German exchange student from Berlin you met once, years ago, at a party in college, and ask to stay with them. Never hurts to ask, and who doesn't love a reunion? Then, repay the favor when they are traveling to your city.
Eating & Drinking: Hit the Grocery Stores
Grocery stores and picnics are the way to go. Discount supermarkets like Penny, Netto, Lidl, and Aldi are great for inexpensive groceries and German beer. So hit the aisles hard, stock up, and make a feast fit for Frederick the Great back at your hostel.
Load up on fruits and trail mix and eat a quick breakfast wherever you're staying. (Note that many Berlin hostels offer complimentary breakfast.) Berlin is filled with charming cafes where you can sip a latte, living life like a local Berliner, without dropping a ton of coin.
Berlin is an "open container" city. This means you are free to drink in public. So, you don't even need to open a tab at the pub; open and hastily close one at the grocery store checkout. Buy a few beers (like these beloved German beers) and head to a cool part of town (which, incidentally, pretty much includes all of Berlin) with a friend, and wax philosophic while sipping a can until the day grows dark and it is time to head home.
Sightseeing: Enjoy a Bike Tour
If you love museums, you definitely want to buy a Museum Pass Berlin, which permits entry into roughly 30 museums. At €29, this is a steal. And if you're a student, the cost of the pass is only €14.50.
Fat Tire Berlin offers an array of tours. My favorite one is the City Bike Tour, which leads you around to a number of important sights in Berlin, like Checkpoint Charlie, Bradenburg Gate, the site of Hitler's bunker, the Memorial to the Murdered Jews of Europe, and (of course) the Berlin Wall. The best thing, in my opinion, about these tours is the guides who give them. Fat Tire guides offer a wealth of knowledge, humor, and insight about the area that you likely won't find in a guidebook.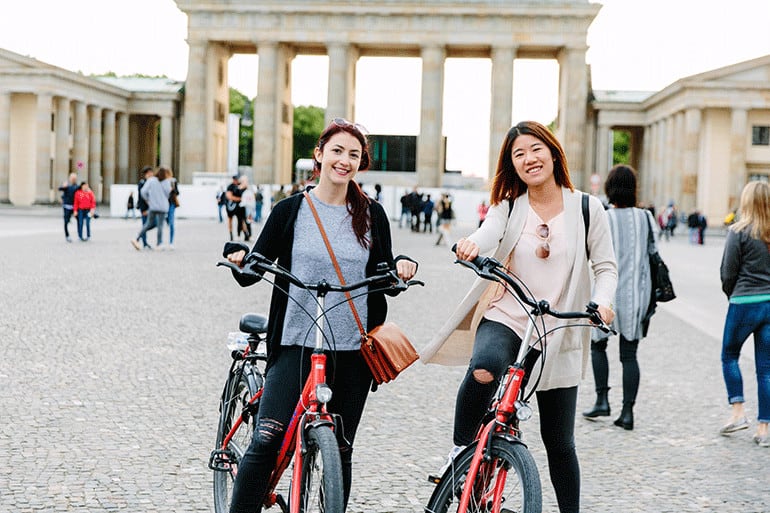 Transport: Walk, Bus, Tram, and Train 
Berlin has an excellent and efficient public transport system. Germans have a reputation for being punctual, and this extends to their public transport. So, to zip around this expansive city more quickly, buy a single fair ticket starting at €1.70 for reduced fare prices. To save money, hoof it and walk. But given the size of Berlin, taking public transport (or biking) will be a more efficient use of your time.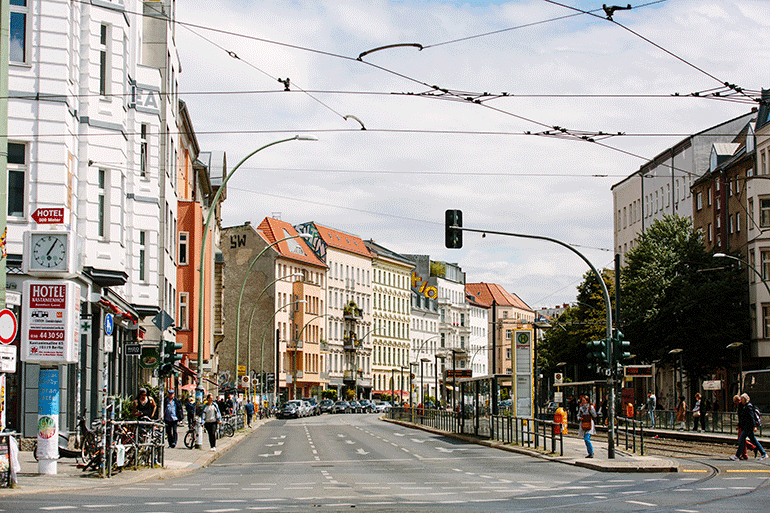 Shopping: Supermarkets, Free Postcards, Rocks, and more
As for our grocery store souvenir shopping trips, I think my mom read this tip in a Rick Steves guidebook. Steves offers lots of smart, budget-friendly travel tips; one of my favorite – and well-used – tips from Steves is: "Guidebooks are $20 tools for $3,000 experiences. Saving money by not buying one is penny-wise and pound-foolish. An up-to-date guidebook pays for itself on your first day in Europe."
When shopping for gifts and souvenirs for loved ones, you don't need to drop much – if any – dough. I've made souvenirs and gifts from free postcards at restaurants, interesting coasters at bars (which would otherwise be chucked in the bin), and, a beautiful rock I found at Mount Gnomon pig farm in Tasmania (it made all the clothes in my backpack quite dusty and rust-colored on the flight home, but my mom loved the rock).
Berlin is an adventure from start to finish. Make your visit even more adventurous by exploring close to the ground, living like the locals, and traveling within your budget – I promise, you'll be glad you did.