NOW ACCEPTING APPLICATIONS FOR 2023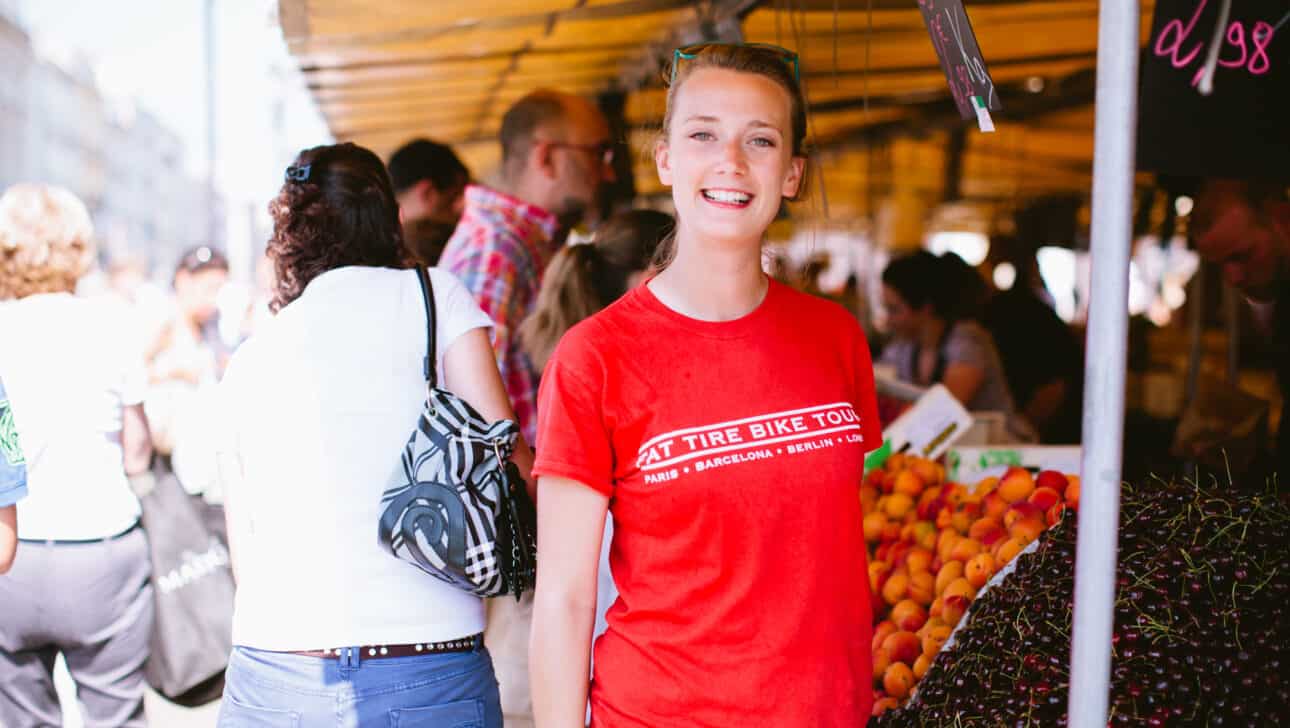 COMPANY MISSION STATEMENT
Our mission is to provide safe, fun, and unforgettable experiences though superior customer service that creates memories and smiles that last a lifetime.
GENERAL REQUIREMENTS
We will ONLY consider applicants who have legal work authorization in France. Please do not submit an application unless you hold an EU passport, or valid working papers.
We will only consider individuals that have completed at least two years of independent full time work or University, as a potential candidate for employment.
A general working knowledge of Paris' neighborhoods, metros, museums, restaurants, and other points of interest is a useful skill.
Previous knowledge of French history and tourism is not a requirement, but if you are interested in these things then this is the job for you.
Candidates should enjoy being around people of all backgrounds and working in a busy environment. You should get a thrill from addressing large groups, have a fun personality, the ability to quickly adapt to changing situations, an interest in international travel, integrity, and a large smile. We're only looking for applicants with a strong sense of team spirit and those who are willing to pitch in to get the job done.
Ability to speak French is not required for our Guide or Host positions, but is a great bonus. Our Customer Service & Purchasing position is our only position where conversational French is a requirement.
From top to bottom, we help each other out whenever needed; flexibility is the name of the game. This might mean that your help is required to complete tasks that are not usually part of your day to day responsibilities, such as purchasing, customer service, bike assistance, customer check in, and many more.
Open Positions in Paris, France
TOUR GUIDE, Full-Time & Part-Time, English and/or Dutch Speakers
In 2023 we are looking to add Dutch speaking tour guides to our team for our Paris Day Bike tour. English speaking tour guides are needed, as usual, to host all our tours.
Since our foundation in 1999, we have been at the forefront of tourism in Paris, and we offer some of the most comprehensive ways of visiting this beautiful city, sharing it's wonders with people from all over the world! Our renowned tradition of exceptional tour quality and superior customer service would not be possible without our top-class team of Guides and Hosts.
Our guides ensure that everything runs smoothly, and that our guests have a great time on tour, day in day out. As the face of our company, candidates must have exceptional customer service skills, be extremely organized, and able to work well both as part of a team and individually. Our staff wear many hats: guide, confidant, problem solver, conversationalist, leader, care giver, and general rock star! Guiding tours with us is a highly sought-after position demanding lots of cultural and historical knowledge and above-all, extraordinary people skills. Those are the obvious qualifications, but no less important is the ability to work very flexible hours and have a strong sense of team pride.
Guides are initially trained on a combination of our core city tours, both on two feet and on two wheels (walks, monuments, bikes and Segways), and as your expertise and competency grows so does the portfolio of tours you can give. While guides spend the majority of time out on tour showing our customers a great time, they also spend some of their time working as hosts in our busy offices.
During time spent hosting, staff are responsible for a wide range of tasks, from sizing customers for bikes to dealing with any reservation issues and helping to answer any questions that they may have. A dynamic position like this requires sunny warm personalities who are able to graciously direct people where they need to go, and who are happy to work outside and on their feet in every kind of weather, fielding the same questions over and over, while always remaining calm and cheery.
Last but by no means least, while we love sunny days, we do many tours in the howling wind and pouring rain. Whatever happens out there, we really shine when adversity comes knocking! Regardless of whether you are leading a tour, or caring for a group in our office, you're expected to be a powerful presenter and confident public speaker. Your delivery of information should be clear, inspire confidence, and engage our guests. You are compassionate, patient, and have an unwavering sense of humor. Your warmth and dynamic personality shines through as you relay information to our guests. In short, you love being with people and people love being with you! In our busy offices our number one priority is making sure that our guests have a great time.
NIGHT BIKE TOUR GUIDE (PART TIME)
Our Night Bike Tour has proven to be one of our most popular, and we are searching for some dedicated night owls to lead this tour night after night through the streets of Paris. Shifts of about 6 hours from 5h30pm – 11h00pm are available for up to 5 working days/week.
VERSAILLES HELPER (PART TIME AVAILABILITY ONLY)
Our Versailles Bike Tour is one of our most popular, and that means we need support staff to help everything run smoothly at our Versailles Office. Beginning in March we have enough groups to warrant having up to two staff to work to assist our Guide staff in preparing our customers' bicycles, printing tickets at the Château, and assisting with any issues which may arise on tour. Main perks of this job are working in the beautiful town of Versailles and being able to go to the town market every morning! This position is one of our few part-time positions, with a morning shift going from 8h30 – 11h30, and then an afternoon shift from 15h00 – 16h30.
OFFICE STAFF (Full-time, Part-time, and weekend work)
Office staff are the all-important cogs in the machine that is Fat Tire Tours Paris. As a customer facing member of staff you will be responsible for welcoming, advising and orienteering customers from all walks of life and all four corners of the globe as they participate in a once-in-a-lifetime Parisian adventure. Despite everyone's best efforts, things sometimes go wrong and you will need to be confident in your ability to reassure and resolve problems under pressure. Paris is our playground but as with any city it likes to throw us curveballs from time to time and this position therefore requires a cool head and the ability to adapt quickly to any situation that may arise. As an office staffer, the buck usually stops with you and colleagues and customers alike will often turn to you for guidance.
We have many tours per day leaving from multiple locations. You will have a hand in facilitating the smooth running of each and every one of them, whether it's singlehandedly checking in two hundred people to a Versailles Bike Tour or calling up a couple running late for their Market Walk. There will be occasions when you are run off your feet and slower moments where you will need to use your initiative to make the most of your time. When you are on the clock there is always something to do and it is your job to not only ensure that you are being productive but that the rest of the team are too. With that in mind, people management skills are an absolute pre-requisite.
For many visitors, a knowledgeable office staffer represents an English-speaking lifeline in a sea of Franglish and they will therefore rely on you to provide them with as much information as possible about all things Paris, whether that be where to go for a mouth-watering croissant or how to navigate the seemingly labyrinthine Metro. You'll face the same questions all season long but must be ready to respond with the same enthusiasm the hundredth time as if you were hearing them for the first. People have trusted us to show them the best that Paris has to offer. Your job is to make the city of light shine. 
CUSTOMER SERVICE STAFF
Our customer service staff are the first point of contact for our guests, and a continual source of information about their trip and activities until they finally arrive at our main office. You will contribute enormously behind the scenes using phone, email, and CRM software to help guests book their experiences, navigate the city, and make it to our office on time for their tour.
We're looking for motivated individuals with positive attitudes, competent at multitasking and problem solving, with strong attention to detail, and the ability to work both independently and as a team. While speaking French is not a requirement, it is definitely helpful!
This position focuses on using several different online platforms to secure reservations from our guests. You will learn how to manage various reseller extranets, harness our internal CRM software, and finalize bookings for our guests. This position requires extreme attention to detail and the ability to work independently. This is an entry-level position that comes with the possibility of moving to an operations position within our company.
This position requires working on the weekends in an office, with early mornings or into the evening, 5 days a week.
A comfort with computers and different programs is important.
Main responsibilities include speaking with customers by phone, email, and chat to create or modify their reservation. A clam, cheerful attitude is a must!
While this position is based in Paris, we also offer support for our operations in other locations around the world.