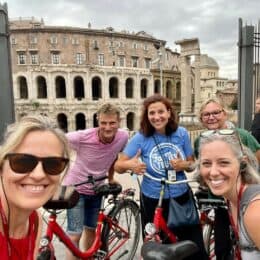 Lucilla
Tour Guide, Rome
Lucilla or Lucy has been a guide since 2012 which is the same year she moved to Rome. She was Born in Naples and… be careful because she is VERY proud of it, and always happy to give suggestions on how best to enjoy the beauty of her city and the surroundings. But she is in love with Rome and she's still discovering new and beautiful corners of the city.

Lucy believes that you cannot visiting Italy without experiencing the food tradition… you should always leave with a little heavier than you arrived!

Her favourite areas of the city centre are the Jewish district and Trastevere but in the day time when all is quiet, there is magic. She loves the local markets and the green parks of the city to relax, walk, and meet people and her favourite of these is the Appian Way Park with Caffarella and the Acqueducts.