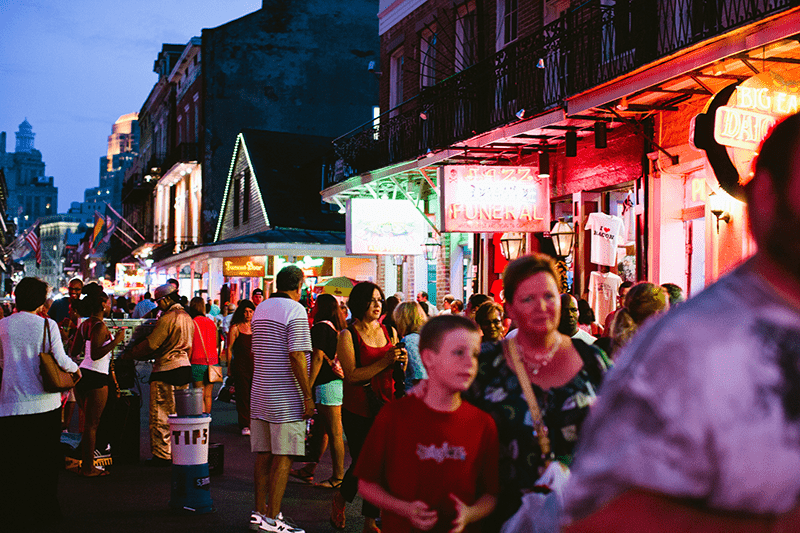 A Guide to Mardi Gras in New Orleans – updated 2021
Mardi Gras will look a little different this year to encourage social distancing and help stop the spread of covid-19.  The city of New Orleans has cleverly asked residents and those wanting to still participate in the fun to decorate their houses as they would floats in a normal parade year.  The 2021 version will be known as 'yardi gras', and over 9,000 people around the world have already signed up for the fun!  Check out this map to see if you can find some yardi gras insiders near you, or help the Krewe of House Floats by donating to the cause and helping those most impacted this year.
For those of you interested in mardi gras traditions or contemplating a trip to The Big Easy in 2022, keep reading below!
New Orleans is, perhaps, best known worldwide for its raucous, infamous Mardi Gras celebrations and festivities, which boast a rich history. And as luck (well, actually, just timing) would have it, Mardi Gras is soon upon us, and celebrations are already underway in New Orleans. So, now is the time to begin planning your Mardi Gras "NOLA" excursions if you're heading south for a bit of Cajun fun.
The possibilities for celebrating Mardi Gras in New Orleans are endless, though there are, of course, a few tried-and-true favorites. We'll take a look at those and give you tips for enjoying them to the max.
The Mardi Gras Parades
Who doesn't love a parade? The Mardi Gras parades, organized by social clubs dubbed "krewes," are arguably the number one sight to see. The parades are also one of the most iconic aspects of Mardi Gras in New Orleans. The parade routes are available online so you can scout the best spot for you to take in the view. (Balconies are a popular bet for viewing perches.) Most of the prime parades start Uptown and in Mid-City areas, and wind through Canal Street and St. Charles Avenue.
Bourbon Street
Bourbon Street: where dignity goes to die. Just kidding! (Mostly.) On Bourbon Street, you'll find heaps of enticing bars and restaurants that will be bursting with celebratory cheer during the Mardi Gras season (and yearlong, for that matter).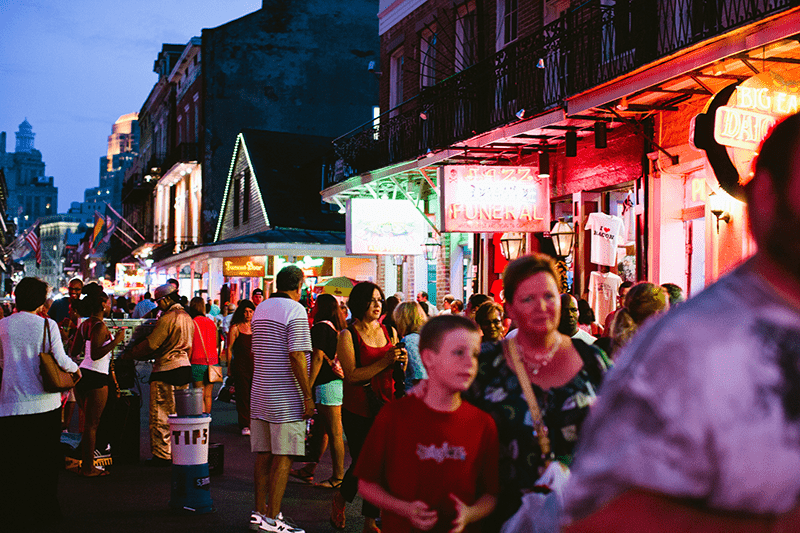 Nibble on NOLA Classic Foods
In French, Mardi Gras means "Fat Tuesday," so it only seems right to indulge in some special foods for the holiday. King Cakes and pancakes are both traditional dishes eaten when celebrating Mardi Gras. Green, purple, and gold pancakes topped with frosting make for some especially delicious a.m. (or any time of day, really) treats for the celebration. It's estimated that hundreds of thousands of King Cakes are eaten in New Orleans over Mardi Gras holidays. If you're feeling bold, you can also go for the Pecan Praline King Cake, a variant of the traditional one, and equally as delicious.
Of course, there's also loads of traditional New Orleans dishes, like Crawfish boil, Creole crab cakes, and gumbo – New Orleans has excellent seafood, so definitely give it a go if you're game to try these delicious ocean-fresh foods!
And, lastly, what would an article about Mardi Gras – and New Orleans – be without a mention of the city's world-famous beignets. These fried French doughnuts can be found all over the city, but the most famous place to nibble on them is at Café du Monde. With white powdered sugar drizzled on top and a steamy coffee at your fingertips, a table at Café du Monde is the ideal (and tasty) way to watch the world go by in fair New Orleans.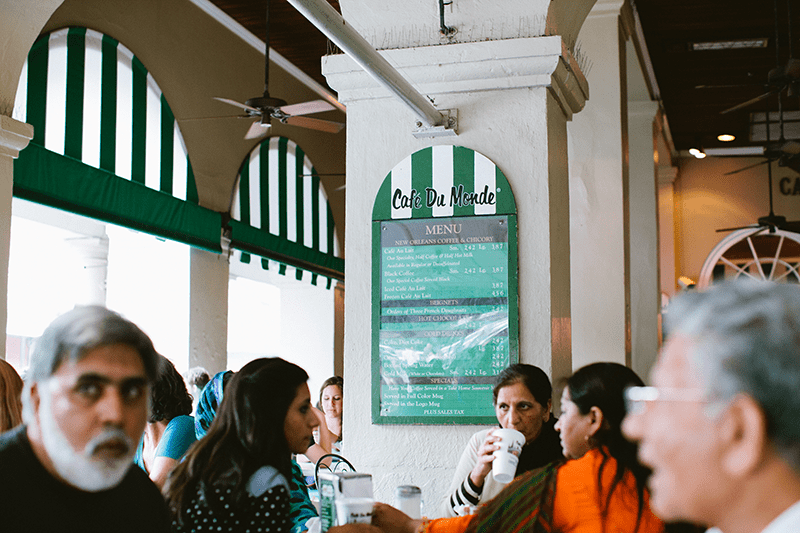 Get Festive with your Attire
Mardi Gras in New Orleans is awash with beads in all colors, mainly gold, purple, and green (the traditional colors of Mardi Gras, as established by the Rex Organization around 1892). But you don't have to wear beads to join in; costumes abound for Mardi Gras festivities. Really, anything is fair game. Want to dress up as your favorite character from "Game of Thrones"? Have at it! Or, prefer to dazzle the crowds with your homemade SNL "Church Lady" garb? Go for it. Originality and ingenuity is always rewarded in New Orleans – so just be yourself, have fun with your look – be it wild and crazy, or just shorts and a well-worn tee shirt.
If you want to go for the wild and crazy look – masks are always a hit and mask shops can be found all over New Orleans. There's the famous Mask Store in the French Quarter, and a number of funky costume shops and thrift stores all over the city to rummage through to find your new treasured party look.
Explore the Mardi Gras Museum
And speaking of festive attires, the Mardi Gras Museum of Costumes and Culture is the place to be if you want to learn more about this historic holiday and its cultural significance to New Orleans. This small museum, located on Conti Street, boasts educational information, as well fun bits too, like the costume closet, where you can see headdresses, wigs, masks, bedazzled jackets, and lots of other festive garb. (One tourist noted that this museum has some prime selfie photo opps – particularly in the costume room.) The gift shop is said to have some good souvenir shopping as well.
Stroll through Mardi Gras World
Yes, there is something called "Mardi Gras World." Found at Port of New Orleans Place, Blaine Kern's Mardi Gras World is a specialty museum chock-full of Mardi Gras' jaw-dropping parade floats, festive props, and stunning sculptures.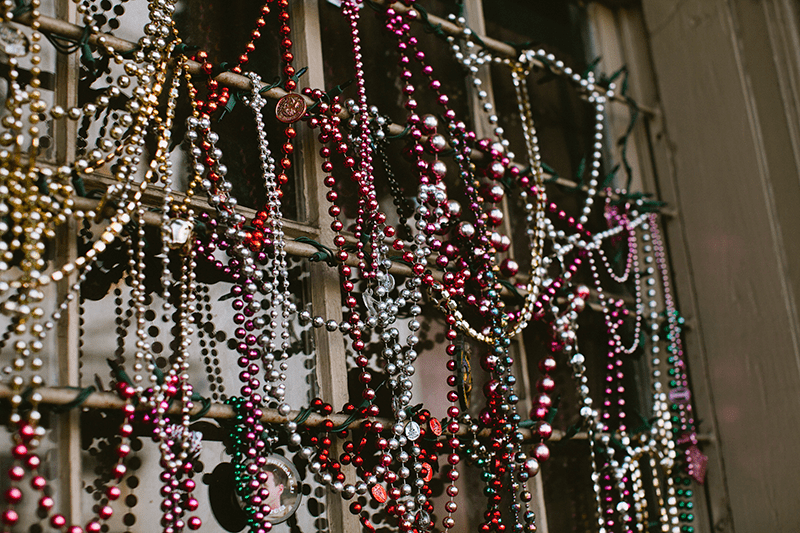 Drink & Tap Your Feet
NOLA is known for its phenomenal live music scene. There's the Spotted Cat Music Club (623 Frenchman Street), which has thumping jazz and good drinks. Maison (508 Frenchmen Street) has three floors, three stages, and three bars – so, it's triple the fun for sure.Bacchanal Wine (600 Poland Ave.) is the spot for cheese and wine and live jazz; it's been noted for it's laidback "backyard vibe."
Three Muses (536 Frenchmen Street) serves cocktails to write home about, and food to make your mouth water (also, vegan options are available); the jazz quartets' music will fill your ears as you sit and nibble and tap your foot. Café Beignet (311 Bourbon Street) is a personal favorite of mine. Located outdoors (with a covered bar and umbrellas if it rains, which it did when I was there – and the rain didn't dampen the fun) – this charming spot plays hosts to talented musical acts and serves up stiff cocktails. Café Beignet is fun and fancy-free; a real kick-up-your-feet kind of joint.
Take a Tour
Give your liver and legs a rest from all that walking and join Fat Tire Tours for a bike ride through the city, and beyond. Enough different types of tours to suit the most choosy of travelers, take your pick from the Beyond the French Quarter Bike Tour to the French Quarter & Garden District Bike Tour, or, my personal favorite: New Orleans Ghost Tour by Night.
However you spend your Mardi Gras in New Orleans, you can rest assured that you will have a good time. So, as they say in New Orleans, laissez les bon temps rouler! (Or, let the good times roll!)