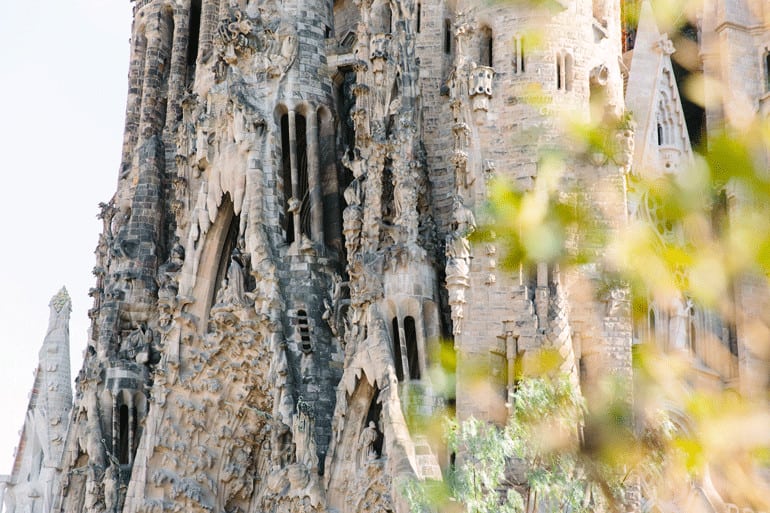 A Local's Guide to Barcelona
We've all been there: that feeling of being new. Be it the first day at a new job, or a new school, or in a new city…it can be nerve-wracking to go somewhere for the first time.
If you're visiting Barcelona for the first (or, even the 10th) time, it's helpful to learn a few tips before your trip, so you can wind through the streets of the Gothic Quarter like a local, and be more caught up in having fun and enjoying the city, and put your nerves at bay, where they belong.
I caught up with my cousin, David, who spent the past semester living in Barcelona. Due to an unfortunate set of circumstances, he was twice pickpocketed in the city, within a month of his arrival. David emphasizes, though, that this can be avoided. With a few tips, you won't need to worry about this happening to you, too.
It's no surprise, then, that his number one tip for experiencing Barcelona revolves around avoidance of theft. David told Fat Tire Tours: "If you're a tourist, or if you have any distinguishing tourist features on your person – duffle bag, suitcase, looking closely at a map, etc. – keep your valuables zipped up. Use a fanny pack or cross shoulder bag." So, while exploring tourist-heavy areas, like around the Gothic Quarter or the Sagrada Família (perhaps via a bike tour), secure your belongings out of sight, so you can focus your energies on soaking up Barcelona, and all it has to offer.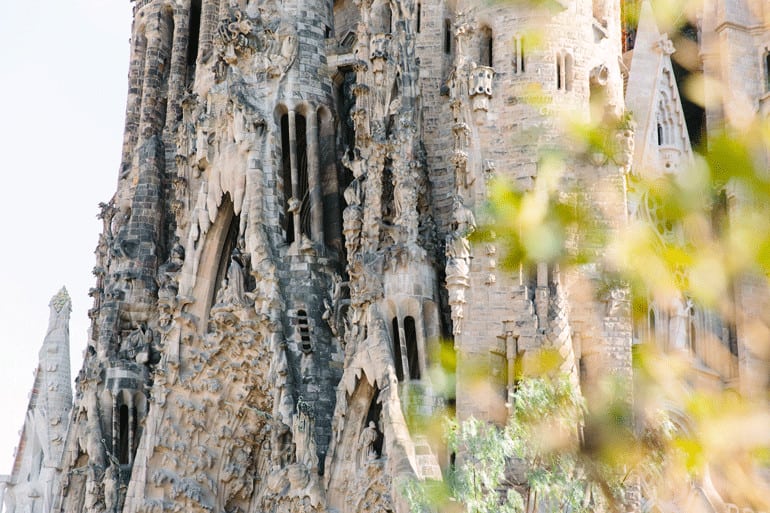 Transportation
For those who don't live in a big city, you might be unaware of the public transport etiquette when it comes to escalators – if you're standing, stand on the right. If you're walking up, walk on the left. (It's the reverse in the UK, just as it is for the rules of the road.) As one writer reports in The Telegraph, "…woe betide any ignorant tourist (and it's always a tourist) who stands stock still on the left, oblivious to swelling mass of travelers tutting behind him." In short, avoid being that tourist, especially if you want to blend in like a local.
Cabify is an app to call cars in Barcelona, similar to Uber in the U.S. Cabify offers nicer cars and well-dressed drivers, for virtually the same price as the cost of a regular taxi. Barcelona's metro system is good and punctual. If you'll be traveling mostly by metro, it's worth getting a metro pass for the weekend.
The pass also works on Barcelona trains and buses, so you can zip around the city with ease, and not too much of a hit to your wallet. It's advisable to plan your transportation in advance if you're only in Barcelona for a short visit.
Aerobus is an excellent way to get to and from the airport. Aerobus is the official shuttle service that connects Barcelona Airport (Terminal 1 and Terminal 2) with the city (at Place Catalunya). The trip takes approximately 35 minutes, and the bus makes stops along the way at various centrally located places in Barcelona. The Aerobus departs every 5 minutes, so you won't need to wait long. For 5.90 euros per journey, this is an economical way to get into town.
What to Experience at Restaurants
David advises: "Don't expect immediate service at a restaurant like you would in the US. The servers will come eventually, but not right away. Generally, you need to ask for the check – it's rare they will just bring it to you. And, in some restaurants, you need to go inside or up to the counter to pay." He also points out the that while eating during off-hours, you may have to ask for the menu if it's outside of regular meal times. The staff will generally assume you merely want a drink. Also, reports David, "Water isn't free; it's a water bottle you pay for."
If you're planning your dining, be sure to check out one of Fat Tires Tours' favorites, El Xampanyet, for some delicious tapas.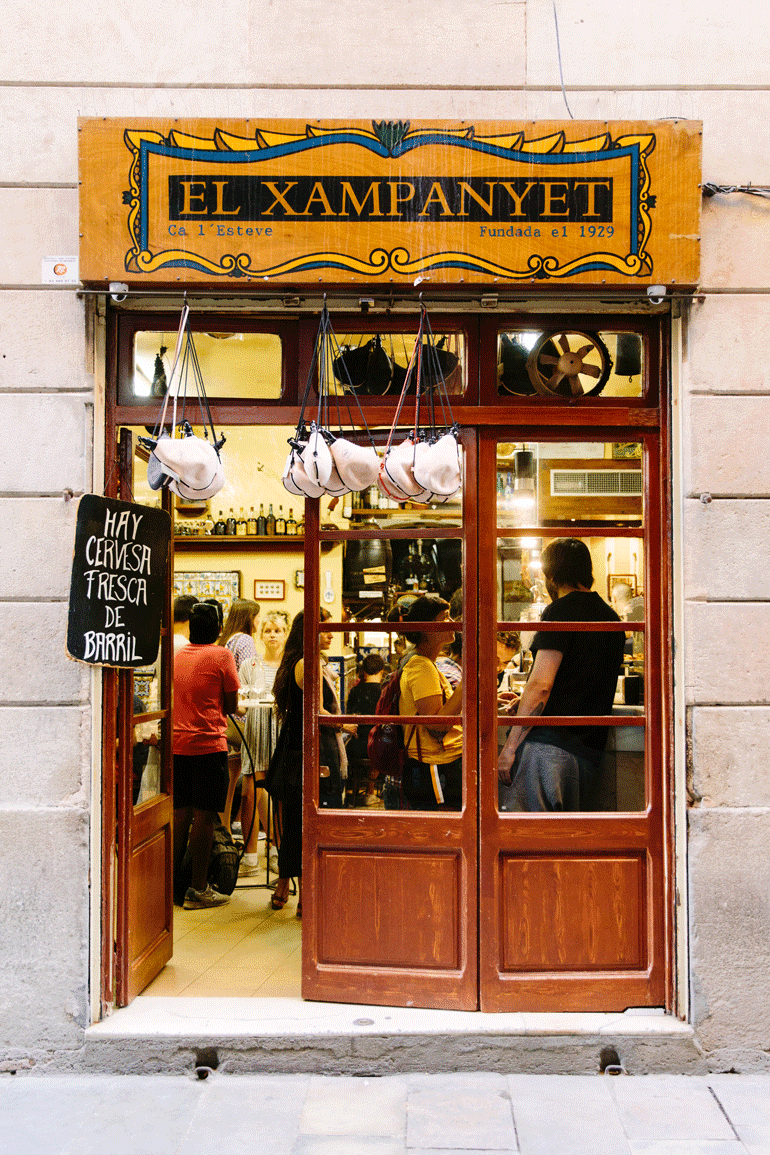 Shopping
Looking to do a bit of shopping? Barcelona has an abundance of exciting and interesting shops. And there is, of course, the famous Las Ramblas, which has shopping opportunities as far as the eye can see. If you find yourself at a shop, and if you're paying with a credit or debit card rather than cash, select euros – not U.S. dollars – when the machine asks how you want to pay. Paying in USD will incur another fee from the card machine, on top of the fee charged by your bank, or the credit card company. (David said with a smile: "I learned this lesson a little later than I would've liked.")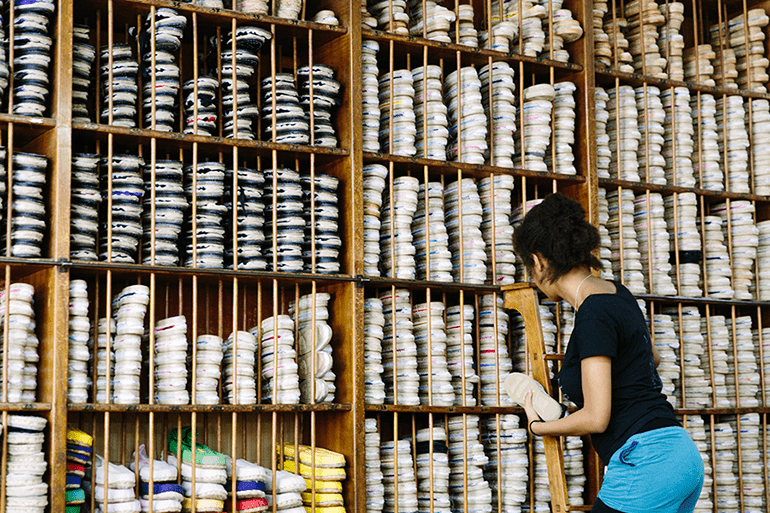 Siesta!
Siestas are so entwined in Spanish culture that many businesses still enjoy a midday break to give their employees a chance to nap. It's official: siestas are an integral part of Spanish culture. And it affects the culture in a day-to-day way in Barcelona. Some shops and restaurants will close during siesta time, which is roughly 2pm-5pm for stores, and 4pm-8pm for restaurants. And siestas aren't just for naps and relaxing (though, they're indeed used for that, too); it's also the time when shop owners and restaurateurs eat with their family and friends.
Some Basic Spanish for Getting Around
Most people who are from Barcelona are bilingual. Spanish and Catalan are distinct languages. (Some people assume that the only difference between the two languages is the use of a lisp sound on certain words, but that is not the case; it's a common misconception, though.) Catalan is very prevalent in Barcelona and is most commonly used in conversations among locals and on street signs, too.
Here are some helpful Spanish travel phrases for getting around with ease, and living as the locals do. I once read that the most important thing when learning to speak a language (and certainly the most difficult, when you're just starting), is to be bold. Aim for boldness, and forget about correctness (in the beginning), because you will make mistakes. And in a way, that's just part of the fun.
Embrace the mistakes (language, or otherwise), learn from them, and move on – so you can get about your day traipsing through the glorious, cornucopia that is the vibrant town of Barcelona.