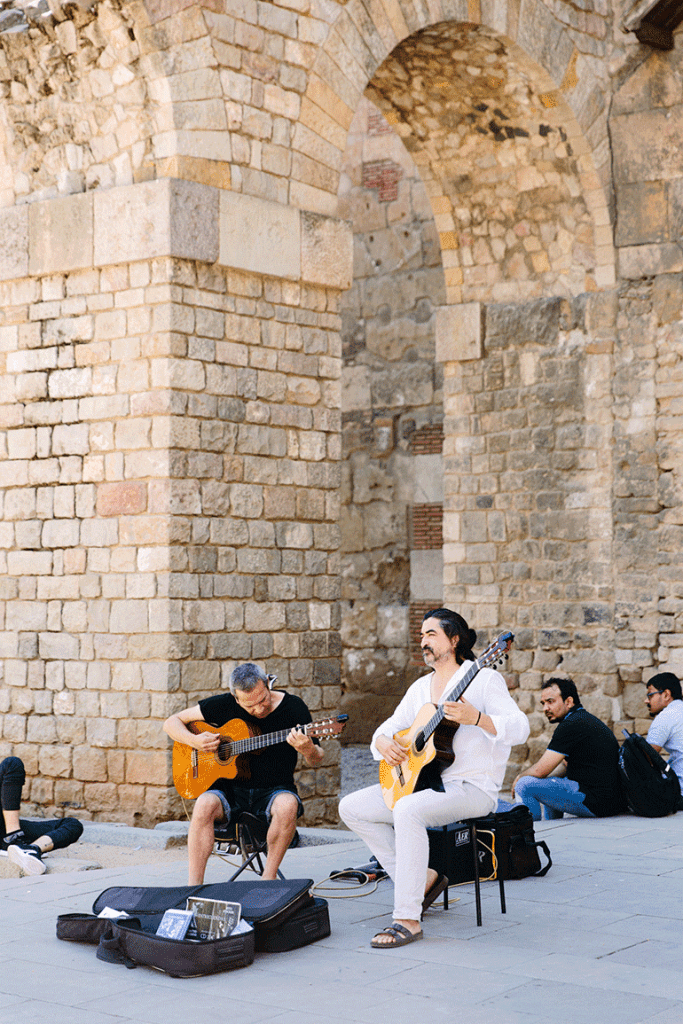 Discover Barcelona's Gothic Quarter
By Anne McCarthy
Last weekend, I joined the masses and bought a ticket to the latest installment of the new "Fantastic Beasts" film, the latest product of the Harry Potter universe. While this fact has little (okay, nothing) to do with Barcelona, one aspect of the film stood out to me in an unexpected way: There were scenes in "Fantastic Beasts: The Crimes of Grindewald" which felt almost Gothic Quarter-esque, given the neighborhood's twisting, mysterious, narrow streets, which feel ripe for adventure, intrigue, and wizarding-world-like magic.
So, when you next visit Barcelona, and you are wandering through the Gothic Quarter, you might think, at times, you've stumbled onto a Warner Brothers movie studio lot, and that, at any moment, someone could thrust a script in your direction, and all of a sudden, you're the star of the scene: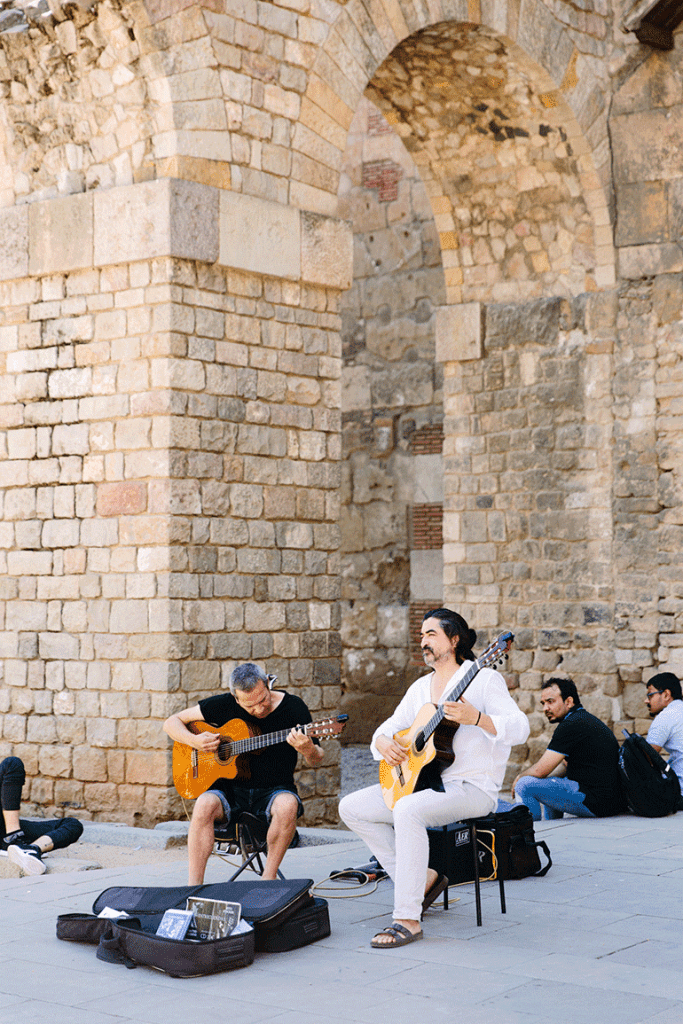 The Scene (the Quarter itself)
For starters, it's located in the Old City of Barcelona. The Gothic Quarter ("Barri Gòtic") is distinguishable by its narrow, curving streets and ancient buildings scattered throughout. It is a labyrinth of small streets (which remind me a bit of Diagon Alley), lined with shops, restaurants, cafes, and residential buildings.
In the Quarter, you'll find a variety of places to spend your Euros: jewelry stores, streetwear outlets, souvenir shops, and more. The main streets in the barrio become lively at nighttime, and there are loads of trendy bars and restaurants where you can rest your feet and enjoy a refreshing drink. There are also a number of tempting tapas restaurants; you'll find some of Barcelona's best tapas in the Gothic Quarter.
Several hostels pepper this neighborhood; this creates a cool melting pot of travelers in the area. The winding streets eventually lead into a square. My favorite plaza in the area is Plaça Reial. Expansive and scattered with palm trees, the plaza (located just off La Rambla) boasts a robust perimeter full of fine restaurants. (Fun fact: the lampposts in this plaza were one of Gaudi's first projects!). Other plazas in the Gothic Quarter include Plaça del Pi and Plaça de Sant Jaume.
Plaça de Sant Jaume (where you'll also find the meeting point for Fat Tire Barcelona bike tours) has been the site of seminal political protests, and boasts a textured story of Barcelona – a city which has seen its fair share of political strife.
If you're in the mood for a walking tour, check out Fat Tire's Barcelona in a Day walking tour, which will offer you an in-depth look at Barcelona's Gothic Quarter, along with the Old Jewish Quarter, LaSagrada Família, rooftop access to Barcelona Cathedral, and much more.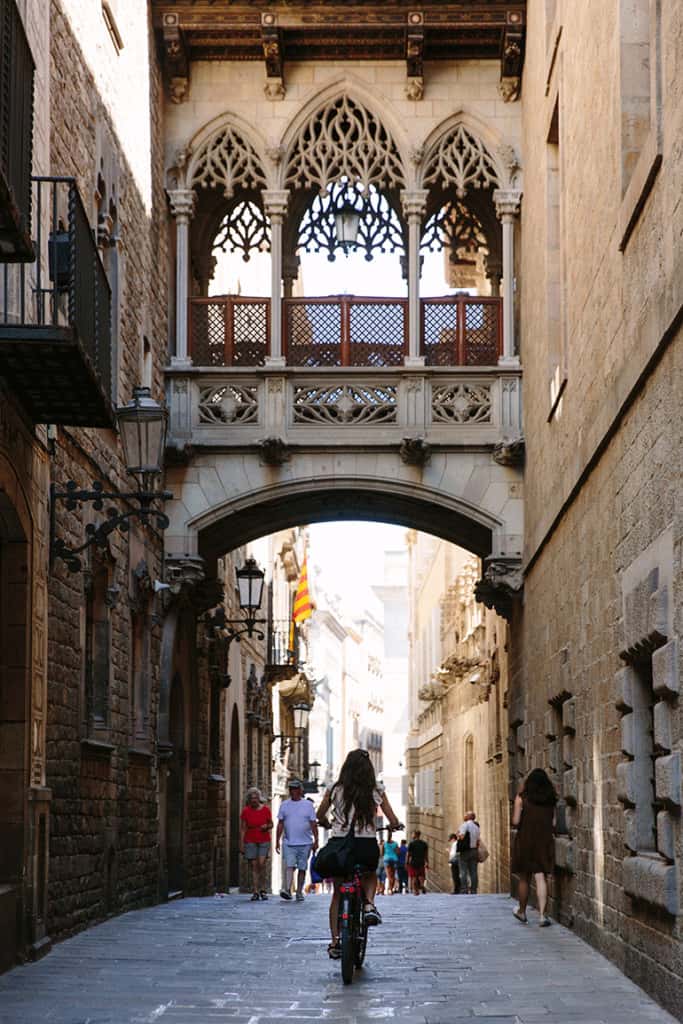 The Characters (the Area's Locals)
This area is steeped in over 2,000 years of history, and has a varied tapestry of inhabitants, past and present. The Quarter also contains remains from ancient Roman walls and several landmarks from medieval times. Much of its structures remain intact from the Middle Ages. If you're a history buff, the Gothic Quarter is not to be missed on your trip to Barcelona.
The Set (the Restaurants, Bars, and Architecture)
There's an abundance of worthwhile restaurants and bars in the Gothic Quarter. There's the popular Els Quatre Gats (Carrer de Montsió, 3), an artists' café, which was the site of a scene from the film "Vicky Cristina Barcelona." An additional claim to fame: a seventeen-year-old Pablo Picasso held his first-ever exhibit in this restaurant in the late 1800s.
The architecture of the area is antiquated and fascinating. The graffiti on closed shop doors is gorgeous, and occasionally, thought-provoking. Of note, you don't need to worry about traffic because only service vehicles and taxis are permitted to drive in most of the area.
The Quarter is filled with, what the film and gaming communities call "Easter eggs"; or, hidden gems, secrets, or attractions. This area, notes Frommers, is so "intricately detailed and filled with many attractions that are easy to miss."
And don't just pay attention to the architecture, but to your people-surroundings, too. As it is with anywhere you travel – and this is especially true when traveling solo, and doubly true at night and around local bars – be mindful of your surroundings, and be firm in needed reproach.
My cousin, David, a resident of Barcelona, said of the Gothic Quarter: "On weekend nights, there will be a lot of pedestrian traffic. One thing to look out for is the individual or small group of people who will offer you drugs. They're mostly harmless, but they can be persistent if you don't firmly tell them you're not interested." 
The Script (Helpful Spanish Phrases) 
When traveling somewhere where you don't speak the language, it's wise – and not to mention, considerate – to nail down a few basics before your trip. Sure, many people worldwide speak English (nearly 20%), but the polite thing to do is to attempt the local language.
Here are some basic words to know before traveling to Barcelona:
Thank you: Gracias
Please: Por favor
You're welcome: De nada
Yes: Si
No: No
Pardon me: Perdón
I'm sorry: Lo siento
I don't understand: No entiendo
I don't speak Spanish: No hablo español.
Do you speak English? : ¿Habla inglés?
You can brush up on some basic Spanish phrases prior to your travels, or even learn some new ones.  For visual and auditory learners, there are YouTube channels aplenty to assist you with learning a new language. The aptly named Learn Spanish channel on YouTube is one I like. 
The Props (Where to Buy Stuff)
 The Gothic Quarter offers a number of different shops to duck into for a bit of retail therapy and souvenir shopping. One of note is El Ingenio (C/ Rauric 6, 08002), which has been around since 1838. The shop trades festival-related goods. There, you'll find novelty items like puppets, masks, and more. The historic shop counts notables like Salvador Dalí as former clients, and is said to have a "magic presence." 
The Culminating Scene (the Barcelona Cathedral)
The Barcelona Cathedral (Catedral de Barcelona) is the pièce de résistance of the beautiful Gothic Quarter. It is arguably the heart and soul of the area. The Cathedral is the main event, and the one most tourists have their hearts set on seeing.
If you'd like to attend service or tour the Cathedral, be sure to check out the visiting hours in advance, and purchase Barcelona Cathedral tickets for tours.
And, as it is when visiting any place of worship, be mindful that there may be locals observing religious custom (i.e. attending mass), so it's best to keep voices quiet, out of respect for locals and their culture.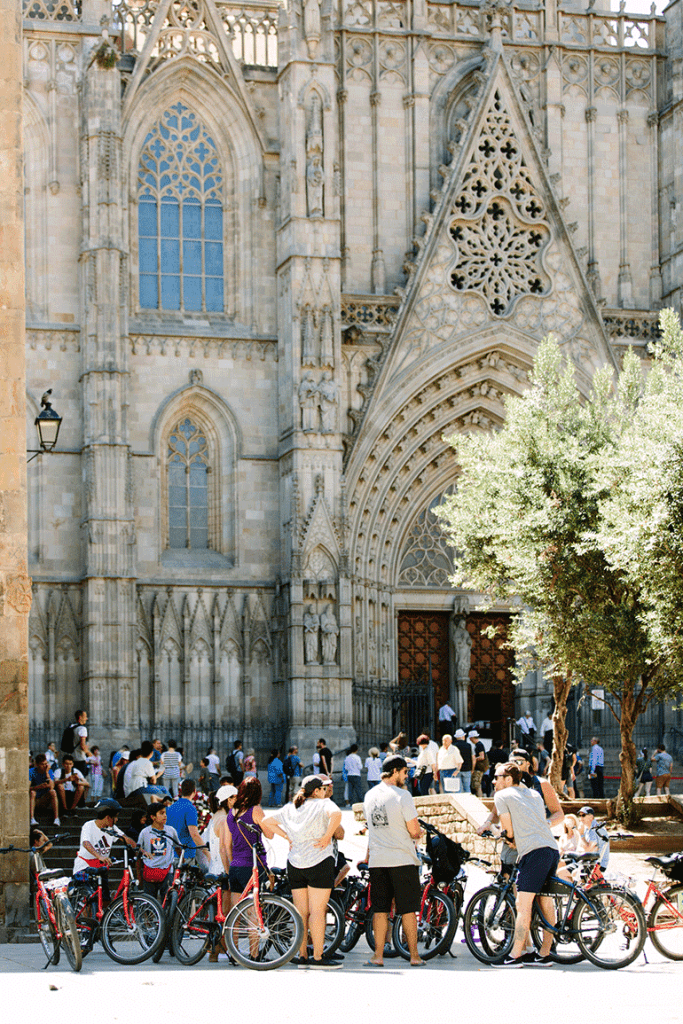 The Final Scene
Travel, at its best, feels cinematic. Every trip – no matter how short – often contains edge-of-your-seat moments: Will I catch the train in time? Who will I meet today? Did my bunkmate at the hostel really just put their dirty, sweaty socks on top of my backpack and how can I assertively – yet politely – confront them about it?
Travel mirrors film in many ways: the score (the sounds of a busy city street, or the rustling of leaves in a quiet forest) swells, the scenery is vivid and colorful, the characters are vibrant and memorable, the script is alternating between airtight and all-over-the-place (depending on degree of jet-lag) and most of all – as is the case with all great film – the experience leaves you feeling ever-changed.
Travel broadens horizons, opens minds, and beckons you into a richer experience of life. What's better than that?
Barcelona's Gothic Quarter is a small place in a very big world – and it is worth diving into this area on your next stop in Barcelona.
Interested in seeing more of Barcelona? Check out our Insider Guide to Barcelona!
[maxbutton id="1″ url="https://www.fattiretours.com/barcelona/tours/welcome-to-barcelona-walking-tour" text="Book Your Gothic Quarter Tour!" ]