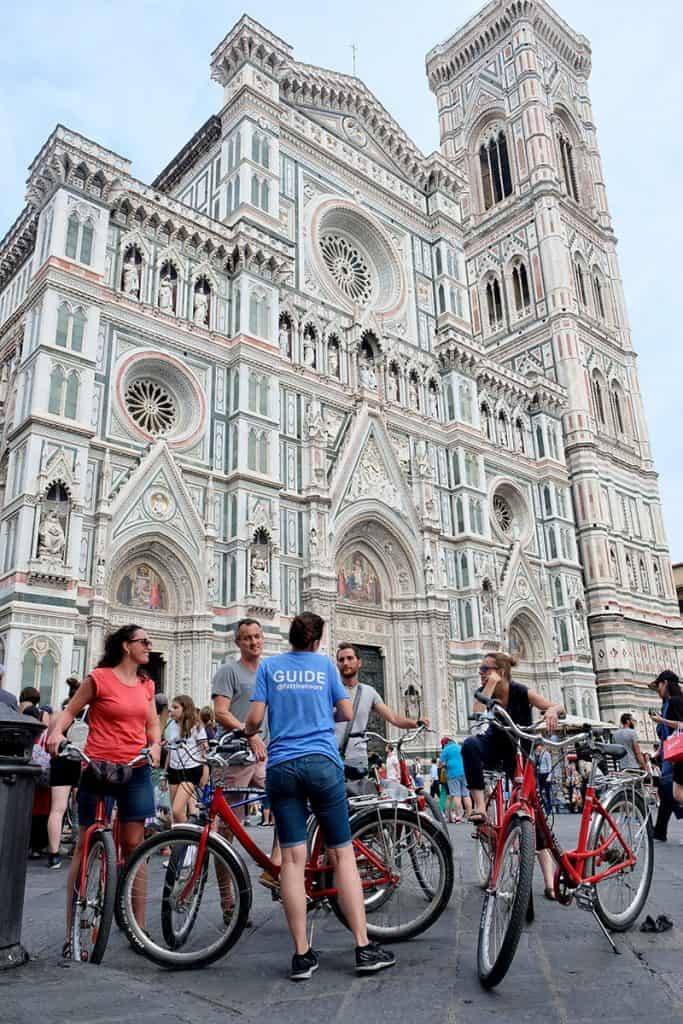 Fat Tire Tours' Best of Florence
In our "Best of" city series, the Fat Tire Tours Brand Ambassadors will lead you around their beloved cities via some insider tips and noteworthy "best" spots!
Quick Links to Florence's Best… Hotels | Restaurants | Bars | Coffee | Tours | Attractions
---
Where to Stay 
The epitome of "boutique hotels," this is our top pick for those looking for a quiet sanctuary that is well-designed overlooking the largest private garden in Europe. Extra bonus? Each room has an ensuite claw-foot bathtub.
📍Address: Via del Campuccio, 53, 50125 Firenze FI, Italy
This is our top pick for those with a car who don't mind being a few miles from Florence. This charming, family-owned bed and breakfast in a 19th-century villa is run by Irene Berni, Paolo and their family who have created a beautiful sanctuary for anyone visiting.
📍Address: Via Valdirose, 35, 50055 Lastra a Signa FI, Italy
Hidden away in an elegant piazza just off of Piazza della Independenza is the lovely Palazzo Castri, a four-star boutique hotel with a beautiful garden and an even more impressive spa for guests to enjoy, close to the central Santa Maria Novella Train station.
📍Address: Piazza della Indipendenza, 7, 50129 Firenze FI, Italy
San Niccolo is one of the city's oldest neighborhoods (and one of our favorites) close to the steps that lead you to the best panoramic point in town: Piazzale Michelangelo. This boutique hotel has all of the mod-cons you could want and a lovely outdoor garden and cozy indoor hang-outs spaces.
📍Address: Via di S. Niccolò, 79, 50125 Firenze FI, Italy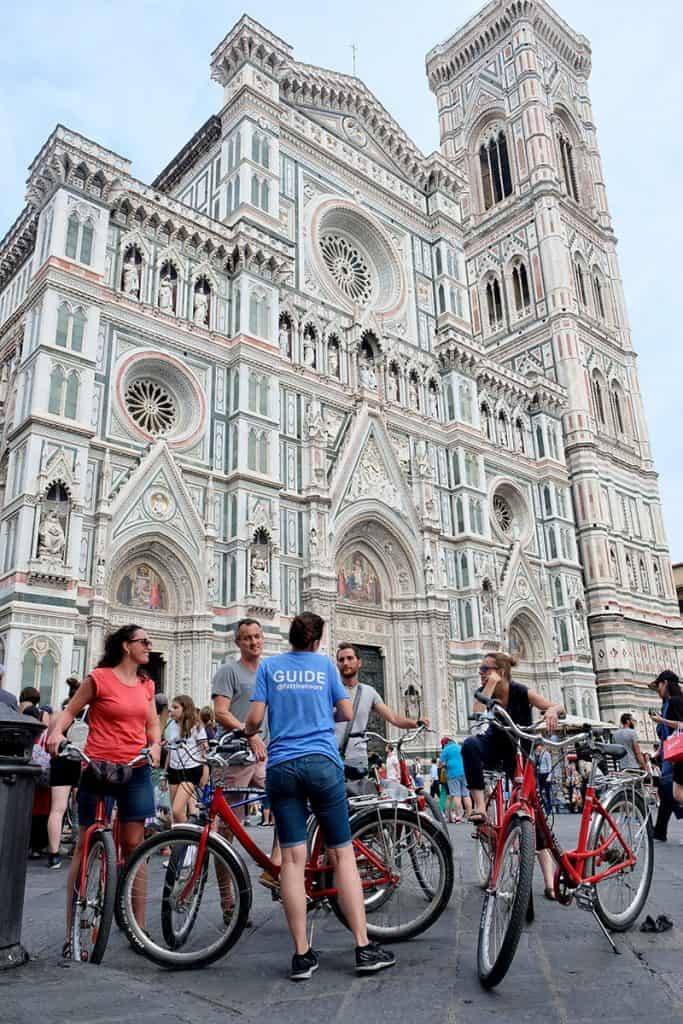 ---
Where to Eat
Pitti Gola and Cantina is one of the best wine bars on the Oltrarno side of the city, but further towards Porta Romana is their steak-restaurant, Osteria dell'Enoteca that serves creative Tuscan fare and THE Florentine steak you need to try. Chef Nicola hits it out of the park every time.
📍Address: Via Romana, 70/r, 50125 Firenze FI, Italy
This family-owned, historic restaurant is in the San Frediano neighborhood, a place that stays true to its old-school roots. They type out their menu daily with Tuscan fare that never breaks the bank. It's one of the best budget-friendly options in town.
📍Address: Via Pisana, 2/R, 50143 Firenze FI, Italy
When you've tired of meat, pasta, and heartier Italian fare, Carduccio is a farm-to-table breath of fresh air near Palazzo Pitti, one of the best museums in the city. They serve breakfast, organic salads, soups and crostini and juice extracts for those who need an extra "boost."
📍Address: Sdrucciolo de' Pitti, 10/R, 50125 Firenze FI, Italy
A popular and stylish restaurant on the Oltrarno side of the river, make sure to reserve your spot in advance as they are very popular during high season. It's home cooking with a gastronomic twist, all in a candlelit, elegant atmosphere.
📍Address: Via Santo Spirito, 64, 50125 Firenze FI, Italy
Just off of Piazza della Signoria, this trattoria is casual but delicious serving up seasonal Tuscan fare in a familial yet cozy ambiance. Reservations highly recommended.
📍Address: Via dei Magazzini, 3r, 50122 Firenze FI, Italy
---
Where to Drink 
This industrial-dive craft cocktail bar in the San Frediano neighborhood is run by expert mixologists Neri Fantechi and Julian Biondi, who take their love for mixing drinks seriously as they boast one of the best (and notably creative) cocktail menus in the city.
📍Address: Borgo S. Frediano, 36-38r, 50124 Firenze FI
Close to Santa Croce on a hidden side street, you'll find this super chic bar/restaurant with multiple layers of Florentine history all woven in one very attractive watering hole. Dress to impress and be wowed by their truly impressive mixology!
📍Address: Via delle Seggiole, 12/red, 50122 Firenze FI
This bar is under one of the porticoes in San Lorenzo, near the Central Market. This beloved local bar with a Latin spirit is known for their black salt margaritas, fresh mint mojitos, and warm plantain chips. It tends to get crowded on weekends.
📍Address: Via Sant'Antonino, 64R, 50123 Firenze FI
 

 

View this post on Instagram

 
---
Where to Get your Caffeine Kick 
Award-winning café barista Francesco Sanapo is the brainchild behind Ditta Artigianale, a chain of high-quality coffee bars in Florence that offer filter, auropress, single-origin espresso, flat whites, brunch options (avocado toast!), and a place to sit and work in peace.
📍Addresses: Via dei Neri 32, Via Dello Sprone 5r
Make your way to Via Gioberti by Piazza Beccaria to family-owned craft coffee bar Piansa for specialty blends that are roasted in Tuscany. Co-working is available here (though not during lunch hours) and you can buy your beans to go!
📍Address: Via Vincenzo Gioberti, 51/red, 50121 Firenze FI
Just one street over from the Duomo Cathedral is this quirky coffee bar offering a nice selection of brews (including flat whites and cold brews). There is plenty of space to work or grab a quick breakfast.
📍Address: Via delle Oche, 7, 50122 Firenze FI
---
Top Fat Tire Tours in Florence 
The Duomo is the city's most central attraction and this is a once-in-a-lifetime opportunity to see Brunelleschi's cupola up close and personal, and a chance to get private access to a vantage point most people miss in Florence.
It's one thing to see Florence during the day, but by night, the city takes on an entirely new kind of magic. This two-hour Segway tour is the perfect way to fall in love with this Renaissance gem!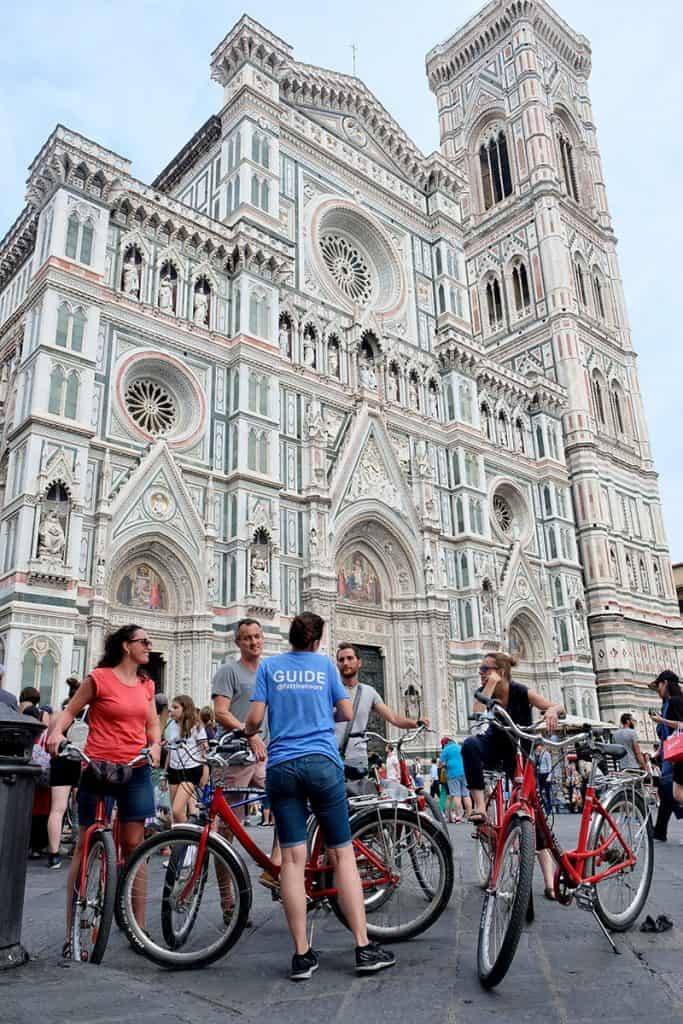 The gastronomic history of Florence is robust, and in order to get an idea of how and where local's shop and eat, this food tour is a great way to get acquainted with the rich food culture of the city!
---
Top Attractions in Florence 
The vast Renaissance palace was the former residence of the most powerful family in the city, the Medicis. To really appreciate the city, a visit to the museums are a must, including a stroll through the Boboli Gardens, one of the first of its time. 
The former seat of power in Piazza della Signoria is one of our favorite places in Florence for its multi-layered look at Florentine history. Underneath, you'll find Roman ruins, and from within the palace: works by Michelangelo, Vasari and more celebrated artists. Plus, the Arnolfo tower offers 360-degree views of the city. 
 

 

View this post on Instagram

 
This 1,000 year-old basilica sits on the highest point of the city and offers one of the loveliest views overlooking the city. It also happens to be one of the finest examples of Tuscan Romanesque architecture. 
[maxbutton id="1″ url="https://www.fattiretours.com/florence/tours-activities" text="Join Fat Tire Tours in Florence!" ]