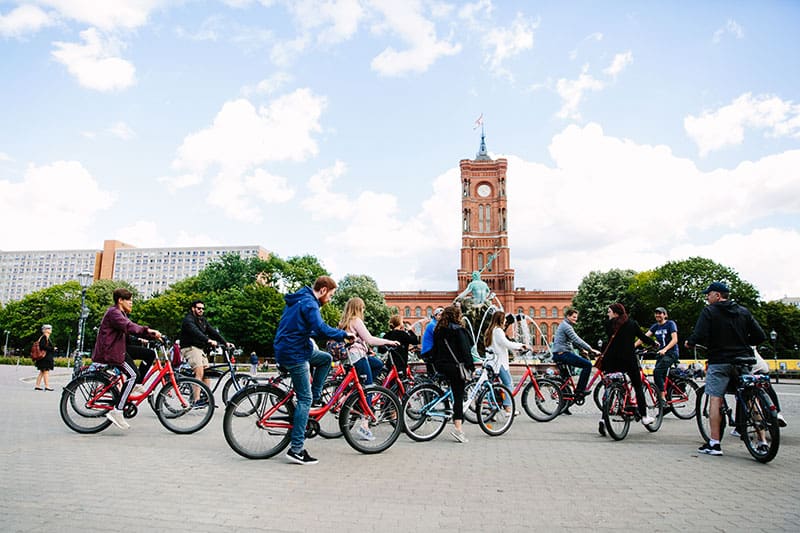 If I Could Choose One Thing to Do in Berlin: I'd Run the Berlin Marathon
The Berlin Marathon is one of the six "World Majors" in the marathoning world. Along with Berlin, cities like London, Tokyo, New York, Boston, and Chicago lay claim to being the best and biggest when it comes to marathons around the globe.
Berlin, a city known for sausage, beer, bikes, street art, an infamous history, and more, is also known for being the place where world records are set for running. In 2018, the world record for the fastest marathon time was set by Eliud Kipchoge, with a shockingly speedy time of 2:01:39.
Kipchoge, a Kenyan-born distance runner who also won the 2016 Olympic marathon, affirmed Berlin's place in marathon history with this feat and also helped shine a spotlight on the German city, making it all the more appealing to competitive, and amateur, runners alike.
Those fast race times are not accidental. Berlin's marathon course is one of the flattest in the world, so maintaining a quick pace is easier there than on many other marathon courses.
If I could do one thing in Berlin, I would run the Berlin Marathon (which, I did, for the 2019 Berlin Marathon, gaining entry by the marathon lottery). If you're a runner – or even "runner curious" – here's your how-to guide for getting to the starting line of the Berlin Marathon, and maximize your experience in the city, along the way.
View this post on Instagram
Getting into the Marathon
Like many popular marathons these days, entry into the Berlin Marathon is done by a lottery system, if you don't have a qualifying time.
The 2020 Berlin Marathon lottery opens in October and runs through the end of the month. The lottery results will be announced via email starting November 27.
If you don't make it into the race by lottery, fear not! Where there's a will, there's a way. And there are several different ways to secure a bib number for your dream race. Like most marathons, there's the option to go with a tour operator company. One of the most popular of these is Marathon Tours, a Boston-based company that organizes marathon-focused trips. Or, you can fundraise for a charity, as another route for getting guaranteed entry. The Berlin Marathon website gives you a full overview of entry options.
Where to Stay in Berlin
Berlin is a great place for budget travel and has many affordable options for accommodations, like inexpensive hotels, Airbnbs, and hostels. However, if you're in town for the marathon, it's well worth considering a bit of an upgrade and shelling out more dough for this trip. After all, a good night's sleep is imperative before running 26.2 miles.
If you're traveling to Berlin for the sole purpose of running the marathon, consider staying at one of the nice hotels near Potsdamer Platz, which is a ten-minute walk from the start of the marathon, as well as the finish. The Berlin Marriott, the Grand Hyatt, and the Ritz-Carlton are all in that vicinity, and not only have beautiful interiors but a central location that is ideal for both sightseeing and race day.
(Hotels frequently offer discounted rates for runners for marathon weekend, so be sure to ask when you're booking your reservation, so you get the best deal for your stay.)
Navigating the Marathon Expo
One of the drudgeries, or delights – depending on who you ask – of running a marathon is going to the marathon expo to pick up your bib number, the number you pin to your shirt or shorts the day of the race.
The Berlin Marathon Expo is located at Tempelhof Airport, a former airport which is no longer in operation, as of 2008. The expo is held in the old hangars where planes were once housed, so it's a sight to see. Pick up your number, then roam around the expo for samples of energy drinks, snacks, and lots of running gear (available for purchase), as well as plenty of photo opportunities.
Save yourself a thirty-minute wait in the taxi line, and take the nearby U-Bahn train back to the center of the city. Train tickets can be purchased from the yellow machines in the station prior to boarding.
View this post on Instagram
Race Weekend
Any runner knows the supreme importance of rest and relaxation for the few days leading up to the race. Get plenty of sleep, drink more water than you normally would, and steer clear of any foods that may upset your stomach. It's best to avoid spending too much time on your feet or doing any strenuous activities. For some light and easy movement, take a bike tour around the city to see Berlin's storied exteriors.
Fat Tire Tours' Berlin Food Tour by Bike is an ideal way to carbo-load and see the city, too. With three stops at Berlin restaurants, and a quick climb to the top of an old clock tower which offers stunning 360-degree views of the city, you'll be pleased with ending your night this way. (Best to do any of the evening tours two days before the marathon, so you can hit the hay at an early hour on Marathon Eve.) Daytime tour options abound: Berlin City Bike Tour, Berlin Wall Bike Tour, Gardens & Palaces of Potsdam Bike Tour, and more.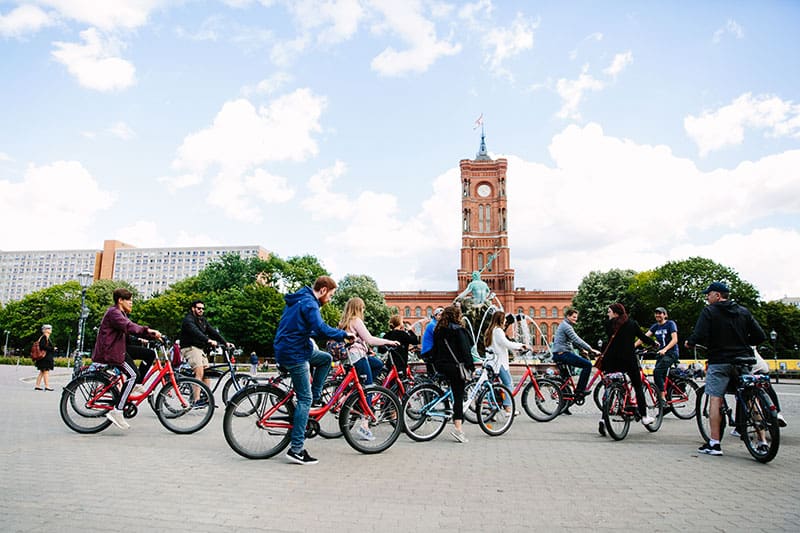 When Race Day arrives, you'll be primed, ready, and strong. (There are no assurances, of course, but positive self-talk is a necessary component of completing a marathon; tell yourself you'll do great, and work hard to make that incantation a reality.)
After you cross the famed finish line by the Brandenburg Gate and earn your Berlin Marathon medal, gather with loved ones or new friends and celebrate! If you can muster it, grab a quick shower first, then head out into the Berlin night, to relish in your accomplishment. Load up on some German food, German beer, and enjoy devouring those well-earned calories.
Beyond the Marathon – Running Clubs & Physical Activities in Berlin
Berlin, like any major metropolitan city, offers a wide variety of options for the physically inclined who want to flex their physical muscles, as well as their emotional ones. Berlin contains an abundance of running clubs and groups, climbing gyms, dance studios, indoor swimming pools, and more. Take advantage of these opportunities to move and meet people while you're on the road traveling – you never know who you might meet. And, if nothing else, the post-workout endorphins rush will have you ready and energized to tackle your next great adventure.
Related links:
[maxbutton id="1″ url="https://www.fattiretours.com/berlin" text="Join us in Berlin!" ]