By Anne McCarthy
It's spring, and it's also the season of honoring moms – Mother's Day is this Sunday in the U.S., and in France, "Fête des Mères" occurs in a few weeks. If you're wondering what to do with your mom to honor her on this spring occasion or what kind of gift you can give her – consider gifting her with the experience of a lifetime: a visit to Monet's Garden in Giverny.
A bouquet of flowers is nice and all, but what about hundreds of flowers and natural beauty as far as the eye can see? You'll find all that and more at Giverny. "I don't believe I shall ever leave Giverny," the painter once declared.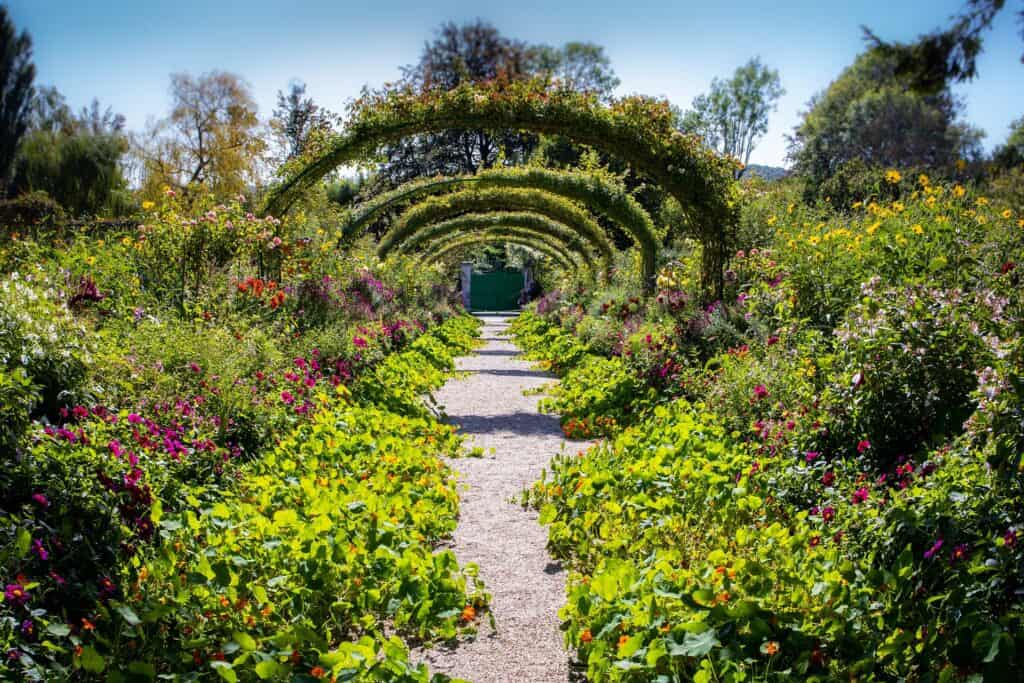 Fat Tire Tours offers one of our most celebrated and beloved tours for people interested in learning more about Monet and seeing his home in Giverny. This all-day affair, Monet's Garden Bike Tour, is an epic way to explore the French countryside, and dive deep into French impressionism and one of its greatest founding fathers, Claude Monet (1840-1926). You'll get access to Monet's Gardens, Monet's House, and more. And you'll be among the 500,000 visitors who discover Monet's gardens yearly.  
Without further ado, let's dig into the top ten facts you need to know about Monet before visiting Monet's Garden in Giverny.
Monet & The Roots of French Impressionist Art
Claude Monet is one of the originators of the impressionist art movement. The term itself, "impressionism," came directly from a painting of Claude Monet's which was titled "Impressionism, soleil levant." The powerful painting was featured in the so-called "Exhibition of Rejects" in 1874. Monet was at the helm of this alternative exhibition.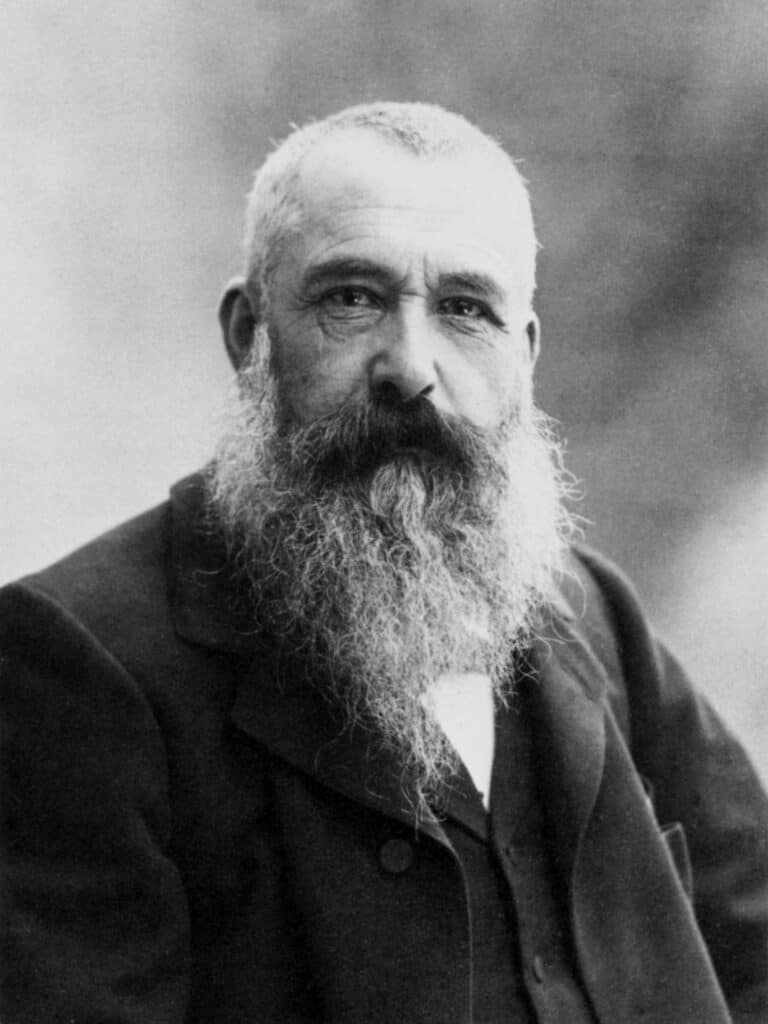 2. Monet was a Normandy Boy
"You know I love a London boy," sings Taylor Swift – but what about a Normandy boy? Monet (born Oscar-Claude Monet in Paris, France) was raised in Le Havre, Normandy. Due to his time in the French countryside as a boy, he developed an interest in the outdoors and pairing his love of nature with his love of drawing.
While his mom, Louise-Justine Aubrée Monet, supported his love of the arts and his ambition to be a professional painter, his father, a wholesale merchant, urged Monet to pursue business as a career. Louise-Justine was a singer and supported her son's love of the arts. Monet's mother died when he was only sixteen years old. After her death, he was sent to live with his wealthy aunt.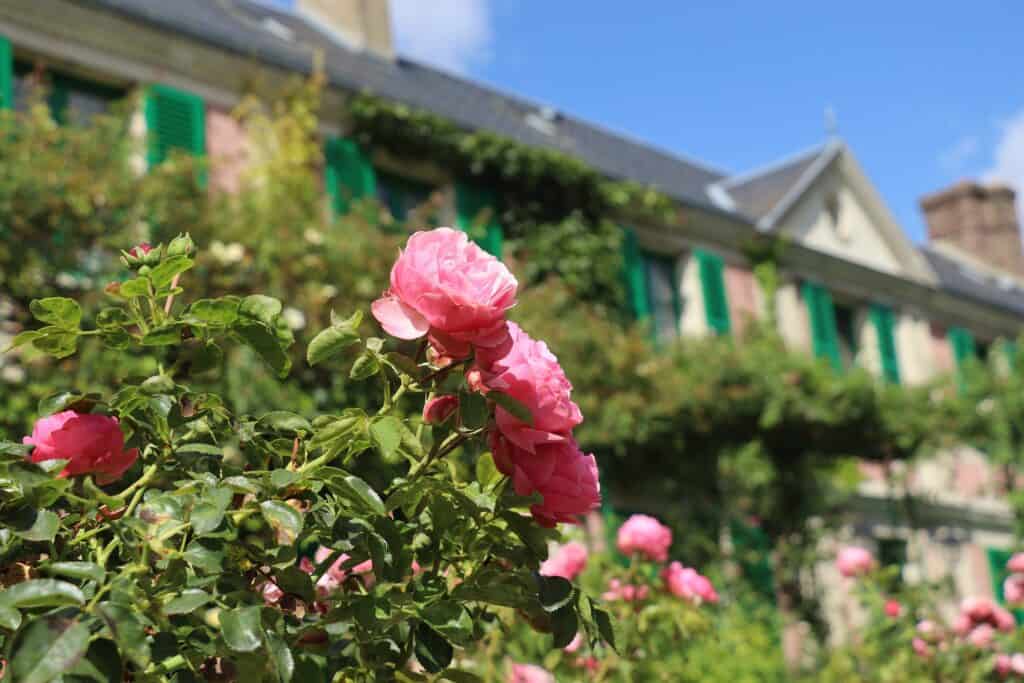 3. An Early Friend: Pierre-Auguste Renoir
After the death of his mother, and his subsequent move to be with his widowed, wealthy aunt, Monet pursued art under her supportive eye. He studied at the informal art school Académie Suisse in Paris from 1858-1860 with history painter Charles Gleyre. At Académie Suisse he made an important connection that would be written about in art history books many years later–he became friends with French artist Pierre-Auguste Renoir.
Renoir, like Monet, became one of the leading impressionist artists of the day. He's best known for paintings like "Luncheon of the Boating Party" and "Two Sisters (On the Terrace)."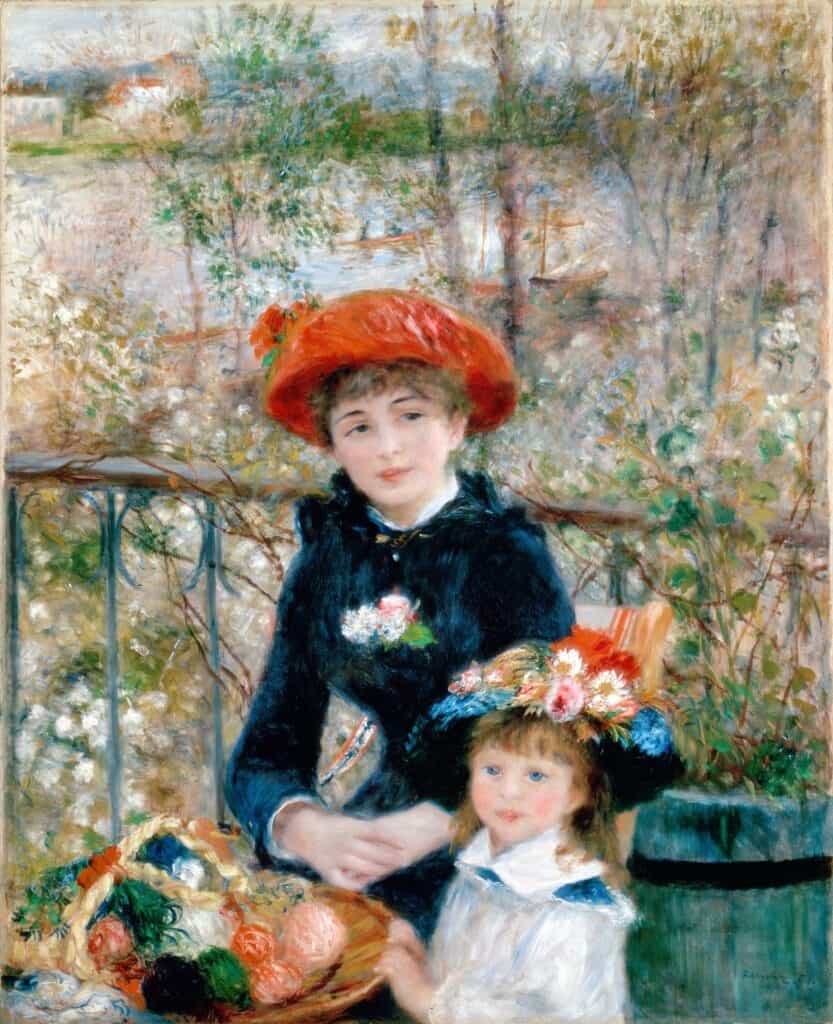 4. His Early Artwork: Caricatures!
Endearingly, Monet created caricatures before he became a painter. He was artistic and enterprising from an early age! When he was only 15 years old, he'd become a popular caricaturist, sketching faces of locals in Le Havre for money. He sold these drawings for 10-20 francs a piece and signed them as "O. Monet."
5. Monet's Military Time in Algeria & Its Impact on His Art
After his studies at Académie Suisse, Monet was called to perform French military service from 1861-1862. He served in Algeria, and the time reportedly had a significant impact on Monet and his art. Monet said that the light and colors from North Africa "contained the gem of my future researches."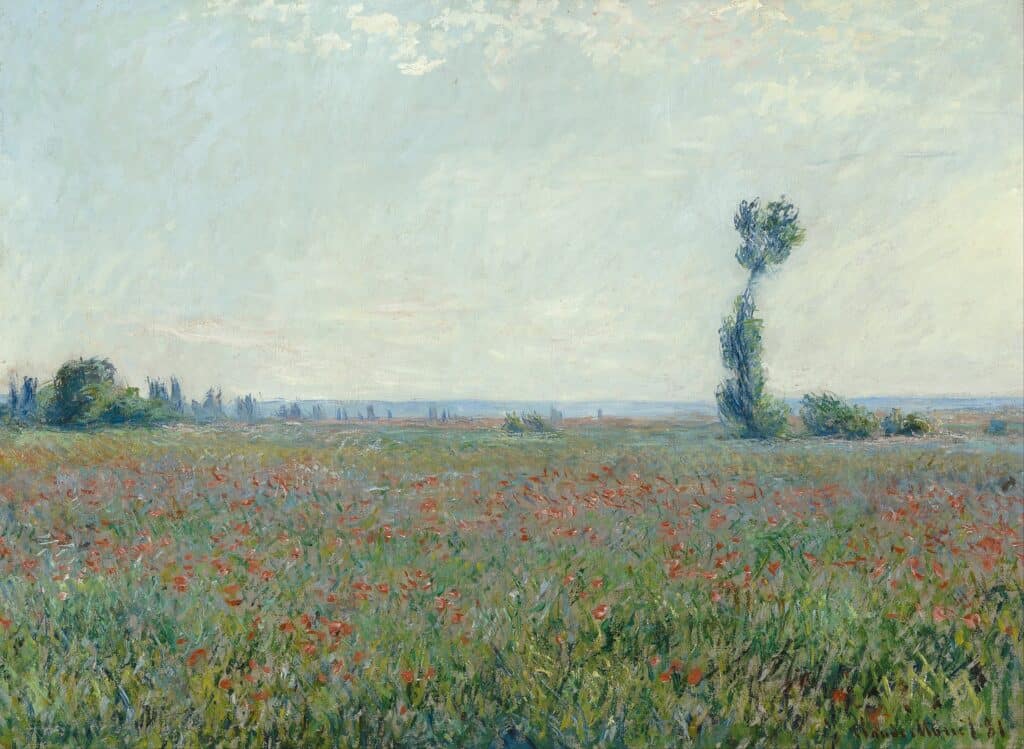 6. Monet's Two Wives: Camille & Alice
Monet was a twice-married man. He met his first wife, Camille-Léonie Doncieux, while in her teens and Monet was in art school in Paris. Camille worked as a model and met Monet during that time. Monet was seven years her senior and living in poverty in Paris while studying art. Camille became pregnant with their first child, Jean, in 1866, and Monet left Camille's side and left Paris, due to his family's lack of support for their relationship.
He later returned to care for Camille, and the couple married in 1870. They had a second child, Michel, who was born in 1878. Camille was in poor health and passed away in 1879. The cause of her death is disputed; some historians believe it was pelvic cancer, while others think it may have been tuberculosis.
A friend and caretaker of Camille during her health battles was a woman called Alice. Born Angélique Émilie Alice Raingo, she later became known as Alice Raingo Hoschedé Monet, after her two marriages: the first to department store magnate Ernest Hoschedé, then later to Claude Monet. After her first husband's death in 1891, Alice agreed to marry Monet.
7. How His Home in Giverny Influenced Monet
Monet was always intrigued by landscapes and nature. However, these paintings didn't do much for him, in the way of money, business, and artistic attention. Monet lived in Giverny with his family from 1883 and began a landscaping undertaking that included his water lily pond on the property. The gardens at Giverny were an incredible source of inspiration and artistic richness for Monet for many years.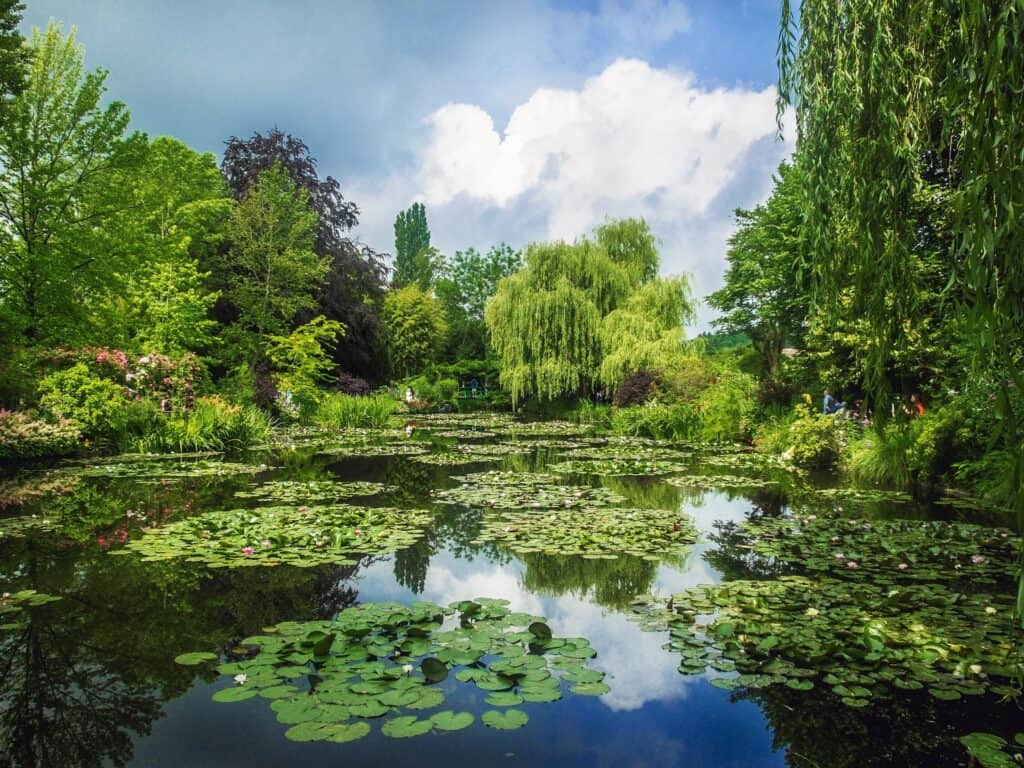 It was around this time, too, that Eugène Boudin introduced Monet to the idea of "plein air" painting. "Plein air" painting is when an artist leaves their studio and instead paints outside in the world. This style of creating would revolutionize Monet's work and unleash an authenticity to his art that attracted lots of attention and praise.
8. Japanese Art Inspired Him
Japanese artwork inspired Monet, and the artist had a huge collection of Japanese Ukiyo-e wooden block prints. You may still be able to spot some of them in his home in Giverny while you're there. Monet even painted a piece called "La Japonaise" in 1876 as an homage to Japan and its artistic style. It was said that the artist lived by the Japanese artistic ethos of "pictures of the floating world," and his Japanese-style bridge and water lily pond served as endless inspiration for his paintings later in life.
9. Monet's Deteriorating Eye Health
After the death of his second wife, Alice, in 1911, Monet began to develop signs of cataracts, which is the clouding of the natural lens in the eye. Taking some initiative, he traveled to London for an appointment with German ophthalmologist Richard Liebreich. Monet rejected the idea of cataract surgery in his right eye (although he would later undergo cataract surgery in 1923), and instead, he got new glasses. Monet's perception of color suffered due to his poor eye health; the color on his paintings darkened, and his paint brush strokes became broader. Monet took to labeling his tubes so he would know which colors were which when he couldn't rely on his sight anymore.
It's reminiscent of another great artist losing an integral one of the five senses–classical composer Ludwig van Beethoven (1770-1827) lost some of his hearing in his mid-20s and later became completely deaf. Yet he continued to produce some of the most powerful works of classical music of all time.
10. "No Black for Monet!" Or, His Colorful Funeral
Monet passed away on December 5, 1926, due to lung cancer. He was 86, and he was laid to rest in Giverny at the church's cemetery. Monet wanted his funeral to be simple and small. There were around 50 people in attendance at his funeral, and when one of them–his friend and former French Prime Minister Georges Clémenceau–saw a black cloth lying atop to coffin, he snatched it off. Clémenceau said, "No black for Monet!"
The black cloth was replaced with a new one that had flower patterns on it, which Monet likely would've far preferred, given his love of and use of gorgeous colors and beautiful flowers. In fact, Monet once said, "I perhaps owe having become a painter to flowers." 
Anne McCarthy is the Editor in Chief of the Fat Tire Tours Blog. She is a contributing writer to the BBC, The Washington Post, The Guardian, Wired, and many more. She splits her time between the U.S. and Europe.