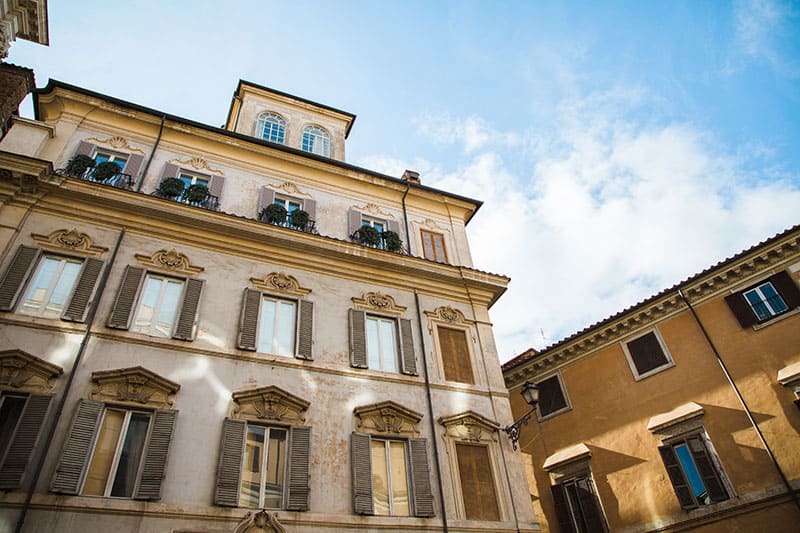 Visiting Rome on a Budget
Travel doesn't have to be expensive. Like, ever.
If you save your money and budget properly, and travel to locations that are as near as an hour away, you can make it happen, whether you're operating on a shoestring budget or even a nonexistent income (check out opportunities like WWOOF-ing to work in exchange for lodging and food).
But say you want to go a bit farther afield than the next town over. Well, it's still quite do-able. Whether you're traipsing through England, exploring the back roads of the Australian Outback, or backpacking your way through Vietnam, you can forever do travel on a budget, and execute it in a way that works for your finances. Never let money be a deterrent to seeing the world. Where there's a will, there's a way.
If you have a Roman will, let us help you find your travel (and budget-friendly) way.
Getting There
The most expensive aspect of travel tends to be the cost of the journey to where you're going. Thankfully, there are many helpful websites that compare the costs of flights from all different airlines, so you can find the cheapest option. Spend time researching flight options, and you can easily save yourself up to $500 or more. My favorite of these websites is Kayak.com, as it tends to be straightforward and there are many different options of filters, so you can select everything from desired arrival time to a maximum number of stops.
Rome has two major airports, Fiumicino (FCO) and Ciampino (CIA). Note that FCO is sometimes called Rome's Leonardo da Vinci Airport. Planning your trek from the airport into the city by way of public transport is easy to navigate. Although it takes longer than an expensive taxi ride, you may end up being a pro at public transport before your taxi-riding friends even reach their hotel!
Pro Budget Tip: Travel in the off-season. It depends on where you're headed, so do your research first. For instance, flights to London, Paris, and other major metropolitan cities in the northern hemisphere will likely be more expensive in December, due to holiday travel and festive appeal, and flights are also typically more expensive in summer months, specifically June and July.

Accommodations
Rome has an abundance of good hostels around the city. Hostelworld.com, like Kayak for flights, is great for finding, comparing, and evaluating different hostels, so you can be sure you book one that meets your criteria (if you're going the hostel-stay route). Tip: When you find a hostel you like, book directly on the hostel's website! This will save you the Hostelworld fee which is added to all reservations booked on the site.
If you want something a bit nicer than a hostel, go for a Roma Airbnb, of which there are many. (A nice money-saving aspect of staying in an Airbnb is that you will presumably have a kitchen at your disposal, so you can eat breakfast at the Airbnb and cook the occasional meal, too, to save on costs.)
Many good and affordable hotels in Rome can also be found. Do your research, read reviews, and you'll be able to rest easy knowing that you've booked the perfect place for you.
Pro Budget Tip: For an ultra-affordable – aka free! – option, set up an account on CouchSurfing.com. Yes, it will likely mean you'll be sleeping on a couch on your visit. But, you may even make a friend in the process, and you will undoubtedly learn a bit more about the authentic culture where you are than if you were staying in a hotel.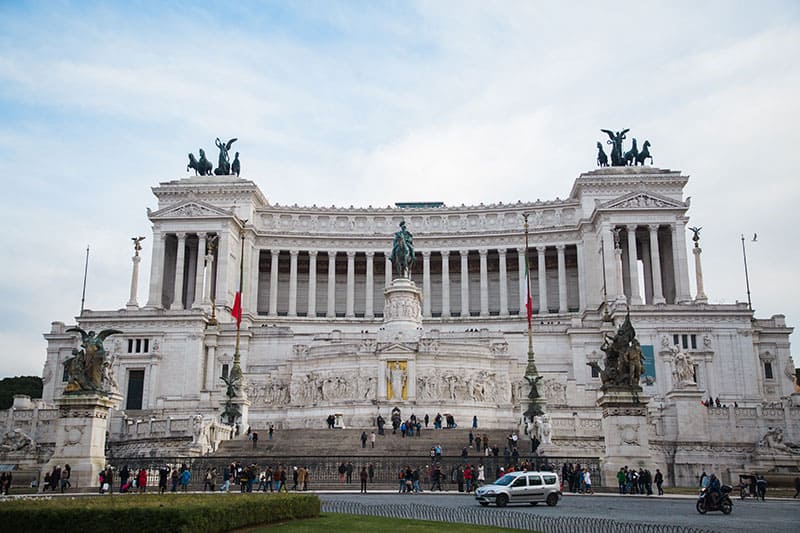 Eating & Drinking
Indulge in a good Italian Aperitivo experience, which need not be costly. And, it's simply a must-do in Rome. For an exciting and stress-free Aperitivo, book a reservation with Fat Tire Rome to join our top-rated Rome Wine & Cheese Tasting. Your knowledgeable guide will not only explain traditional Italian customs and tastes but will also make the experience a more fun one than a server in a restaurant ever could.
Save money on food costs by paying a visit to the local grocery store upon arrival, and stock up on snacks and food for meal prep. Also, picnicking and eating outside are low-cost ways to enjoy your Roma surroundings. Pick up some authentic Italian items at a local farmers market for a real treat.
Pro Budget Tip: Always carry a reusable water bottle with you, so you can avoid buying beverages on the go. Pack some snacks in your purse or backpack to save on food costs in between meals out on the town.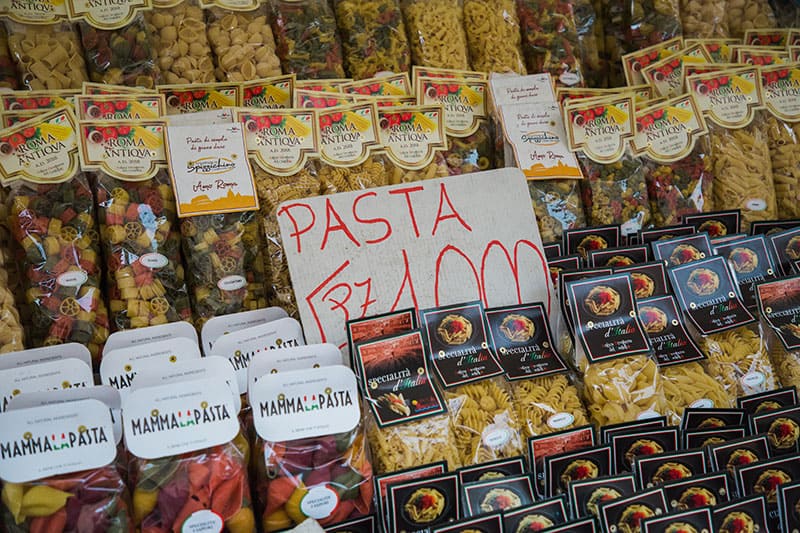 Activities
If you're traveling, you will likely have some activities and sightseeing to get to. Rome has many beautiful sites that are free to marvel at. A simple (and free) adventure of walking around the city will present an eye-opening view of the culture of this historical city. Stop at a café for an inexpensive treat of an espresso to people watch a bit, and then continue on your way.
If you're looking for a more guided experience, check out Fat Tire Tours' Rome tours, which include the ever-popular Rome Bike Tour, the exciting Rome Night Segway Tour, the extensive and informative (and time-saving) Skip-the-Line Colosseum, Forum, and Vittoriano Tour, and more.
Pro Budget Tip: Search for a coupon code before completing a tour or activity booking. Many tours and websites have "introductory offers." And if you're a Senior, a Student, or a Veteran, don't forget to take advantage of lower prices which may be available to you.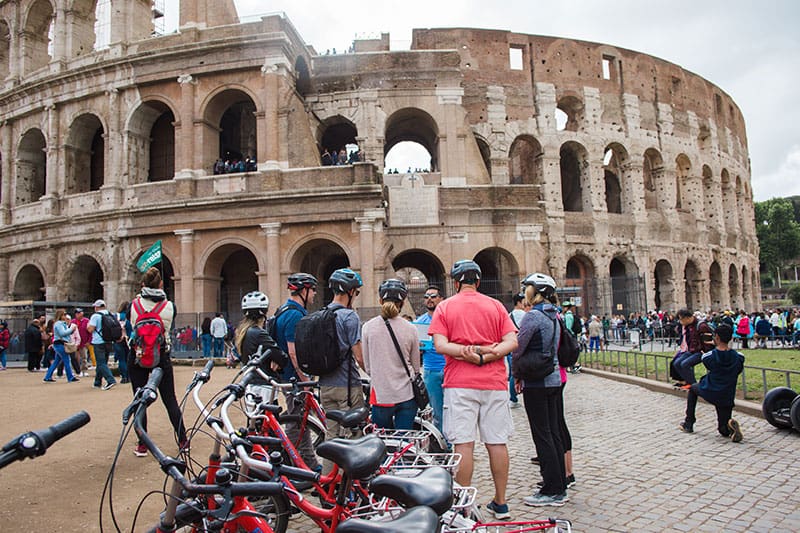 Shopping
Rome has no shortage of fun shops in which to browse and buy. Our Fat Tire Brand Ambassador in Rome, Natalie, recommends some of her favorite shopping streets in Rome on her travel blog. If you want to splurge a bit, hit up La Rinascente, a well-known department store where you'll find some luxe items.
Pro Budget Tip: Do your souvenir shopping at grocery stores. I know, I know. It seems like a mildly absurd idea. However, it's one which my mom (and now, me) swears by, and she will bring loved ones easily transportable items like spreads or local candy. Grocery store souvenir shopping will be at least half the cost of souvenirs bought in shops in the central part of town.
Transportation
 Rome has a good and reliable public transit system. Get a travel card or transit pass and whisk your way around the city, forgoing cabs.
 Pro Budget Tip: Walk when you can. You'll save money on transportation and burn off some pasta calories in the process!
Related links:
[maxbutton id="1″ url="https://www.fattiretours.com/rome" text="Join Fat Tire Tours in Rome!" ]