Overview
If you are looking to see the best of Washington, D.C. and have fun doing it, look no further than our National Mall Segway Tour.  Our most popular tour helps you see all of the iconic sites of the National Mall like the Capitol Building, the Lincoln Memorial, the Washington Monument and more, all while effortlessly gliding along.
Tour Details
What's Included
Good to Know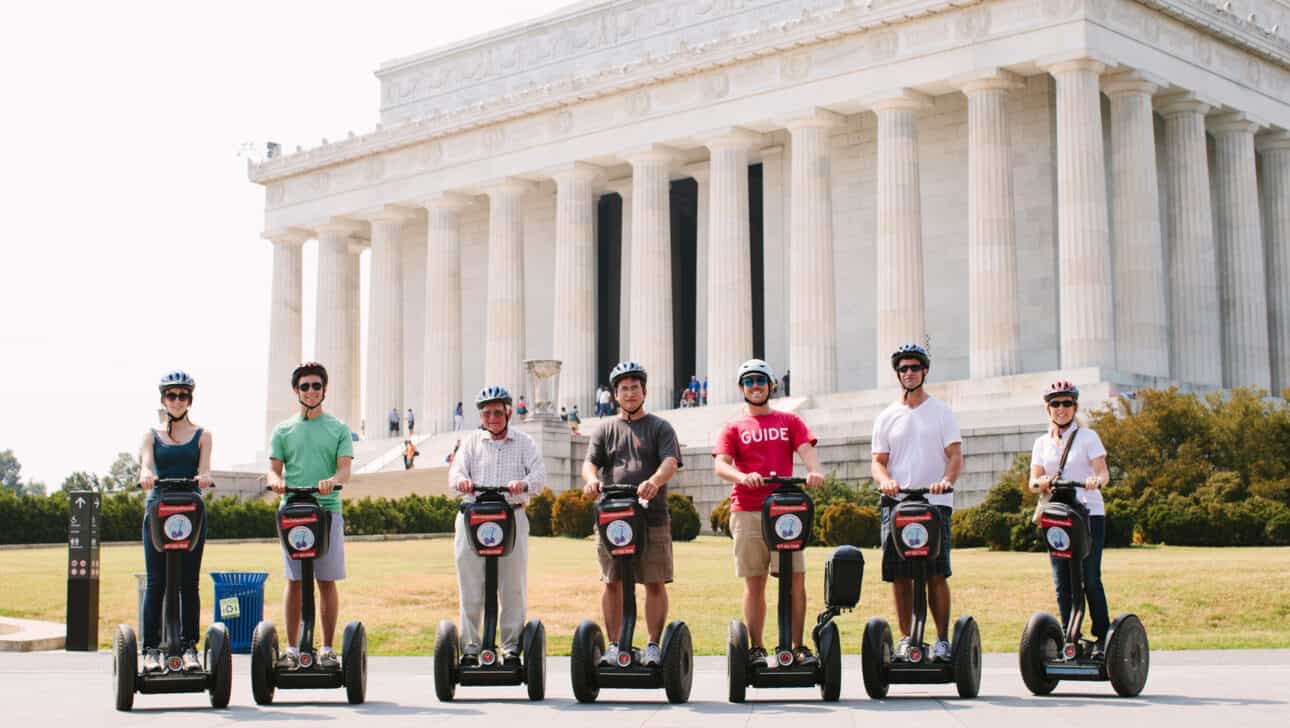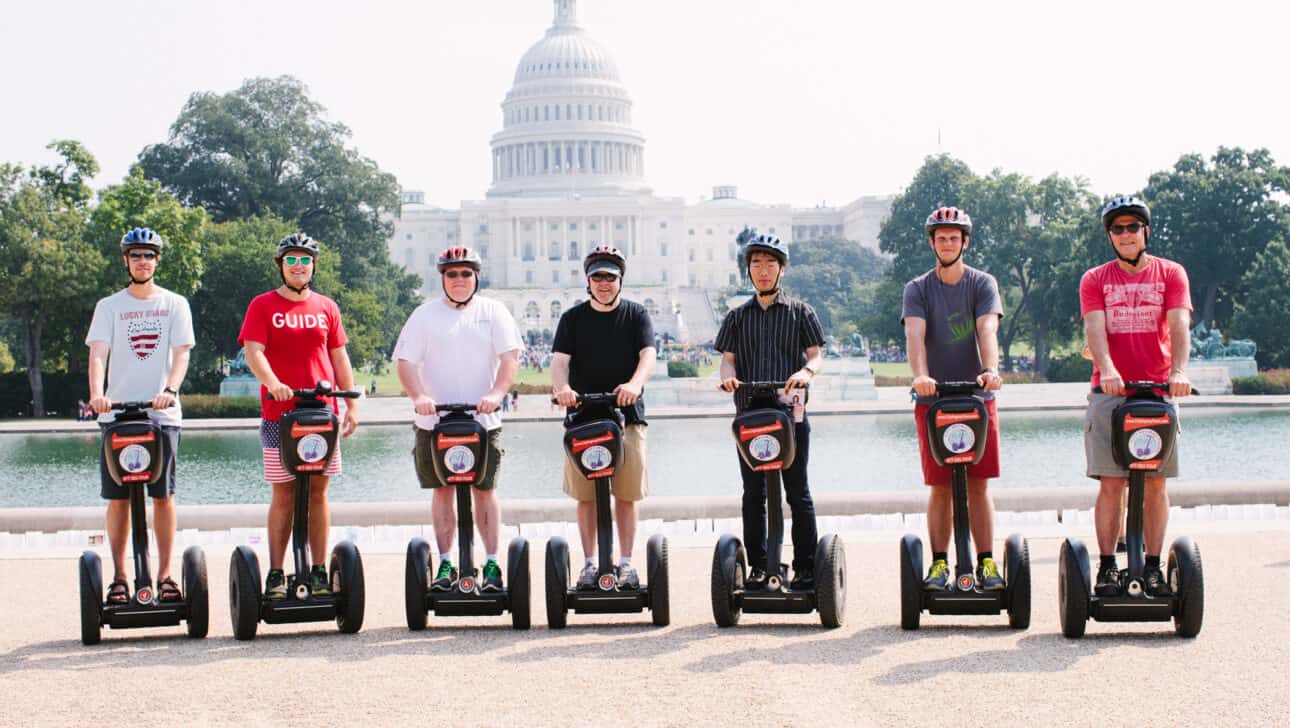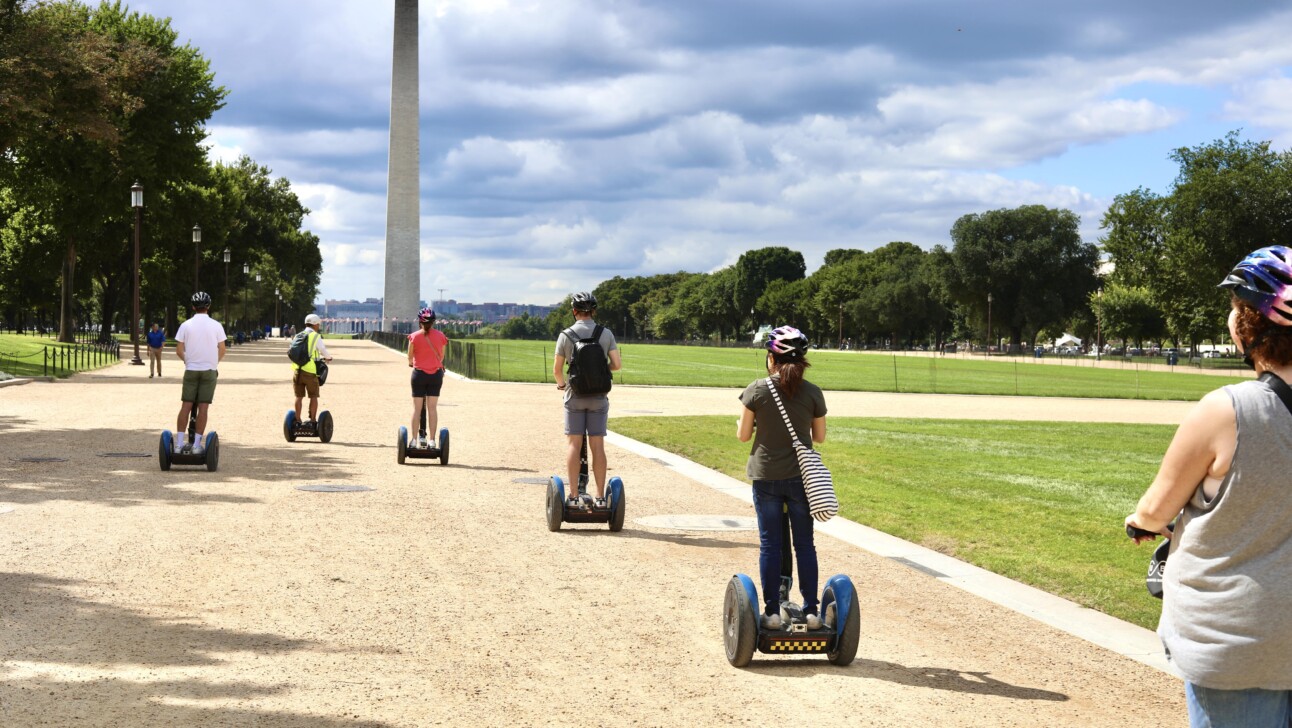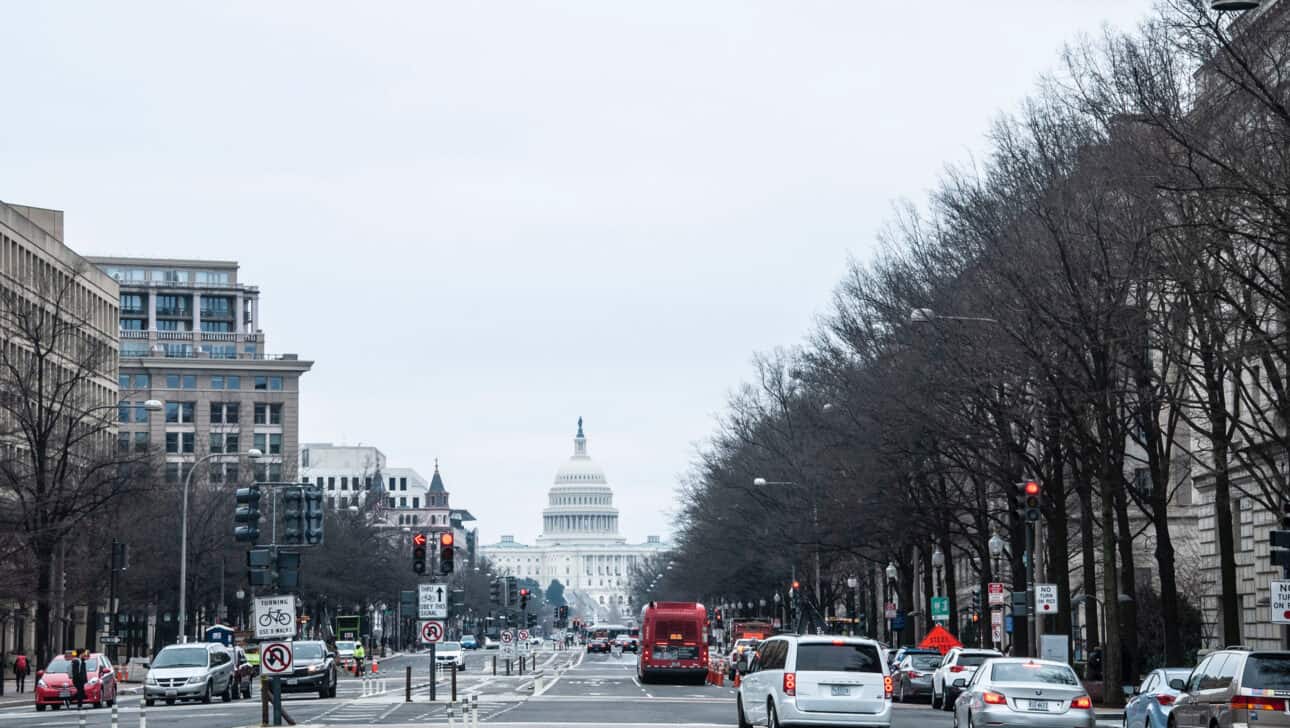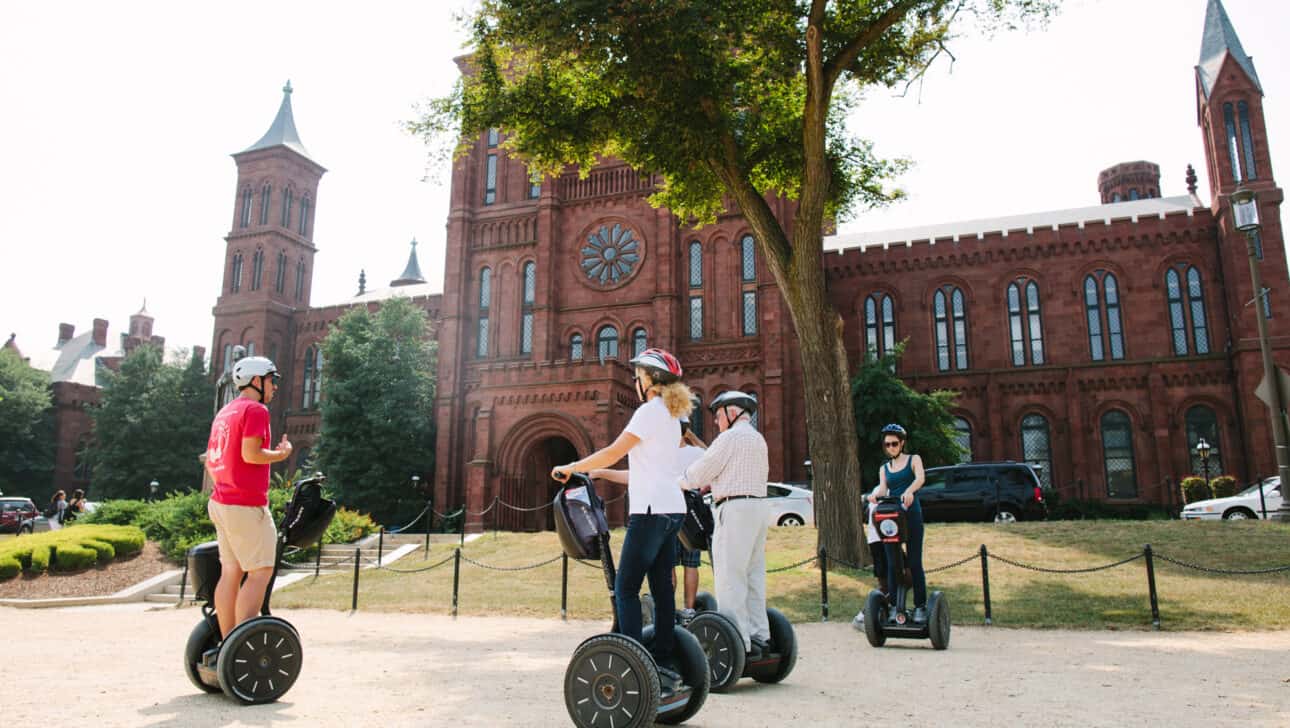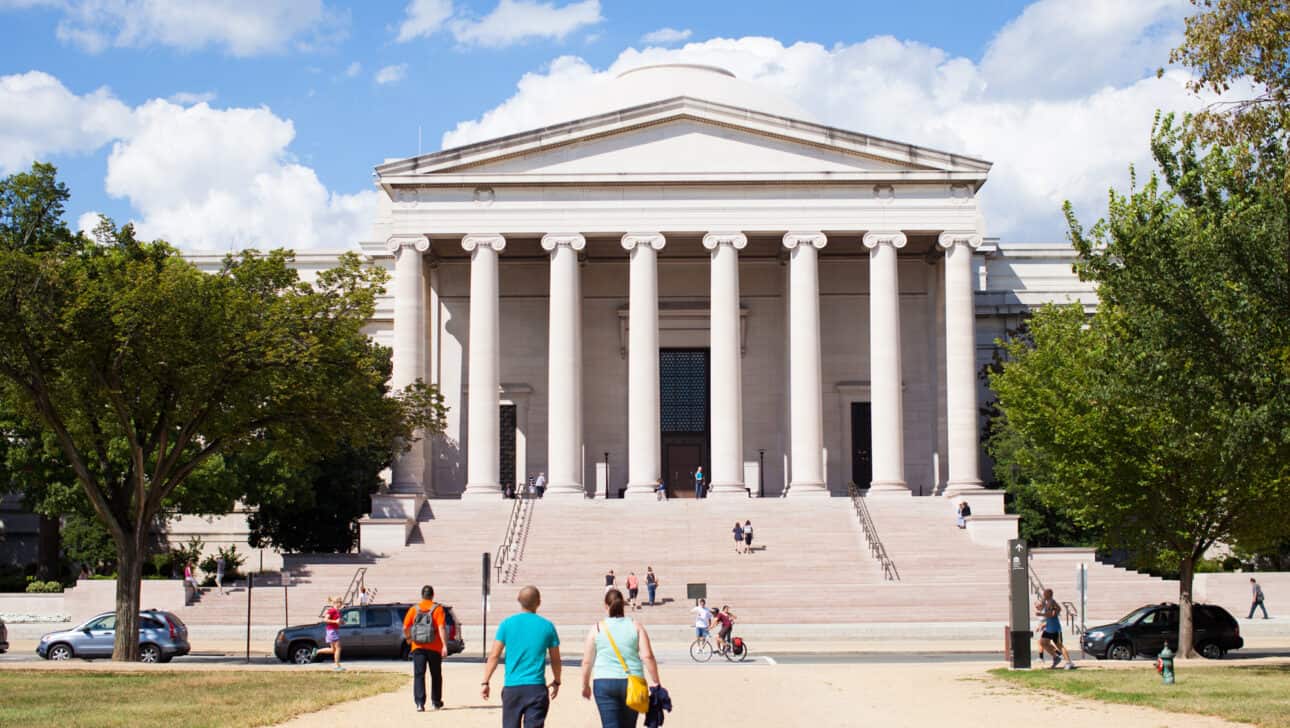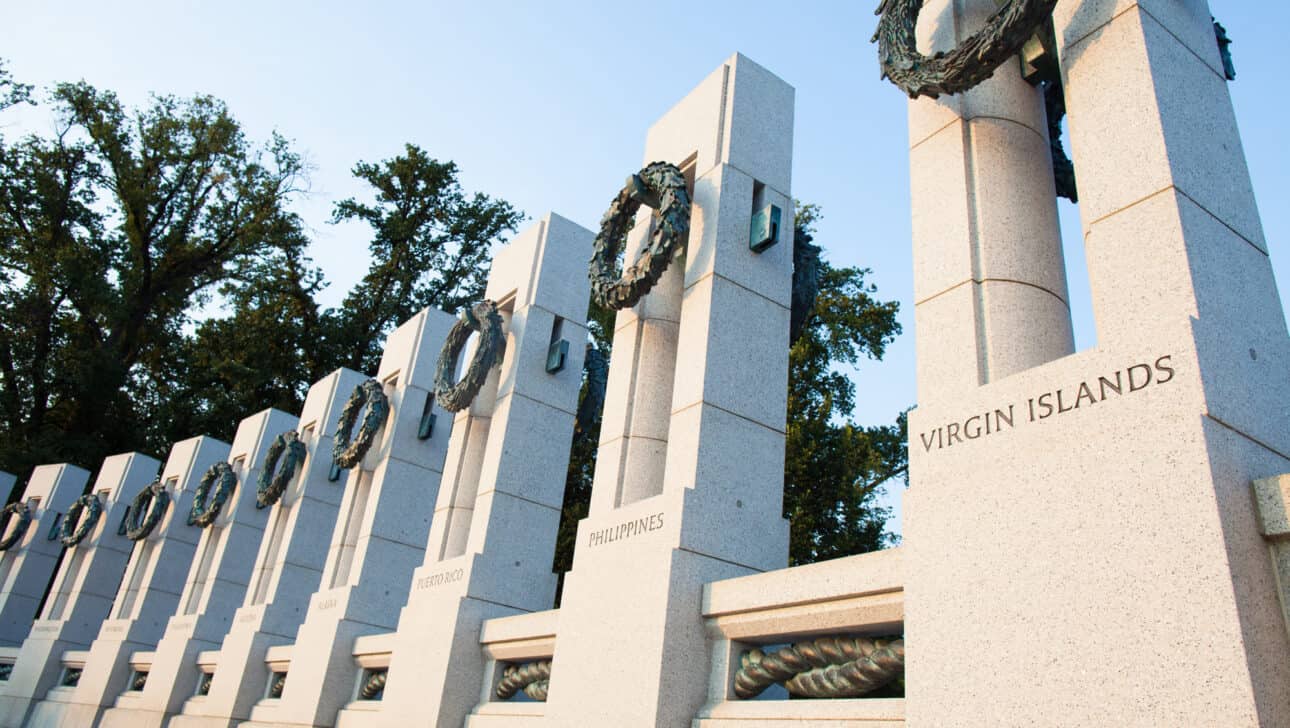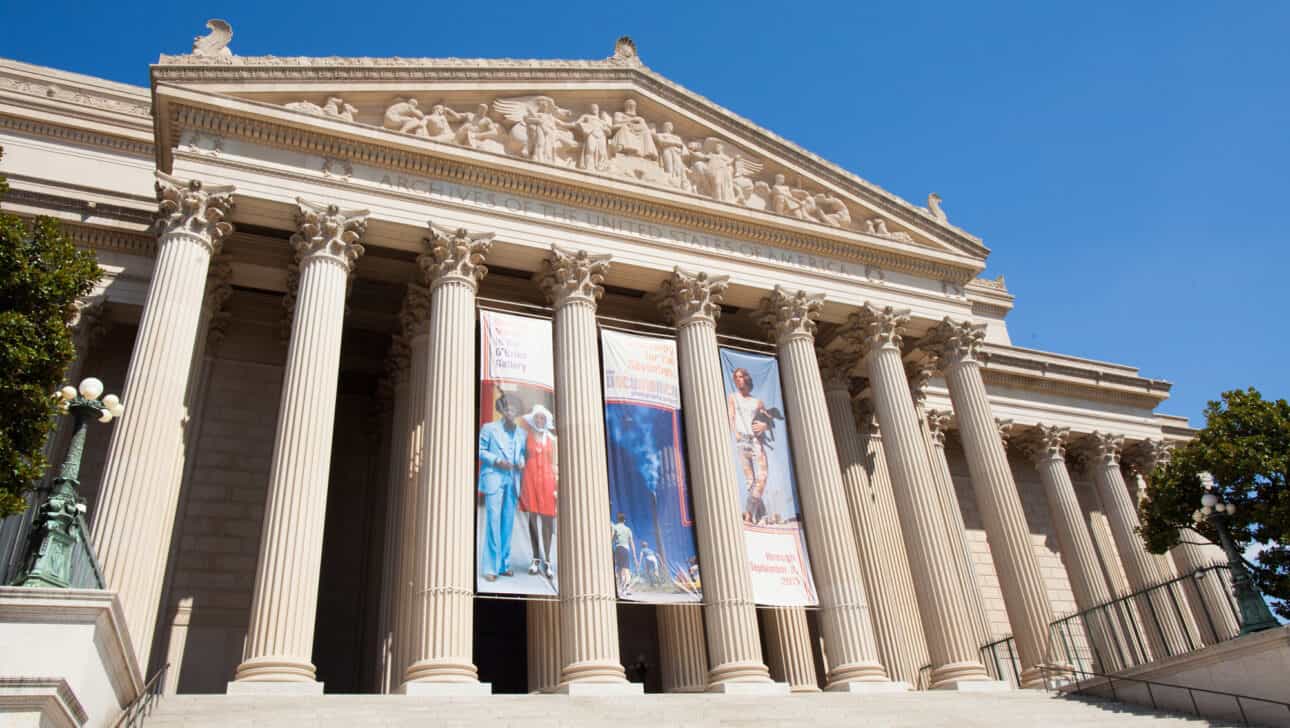 Meeting Point
All tours meet at our new location: 998 Maine Avenue SW Washington, DC 20024.  The closest metro is the Waterfront Station (the Green line).  When exiting the station, walk west on Maine Street SW as it changes to Maine Avenue SW, along the Washington Channel, until you arrive at 998.  It's approximately a 15-minute walk from the metro.
Frequently Asked Questions
Have more questions? Check our Fat Tire Tours general FAQs or get in touch.
Segway Specific Questions
Is there an age or weight limit?
For your riding safety, guests must be at least 16 years of age and weigh at least 100 pounds and not in excess of 260 pounds. Yes, unfortunately the age restriction is City Law and no, there are no exceptions.
Can I rent a Segway without a guide?
Unfortunately, we cannot rent our Segways out to individuals without a guide. Since our tours are virtually always full, we need all machines for our tour customers.
Are the Segways safe for people with disabilities?
We have had several people with disabilities join our tours. The necessary range of motion required to operate a Segway is similar to that of being able to transfer weight from one foot to another while walking. Also, riding a Segway does require the need to be able to stand for long periods of time. Each of our tours begins with a short safety video followed by time to practice in our training area across the street and instruction from your tour guide. We will practice on the Segways until everyone feels comfortable.
If this is my first time to ride a Segway, will I be able to pick it up quickly?
Your safety is always our highest priority. Therefore, we begin each tour with a very thorough orientation of the Segway and its use before going out to enjoy the city
We've found that our guests pick up on how to ride a Segway within the first 10 minutes, but we like to take 20-30 minutes to explain the machines, demonstrate the best riding techniques, and then allow time to practice before heading out to see the sites. We like to ensure that every guest feels 100% confident before beginning the tour.
While riding a Segway is fairly leisurely, you will be on your feet for the duration of the tour.
I have ridden a Segway before; is there anything I should know?
We do our best to make accommodations for returning riders once we get out on tour, however please be aware that we prefer to train new riders first to give them as much time as possible to practice. While some returning guests wonder why they can't simply be set up on their machines and left to explore, we ask that you remain patient while we allow first-time riders to get acclimated with a minimum of distractions or other riders in the training area. These delays are usually 5-10 minutes at most and help us keep our training area as safe and efficient as possible.
General Tour Questions
Where is the meeting point?
All tours meet at 998 Maine Avenue SW Washington, DC 20024. The closest metro is the Waterfront Station (the Green line). When exiting the station, walk west on Maine Street SW as it changes to Maine Avenue SW, along the Washington Channel, until you arrive at 998. Our office is approximately a 15-minute walk from the metro.
Will we enter the museums and monuments that we see?
Unfortunately, we won't have enough time during this tour to allow everyone to enter the various museums. We will, however, provide you with the best information to go back and see the places that interest you most following the tour.  This tour is designed to experience the city from a broad perspective.
What is your cancellation policy?
We're happy to offer free changes and 100% refund up to 24 hours before tour* Failure to cancel a reservation at least 24 hours prior to scheduled departure may result in forfeited travel funds. Fare difference may apply.
What is your weather policy?
All of our tours operate rain or shine, and we have rain ponchos available in our office for purchase.
Are reservations required?
Yes, reservations are required for all tours.
How big will my group be?
Our tours operate in groups of 8 guests or less.  If your party is larger than 8, the group will be split up for safety reasons, each with a guide.  For larger parties, please inquire about a private tour at privatetours@fattiretours.com.
Do you organize private tours for groups?
Yes! Some of our private tours can be reserved directly online, but if you're looking for something unique or have questions about a private group, simply send us an email at groups@fattiretours.com to learn more about our options and prices.
How long before my tour should I arrive?
The tour meeting time is 15 minutes prior to the start time. No refunds or re-bookings can be provided for late arrivals or no-shows after tour commencement or departure.
Will I need to put down a deposit?
We do not take a deposit, though we do ask one member of your party to provide us with a credit card to save on file while you are on tour. Your card will not be charged unless there is damage caused to the Segway and card information will be deleted immediately upon completion of a damage-free tour.