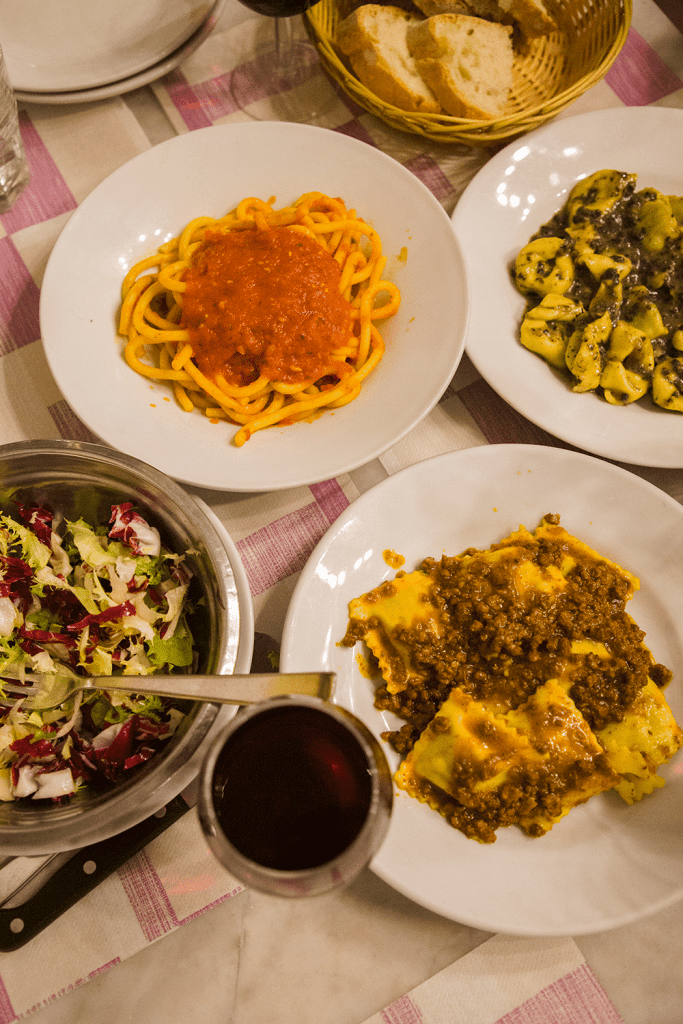 10 Tips for Eating in Italy on a Budget
Traveling is one of the bravest things one can do in life. It takes a lot of energy to throw yourself across the ocean (or, across countries if you are already on this side of the pond), and into a foreign culture to have some of the most unforgettable experiences of your life.
Most of those unforgettable experiences will undoubtedly include food, especially if you are coming to Italy!
Before your trip, you may be wondering: What is the cost of food in Italy? Where are the cheap places to eat in Italy? How do I travel around Italy on a budget? (And, perhaps, if you've been misinformed, you may wonder: Why is Italian food so expensive?) Perhaps, you also want to read up on some interesting Italian food facts.
Another brave part about traveling is pouring your hard-earned dough into a plane ticket, accommodations, tours, museums, entertainment, and food. You can't quite control some costs, but with food, there are definitely ways to be a smart traveler. In Italy, you can really spend more than necessary, if you are not careful. Here are some tips to make your money go further, satisfy your appetite, create good food memories, and avoid overpriced, tourist traps.
1. Try to be flexible and adapt to the local eating culture. If you are used to a certain kind of breakfast, try to abandon your habits just a little bit. For example, American and British style of breakfasts served in Italy are very expensive. Italians generally eat a pastry and a cappuccino for breakfast (at the bar standing, not sitting), which costs no more than 3 euros. It may seem like a small breakfast, but perhaps pick up a piece of fruit from the local food markets found in most Italian cities for an extra bit of satiating fiber and sugar. Or, alternatively, buy breakfast foods from the nearby grocery store, and keep it at your apartment or hotel if there is a mini-fridge (I'm thinking cereal and milk, etc.).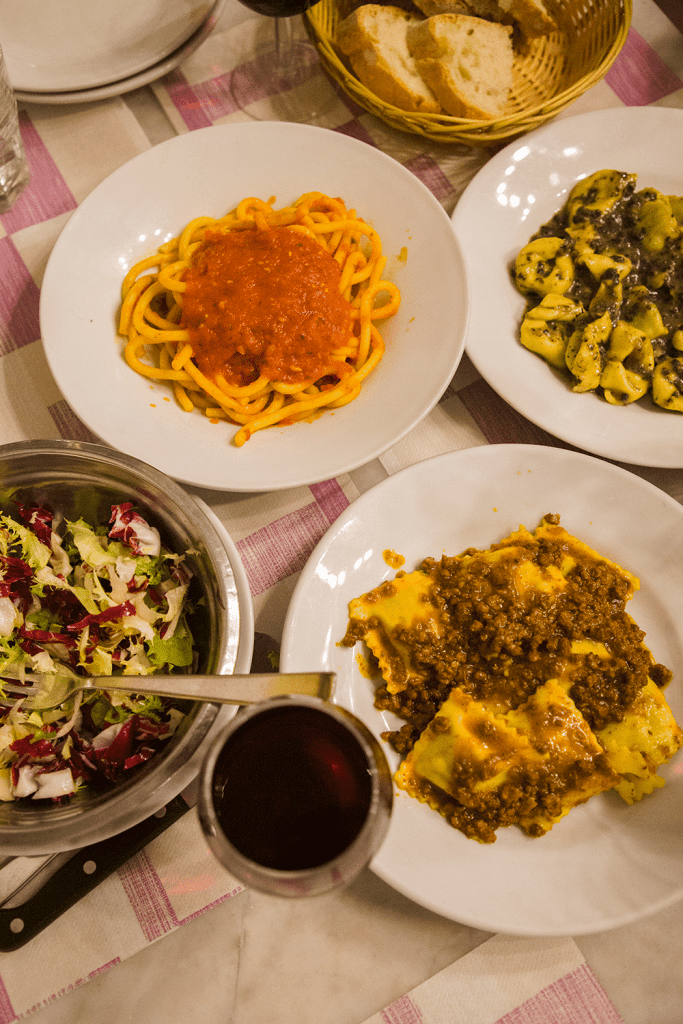 2. Lunch should be an inexpensive pleasure in Italy. If you are paying more than 13-15 euros, you are having a luxury meal, in my opinion. If, however, you are going to authentic trattorias, delis (alimentari), street carts or sandwich shops, you should expect to pay 3-10 euros, depending on what you get. On the smaller scale would be a panino, and the higher end would include meat and potatoes, or a pasta. Our food tours in Milan, Florence, and Rome, are a great way to get to know local establishments that serve reasonably-priced, authentic Italian food. Plus, your tour guide will have a wealth of restaurant recommendations!
[maxbutton id="1″ url="https://www.fattiretours.com/florence/tours/florence-food-tour" text="Book a Florence Food Tour" ]
3. Speaking of lunch, try to go to alimentari (which are like deli shops) and order a panini there to save money, and to have the freshest, most traditional ingredients. Keep it simple! Ask for a panino with just roasted pork (porchetta) or prosciutto and pecorino, for example, or a panino caprese (mozzarella and tomato.) Italians tend to have simple paninis with a meat and/or cheese, and perhaps fresh rocket (rucola), or tomatoes. But don't expect mayo, mustard, grilled vegetables, etc. You can have grilled veggies, but each ingredient gets weighed so you have to pay for each addition. Keep it simple, and enjoy the flavorful ingredients by themselves (i.e. mortadella on fresh focaccia is simple, cheap and out-of-this-world delicious!)
4. When in restaurants, unless you really know about Italian wine (or are curious to learn more, and trust the usually more expensive suggestions from the staff), it is best to stick with house wine. House wine is generally 6-10 euros per liter, while getting a bottle is significantly more expensive, and can sometimes be comparable in quality to the house wine, if you don't know what you are picking. Italy is saturated with wine, and therefore, it is important to learn the producers who make a great Chianti Classico, for example, in order to increase your chances of making a good investment on a bottle served at a restaurant. Or, you can take a Fat Tire Tours wine tasting tour in Milan to learn more, so that you can make smart decisions when ordering wine in a restaurant.
[maxbutton id="1″ url="https://www.fattiretours.com/milan/tours/milan-wine-tasting" text="Book a Milan Wine Tasting" ]
5. Do your research ahead of time. Learn about the neighborhoods woven through and bordering the mainland historical center. Eating in a neighborhood like Sant'Ambrogio in Florence, for example, will be a lot more cost-effective (and higher in quality) than, say, eating in Piazza Santa Croce in Florence where there are – yes – beautiful seating areas with a gorgeous view of the basilica, but cut corners in terms of cuisine quality.
6. When doing restaurant and food research, check out Yelp reviews, not only TripAdvisor. For example, Yelp in Florence is overseen by a local community manager who contributes to the reviews and has a more informed opinion, as they are from a local (unlike TripAdvisor reviews, which can be very subjective to their personal tastes).
7. Try to make picnics as often as possible to save money. Food in the markets or grocery stores is dirt cheap, and if you are visiting Italy in the summer, it is delightful to have dinner in a nearby park or a large piazza (just bring/wear mosquito repellent if you are visiting in the summer!).
8. Skip the dessert menu at the restaurant. Instead, find a local gelateria for an affordable dessert option: gelato! Gelato shops (gelaterie) tend to stay open until about 10pm (or 1am in some cases, especially during the summer). A gelato can be as cheap as one euro (I'm talking baby cones here), but generally, a normal-sized serving will run you 2.50 euros. Gelato is a cheap way to have a real Italian dessert. You might even be able to find novelty flavors like tiramisu gelato- win win!
9. Try aperitivo! Aperitivo is the art of having an aperitif cocktail with a spread of snacks. An aperitif-style cocktail, such as a Spritz or a Negroni, are the most common and authentic aperitifs in Italian drink culture. The most an aperitivo should cost is 10 euros (but they typically average 7 euros). For that price, you get a drink and some food. That way, you won't arrive at dinner completely famished, and ordering everything on the menu! Most bars and cafes in Italy offer some sort of aperitivo between the hours of 6-9pm, conveniently before dinnertime.
10. Pick trattorias over osterias. Generally, trattorias are more casual and less costly than osterias. They also have more of a rustic, local feel with very traditional, seasonal fare. Having pizza for dinner is also not a bad idea, and it will usually be under 10 euros! For suggestions on the best trattorias in the city you will be traveling to in Italy, consult your Fat Tire Tours tour guide on your next tour with us in Milan, Florence, and Rome!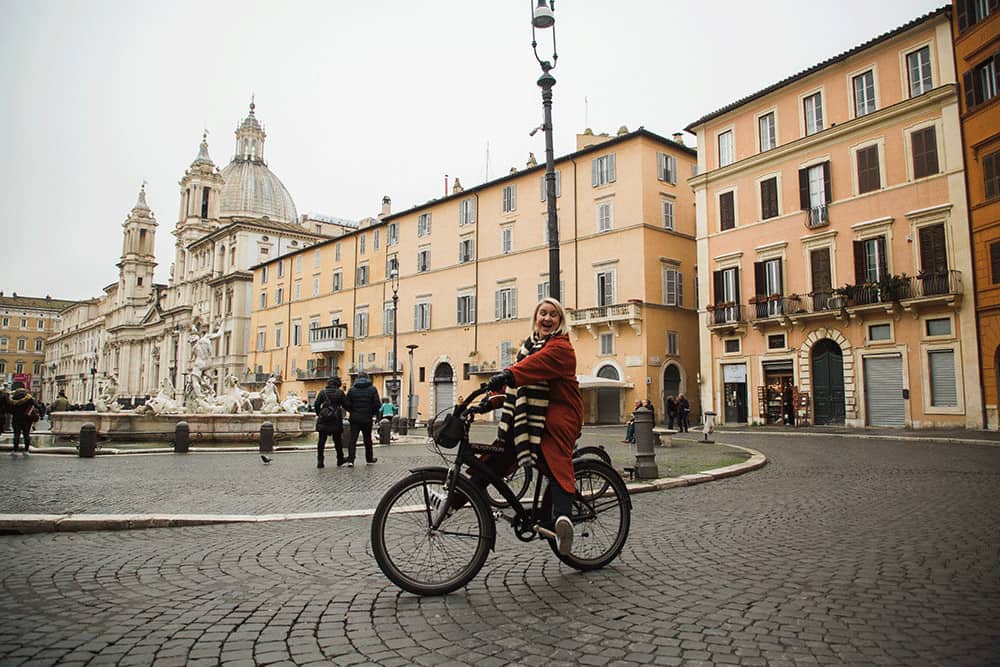 [maxbutton id="1″ url="https://www.fattiretours.com/rome/tours/rome-bike-tour" text="Book a Rome Bike Tour" ]