Tips for Traveling Solo in Paris
I was recently chatting with a friend from Paris at a wedding. As we spoke about the famed French city and all the goings-on there, I asked him, "What is your favorite thing about the city of Paris?"
He paused and then said, "There's nowhere like it in the world."
There really is nowhere quite like Paris, an indomitable city with an incredible spirit, which beckons people across the globe to explore. So, if your solo travels are leading you to Paris sometime soon, check out our below tips on where to stay, eat, visit, and more.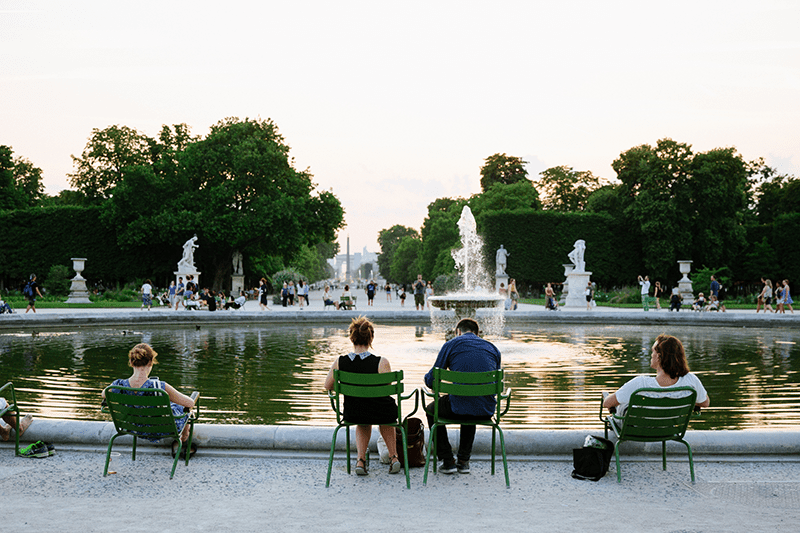 Where to Stay
Where to stay in Paris all depends on your tastes and your budget. Personally, when traveling solo, I typically stay with friends or in a hostel. That way, you have company when you want it, and can also retreat from it if you're not feeling particularly social.
Paris has a number of good hostels, like St. Christopher's Inn Gare du Nord, which was ranked "Best Overall Hostel" in Paris by the Broke Backpacker. The "Best for Solo Travelers" hostel was named Generator Paris, and the "Best Cheap Hostel" was St. Christopher's Inn Canal, near Canal St. Martin.
In general, the winning combination I have found, when it comes to picking a good hostel is the combination of: a hostel with a high rating (Hostelworld.com rankings are fairly reliable), a hostel that is centrally located (it's not worth saving money on a hostel that's on the outskirts of town if you spend most of your time commuting), and a hostel that has a decent price.
Of course, depending on your budget, you might prefer a nice Parisian hotel (there are many options), or even go the Airbnb route, which is increasingly popular.
What to Do 
Now that you have your lodging booked and ready (or confirmed on your friends' calendar), the real fun begins – building a fantastic itinerary!
Paris is a thrills-per-minute city; there is so much to do, see, eat, drink, and experience. So, it's a good idea to have a list of a few "must do's" so your head doesn't spin the second you set foot in the city.
Any museum or sight is the perfect solo activity; you don't need a buddy in order to marvel at the Mona Lisa in the Louvre (Fat Tire Tours offers a Louvre tour that will take you right to the famous lady in the Louvre if you prefer to go with a guide). And the same goes for any museum or attraction – all you need is yourself, your camera, some enthusiasm, and an open-minded attitude!
My personal favorites for touring around Paris, when it comes to the best sights to see, include a wide range of places. The following are excellent ways in which to spend time in the City of Light: the Catacombs (note: the Catacombs are closed on Mondays), Musée d'Orsay (note: also closed on Mondays), exploring Montmartre and the Sacré-Cœur basilica in the 18th arrondissement, visiting interesting shops in the Marais or along the Seine, like Shakespeare & Company Bookstore, and stopping by to marvel at the gorgeous and triumphant Notre Dame, which is at the heart of Paris and a fond memory for many.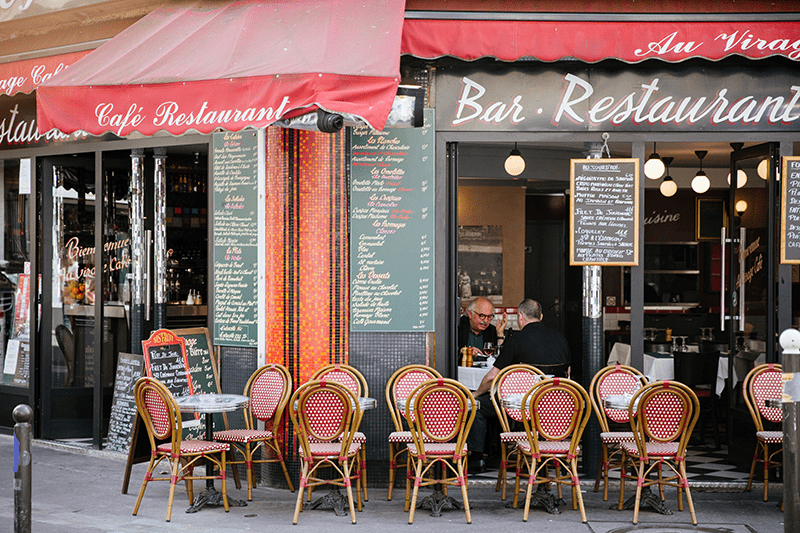 Where to Eat (check out the 5th !)
Paris is renowned for its cozy cafes, impressive Michelin-starred restaurants, like L'Ambroisie and Arpège, casual crêpe stands, and phenomenal bakeries. As a food capital of the world, which also boasts phenomenal drinks and cocktails, Paris is a literal hog heaven.
Where to eat when traveling solo all depends on your style, palate, and budget. Personally, in Paris, when solo, I like to cozy up with a book or a magazine in an unassuming café or restaurant in the 5th arrondissement, near to lush (and quintessentially Parisian) Luxembourg Gardens.
Le Vin Sobre (25 Rue des Feuillantines) in the 5th is especially good for an assuming ambiance and relaxed – yet fantastic – meal. It is one of my favorites in the area, and the staff is friendly and knowledgeable about the food they serve.
Café de la Nouvelle Mairie (19 Rue des Fossés Saint-Jacques) near the Panthéon offers 3-4 choices for lunch, and dinner is a simple and satisfying charcuterie and cheese. Also near to Luxembourg Gardens and the Panthéon, you will find Les Papilles (30 rue Gay-Lussac), a busy and authentic French restaurant with a fresh menu that changes daily.
Tours to Take
Sometimes, though, when traveling solo, it's nice to be a bit social and perhaps even break out of your comfort zone. Zipping through Paris by bike is – hands down – one of the best ways to see the city. Fat Tire Tours runs bike tours around Paris, day and night, and to surrounding areas as well, if you fancy seeing the stunning château de Versailles, or, perhaps Monet's Gardens at Giverny.
Join us for a laid-back, informative, and fun bike or walking tour, and your solo journey will be enhanced with the new knowledge you'll learn and the friends you'll make.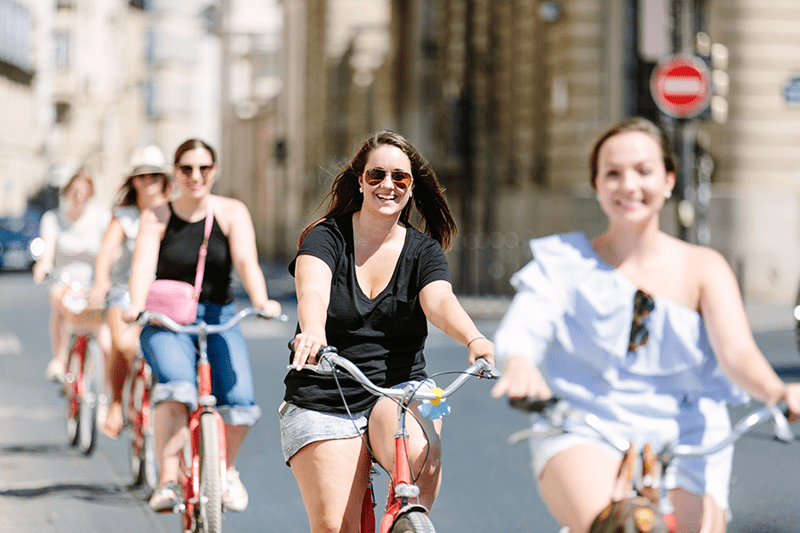 General Tips for Solo Travel
It goes without saying that, when traveling solo, safety should be your number one priority. This isn't just for Paris, but for any solo travel, anywhere in the world. No need to stress – just use common sense: remember to keep your belongings hidden, always have a game plan, and be aware of your surroundings, especially when at night or when withdrawing cash from the ATM.
After safety precautions, my top tip for solo travel is to always carry a book and set yourself up with a good internet connection on your phone.
It's relatively easy to use your phone abroad, with a few basic steps, depending on what type of phone you have and how connected you wish to be. You can also buy an international SIM card upon arrival in France, and stick that in your phone so you will temporarily have a French phone number.
In this interconnected day in age, the ease of having a good WiFi connection will not only allow you to look up maps and information about your next Parisian destination, but it's also a nice way to keep in contact with friends and family while you are traveling.
The biggest beauty of solo travel is that you have complete free reign of your time and itinerary. So take your next solo trip by the horns, and have the time of your life!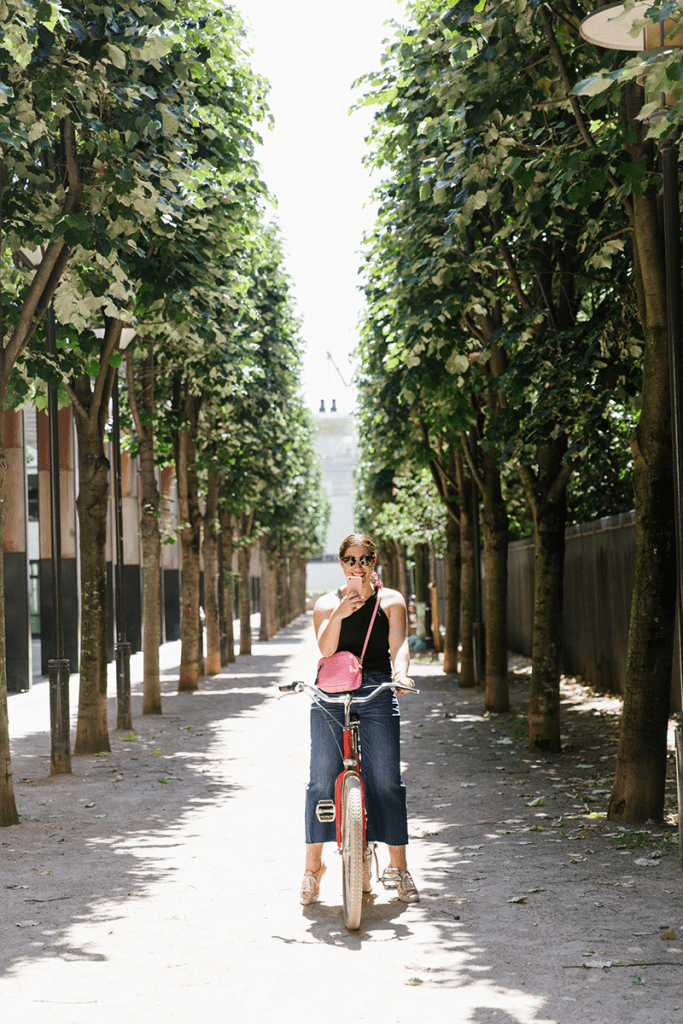 [maxbutton id="1″ url="https://www.fattiretours.com/paris" text="Explore Paris with Fat Tire Tours!" ]