By Anne McCarthy
During the upcoming September and October months, travelers and beer lovers from all over the globe will flock to Munich to participate in the Oktoberfest festivities.
If you're among those visiting Munich for Oktoberfest or at another time, we want to share with you our exciting roundup of some of the most stunning castles to visit near Munich.
And when you're in the city of München (the German spelling of Munich), be sure to visit Fat Tire Tours Munich for an epic adventure you won't forget. We even have our bestselling Oktoberfest Festival Tour (offered September 16 – October 3, 2023) if you're looking for a bespoke way to experience the festival with a first-class guide. (This tour sells out, so book it soon!)
During the Oktoberfest Festival Tour, your guide will escort you around the world's largest beer and folk festival with colorful tales about the history of the festival and lead you through the trademark massive beerhalls full of singing, brews, and shenanigans. On this tour, you'll even get reserved seating in one of the beer tents (so you won't have to wait in line), along with food and drink included in the tour price. You're welcome to wear traditional German clothes, like dirndls and lederhosen. (Here's our guide for where to find German clothes in Munich.)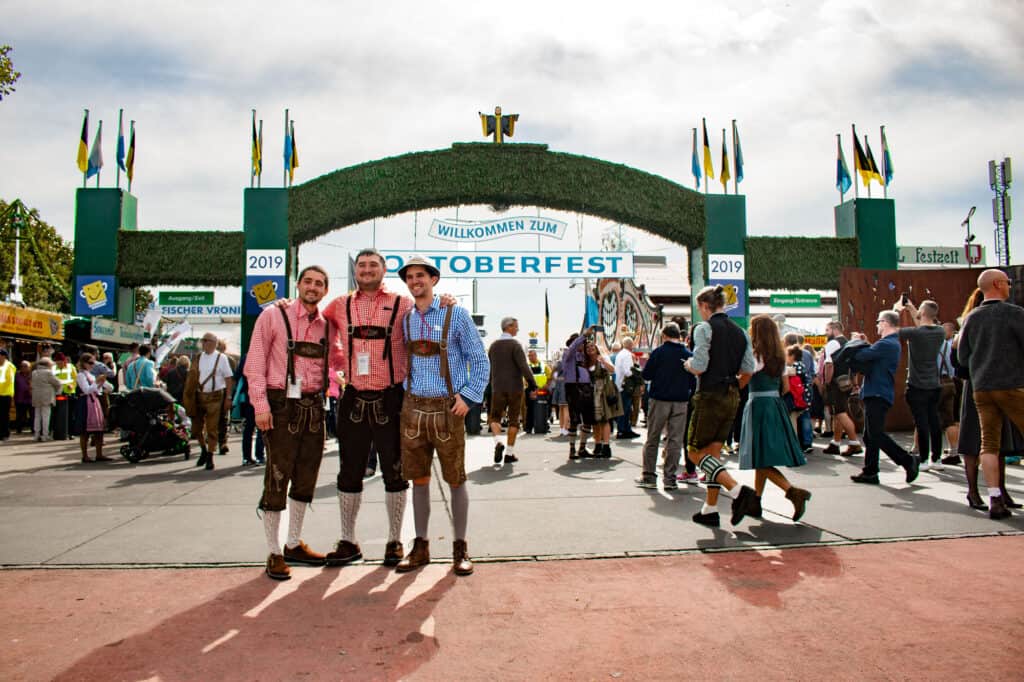 Fat Tire Tours Munich also offers beer walking tours, incredible bike tours during day and night, Segway tours, and tours in German for German-speaking travelers.
Here are six magical castles close to Munich that you don't want to miss.
Prunn Castle is a historical and unique-looking castle. Think less Hogwarts, more large, glamorous hobbit-hole in the shire. Prunn is 75 miles north of Munich and it was built in the 13th century. It was designed in a late Gothic style and overlooks the beautiful Altmühl River Valley. This castle offers spectacular views and medieval décor. It's also the origin location of Prunner Codex, a classic German historical manuscript.
Address: Schloßprunn 1, 93339 Riedenburg
Approximately 90 minutes away from Munich is the gorgeous Lake Chiemsee. In the middle of the lake is Schloss Herrenchiemsee, a jewel of a castle on Herreninsel island in the middle of the lake. It was built by King Ludwig II; the king tried to replicate the Palace of Versailles outside of Paris. (Check out our post on "How to Get the Most Out of Your Visit to Versailles" if you're planning a trip to Paris.)
Schloss Herrenchiemsee is totally opulent, from its gold trim décor to famous paintings, and huge porcelain collection; it's bound to inspire you. Make sure to check out the French-inspired gardens on the grounds. This palace's construction started in 1878, and it's the most expensive project that King Ludwig II undertook.
Address: 83209 Herrenchiemsee
Nuremberg is widely associated with World War II, but its castle is something that should be on your radar, too. Parts of the Nuremberg Castle (which is an authentic medieval castle) date all the way back to the 12th century. You'll find the castle in the city center; its chapel is worth spending a good chunk of your visiting time in. Nuremberg is one hour from Munich by train.
Address: Burg 17, 90403 Nürnberg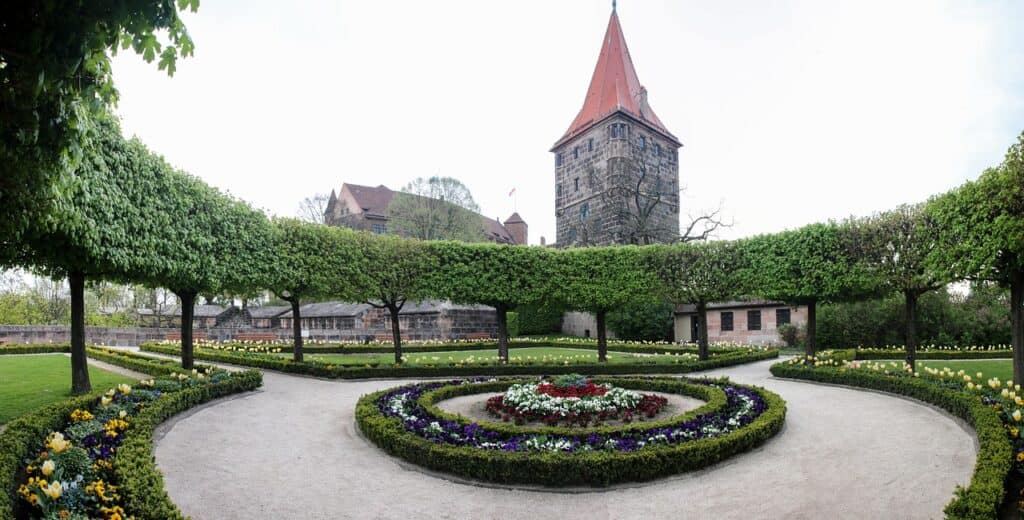 Roughly 60 miles outside of Munich is Linderhof Palace near the town of Oberammergau. King Ludwig II also had a hand in this palace, as he did with Schloss Herrenchiemsee. Linderhof Palace is a fantastical residence modeled from French castles, and it was even used as a residence by the king. It was completed during his lifetime, too (unlike Schloss Herrenchiemsee). This Baroque structure has Rococo interior design, with complex textiles and opulence at full tilt. The stylized gardens of Linderhof Palace are stunning and well worth a stroll, with their gorgeous fountains and spectacular statues.
King Ludwig II lacked substantial power during his reign, so one of the ways in which he exerted control and force was in building projects like Linderhof Palace. The intimate palace also provided the King with private space where he could retreat from the public and enjoy the pleasures of life from his palace. For instance, in the palace's grotto, King Ludwig II enjoyed the performance of Wagner Operas just for him. At Linderhof, you'll find some swoon-worthy photo ops, too; perfect for those who love to Instagram their travels.
Address: Linderhof 12, 82488 Ettal
Hohenschwangau Castle is among the most stunning castles in proximity to Munich. Here again, King Ludwig II's name is attached to this castle. The 19th-century royal home was his family home as a child. The castle's Swan Fountain is of note.
Hohenschwangau Castle is a reconstruction of a medieval castle. And while it may not date as far back as authentic medieval castles, it is worth a visit. The castle was built on the ruins of a former medieval fortress, and it remains an important historical landmark in Bavaria. King Maximilian II is the one who orchestrated the building of Hohenschwangau Castle, and he spent much time there with his family, including sons Ludwig and Otto.
Address: Alpseestraße 30, 87645 Schwangau, Germany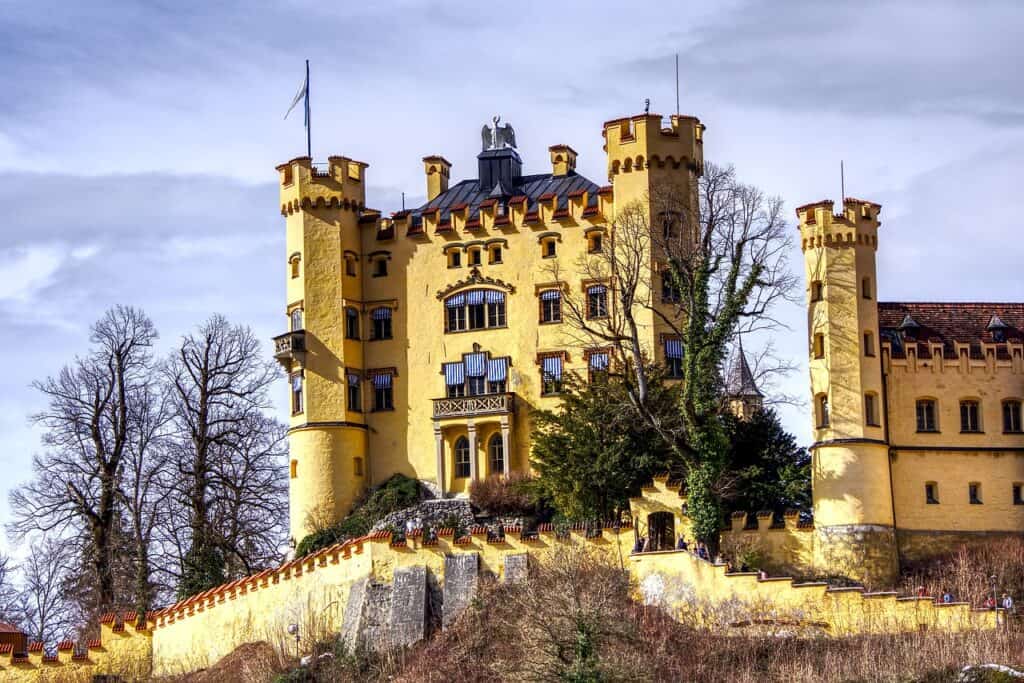 We've saved one of the best for last. A castle fit for a fairy tale, Neuschwanstein Castle, stands nearby Hohenschwangau Castle, and it's arguably one of the most famous castles in the world. It reportedly inspired the visionary Walt Disney and served as one of the several castles that inspired Disney's Cinderella and Sleeping Beauty castle. This magical castle was built in the 19th century, and its build was organized by––who else?––King Ludwig II.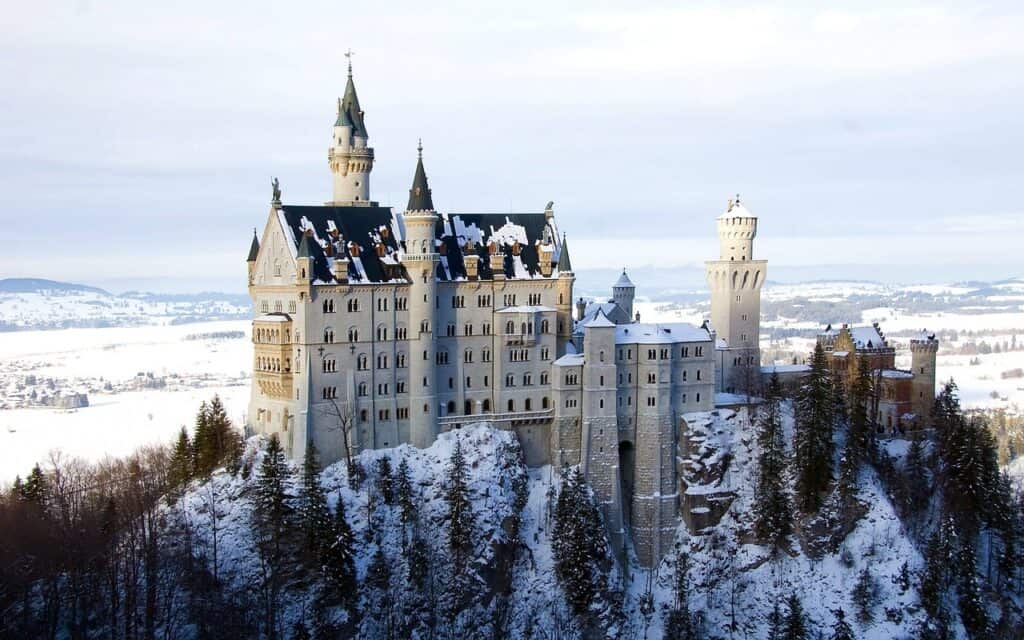 Ludwig used personal (versus government) money to fund its construction. This spectacular palace shows great attention to detail in its Romanticism-inspired design. The Hall of Singers is of note to many visitors. Neuschwanstein Castle is reportedly among the 50 most photographed places in the world. The castle was opened up to visitors just a few days after the death of King Ludwig II. Neuschwanstein Castle welcomes over 1 million visitors annually and is among Europe's most popular castles. Towers, turrets, and fairy tales––oh my!
Address: Neuschwansteinstraße 20, 87645 Schwangau

Anne McCarthy is the Editor in Chief of the Fat Tire Tours Blog. She is a contributing writer to the BBC, The Washington Post, The Guardian, Wired, and many more. She splits her time between the U.S. and Europe.